SPOTLIGHTS
Five Quick Rounds 02.04.14: UFC 169, No Nevada Lovin' for Faber, More
Posted by Evan Zivin on 02.04.2014

From Renan Barao and Jose Aldo successfully defending their championships and the results of UFC 169 to the possibility of Anthony Pettis vs. Aldo at lightweight and Chael Sonnen and Wanderlei Silva brawling on the TUF Brazil 3 set, 411's Evan Zivin examines these stories and more in Five Quick Rounds!

Hey hey, fight fans, and welcome back to Five Quick Rounds! I am your host, Evan Zivin, and I am as excited as the camera crew for TUF Brazil 3 to be here once again!

You knew it was going to happen. When it was announced that the coaches for The Ultimate Fighter: Brazil 3 were going to be Wanderlei Silva and Chael Sonnen, your first thought was "That show is still a thing?" Then your second thought was "What the hell is a Brazil?" Yeah, our educational system isn't the greatest. Anyway, your third thought was "Those guys hate each other. How are they going to keep from ripping each others' faces off all bath salts-style?" The answer to that question is they couldn't, as last week Dana White mentioned the coaches had just gotten into a brawl on the set of the show. Dana didn't say what started the fight, although it wouldn't be a stretch to say that Chael's mouth probably got things going, but he did mention that, after Chael took Wanderlei down, one of Wandy's fighters sucker-punched the West Linn OG. Fun stuff. With the complete hatred these two men have for each other, it would have been a shock if they didn't try to attack each other before their scheduled fight, which we now know will be at UFC 173 (May 24, Las Vegas) as the co-main event to the Chris Weidman vs. Vitor Belfort Middleweight Championship fight. Oh boy! The synthetic testosterone will surely be flowing that night. Well, I guess it's dependent on how the new Executive Director of the Nevada athletic commission views the issue. VOTE ROY NELSON!!!

I don't care it's not an elected position. Do it anyway.

All right, so with fighter introductions out of the way, I have five more rounds of MMA news and opinions to throw at you. This week we look at the results of UFC 169, the possibility of Anthony Pettis vs. Jose Aldo at lightweight, and Julianna Pena's freak knee injury. Let's to it do it.

FIGHTER YOU READY!!!!
FIGHTER YOU READY!!!!

FIGHT!!!!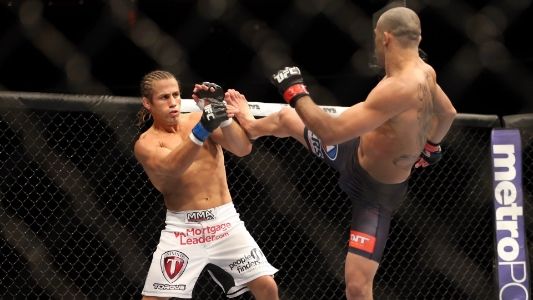 Round One: UFC 169 Main Event, Always a Contender, Never a Champion, Or a Bride

***TOUCH OF GLOVES***

Live, from the Prudential Center in Newark, New Jersey, it was UFC 169 ON SATURDAY NIGHT!!!

Just one day and a few miles away from the site of the Super Bowl, the UFC returned with their first blockbuster card of the year. Was it a good event? I don't know. I'll give you an answer as soon as the damn thing ends. Yeah, nothing like a show with ten decisions on it to get you pumped for The Big Game. Woo hoo! *cough* At least the main event was exciting, albeit short and controversial. It was an epic rematch for the UFC Bantamweight Championship between the man who is considered the best bantamweight fighter in the world because Dominick Cruz may or may not have an injury fetish and the man who can destroy any fighter on the planet provided they aren't holding thirteen pounds of gold at the time. At 34, it's amazing how good of a fighter Urijah Faber still is, adapting to the current generation of fighters and handling them quite well. He just can't beat the upper echelon of this generation of fighters. Whether it's Jose Aldo, Cruz, or Renan Barao, Faber just can't find a way to win against them. There was some hope that the rematch with Barao could go differently due to the addition of Duane Ludwig to Faber's Team Alpha Male. The team has been quite successful under Coach Bang, even going undefeated in 2013 if you ignore the couple of times they lost. That's a pretty good record for a gym that possesses many of the top fighters in their respective weight classes. Or at least, the best until they fight for the title. Chad Mendes is still trying to convince management to give him another featherweight title shot and Joseph Benavidez got blasted by Flyweight Champ Demetrious Johnson in December. Would Faber do better? Would the captain, THE Alpha Male, be able to reverse the team's title adversities and bring home to Sactown their first piece of UFC gold?

Well, referee Herb Dean didn't think so. Faber looked aggressive to start, knowing he needed to set the pace if he was going to win any rounds against Barao. The champion had a feeling out process to start, throwing kicks at range and looking to counter Faber on the way in. Barao was definitely catching Faber with punches and his leg kicks were doing damage early. After sticking out a long jab a couple times, Barao threw a kick to Faber's left thigh that clearly hurt him. After seeing that, Barao went for the kill, throwing a right straight down the pike, dropping Faber rather violently. It didn't knock Faber out but it hurt him and Barao pounced on him. Surprisingly, Faber got up but a few more knees and punches put him back on the ground, where Barao pounded on him with hammerfists until Dean stopped the fight. The stoppage came a little early as Faber looked to still be in the fight. Dean was telling Faber to do something to show he was defending himself, which he was by covering up. He also tried to give a thumbs up but it may have been lost among Barao's Barrage (Dana better trademark that). I'll agree that it wasn't a good looking position for Faber, as most guys who cover up like that are quitting, but Faber could have just been waiting for Barao to let up so he could make a move. As tough and as durable as Faber is, I think Dean could have let the fight go on a little longer to see if Faber could get himself out of that spot but I'll never fault a referee for erring on the side of caution. So tough break, Urijah, and congrats to Renan "The Baron" Baron, as Bruce Buffer is inadvertently calling him. Does he realize that the last name Renan is billed with is actually his nickname? Did you? Learning stuff is fun.

***HORN SOUNDS***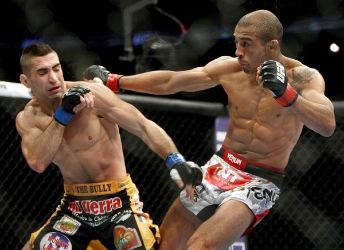 Round Two: UFC 169 Co-Main Event, Maybe it Should Have Been Lorenzo Lamas

***TOUCH OF GLOVES***

So who enjoyed watching Renegade during its heyday? I mean, other than everyone presumably? Chuck Norris wished he had hair like that, if only so he had places to hide more fists. Does anyone remember when those jokes were a thing? I wish I didn't. The penultimate fight of our Super Bowl Saturday Extravapalooza was a featherweight title showdown between dominant champion Jose Aldo and Ricardo Lamas. After having a so-so career as a lightweight in the WEC, Lamas made his UFC debut at 145 and went on quite the run, defeating four fighters, including Cub Swanson, Hatsu Hioki, and Erik Koch. Lamas made things look easy against some tough competition so it made sense to assume that Lamas could be one of Aldo's toughest tests as champion. Lamas isn't a guy who is known for his personality but he is a highly skilled fighter and, after receiving his black belt in Brazilian Jiu-Jitsu in December, he was all set to get the shot that he had been training for years to get. The odds of Lamas winning weren't very high but it was still a possibility, especially against a champion who was likely looking past the fight to a future in a higher weight class. Was Aldo not showing Lamas the respect he deserved? He better have on Saturday or else he was going to get...Renegaded. Or something. Did Lorenzo ever say that on the show? I hope he did. I was 10 when it was on so I don't actually remember most of it.

The first round of the fight started off very close. That tends to be the case in Aldo fights, as he spends the first round gauging distance and getting a feel for his opponent's timing so he can prepare his devastating counter shots. The action picked up in the second and third rounds, as Aldo blasted Lamas with one brutal leg kick after another. Lamas tried to return the favor but saw most of his kicks get checked. By the middle of the fight, Aldo had the distance down pat, catching Lamas with quick jabs and flurries every time he came into range while avoiding a lot of Lamas' strikes. Aldo landed at a very high pace, making it increasingly difficult for the challenger to keep up. Aldo was also successful at stopping all of Lamas' takedowns, including an early shot in the fourth round that saw Aldo pressed against the cage in midair before eventually turning it around into a takedown of his own. Aldo tripped Lamas down and came close to securing a rear naked choke but he couldn't finish it. The fifth round started with Aldo completing another takedown on the wrestler from Chicago. It appeared that Aldo was favoring the grappling late in the fight due to exhaustion, which may also explain how he lost position and, in a scramble, gave Lamas his guard. Lamas spent the rest of the fight on top, throwing whatever he could to hurt Aldo. Lamas definitely won the last round but it didn't matter because Aldo won the rest of them to retain his championship. The ending wasn't as dramatic as the Mark Hominick fight but Aldo did almost cost himself another victory due to his poor conditioning late in the fight. Either Aldo needs to work hard on his cardio or he should just go up in weight and not suffer through another draining weight cut. Or he can just continue to fade while still beating the best featherweight fighters in the world. It's up to you, Scarface.

***HORN SOUNDS***




Round Three: Rest of UFC 169, Looks Like Alistair Overeem Chose the Lean Horse Meat

***TOUCH OF GLOVES***

I don't think anyone expected that, within a year, Alistair Overeem would go from being a top contender for the UFC Heavyweight Championship to being on the verge of losing his job. Well, other than the haters but you know how they can be. It wasn't necessarily that Overeem performed badly against Antonio Silva and Travis Browne. On the contrary, he was on the verge of defeating both men. The problem was his cardio. In both fights, he gassed badly, causing him to throw out most of his technique as he tired and slowed his pace. This then led to him getting knocked out by Silva and Browne. Now, I don't think that anyone expected Frank Mir to knock Overeem out but stranger things have happened inside the Octagon. For one, James Toney. Mir could have won this fight but most figured it was Overeem's to lose. If his gas tank could hold up, he would likely win the fight. Luckily (for the Dutchman anyway) it did, as a leaner Overeem paced himself over three rounds and had success on the feet and on the ground against the former UFC Champion. The closest that Mir came to looking like he could win the fight was when he trapped Overeem's head in the second round for a guillotine choke, but all it did was cause Mir to lose position and get pounded on by The Reem once he pulled his head out. Mir didn't have a lot going for him coming into this fight but when I saw Mir telegraphing his takedowns and getting thrown to the mat in the third round, I knew he had nothing left. Overeem would take the fight by unanimous decision to get himself back in the win column. As for Mir, he's 34 and has now lost his last four fights. I feel like Dana may give Mir one more chance but it will probably come after a long talk about the "R" word. I am, of course, referring to the seminal Beatles' album, Revolver. What a classic. Has it really been 50 years since the first Ed Sullivan performance? Wow.

It looks like Demetrious Johnson may have his next challenger for the Flyweight Championship and, thankfully, it's someone who can make weight on the first try. Ali Bagautinov ran into some troubles when he got stuck striking with John Lineker in the second round of their battle but he was able to use his world class Sambo to seal up the first and third rounds. Not every takedown was successful but Bagautinov's grappling was good enough to control the dangerous Brazilian and secure a unanimous decision victory. Hey, did anyone consider that the reason Lineker has so many problems making weight is that his hands are made of stone? Maybe if he had them crafted out of a less dense material there wouldn't be an issue. I'm an idiot. Jamie Varner and Abel Trujillo had the Fight of the Night when they decided to tell technique to screw itself and went for broke while trying to break each other's face for a round and a half. Varner got the edge in the first round by almost finishing a north-south choke, but Trujillo escaped and got back to his feet to bang some more. Things got crazier in the second round. The former WEC Champion caught Trujillo with a left hand but the Blackzilian fired back with a shot of his own. Varner then unloaded on Trujillo with punches, hammerfists, and knees, but couldn't put him away. This would prove unfortunate as, moments later, Trujillo blasted Varner with a right hand and put him to sleep. It's a great win for the lightweight and I can't wait to see who the UFC sacrifices to him next. There's not a lot to say about the rest of the card. The Al Iaquinta-Kevin Lee fight was pretty good but most of the prelims consisted of close (read: boring) decisions, a couple that came with baffling judge's scorecards. No, Nick Catone did not win all three rounds against Tom Watson and Alan Patrick did not win all three rounds against John Makdessi. Patrick likely didn't win two rounds of that fight. Oh Well. So much for Ricardo Almeida as a judge.

And that was UFC 169. Next up is Fight Night 36 on February 15. It's Lyoto Machida vs. Gegard Mousasi. Will Mousasi be catching dreams or catching zzz's? Tune in to find out! Seriously, UFC. Hire me.

***HORN SOUNDS***




Round Four: Jose Aldo May Be Next For Anthony Pettis Because Benson Henderson

***TOUCH OF GLOVES***

With January now over and lying in a heap on the street corner, buried under two inches of snow (no offense, Atlanta), there are questions that need to be answered regarding some upcoming title fights. The big one is thus: who the hell is going to fight Anthony Pettis next? The UFC Lightweight Champion will be back from his knee injury and ready to go sometime around summer and he needs an opponent. Championship fights tend to be more exciting when the champion actually has someone to fight. I mean, I would pay money to see Pettis just stand in the cage and kick the air for 25 minutes but I don't think a lot of other people would. Maybe if it was Brock Lesnar running around screaming for half an hour. That by itself would do at least 750,000 buys, but I digress (as usual). Pettis needs an opponent but it's not entirely clear who that should be. He was originally scheduled to face Josh Thomson in December before pulling out due to injury and that would still be a great fight but it's not going to happen because of the man they call Smooth. Thomson fought former champion Benson Henderson a week ago and won the fight but the judges gave the victory to Henderson, derailing Thomson's title dreams. Of course, Henderson won't get the next shot since not only was his victory over Thomson far from convincing, he's already 0-2 against Pettis. It seemed possible that Gilbert Melendez could get the next shot, but that idea doesn't thrill a lot of people because he's only one fight removed from fighting for the title. I mean, what is this, the heavyweight division? The shot could go to TJ Grant but he's still recovering from the concussion he suffered last July. They could give it to Nate Diaz, but I guess giving one Diaz brother an undeserved title shot is enough for this decade. So what is the UFC to do?

Hey, here's an idea: how about Jose Aldo? Yes, THAT Jose Aldo. UFC Featherweight Champion Jose Aldo. The man who beat that dude with the bad Vitor mullet on Saturday night. Anthony Pettis vs. Jose Aldo is an interesting fight. That's partly because both Pettis and Aldo are extremely talented fighters who could have a really good fight against each other, and it's partly because we've already spent months salivating over this match-up when it was originally going to take place last year. The two men were going to meet at UFC 163 last August for Aldo's featherweight championship. It was a fight that was set up about six months in advance (I'm guessing to shame the other featherweights for not being interesting enough), giving fate plenty of time to step in and derail the fight, which it did. Pettis pulled out of the fight in June, forcing Aldo to fight Chan Sung Jung instead. Of course, Pettis would fill in for an injured TJ Grant a few weeks later against Ben Henderson and the rest, as they say, is history. It looks like Pettis pulling out of that fight worked out well for both men as, not only did Pettis win the lightweight belt, it allowed Aldo to fight the last two men who deserved a shot against him (Jung and Ricardo Lamas) and allowed him to effectively clean out his division. Aldo has talked about moving up to lightweight before and now he's at a point where not only is Dana White saying he should do it but he will give him a shot at Pettis' lightweight title if he does. Sounds like a good deal to me. Aldo moving up opens up a lot of new possibilities for fights at that weight class and it allows someone else in the featherweight division to be champion for once since Aldo was too busy hogging the belt. It would make the division interesting again as guys like Chad Mendes, Cub Swanson, and Frankie Edgar, all men Aldo beat, could have the chance to become champion. I say we do it. I don't like seeing champions vacate their championships but sometimes it's the best thing that could happen to a division. Besides, you just know you want to see if Ben Henderson can try that screwy decision nonsense against Scarface. You know you do.

***HORN SOUNDS***




Round Five: Julianna Pena Suffers Gruesome Knee Injury, Was it Foul Play or Just Foul Accusations?

***TOUCH OF GLOVES***

Things were going pretty well for Julianna Pena. The Venezuelan Vixen, which is a pretty sweet nickname, began her UFC career as a cast-member of season 18 of The Ultimate Fighter. Julianna got to be a part of the first season of the show to feature women fighters as contestants and she certainly made the most of the opportunity, finishing three opponents to send herself to the live finale. At the Finale last November, she faced former boxer Jessica Rakoczy and dominated her, finishing the fight with strikes just as the first round was ending. It shouldn't have been much of a shock since her opponent had a 1-3 MMA record coming into the contest but it was a very dominant victory on the biggest stage she had appeared on at that point to become the very first female Ultimate Fighter. Julianna got to be the first woman to hoist one of those stupid-looking glass trophies over her head and be awarded a Harley-Davidson that Dana doesn't actually wants her to ride but still has to give away because sponsorship money is worth sacrificing fighter safety over. Still, it's clear that Dana thinks highly of Julianna. No matter how worthless TUF may be at this point, it still has some value in being the first step in creating new stars and, with the legitimate talent Julianna has, it set her up quite well as a force to be reckoned with in the women's bantamweight division. It made her look like a killer who has a real good shot of competing for the championship sooner rather than later. Well, unfortunately for Dana, it will have to be later because Julianna is going to be out of action for a while. Why's that, you ask? What happened to Julianna, you ask? Was there trouble? Was there an accident Was there......MURDER?????

No. There definitely was no murder. What a terrible thing to think. What happened was a very devastating knee injury. See, Julianna was training at her gym, Sik-Jitsu Fighting Systems in Spokane, Washington. She was getting prepared for her first fight since winning TUF, a big match-up against fellow prospect Jessica Andrade at UFC 171. There have been a few differing reports regarding what happened, many based on second-hand accounts of the incident, but a consensus appears to be that, during practice, one of her training partners jumped on her back for a standing rear-naked choke and she was attempting a switch or some other move and blew her knee out in the process. Some of the reports from her teammates say she may not have properly stretched and warmed-up prior to grappling and that may have had a factor in the injury. There was some controversy regarding what happened as Dana went on the Twitters and claimed that Julianna had been assaulted and needed to leave the gym. That claim has been refuted by gym owner Rick Little as well as teammates and UFC fighters Michael Chiesa and Sam Sicilia. It may have been that when Julianna or whoever gave the bad news to Dana, he interpreted what he heard as assault and used that to go on the digital warpath because he's upset over losing a top female fighter that the UFC has already spent a lot of time and money promoting. It was unfortunate what happened but I'm sure it was just an accident. Maybe she didn't warm-up properly or maybe her teammate went too hard in training or something else happened but it doesn't really matter. What matters is that Julianna is looking at a two year layoff after damaging her ACL, MCL, LCL, and meniscus. That's rough. I wish Julianna all the best in her recovery and I look forward to seeing her embarrass other female fighters inside the Octagon again someday soon. I at least hope Miesha Tate treats her to a milkshake after what happened.

***HORN SOUNDS***

That's it for Five Quick Rounds. Thanks for reading. If you have any questions, comments, or suggestions, and it is always appreciated when you do, leave them in the comments section. I will be back in 7 for another Five Quick Rounds. Until then, remember to fight clean, fight hard, fight fair, and never leave it in the hands of the judges...




LATER!!!!!!!!!!!!!!!!!!!!!!!!!!!!!
comments powered by