SPOTLIGHTS
The Greatest MMA News Column 02.04.14: The Grey Cup of MMA
Posted by Dan Plunkett on 02.04.2014

News and thoughts on UFC 169, the Barao-Faber stoppage, Jose Aldo's title reign, Overeem, Mir's future, UFC 173, Pat Barry's retirement, and more!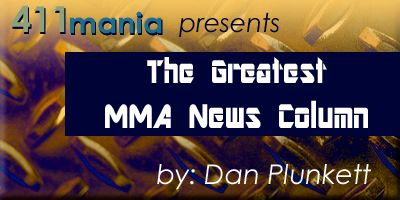 UFC 169: Barao vs. Faber II Thoughts
I think it's well past due we stop using the term "Super Bowl of MMA." Mike Goldberg used the term for Saturday's UFC 169, and as a result the actual Super Bowl the following day had to sink to UFC's level. (And if UFC 169 was the Super Bowl of MMA, what was UFC 168? The second coming of Christ of MMA?) The main card featured one barnburner and four performances that all had impressive aspects, but each came with some level of disappointment. The main event was marred by a trigger-happy stoppage from referee Herb Dean. At least early stoppages don't come with the same feelings of disgust and discomfort as late stoppages. Jose Aldo reigned supreme against Ricardo Lamas to further his case for being the top pound-for-pound fighter in the world, but was criticized for failing to go for the kill. Alistair Overeem showed more patience than usual in a three round shellacking of Frank Mir, which some considered a bad thing. Ali Bagautinov beat top flyweight contender John Lineker, but failed to provide much reason to pick him in a match against division king Demetrious Johnson. The preliminary card was dreadful, with all seven fights going the distance, and many of those fights were as interesting as Dana White's thoughts on Justin Bieber or Brock Lesnar return rumors. The issue wasn't so much as the decisions as it was the lack of recognizable talent and the fact that some of the fighters would clearly not meet the traditional measure of "UFC caliber" (really, no such thing exists anymore).

The Newark, New Jersey, show drew 14,308 fans live – almost none of which left with stab wounds – for a gate of $1.651 million. The gate was easily the lowest of any UFC show at the Prudential Center. Google search trends were at the level of a lower-end UFC pay-per-view, which was to be expected. Pay-per-view sales should come in roughly around the 235,000 buys Barao and Faber's first match drew, if not slightly higher.






Despite the controversial stoppage, Renan Barao's performance was nothing but impressive. Urijah Faber, one of the top lighter weight fighters of all-time, had never quite been beaten the way he was Saturday night. It wasn't a foolish standing elbow attempt that led to his demise, but simply the other being better. A right hand from Barao dropped Faber and had him on the defensive until the match was stopped. Barao, 27, hasn't lost since his 2005 MMA debut and has to be considered one of the best fighters on the planet after his win. For Faber, 34, the loss was his sixth consecutive in a title match, dating back to 2008. If he continues performing the way he did in 2013, another title shot is far from out of the question, especially considering his name value and controversial nature of Saturday's stoppage.


Jose Aldo dominated Ricardo Lamas in what may have been a career best performance to retain the featherweight title. Aldo, 27, may be the most underappreciated modern all-time great. His eight combined WEC and UFC title defenses best Matt Hughes, Jon Jones, Tito Ortiz, Chuck Liddell, Randy Couture, and everyone else not named Anderson Silva or Georges St-Pierre. Dana White wasn't thrilled with Aldo's performance because it wasn't quite Face-the-Pain enough for his tastes. The big news after the show was the apparent match-making of a super fight between Aldo and lightweight champion Anthony Pettis. The two have been eager to fight each other since last year, when Pettis was slated to drop down to 145 pounds to challenge Aldo, but ended up hurt and later captured the lightweight title. A larger featherweight, Aldo has been drained by the difficult weight cut in the past which has hindered some of his performances. At lightweight, the cut won't be nearly as big of an issue, and he should enjoy an increased speed advantage.






Alistair Overeem snapped a two fight losing streak by defeating Frank Mir. Overeem paced himself more than usual in the one-sided bout, which may very well have prevented the fight from being finished, but he didn't gas like in past fights. After the fight Overeem called out Brock Lesnar, which made no sense. Post-fight interviews have proven valuable to build to future matches in the right circumstances. Calling out a fighter you already beat that is highly unlikely to return anytime soon and would be even more unlikely to be matched against you should he return is not one of those circumstances. There's a natural match-up to be made with Overeem and Junior dos Santos that could have been talked about, or if Overeem isn't keen on that fight he could have called out a more realistic alternative.

Prior to the bout Mir, 34, stated he wasn't going to retire no matter the result of the fight, but it's either time to call it quits or time to stop fighting top level competition. One of the most important figures from UFC's peak period in the United States, Mir's flaws (namely conditioning, chin, and speed issues) have become even more apparent over the past few years. He hasn't won since submitting Minotauro Nogeuira in December 2011, a fight – outside of the finishing sequence – he looked lost in.


Ali Bagautinov likely earned a flyweight title shot by beating John Lineker. The Dagestani fighter made his UFC debut just five months ago and has racked up three wins. Lineker probably would have gotten a title shot after defeating Phil Harris in October had he not had issues making the flyweight limit. The only issue with Bagautinov is that Demetrious Johnson is an incredible talent and will be heavily favored when they fight. In the main card opener, Jamie Varner was creaming Abel Trujillo until he was Flair flopped with a right hand in the second round. The bout won the 'Fight of the Night' bonus.

---




NEWS!



UFC 173 set with Weidman-Belfort, Silva-Sonnen. What may end up as UFC's biggest show of the year was announced for May 24 in Las Vegas. Middleweight champion Chris Weidman will defend against Vitor Belfort in the main event, and Wanderlei Silva vs. Chael Sonnen will co-headline. For the main event, the story going in will be Vitor Belfort's TRT status. I'd be surprised if he were granted an exemption, but never doubt the capabilities of athletic commissions. If he's not granted an exemption, will there be special testing procedures put in place, such as increased testing or mandatory CIR testing to detect synthetic testosterone, to ensure he doesn't continue using the therapy? I doubt that happens, but it would be the safest route. As for the fight, Weidman looked excellent in the rematch against Anderson Silva, while Belfort was nearly lethal in three 2013 fights. It will go down as one of the most interesting title matches of the year.

As if Belfort's presence in the main event didn't guarantee a strong Brazilian contingent in Las Vegas, The Ultimate Fighter Brazil 3 coaches Wanderlei Silva and Chael Sonnen is also on the show. The two are said to have nuclear heat on the show, including legitimately fighting, so anticipation should be high come fight time.

Pat Barry takes "indefinite leave" from MMA, set for kickboxing return. Known as one of the most likable fighters in the UFC, Pat Barry announced his release and indefinite leave from MMA last week. On Monday, Barry revealed he was returning to kickboxing and had signed with Glory, which airs on Spike TV.

Coming in with somewhat high expectations due to his kickboxing skill, Barry struggled to get much going in MMA due to being behind in the ground game, a small heavyweight, and having chin issues. He was finished with strikes in three of his final four UFC bouts.

Barry made his UFC debut in December 2008, beating Dan Evensen on a rare leg kick stoppage. In his next bout, he suffered an upset loss to Tim Hague via submission. Five months later, in October 2009, Barry had perhaps the best night of his MMA career with a dominant win over Antoni Hardonk. The win notched him $120,000 in bonus money for 'Knockout' and 'Fight of the Night.' Prior to the match, Barry was down on his luck – feasting on ketchup and rice and nearing eviction from his apartment. When Barry went to deposit the check, the bank was skeptical of the disheveled man with a black eye holding such a large check. "…I told him take your time man do whatever you need to do because I have nowhere to go and my truck probably won't start when I go outside," Barry later told MMAScrapsRadio of his interaction with bank officials.

The impressive performance earned Barry the biggest match of his career – a co-main event bout against the legendary Mirko Cro Cop – a fighter Barry considered his idol. At UFC 115, Barry knocked down Cro Cop twice in the first round, and the only thing separating him from the biggest win of his career seemed to be the great respect he had for his opponent. Momentum swung in Cro Cop's favor after Barry injured his foot and hand and became tired. Late in the third round, Cro Cop hurt Barry with a combination and finished him with a rear naked choke. After the bout, the two would become friends and give the world the gift of a beautiful duet.





After getting back on the horse with a win over Joey Beltran, Barry headlined a UFC on Versus event against Cheick Kongo. In one of the most exciting one-round bouts in UFC history, Barry had Kongo badly hurt before Kongo landed a knockout punch from the edge of a (figurative) cliff. Next, the 5'11" Barry took on 6'11" Stefan Struve in a bout featuring the largest height differential in UFC history. Struve submitted Barry with a second round triangle choke. From there, Barry traded wins and losses until his final UFC bout in December 2013, where he was taken down and pummeled by Soa Palelei.

Quick news: Antonio Rodrigo Nogueira vs. Roy Nelson will headline an April 11 show from Abu Dhabi, which will likely be streamed on Fight Pass. Nelson has to be the favorite there… Michael Bisping's eye was cleared by a doctor and he's good to go for a headlining match against Tim Kennedy at The Ultimate Fighter: Nations finale on April 16… The previously announced Travis Browne vs. Fabricio Werdum title eliminator will serve as the main event for UFC on Fox 11 in Orlando. That's an interesting fight that won't draw well… Also on that card, Donald Cerrone will face Edson Barboza, which will bring much violence… Julianna Pena suffered a brutal injury in some sort of gym incident. Pena, 24, tore her ACL, MCL, LCL, and meniscus, which sounds awful. Recovery time could be two years... Jon Fitch will get a WSOF title shot against the winner of the 3/29 Steve Carl vs. Rousimar Palhares fight.

---


As always, thanks for reading. Feel free to leave any feedback in the comment box or email me at plunkettdan@yahoo.com.

comments powered by