SPOTLIGHTS
411 MMA Fact or Fiction 02.05.14: Aldo vs. Pettis, Faber, More
Posted by Wyatt Beougher on 02.05.2014

Is Anthony Pettis vs. Jose Aldo a bad fight for the UFC to make? Will the controversial ending of UFC 169's main event hurt Renan Barao more than Urijah Faber? 411's Todd Vote and Paul Lapointe debate these topics and more in this week's Fact or Fiction: MMA!

Welcome everyone to 411's MMA Fact or Fiction, and I'm your host, Wyatt Beougher. I'm excited to announce that we're in the home stretch leading up to this year's MMA Fact or Fiction Tournament, as opening round contests will start in just under three weeks! These last three contests may seem like a warm-up for the real thing, but in reality, they could make all the difference for the competitors involved, as they'll be used to determine the final seeding for the tournament! Moving up or down one spot could make all the difference once the tournament begins.

Last week, Jonathan Butterfield returned from a lengthy layoff to challenge the nigh-unstoppable Mark Radulich. When I was putting the column together last week, it crossed my mind that Butters had a pretty good shot at winning, but I wasn't prepared for the final tally, which did in fact go Jonathan's way to the tune of 23-13, giving Butters roughly 61% of the final vote! Great showing from both guys, and I look forward to seeing them in action in the tournament. This week was originally slotted to be undefeated (in one-on-one competition) Robert Practor taking on the formerly undefeated Paul LaPointe, but due to other commitments, Robert had to bow out last week. Thankfully, Todd Vote was more than willing to step into action, and I'm happy to report that this week's edition of Fact or Fiction didn't suffer in the least!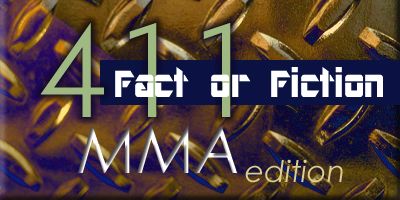 TALE OF THE TAPE

Red Corner
Todd Vote
'The Man Without a Zone'
Contributor, Multiple Zones
8-11-2

VS

Blue Corner
Paul LaPointe
'Get To'
Professional Fact or Fiction Participant
4-1-1

---

Will the stoppage hurt Barao more than Faber?



1.) Herb Dean's stoppage in the Renan Barao/Urijah Faber fight at UFC 169 was justified, but it will still hurt Barao's legitimacy in the eyes of some fans.

Todd Vote: FICTION I don't see how it would. Barao has been a monster since arriving in the UFC. Hell, he was a monster in the WEC before it was folded into the UFC. I don't see how a legit stoppage will hurt that. Faber might have been giving Herb Dean the thumbs up, but thumbs up is a far cry from actively defending yourself.

The ref is always going to err on the side of caution, with fighter safety in mind. I don't recall a ref's decision having a negative effect on a fighters legitimacy in the past, and with Barao's proven record, I don't see it starting now.

Paul Lapointe: FACT Most refs get the brunt of fault for early/late stoppages but never enough for consistent restraint and overall good performances inside the cage. Sure there are good and bad refs all around MMA (I am looking at you Kim Winslow) but Herb is a class act that for better or worse gets the call right.

Ok back on point following that. Though UFC 169 was a chore to sit through, the main event reaction in the media is not making it any better, and for me, I would much rather just move on. But how will the UFC proceed? Sure Urijah has endured A LOT more punishment and been in countless wars, but I for one was behind the stoppage. He was rocked, went for a desperation take down, was stuffed, and though had a hand in the way was tagged multiple times without improving position. Hurt or not, the fight was over. Also Barao's sell job of the damage being done was admirable.

Is the main event the only thing worth talking about from the event? No, but fans just love to root for Faber and Barao is a funky looking dude who cannot for the life of him dance a lick. Winning streak be damned, Barao is not greater or equal to that of Faber's popularity, but it's not stopping him from picking up W's.

---

Probably not what anyone expected from this fight, which was a microcosm of the event as a whole. I do like how 'Reem's looking deep into Mir's eyes, though, like he's trying to mentally tell him that getting cut isn't the worst thing that could happen to him.



2.) Dana White has no one to blame but himself if he's as unsatisfied with the 10 decisions at UFC 169 as he made it sound.

Paul Lapointe: FACT Some people love decisions and some people do not. Dana White is a huge hater on going to the judges if one wants to succeed in the UFC (unless of course you're GSP), so this event must have hit every button he has. Mind you, Dana does not have all the sway in match making these days, but with the expansion the UFC is doing this year and the roster ever expanding to meet these demands, talent requirements may go by the wayside. Fighters making their debuts at the event went 1-5 and with more TUF's on the horizon some fighters will get contracts that are just not ready for the big time and so the fights will suffer. Dana may not be happy but it's growing pains, he will be fine.

Todd Vote: FICTION I don't think he can even blame himself for this one. Is a 10 decision card best for business? Maybe not, but anyone who is a fan of fighting knows that it is the nature of the beast. Sometimes it just happens. They say that styles make fights. But even that doesn't guarantee finishes.

You could match Anderson Silva against Rich Franklin again. While you would be hard pressed to find anybody in the universe that would give Franklin a fighting chance, that in no way promises that Silva would finish the fight. All Dana can do is hope the next card is better.

---

Wait a minute - wasn't this supposed to happen once already?



3.) Making an Anthony Pettis/Jose Aldo fight isn't a wise decision for the UFC.

Todd Vote: FICTION I don't agree with the decision, as it has implications of holding up both divisions. There are people waiting for title shots in both divisions, and it wouldn't be fair for them to have to wait for what they have earned. However, I have to stop short of calling it a bad decision, because as a fan, this fight is all sorts of exciting.

I think it will be a fantastic standup battle, and the closest we will ever be to seeing two guys fight inside the Matrix. So as a fan, I have to say I want to see this fight, but it does suck for the men who will have to wait till it's over to move forward in the division.

Paul Lapointe: FICTION This fight has fireworks written all over it and money signs just steaming off the poster. Considering as well the UFC tried to get this deal done sometime ago, it makes perfect sense to try, try again. Plus with the Eagle currently in probate, Rafael Dos Anjos needs to get past the other Russian, Bendo is nowhere near getting his wish, Josh Thomson just lost and is contemplating retirement, and in what bloody universe does Nate Diaz smoke on that he is getting a title match? The other titleworthy guys are still out hurt, like TJ Grant, who is looking to come back in October, and Donald Cerrone just wants to hit things all year and Gilbert is AWOL. With all that said, Aldo has always said he would move up and a match against Pettis could finally keep him off the scorecards, hell it worked against Bendo. This is a fight I really want to see if TJ is still on the sidelines, so I am all for it, as long as Aldo drops his 145 lbs title for the opportunity.

---

Is 2014 finally going to be the year?



4.) In spite of the threat of a lawsuit and campaigns to improve public awareness, 2014 will mark another year that the UFC is unsuccessful in getting MMA legalized in New York state.

Paul Lapointe: FACT I do not have much to say about this question really. NY has proven time and again that they will need to be dragged, kicking and screaming, before they care enough to put pen to paper on this matter. The UFC has had countless attempts and really the answer to the problem is just to get bigger and bigger till NY has to take notice, something they are currently trying to do. So given that NJ is right over the border anyhow as a viable backup I say no rush.

Todd Vote: FACT Why should we expect anything less? The past few years has shown us that there are certain factors that will always seem to stop MMA from getting sanctioned in NY state. While it would be nice to see MMA in New York, at this point I think it is safe to say that it is not something that needs to happen for the continued growth of the sport.

---

Who could purposely hurt someone who smiles like that?



5.) All of the outrage that's been directed at Julianna Pena's training partner at the time of her injury is completely justified.

Todd Vote: FICTION Without knowing the full story, I don't think I can offer a solid answer to this one. Therefore the only answer to choose is Fiction. According to Dana, Pena was basically assaulted in her gym by some asshole who was jealous she was on tough. Which in turn, led to her severe injury that could keep her out for up to two years.

On the other side of the coin, her coach, and several fighters from the gym have stated that she wasn't attacked, and that it was just routine training. Any guff given to her over wearing her TUF shirt was just supposed to be some light hearted razzing.

Not knowing the full story, we can only speculate. If someone did this to her with malicious intent, then he should never be allowed to train at that gym again. Furthermore, if that is the case, and the rest of the fighters just stood by and watched it happened, they should all be taken to task. We just don't know enough to say if the outrage is completely justified.

Paul Lapointe: FICTION As more info has come to light over the past few days, the story is just dwindling in my eyes in regards to scrutiny, or at least the amount of scrutiny. Dana in the past few weeks has just said so many asinine and unnecessary comments to the media lately, him jumping the gun on making this public seems about accurate. Plenty of reasons to be very, very angry and to vent but behind closed doors may have been the better choice. Julianna Pena is the first female TUF winner, young and is sure to be marketable but now she will be rehabbing for quite some time and that's unfortunate. Accidents happen in this sport and with WMMA growing this may not the last time this happens, hopefully not to this extent but you never know.

---


Who do you think won this week? Did Todd put in a strong performance on short notice or did Paul return to the win column? Voting will be open until midnight EST on Saturday, so make sure you vote and make your voice heard!










---

Does this make you want to see the movie more?



Bonus) Seeing Georges St. Pierre as Batroc the Leaper in Captain America: The Winter Soldier makes you more interested in seeing the film.

Paul Lapointe: FICTION GSP being in the movie may be a fun little nugget for MMA fans, but I was already anticipating the film before his casting. Also being a comics nerd, Batroc as a villain is just a one-off C-lister, so him even being in the film means nothing to me. Following the Super Bowl spot though, I am ever more optimistic.

Todd Vote: FICTION I wanted to see the movie already. The most entertaining thing to come out of seeing the picture of GSP as Batroc was reading the comments section right here on 411mania. Such gems as "Cap will clearly win the fight, but Batroc will be awarded the decision", or "After the fight Batroc will take his ball and go home because he is afraid that aliens are after him." Those are far more interesting than GSP being in this movie.

---


And that's it for this week! As always, if there's anything you'd like to see featured in a future edition, leave your statement in the comments and I'll add it in. Let us know what you thought in the comments, on Twitter, or on Google+.


comments powered by