SPOTLIGHTS
The Juggernaut MMA News Report 02.06.14: Fantasy Olympic MMA in 2014
Posted by Jonathan Solomon on 02.06.2014

News and thoughts on Jose Aldo's weight class desires causing problems for his superfight with Anthony Pettis, a new Bellator title fight, Junior Dos Santos' team decisions, a look at a possible Olympics MMA landscape and more!






The 2014 Winter Olympics begin today in Russia and the opening ceremony is tomorrow, arguably the highlight of all olympic games. I wrote in this space nearly six years ago about mixed martial arts on that stage and while we're absolutely no closer for it to become a reality (hell, legalization in New York State would be nice) today than it was back then.

But, that's okay. You can check out the 2008 column and take a look at all the fighters who have since retired or dropped off the face of the Earth (Chuck Liddell, Forrest Griffin, GSP, Miguel Torres, Sexiyama, Dan Hardy, Fedor, Karo Parisyan, etc.). I spread the love around, splitting medals for each weight class (South America was the only region with multiple golds thanks to the Brazilians), and now it will be fun to see how large the changes are with six years leading us to the present.

North America

205+: Cain Velasquez (13-1) from USA
205+: Travis Browne (16-1-1) from USA
205: Jon Jones (19-1) from USA
205: Rashad Evans (19-3-1) from USA
185: Chris Weidman (11-0) from USA
185: Luke Rockhold (11-2) from USA
170: Johny Hendricks (15-2) from USA
170: Carlos Condit (29-7) from USA
170: Robbie Lawler (22-9, 1 NC) from USA
155: Anthony Pettis (16-2) from USA
155: Benson Henderson (19-3) form USA
145: Chad Mendes (16-1) from USA
135: Urijah Faber (30-7) from USA

Yes, this team is ridiculous. The heavyweight central power has transferred from Europe to the U.S. over the past six years, as has every other weight class leading down to the lightweights. Jon Jones and Chris Weidman are the kings at their respective weights and Canada lost their touch at welterweight with Georges St. Pierre taking a sabbatical. Meanwhle, the two lightest weights are just the second-best in the world because a pair of Brazilians have been so dominant, but more on that below.

Asia
205+: Mark Hunt (9-8-1) from New Zealand (give me a break, Asian MMA is the missing link today)
205+: Satoshi Ishii (11-2-1) from Japan
185: Yushin Okami (29-8) from Japan
170: Stun Gun Kim (18-2-1, 1 NC) from Japan
155: Shinya Aoki (35-6, 1 NC) from Hapan
145: Chan Sung Jung (16-4) from South Korea
145: Tatsuya Kawajiri (33-7-2) from Japan
135: Takeya Mizugaki (19-7-2) from Japan

Man, it's no secret how much of a drop Asian MMA has experienced in recent years, but damn. I tossed in Mark Hunt because he deserves a mention in 2014, though you may say I need to take a look at a map first. Anyway, the rest of Asia's top fighters are familiar names with the exception of The Korean Zombie, who six years ago was just starting out as a professional. On the bright side, Dong Hyun Kim, Zombie, Kawajiri and Mizugaki are each contenders in their respective divisions today in the UFC.

Western Europe
205+: Alistair Overeem (37-13) from Holland
205+: Cheick Kongo (18-7-2) from France
205: Alexander Gustafsson (15-2) from Sweden
205: Jimi Manuwa (14-0) from England
185: Michael Bisping (24-5) from England
185: Francis Carmont (22-7) from France
170: Tarec Saffiedine (15-3) from Belgium

Here, we definitely have a more impressive group of talent than in 2008. While Overeem has looked more pedestrian than monstrous recently, Kongo is still kicking it and on the cusp of a Bellator title run. Gustafsson nearly became the man to topple Jon Jones' historic run while Manuwa has emerged as a force at light heavyweight. Plus, Saffiedine is the best European welterweight, hellish kicks and all.

Eastern Europe
205+: Vitaly Minakov (13-0) from Russia
205+: Damian Grabowski (19-1) from Poland
205: Attila Vegh (29-4-2) from Slovakia
185: Gegard Mousasi (34-3-2) from Armenia
185: Alexander Shlemenko (49-7) from Russia
185: Mamed Khalidov (28-4-2) from Poland
155: Khabib Nurmagomedov (21-0) from Russia
145: Georgi Karakhanyan (23-3-1) from Russia
145: Frodo Khasbulaev (21-5) from Russia

This may look like a Bellator season with all the Russians involved but we have an eclectic bunch. Bellator's heavyweight, light heavyweight and middleweight champs are represented while Frodo is a tournament winner, too. Karakhanyan recently won the WSOF title while Khalidov is dominating his homeland in Poland and Nurmagomedov has remained undefeated in the octagon. They sure do appear to be taking over.

South America
205+: Junior dos Santos (16-3) from Brazil
205+: Fabricio Werdum (17-5-1) from Brazil
205: Glover Texieira (22-2) from Brazil
205: Antonio Rogerio Nogueira (21-5) from Brazil
205: Shogun Rua (22-8) from Brazil
185: Jacare Souza (19-3, 1 NC) from Brazil
185: Vitor Belfort (24-10) from Brazil
185: Lyoto Machida (20-4) from Brazil
170: Demian Maia (18-5) from Brazil
155: Rafael dos Anjos (20-6) from Brazil
145: Jose Aldo (23-1) from Brazil
135: Renan Barao (32-1, 1 NC) from Brazil

Yes, team Brazil. The one non-Brazilian I listed in 2008 was Melvin Manhoef but no such luck this go around. Even keeping Anderson Silva out of this group, it looks fierce on paper. Certainly, there's a bit of a luster issue at heavyweight, 205 and 185, but quality fighters are everywhere. The most dominant two are Aldo and Barao who each retained their respective UFC gold last week and show no signs of letting up.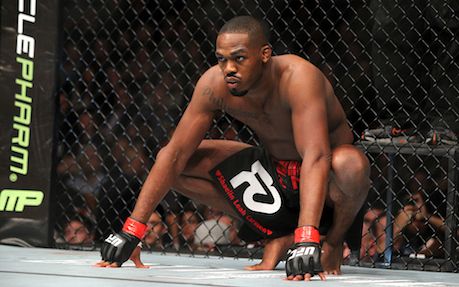 Heavyweight Gold: USA (North America)
Cain Velasquez is a monster, he's unstoppable and Travis Browne is okay, too.

Light Heavyweight Gold: USA (North America)
Where Bones goes, so goes the gold.

Middleweight Gold: USA (North America)
Amazingly, it's a clean sweep so far thanks to Weidman. You may disagree thanks to the depth for South America, but how do you go against the champion?

Welterweight Gold: USA (North America)
This isn't so much fun anymore, Team USA has ridiculous depth between Hendricks, Condit and Lawler.

Lightweight Gold: USA (North America)
Between Showtime and Bendo (not even counting Gilbert Melendez or Josh Thomson), 155-pounds is all about those Americans.

Featherweight Gold: Brazil (South America)
Where Aldo goes, so goes the gold.

Bantamweight Gold: Brazil (South America)
No collection of 135ers can be more impressive than THE man, Renan Barao.


Wow. In 2008, only the Western Europeans were shut out from a gold medal. Fast forward to 2014 and what do we see? A two man race between the U.S. and Brazil. Asia and ALL of Europe are spectators here and it's worth thinking about: what's happened to the sport internationally? Clearly, the UFC's ability to swallow up significant competitors has cut down on the likes of Fedor Emelianenko or anyone even remotely close. Instead, there are groups like KSW in Poland where Mamed Khalidov dominates or even over in Bellator where the majority of fighters are viewed as prospects or worse, second-rate.
---




- According to reports out of Brazil, Junior dos Santos is now splitting time between Team Nogueira and Nova Uniao. He's still preparing for his return to the cage following his second disastrous loss to champion Cain Velasquez.

- In the latest turn of events in the Anthony Pettis-Jose Aldo saga, things may not be so easy after all. Despite the fact that following his win last weekend over Ricardo Lamas, Aldo expressed a desire to fight Pettis, the question now is at what weight. At the moment, the Brazilian's camp has called for a catchweight super fight while the lightweight champion's reps are wholeheartedly against him dropping any weight.

For the moment, unless Aldo is willing to leave his home at featherweight, this fight may stay in the DREAM stage.

- Announced yesterday, the upcoming Bellator bantamweight title tilt on March 7th has been changed due to injury. Tournament winner Rafael Silva hurt his knee in training and has been pulled from the card, replaced with Anthony Leone who will take on champ Eduardo Dantas. The New York-native lost a decision to Silva in the tourney finals. For those wondering, Joe Warren (who is also waiting for a title fight after winning a 135-pound tournament) declined to take this fight because he is not fully back from his own knee injury, and will wait until the spring before he fights again.

- Confirmed yesterday is a big lightweight bout pitting Khabib Nurmagomedov against Rafael dos Anjos at UFC on Fox 11 in Florida this April. RDA is riding a five-fight win streak while Nurmagomedov is undefeated after 21 professional fights. Originally, dos Anjos had been set to fight Rustam Khabilov at UFC 170 this month but an injury to the latter stifled that match-up. Also, there was lots of talk some time ago that Khabib would meet Gilbert Melendez but apparently the former Strikeforce champion was not interested in returning to the cage around April.

- Other fights confirmed for the Fox show this spring include knockout artist Yoel Romero vs. Brad Tavares and Pat Healy vs. Jorge Masvidal. The main event is officially set as a five-round heavyweight tilt to determine the next championship contender when Fabricio Werdum takes on Travis Browne.

- Also made official this week is the UFC's return to Abu Dhabi, scheduled for April 11 with a main event featuring Antonio Rodrigo Nogueira vs. Roy Nelson. This will mark the first time since April 2010 they will run in the Middle East, that show was infamous for the horrible showing by Anderson Silva (in victory) against Demian Maia and the night Frankie Edgar upset B.J. Penn to become lightweight champion.

- Undefeated top-10 welterweight Ben Askren will begin training for his debut fight with One FC this May in Singapore at Evolve MMA. This also means he may possibly be working with Shinya Aoki, who is also pegged to debut with that organization in the spring. Neither have confirmed opponents yet, although their first welterweight champion will be crowned next month when Brock Larson challenges Nobutatsu Suzuki.




TWITTER

http://www.twitter.com/411mania
http://www.twitter.com/411wrestling
http://www.twitter.com/411moviestv
http://www.twitter.com/411music
http://www.twitter.com/411games
http://www.twitter.com/411mma

comments powered by