SPOTLIGHTS
Five Quick Rounds 02.11.14: Thiago May Go to Jail, Ronda May Go to Hollywood, Roy May Eat a Sandwich, More
Posted by Evan Zivin on 02.11.2014

From Ronda Rousey's next film roles and Anthony Johnson's UFC return to Thiago Silva's arrest for assault and battery and firing from the UFC, 411's Evan Zivin examines these stories and more in Five Quick Rounds!

Hey hey, fight fans, and welcome back to Five Quick Rounds! I am your host, Evan Zivin, and I am as excited as the man who broke Anderson Silva's leg accepting an award to be here once again!

It was accidental but it was a checked leg kick that allowed Chris Weidman to defeat Silva for the second time and it also locked up the Fighter of the Year award at the 2014 World MMA Awards for the UFC Middleweight Champion. Personally I'm not a huge fan of these awards. Part of it is because all award shows are stupid and tacky and part of it is because some of these awards are a foregone conclusion every single year. UFC always wins Best Promotion. Dana White always wins Leading Man of the Year. Herb Dean always wins Referee of the Year. Well, I suppose things could change someday. Britney Palmer did just end Arianny Celeste's reign of terror/boobs as Ring Card Girl of the Year so that means anything is possible. ANYTHING!! Some of the other winners this year seemed pretty obvious (Jon Jones vs. Alexander Gustafsson for Fight of the Year, Ronda Rousey for Female Fighter of the Year, Duane Ludwig for Coach of the Year) and I'm cool with Vitor Belfort getting Knockout of the Year because the Luke Rockhold KO was pretty sweet. I did find it interesting that Uriah Faber won Submission of the Year for the Ivan Menjivar fight. I find it more interesting that Anthony Pettis' armbar of Ben Henderson wasn't even nominated. What's up with that? Oh well. I can't be too mad because I couldn't care less about this show. I just hope that, somewhere in Brazil, Chael Sonnen was rubbing it in Wanderlei Silva's face that he won an award and that it was all captured on camera. It's fun when TUF coaches hate each other.

All right, so with fighter introductions out of the way, I have five more rounds of MMA news and opinions to throw at you. This week we look at Thiago Silva's arrest and dismissal from the UFC, Anthony Johnson's return to the UFC, Ronda Rousey's next film roles, and the announcements of Dos Anjos vs. Nurmagomedov and Big Nog vs. Big Country. Let's to it do it.

FIGHTER YOU READY!!!!
FIGHTER YOU READY!!!!

FIGHT!!!!




Round One: Thiago Silva Arrested, Charged With Aggravated Assault and Battery

***TOUCH OF GLOVES***

There weren't any major fight cards this week but there was certainly major news making the rounds, although this isn't the type of news that the MMA community wants to have to deal with. Let's see, how do I start? Thiago Silva, the light heavyweight fighter who has a 16-3 professional record with 2 no contests, 7 of those wins in the UFC, was arrested at his home in Oakland Park, Florida, on Thursday night. The arrest came as a result of an incident that took place at the Pablo Popovitch Martial Arts Academy earlier in the evening. Popovitch is a 4th degree black belt in Brazilian jiu-jitsu and has won multiple grappling tournaments, including a gold medal at the 2009 ADCC Championships. Popovitch trains a number of students at his Florida gym, one of which is Thiago's wife, Thaysa. The police reports says that, on Thursday evening, Thiago drove to Popovitch's gym. Thiago, knowing that his wife was there training at the time, parked his car out front and began honking the horn. When Thaysa came out to talk to Thiago, he pointed a gun at her and threatened to shoot her, Popovitch, and all his students who were in the gym at the time if Popovitch didn't step outside. The reports say Thiago was "extremely intoxicated" and when Popovitch came outside, he saw the gun and received several death threats from Thiago before driving away. Popovitch then ran back in the gym, locked the doors, and called the police. The police met Thiago at his home and, after Thiago went inside and refused to comply with the officers, a SWAT team was called and a taser was used to apprehend the fighter. This whole series of events played out over four hours.

When Thiago went before a bond court in Broward County on Friday morning, the charges levied at him were as follows: two counts of attempted felony murder, one count of aggravated battery with a deadly weapon and one count of resisting an officer without violence. The murder charges were dropped when no probable cause could be found and instead they charged him with two counts of aggravated assault with a deadly weapon. He is being held without bond as he's been labeled a potential flight risk. The aggravated battery charge comes from a prior incident that also involves Thaysa. I should mention that Thiago and Thaysa, who have been married for 13 years, are currently separated but Thaysa still lives at their Oakland Park residence. She is also reportedly involved romantically with Popovitch, which is a likely cause for Thiago's actions. It was an argument over extramarital affairs on January 30th that caused Thiago to not only threaten to kill his wife, he also pulled out a gun and placed it inside her mouth while continuing to threaten her. Thankfully, Thiago didn't harm her and left the residence. Thaysa called police and, fearing that Thiago might kill her, got a temporary injunction for protection. This led to another incident on February 5th when Thaysa came home to find Thiago there. She asked him to leave due to the injunction and, after refusing, he left, sending her more threats via text message. This all led to the incident at Popovitch's gym the following night. These are some serious charges and we shall see how the U.S. court system treats him the next time he goes before a judge.

***HORN SOUNDS***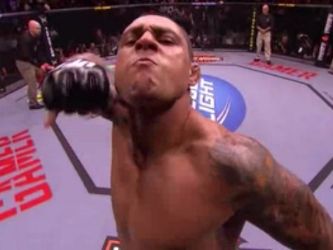 Round Two: Thiago Silva Cut From UFC, Because Duh

***TOUCH OF GLOVES***

I don't feel it's right to speculate on Thiago's actions and what motivated him to do them, mainly because we're still learning what happened and it's going to take some time to gather all the facts and process all this information. If you want to leave a comment about what Thiago did and how you feel about it, go right ahead. Besides, it's been a while since I've heard from you. The column misses you. Come in out of the cold. Have you been eating? You look awfully thin. What I will say is that, if all the allegations are true, then Thiago needs some serious help. I will also say I support Dana White's decision to cut Thiago from the UFC roster. Not only that, but Dana said that Thiago will never fight for the UFC ever.....EEEEEEVERRRRRRR...again. Now, Dana is usually pretty cool when it comes to bringing back released fighters. There have been countless fighters who have been given second, third, or more chances to return to the organization for various reasons. Dana has even been reasonable about forgiving many serious offenses, but this isn't something that can be forgiven. This isn't "You're a good fighter but you have a bad attitude so we'll bring you back when you get your head straight." This isn't "You failed to make weight in a new division but you can come back when you get your weight problems under control." This isn't even "You got caught using banned substances while holding a championship but if you're still a relevant fighter in 10 years I might give you another chance." This is way worse than any of that. This is way worse than what Paul Daley or Rousimar Palhares did. What those two did was unsportsmanlike. This is criminal. This puts a huge black eye on the sport of MMA and adds more fuel to the fire that is opposition to the sport. The Culinary Union is probably working on a new website to highlight this as we speak.

This series of events caps off a troubled UFC career for the Brazillian that was filled with many highs and many lows, any of which could have been enough on their own to banish Thiago from the UFC. From 2007-2010, Thiago had a fairly successful UFC career, only losing to future UFC champions Lyoto Machida and Rashad Evans while violently knocking out everyone else. Then, after recovering from a back injury, Thiago returned at UFC 125 in January 2011 against Brandon Vera. The fight was an extremely lop-sided decision victory for Thiago. I mean, you don't start playing the bongos on your opponents head unless you're winning the fight. Unfortunately for Thiago, that wasn't the only thing that fight became known for. A few weeks later it was determined he provided the athletic commission with a falsified urine sample for the post-fight drug test. Thiago admitting to using an adulterant and was fined and suspended for a year in addition to having the win overturned. That right there would have been enough to cut Thiago from the roster permanently but the UFC brought him back and, after a tough loss to Alexander Gustafsson, he got back on the right track with a submission win over Stanislav Nedkov, one of the best-named fighters in UFC history. The win ended up being overturned as well after he failed another drug test, but the test only detected marijuana so nobody cared. Then, after finally getting a non-overturned win against Rafael Calvalcante in June 2013, he missed weight for a fight against Matt Hamill last October. Missing weight by itself can be enough to get you cut from the UFC (well, unless you're a flyweight title contender) but the UFC was still willing to give Thiago another fight. Well, so much for that. He was supposed to fight Ovince St. Preux at UFC 171 but now OSP is fighting Nikita Krylov (another awesome name) and Thiago is being held without bail after threatening to shoot a jiu-jitsu class. This world is a crazy place, I tells ya. I would say that I hope this doesn't cause problems in the UFC's efforts to, once again, get the sport legalized in New York, but it's probably going to falter regardless. What the hell, New York? Did you not see that picture of John McCain with Jon Jones? Everything is cool now, so let the sport in!

***HORN SOUNDS***




Round Three: Anthony Johnson Returns to the UFC, Gets to Actually Eat This Time

***TOUCH OF GLOVES***

So, after all that awfulness, let us turn our attention to something, or someone, more exciting. How about Anthony "Rumble" Johnson? You remember him, right? He was the hot welterweight prospect who came into the UFC in 2007 and messed people up. He didn't contend for any championships but he did show a lot of promise, knocking out Tommy Speer, Yoshiyuki Yoshida, and Charlie Brenneman back when we were still lying to ourselves that any of those guys were elite fighters. He's one of those classic "wrestler with knockout power" fighters who prefers to throw leather than grind out decisions. He has that old-school, Liddellsian mentality when it comes to how he approaches fights but he's smart enough to know that his goal is to win and if he can entertain the fans while doing that, then even better. You gotta love him. It certainly looked like the UFC loved him, but Rumble had a major problem: he walked around at 220-230 lbs. and he was cutting down to the 170 weight class. That is insane. After missing weight badly for two fights, he began to realize he couldn't continue to make the cut so he decided to make the move up to middleweight. Yeah, that didn't go so well. He got his weight down to around 187-188 for a fight against Vitor Belfort at UFC 142 before his kidneys were all like "Oh hell no!" and starting shutting down, forcing Rumble to start hydrating before he caused any permanent damage to himself. He managed to save his health but he missed weight again. This apparent lack of discipline and preparation was deemed unacceptable and, after losing by submission to Belfort, the UFC did to Johnson what Johnson had so much trouble doing to his weight: they cut him. Thank you. I worked hard on that awful joke.

But the UFC is fair and, after two years of Rumble getting himself together mentally and physically, he is returning to the promotion for a fight against Phil Davis at UFC 172 (April 26, Baltimore, MD). You may be wondering to yourself "So what has Rumble been doing these past two years?" If that is true, then that makes me sad because that means you aren't watching World Series of Fighting, which you should because they're fun. Bas Rutten does commentary. Boost Mobile hands out giant novelty checks. You're missing out. After winning three fights, including two in Titan FC, Johnson was announced as one of the first major signings to Ray Sefo's new promotion. Johnson fought three times for WSOF, including a decision over former UFC Heavyweight Champion Andrei Arlovski and an absolute destruction of Mike Kyle three weeks ago. Johnson has mostly been competing as a light heavyweight since leaving the UFC and, with the performances he has had, it really makes me question why he tried cutting so much weight to begin with. I know his UFC debut was a short notice fight but why did he continue punishing himself at welterweight when he could bully and knock out fighters at 205 just as easily? It looks like it worked out for the best, though, as Johnson returns to the UFC to compete in a division that is in dire need of new title challengers since Jon Jones keeps beating all of them, the jerk. If Johnson can get past Davis, which will be no easy feat, he'll be on the short list of contenders for the championship. That's a pretty good way to make a return. Get it done, Johnson. It's Rumbling time! Does anyone else think he should scream that as he enters the cage for the Davis fight? No? Okay then.

***HORN SOUNDS***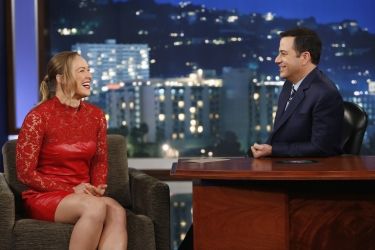 Round Four: Ronda Rousey Lands Two More Film Roles, Is Making Gina Carano Jealous

***TOUCH OF GLOVES***

UFC Women's Bantamweight Champion Ronda Rousey has a big task in front of her right now. On February 22, in honor of George Washington's birthday since we all know he loved the ladies, Rousey will defend her UFC Championship in the main event of UFC 170. On the night that Rashad Evans and Daniel Cormier will fight over who gets the chair that doesn't have the cracked seat and isn't missing stuffing in the left armrest on the set of the next UFC pre-show, Rousey will defend her belt against Sara McMann. This is a very intriguing fight. It will be the first battle to take place between two Olympic medalists in UFC history. If we were trying to determine a winner just based off amateur credentials, McMann might be the only female in MMA right now who can give Ronda a run for her money. Ronda and McMann have both won national championships in judo and wrestling, respectively. Both have won gold medals in the Pan American games. Ronda won gold in the Pan American Judo Championships, whereas McMann has won gold in the FILA Grappling World Championships. Ronda won a bronze medal at the 2008 Olympics in Beijing. McMann won a silver medal at the 2004 Olympics in Athens. It doesn't get more decorated than that. Throw in the fact that both women are undefeated in their MMA careers and you have one compelling fight right there. It'd be easy to say that Ronda's armbar will overwhelm McMann, like it has every other opponent, but who knows. Maybe McMann's wrestling is the answer to beating it. All I know is it should be a good fight and I am confident that Ronda is definitely not looking past this opponent.

Well.......maybe she is, a little. It was just announced that Ronda has signed on to join the casts of two more movies. Ronda is already set to appear in The Expendables 3 as an "athletic female bartender" --she'll serve you drinks...and then she'll serve YOUR HEAD!!! or something-- this August and she'll appear in Fast and Furious 7 in 2015. So, in addition to those roles, Ronda will now be appearing in the Entourage movie as well as an adaptation of the book The Athena Project. I don't watch a ton of TV that doesn't involve people intentionally trying to render each other unconscious or at least pretending to (pro wrestling is still real to me, dammit!) so I don't know a ton about Entourage other than the facts that none of the characters appeared likeable and the lead character had bad hair for most of the show's run. My apologies if I stepped out of line there. I'm guessing that will be a quick, silly role for the two or three people in the audience who will know who she is. Her part in The Athena Project, though, could be a much bigger deal. The book, about a female counterterrorist unit hunting down the mastermind behind a bombing in Rome, has the potential to become a franchise. That could mean if the film is successful, it might guarantee that Ronda will be leaving the MMA world for good in another year or two. She might end up like Gina Carano soon: wearing lingerie on a FOX show that outrages MMA journalists even though they still mention it and link the video of it on their website. It almost seems inevitable that Ronda will be leaving us in the dust for the fame of Hollywood. I just hope her mind isn't already there when it should be focused on Las Vegas and Sara McMann a week from Saturday. At least if Ronda loses this fight, Jeremy Piven awaits. Is that a good thing? You decide...ONLY IN THEATERS!!! Or the comments section. Whichever.

***HORN SOUNDS***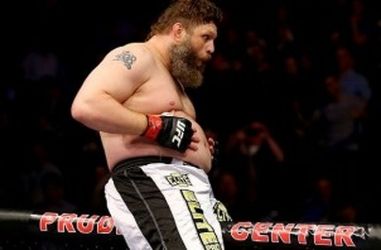 Round Five: Dos Anjos Gets the Nurm, Roy Nelson to Fight Big Nog for a Plate of Shawarma

***TOUCH OF GLOVES***

And let's end the day with some random fight announcements. The first fight is a match-up between top lightweight prospects Rafael dos Anjos and the Russian legend that is Khabib Numagomedov. That's right. After weeks of The 'Bib pestering UFC and taking shots at other UFC lightweights who were too afraid to step up and fight him (except Michael Johnson who doesn't count), he finally has his next fight and it's against a man one spot above him on the UFC Rankings. Progress! The fight was put together after dos Anjos' planned UFC 170 bout with Rustam Khabilov fell apart due to injury. The story of that fight is actually kind of funny because, apparently, when dos Anjos agreed to the Khabilov fight, he thought he was actually fighting Nurmagomedov. I can see where the confusion might arise. Both Khabib and Khabilov are lightweight wrecking machines from Dagestan. The main difference between the two is that I don't think Rustam ever photoshopped Dos Anjos' face onto a package of jiu-jitsu flavored chocolates. Yeah, I'm already liking this change in opponent. Nurmagomedov is a killer and, in a lightweight division currently "light" on credible title challengers, this might be the fight he needs to finally demand a title shot. I don't think Dana would give Nurmagomedov a shot for beating dos Anjos but it will likely set him up for a title eliminator bout in his next appearance. Dos Anjos vs. Khabib goes down April 19 at UFC on FOX 11. Bring your furry hats.

Also just announced was a heavyweight main event between Antonio Rodrigo "Minotaruro" Alejandro Ambrossio Giordano Vittorio Armani Nogueira vs. Roy Nelson. That's right. Future Nevada State Athletic Commission Executive Director Roy Nelson will be stepping away from the seat he will eventually be holding at the head of one of the most powerful commissions in the world to fight the legend that is Minotauro. Okay, so maybe Nelson won't be getting Keith Kizer's old job and I think I added an extra name or two to Nogueira's but it will still be a good match between two old-school fighters. Both men like to finish and they will be trying their darnedest to do just that when they fight in Abu Dhabi on April 11. Wait a sec, Abu Dhabi? The UFC is going back to Abu Dhabi? They do remember the last time they fought there, right? UFC 112? Frankie Edgar defeated BJ Penn in an extremely controversial judge's call followed by Anderson Silva delivering one of his worst performances ever against Demian Maia? I guess UFC is hoping things will go better this time, as will the next five because this event is the first in a two year deal that will see at least five events take place in the United Arab Emirates. It makes sense. Flash Entertainment, an Abu Dhabi-based company, owns 10% of the UFC and I imagine they'd like to see the promotion visit more often than "once every 4 years assuming one of our champions doesn't make a jackass of himself for 25 minutes." Well, there won't be any title fights on this card, so crisis averted? I guess? I'm looking forward to this fight either way, even though it will likely be on Fight Pass. It's all right. I'll find someone to steal money from so I can pay for the service. Also, so I can use their credit card information in case the UFC doesn't shore up all the Fight Pass' security problems and the site gets hacked. I read the Bloody Elbow article. I know what's going on. Well, I skimmed most of it because it used a lot of big words but I got the gist of it.

***HORN SOUNDS***

That's it for Five Quick Rounds. Thanks for reading. If you have any questions, comments, or suggestions, and it is always appreciated when you do, leave them in the comments section. I will be back in 7 for another Five Quick Rounds. Lyoto Machida and Gegard Mousasi fight in Brazil this Saturday, so enjoy the fights and remember to fight clean, fight hard, fight fair, and never leave it in the hands of the judges...




LATER!!!!!!!!!!!!!!!!!!!!!!!
comments powered by