SPOTLIGHTS
The Greatest MMA News Column 02.11.14: Post-Madonna
Posted by Dan Plunkett on 02.11.2014

News and thoughts on UFC Fight Night 36, Machida vs. Mousasi, Thiago Silva's arrest, Jessica Eye's suspension, Anthony Johnson's UFC return, and more!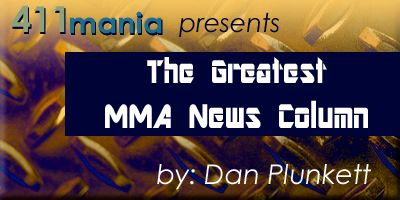 NEWS!



Major middleweight bout headlines UFC Fight Night 36. UFC heads to Brazil for the first time in three whole months on Saturday night for a show that has been overlooked. Two key middleweight matches headline the show, which will air in a later-than-usual spot on Fox Sports 1. In the co-main event, Ronaldo "Jacare" Souza faces Francis Carmont. Jacare, 34, has looked better than ever over his four most recent bouts, including a first round drubbing of Yushin Okami. Carmont on the other hand hasn't gained as much acclaim after a 6-0 start to his UFC run. But if he beats Jacare it will force people to take notice, no matter how boring the match may prove to be.

The main event has a bit more meaning in the immediate middleweight title picture. At 35, Lyoto Machida's window of opportunity to capture another championship is closing. Five years ago he was the future of the light heavyweight division – strikers couldn't hit him, wrestlers couldn't take him down, grapplers couldn't submit him. Machida still poses many of the same problems today for fighters that he did five years ago, but he's been proven beatable. One fight into his middleweight career, the former light heavyweight champion's presence is a big component to the middleweight division's newfound depth.

His opponent will be a fellow that hasn't fought at middleweight in nearly five years. In 2008, when Dream sought to get Pride's sloppy seconds with what little remained of the Japanese MMA scene, a sixteen man grand prix was held to determine the new promotion's inaugural middleweight champion. That tournament came down to Jacare Souza, in just his twelfth fight, and 23-year-old Gegard Mousasi. Both advanced to the finals by winning earlier in the night: Mousasi tapped Melvin Mahoef in 1:28, and Souza one-upped him by tapping Zelg Galesic in 1:27. In the final match, Souza forced Mousasi to play his game with an early takedown. It turned out Mousasi rather liked Souza's game. As Souza dove downward threatening with a right hand, Mousasi hit a perfectly timed and placed upkick, knocking out Jacare.





Instantly, Mousasi became one of the hottest young fighters in MMA. He drew comparisons to his teammate Fedor Emelianenko – perhaps the highest compliment that could be given at the time – due to his skill and demeanor. Citing a difficulty making the middleweight limit, Mousasi moved to the light heavyweight division. He also moved stateside, and crushed Renato Sobral to capture Strikeforce's light heavyweight title. That performance caught UFC president Dana White's eye, who soon after expressed great interest in bringing in the Iranian born fighter.

About eight months later, Mousasi's momentum stalled with a loss to Muhammed Lawal. The one-sided decision loss exposed Mousasi's wrestling weakness. Despite being unbeaten since that point (he does have a 2011 draw against Keith Jardine, although the nod should have went Mousasi's way), the hype surrounding Mousasi hasn't quite recovered.

On Saturday, Mousasi will finally get a chance to regain that momentum. Lyoto Machida is the first truly elite fighter Mousasi has faced in years, if he has ever truly faced one. Beating Machida – something only two of the best light heavyweights in the sport's history have been able to decisively do – would finally prove everyone on Team Mousasi in 2008 correct. His odds aren't strong. In addition to officially cutting down to middleweight since before he could rent a car, Mousasi is coming off of knee surgery and hasn't fought in nearly a year. Rarely does a fighter return from knee surgery and immediately get back to where he left off. If Mousasi can return to form against someone like Machida, he's a rare breed indeed.

Thiago Silva arrested following SWAT standoff. On Thursday night Thiago Silva sat armed in the parking lot of the Pablo Popovitch Brazilian Jiu-Jitsu center in Oakland Park, Florida. Details from there aren't crystal clear. According to TMZ, Silva pointed a gun at his estranged wife, Thaysa, who was at the academy, and demanded she bring Pablo to him. Thaysa, who separated from Thiago in December 2012, and Pablo are said to be in a relationship. Thiago also threatened to shoot everyone inside the school if his demand to see Pablo was not met. Popovitch then allegedly came out, but soon retreated inside and police were called. According to Popovitch's statement, Thiago was in the parking lot honking his horn constantly at about 7:45pm. Thaysa then went outside and saw a gun. Pablo soon followed, noticed the gun, and believed Silva was under the influence of some substance. Academy staff then called police, Silva retreated to his nearby home, and had a non-violent standoff with the SWAT team before surrendering. Silva was initially charged with attempted murder, but a judge threw those out and Silva now faces two charges of aggravated assault. Bail was revoked due to Silva being deemed dangerous and a flight risk.

Obviously, this is a very unfortunate situation. Silva was released from the UFC on Friday, but that's the least of his issues. He was scheduled to face Ovince St. Peaux next month at UFC 171 at the time of the incident. Silva began his career with a 13-0 record, with 4 of those wins in the UFC. His third UFC bout against Houston Alexander served as the co-main event of UFC 78, but that was more due to The Great Houston Alexander Fad of 2007 than Silva. His unbeaten run came to an end in 2009, with a one-sided first round knockout loss to Lyoto Machida. A rebound win against Keith Jardine was Silva's last official win for four years. Following a loss to Rashad Evans, injuries kept him out of actions for nearly a full year. When he finally returned, Silva submitted non-human urine for a drug test following a win against Brandon Vera. The result of overturned, and Silva was pulled from a main event match against Quinton "Rampage" Jackson. Silva dropped a return match to Alexander Gustafsson, and failed a drug test for marijuana following his November 2012 submission of Stanislav Nedkov. Most recently, an out-of-shape Silva won a dull decision against Matt Hamill in October.





Jessica Eye's probate suspension the result of a marijuana failure; made much bigger story by terrible PR. The entire situation with Jessica Eye and the Texas Department of Licensing and Regulation seems to have cleared up. On February 1, the result of Eye's October bout against Sarah Kaufman, initially a split decision win for Eye, was overturned to a no contest. This was odd, because there was no given reason for the change and because results aren't usually overturned four months after a fight. Then it was revealed that Eye had been placed on probate suspension by the TDLR, meaning she could still fight, but she was fined and instead of a typical suspension was on probation. Due to medical privacy laws, Texas couldn't release medical information immediately and had to go through the process of a request, which generally takes 10 days. Early reports were that the issue stemmed from Eye's use of blood thinners – medication needed due to an auto accident when she was 16. For a professional fighter, blood thinners come with a variety of risks, including hampering the ability to stop a cut. However, such blood thinners would only be found via a blood test, which the TDLR does not conduct, so there were questions as to how they would have found out about the blood thinners in the first place.

On Saturday, Bloody Elbow's Brent Brookhouse cited multiple commission sources in reporting that Eye actually failed a pre-fight screening for marijuana. Eye took to Twitter to dispute the report, messaging Brookhouse to say he was a "shit starter." She sent a message to another using asking to show her the test result. Soon thereafter, Eye's account was deleted. Monday night, Fox Sports posted the probate suspension agreement between the Texas Department of Licensing and Eye, which spelled out that she had in fact submitted a urine sample containing Cannabinoids.

Eye's comments, including initial denials she was even suspended, whatever reason behind them, only kept the story in the news cycle and made the actual story even bigger. The reality is that people don't really care about marijuana test failures and an honest explanation when the news first broke would have made it more or less a non-story by this point.

Eye is still scheduled to fight Alexis Davis on February 22 in Las Vegas at UFC 170, however she has yet to receive a license from the Nevada Athletic Commission. Due to the probate suspension in Texas, Eye is required to pass a drug test in Nevada before receiving her license. Assuming she passes, she'll fight on the show. However, her initial defense of use of blood thinners may raise concern in Nevada. It's certainly something that should be looked at prior to licensure.





Quick news: Anthony Johnson, 29, is back with the UFC. He'll face Phil Davis at UFC 172… Rafael dos Anjos vs. Khabib Nurmagomedov is set for UFC on Fox in April. The winner will be very close to a title shot… Ronda Rousey has landed roles in the upcoming Entourage movie and The Athena Project. She's not long for MMA… Has anybody seen a commercial for UFC 170 on TV?... Bellator signed on a new sponsor in Attack Poker… Ben Asken's first One FC fight will be in May for the welterweight title.

---


As always, thanks for reading. Feel free to leave any feedback in the comment box or email me at plunkettdan@yahoo.com.

comments powered by