SPOTLIGHTS
411 MMA Fact or Fiction 2.12.14: Weidman, Johnson's Weight, More
Posted by Wyatt Beougher on 02.12.2014

Was Chris Weidman winning and successfully defending the UFC middleweight championship good for the division? Will Anthony Johnson miss weight in the next year? 411's Alex Watt and Jarrod Atkinson debate these topics and more!

Welcome everyone to 411's MMA Fact or Fiction, and I'm your host, Wyatt Beougher. The countdown continues as we're now two short weeks away from the start of the annual 411 MMA Fact or Fiction tournament. I'm in the process now of determining exactly who will be able to participate in this year's tournament, and next week, I should have a preliminary list of participants for you. As always, though, keep in mind that this tournament, until the first round actually begins, falls under the old MMA caveat: "card subject to change". Just like last week, when Robert Practor had to bow out of his scheduled appearance, things come up, and I do my best to work with these guys (who are all kind enough to volunteer for this column). Basically, next week should have the preliminary line-up, but don't be surprised if something changes between Wednesday the 19th and whatever day the tournament actually kicks off the following week.

In last week's contest, Todd Vote stepped in as a late replacement to take on Paul Lapointe, and, if you looked at this one purely based on each guy's record going into the contest, the results may have surprised you, as Todd jumped out to an early lead and he hang onto it right up until the end, when Paul came roaring back to even things up. The end result was a draw, so congratulations to both guys for avoiding a loss to go into the tournament, and as a reminder, if they do meet each other again in the tournament, there's no option for a draw, as I'll act as the deciding vote in the event of a tie. This week, Alex Watt faces off against Jarrod Atkinson, who is returning to the MMA Zone after a successful debut in the New Year's edition of Fact or Fiction against the aforementioned Mr. Lapointe. Will Watt fare better than Paul did? Let's get to the action and find out!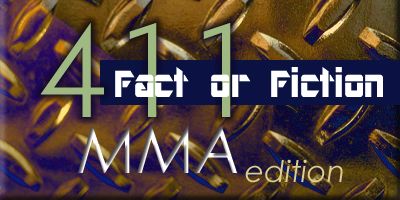 TALE OF THE TAPE

Red Corner
Alex Watt
'Axle Twat'
Journalist, Denbighshire Free Press/Columnist, Thoughts From Across the Pond
5-4-2

VS

Blue Corner
Jarrod Atkinson
'The Southern Dandy'
Columnist, The Wrestling 720 News Report (Wrestling Zone)
1-0-0

---

Is 'the Weidman era' good for the UFC's middleweight division?



1.) Chris Weidman's victory over (and successful defense against) Anderson Silva has resurrected the middleweight division from the doldrums it had previously been in during Silva's run of dominance.

Alex Watt: FICTION It still feels strange that the UFC will enter 2014 without Anderson Silva and Georges St. Pierre as its champions and main stars. It still doesn't feel quite right. It's exciting, sure, but scary too. A brave leap into the unknown.

I don't dispute for a second that a new UFC Middleweight Champion is a thrilling prospect, given how long Silva dominated the division. It feels fresh and exhilarating. Plus, a Weidman vs. Belfort showdown is an extremely appealing one – more so than Silva-Belfort 2 would have been – and the anticipation is only getting amplified by the recent back and forth between the new champ and the reinvigorated "Phenom".

However, I disagree with the statement on the basis that I refuse to believe that the middleweight division was in "the doldrums" during the height of Silva's reign. Sure, it had its poor moments (challenges from Coté and Leites come to mind) but, for me, an Anderson Silva fight was always one of the highlights of the year in MMA. The chance to see a competitor as skilled as "The Spider" do his thing was always a privilege. Weidman has an extremely tough act to follow.

Jarrod Atkinson: FICTION I only say fiction because even if Silva had defeated Weidman either time, the division would have worked itself out naturally. The only person that benefits from Silva's loss is Vitor Belfort. He would've had to wait if Weidman lost the rematch, and his previous loss to Silva made him not look like a good matchup for the Spider, despite his 2013 Headkick World Tour. A look at the rankings gives 3 contenders right off the bat not named Anderson Silva that can give Weidman a run for his money, and not counting Vitor, Silva too. The card this Saturday will give us a better view of the next next contender with both Lyoto Machida and Jacare Souza scheduled. Sometimes when you think a division is cleaned out, a new wave comes in to re-energize it. Middleweight is no exception.

---

Fattyfattyfattyfatfatfattyfattymissedweightfattyfatfatty



2.) Anthony Johnson will miss weight at least once in the next twelve months.

Jarrod Atkinson: FICTION I love Rumbleweight jokes as much as the next person, but Anthony Johnson will make weight now that he's found his home at 205. Johnson did the right thing after being cut, he went out, he got some wins, and he proved he can make weight at a reasonable weight class. Unless he tries to step in for Robbie Lawler in the welterweight championship fight on 2 weeks notice, he's going to make weight every single time.

Alex Watt: FICTION Anthony Johnson has to realise what a big second chance he has here. The last thing he would want to do is screw it up with another weight mishap, after Dana White and co. have forgiven him and brought him back into the fold.

Also, "Rumble" will be plying his trade at 205lbs in his latest stint with the UFC. In his previous Octagon appearances "Rumble" was competing - or supposed to be, given the number of times he didn't actually meet the weight limit - at 170lbs and 185lbs. (And yes it is crazy to consider that "Rumble" once competed a whole two weight classes and 35lbs below what appears to be his natural division).

Although I can't confidently rule out another Johnson failure to make weight, I have to hope that if "Rumble" can stay away from the buffet line and not attempt to shed inhuman numbers of pounds in the sauna on the same day he's set to step on the scales, then even he should be able to make a 206lbs limit.

---

This whole situation is just awful, and I'm thankful no one was hurt.



3.) If Thiago Silva did threaten to enter Pablo Popovitch's gym and "start shooting people" as has been alleged, then it seems like a mistake for the judge at his arraignment to downgrade the attempted murder charge against him to aggravated assault.

Alex Watt: FICTION Thiago Silva always seemed like an intense, scary dude inside the Octagon but one hoped he switched that side of himself off when he returned to the real world. Apparently not.

I certainly can't claim to be an expert in the U.S. legal system but there is an element of questionability here given that there are claims that Silva actually texted his wife Thaysa threatening to kill her and Popovitch for an alleged affair between the two, prior to his storm on the gym.

However, those claims are unsubstantiated and, under the loopholes of the legal process, I expect the fact that Silva didn't actually shoot at anyone during the incident, but merely threatened to, will have played into the judge's decision to downgrade the charge.

If we're trying to understand the complexities of the courts though then we could be here all day. Perhaps we should just concede that Thiago Silva has done an incredibly bad thing, far worse than his previous offences of falsifying a urine sample and getting that neck tattoo. Regardless of what the charge is, he will go to prison and he won't be seen back in the UFC again.

Jarrod Atkinson: FICTION A very moderate fiction. Silva did some absolutely stupid crap in the last month, including allegedly putting a gun in his wife's mouth. But this seems like a guy with a bad drinking problem that doesn't know how to get what he wants, so he decides to go the bully route and act all hard with a gun. He didn't shoot at anyone, he just made a lot of threats. He's a moron and he's going to be in some deep crap, but attempted murder is a tad bit too far.

[Editor's Note: Silva was originally charged with attempted murder; this charge was later dropped in favor of the charge of aggravated assault that he's currently awaiting trial for. Just wanted to ensure that no one thought that I pulled the attempted murder charge out of thin air for this statement. -W]

---

Hollywood bound?



4.) If Ronda Rousey loses to Sara McMann later this month, it will be her last MMA fight, as she continues to land movie roles.

Jarrod Atkinson: FICTION 1000 times fiction. If Ronda Rousey loses her fight, it will light a fire under her that makes her previous preparations look like moms doing Zumba once a week. The fame and the movie roles are a plus, but Ronda isn't Gina, she's a judo death machine that didn't handle someone on her team losing well. McMann winning this fight would mean that everyone in the 135-pound women's division would be getting their arms ripped off instead of dislocated. I fear the day that Rousey loses that belt. You should too.

Alex Watt: FICTION First of all, can I just say how much I'm looking forward to Rousey vs. McMann? Olympic medallist versus Olympic medallist; Judo versus wrestling; Armbar of doom versus abs of excellence. You know, all that good stuff.

In addition, the news that Rousey has inked a two movie deal with Warner Bros is great for her (although there is no truth to the rumours that she'll star in a remake of "A Farewell To Arms").

However, although Rousey is right to jump on all the great opportunities that are coming her way, she is an athlete and a competitor at heart. I simply cannot believe that a person with Rousey's mindset could be content without the thrill of competition. This was, after all, someone who was raised on a steady diet of judo competitions and sneak armbar attacks. Do you really think that a person as competitive as Rousey would simply step away in the event that McMann did beat her for the belt? Rousey would want that immediate rematch to prove that she is the best female fighter in MMA.

---

Lil' Tito Ortiz? (credit: 411 commenter IvoMarston)



5.) If Urijah Faber was really as injured as his manager has claimed leading up to his fight with Renan Barao at UFC 169, he should've waited until he was healthy to accept the fight.

Alex Watt: FACT Yes, Faber probably should have waited until he was healthy to take a fight against one of the pound for pound best fighters in the sport. Of course, it's easy to say that now with the benefit of hindsight. When an opportunity falls into your lap – as it did with Faber following the latest unfortunate injury to now former bantamweight champ Dominick Cruz – it would be extremely difficult for an athlete as motivated as Faber to turn it down. As Faber's manager, Mike Roberts, said in the same statement where he revealed the apparent knee and hamstring injuries to his client, "Urijah's whole thing is about opportunity. You don't pass up opportunity."

Plus, if Faber felt like his knee and hamstring were giving him the thumbs up to continue, then you know there's no way he would have stopped.

Jarrod Atkinson: FICTION With a loss comes the admission of an injury about a week later. Faber's injury sounds as convenient as his bitching about the stoppage. Faber lost. He got the raw end of stoppage that could've gone either way, but it looked like Barao was going to win that fight either way. It's not like there wasn't another title fight that could've headlined the card. I know that the buyrate for 169 would've been low with or without Faber vs Barao. If you step in the octagon hurt, you can't use it as an excuse when you lose. Take your loss and move on or swallow your pride and admit that you're hurt.

---


Who do you think won this week? Did Jarrod continue to run roughshod over the MMA Zone, or did Alex's notoriously dry British wit win you over? Voting will be open until midnight EST on Saturday, so make sure you vote and make your voice heard!










---

From all accounts, this pretty much sums up WWE morale right now, doesn't it?



Bonus) Between CM Punk walking out of the company and an anonymous superstar writing letters to wrestling news sites, the WWE needs to get a handle on its locker room between now and Wrestlemania.

Jarrod Atkinson: FICTION I think the locker room is in order. Punk walking out is bad for the company, but they appear to be handling it in their own way. I'm sure there is a split in the opinion of the situation, but this isn't going to result in a walkout or a union forming. Punk took his ball and went home. A few Wrestlemania plans will have to be shifted around, but that's the nature of the business. As far as the anonymous superstar, for all we know it could be Zack Ryder bitching because he's not getting pushed. People may be a bit frustrated, but there's a spot opening that everyone should be gunning for with Punk sitting at home.

Alex Watt: FICTION If word of low morale in the WWE locker room is accurate then it's about more than CM Punk leaving the company. It's about missed opportunities, about WWE pushing the same old faces to the top, about part-timers returning to the main event scene, and about WWE's steadfast refusal to create new stars (the rate at which Dolph Ziggler's star has fallen over the last 12 months, for instance, is terrifying).

Even so, any backstage problems are likely to be minimal and unlikely to overshadow the WWE's plans going into its biggest show of the year. What WWE really needs to get a handle on is its booking decisions for Wrestlemania. Get it wrong, and WWE could be looking at some Lesnar vs. Goldberg levels of live audience rebellion.

Just say "Yes" to Daniel Bryan in the main event, Vince.

---


And that's it for this week! As always, if there's anything you'd like to see featured in a future edition, leave your statement in the comments and I'll add it in. Let us know what you thought in the comments, on Twitter, or on Google+.
comments powered by