SPOTLIGHTS
The Greatest MMA News Column 02.18.14: Melendez to Bellator Ramifications
Posted by Dan Plunkett on 02.18.2014

News and thoughts on Gilbert Melendez agreeing to a deal with Bellator and its ramifications, Pat Cummins stepping in to face Daniel Cormier, Sonnen vs. Silva moved, and more!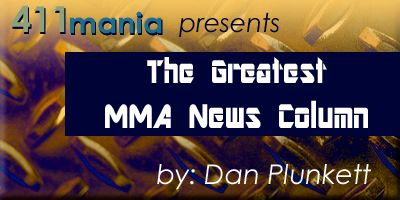 Melendez Accepts Offer From Bellator; UFC Has Right to Match



One year ago Gilbert Melendez made his UFC debut. Long considered an elite lightweight, Melendez had something of a stigma attached to him for his accomplishments coming outside of the UFC. When UFC parent company Zuffa purchased Strikeforce in March of 2011, things were looking up for Melendez, at the time Strikeforce's lightweight champion. At one point, there was a plan to bring a top UFC lightweight over to Strikeforce to challenge Melendez. At another, it seemed eminent that Melendez would be transferred over to the UFC and get an immediate title match.

Neither came to be.

Showtime, Strikeforce's broadcast partner, was not happy with UFC bringing over Strikeforce fighters. UFC president Dana White had difficulty working with Showtime. After Strikeforce fighter Dan Henderson moved to UFC in August 2011, a deal was struck between Showtime and Zuffa that saw certain fighters put on a list. Fighters on the list could not go to UFC while Showtime aired Zuffa programming. Melendez was among those on the list, and thus stuck in Strikeforce as long as the company remained on Showtime. White then decided to against bringing select UFC fighters over to Strikeforce. (UFC did plan to bring Frank Mir over to fight Daniel Cormier, but the circumstances were different as it had been agreed all heavyweights would move to UFC and the plan was to give Cormier a big name opponent prior to his UFC debut.)

Melendez's final year in Strikeforce was one long disappointment. Following a narrow win over Josh Thomson in a stellar fight, Melendez was matched with Pat Healy. An injury forced Melendez out of the match, and the event was cancelled. The match was rebooked for Strikeforce's final show in January 2013, but Melendez was unable to recover from the injury in time. Even without that last title defense, he moved right into a championship opportunity in the UFC.

What a difference a point can make.

Melendez fell just one point shy on one judge's scorecard from capturing the lightweight title. One point shy from an assuredly more lucrative contract offer from the UFC. One point shy from likely sticking with the UFC for quite a while.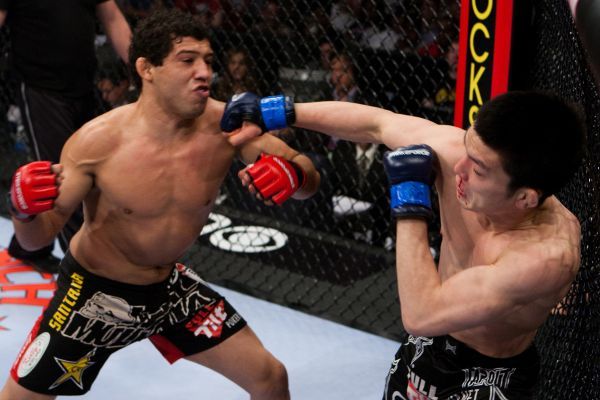 Because of that one point, Gilbert Melendez is likely headed to Bellator. On Friday, the promotion announced it had come to an agreement with Melendez, although UFC still has the right to match the offer. The situation is an interesting twist in the UFC-Bellator rivalry, which began when a majority stake in Bellator was sold to Viacom and the company began airing on Spike TV – UFC's former television partner. Over the past couple of years it was the UFC making offers to Bellator's top stars – Eddie Alvarez and Hector Lombard – with Bellator having the right to match. In Lombard's case, Bellator chose not to match. In Alvarez's case, they matched and received criticism for doing so. The feeling was Alvarez wanted to go to the UFC, and he didn't believe Bellator offered a complete match to the point that the two parties went to court over the issue. In the Melendez situation, if he wants to leave the UFC, they shouldn't match. If he's happy with returning to the UFC if the offer can be matched, then there's no reason to be against UFC for matching the offer.

There are a number of interesting things to take away from Bellator's offer to Melendez. Perhaps most prominently, Bellator is no longer shy about chasing high priced free agents. Last year's signings of Quinton "Rampage" Jackson and Tito Ortiz signaled Bellator was willing to shell out money for fighters with proven star power, but Melendez is a different animal. He doesn't have nearly the name of Jackson or Ortiz and doesn't have a history of being a strong draw. In years past, Bellator had been cautious spenders.

Since Pride's death, UFC's highest profile competitors fell victim to overspending for talent that couldn't move business to the level needed to make them worth what they were being paid. Affliction offered monster deals to fighters like Fedor Emelianenko, Tim Sylvia, and Andrei Arlovski, none of which were able to draw enough on pay-per-view to justify their salaries. Strikeforce fell into Affliction's trap of overpaying for Emelianenko to boast they had the best heavyweight in the world under contract. They also scooped up fighters like Dan Henderson, Josh Barnett, and Fabricio Werdum, and paid a premium to keep Gilbert Melendez and Nick Diaz.

Bellator is in a much different situation than Affliction and Strikeforce in that they seem to be doing well financially and they are owned by their television partner. Still, they run the risk of overpaying for talent like Melendez. At a certain point, the only way to recoup the high cost of those fighters is through either pay-per-view or a big television deal. At this point, pay-per-view isn't likely to be a successful endeavor for the #2 MMA company when the #1 company is seeing their bottom numbers come in at the lowest levels since 2005 and all of the big movers and shakers on are in the top company. Bellator has a proven pay-per-view star in Rampage Jackson, but there's no indication as to how an aging star in the #2 company will draw in 2014.

The success or failure of the Melendez deal will be a story to follow because it should dictate how Bellator goes after similar fighters in the future. A failure, which would mean Melendez not moving television numbers or selling pay-per-views, could result in Bellator being less aggressive going after top level free agents in favor of a home grown system. A success would be the best thing possible for UFC and Bellator fighters, and the increased competition for talent and addition of a real financial alternative to the UFC would add leverage to their negotiations.

---




NEWS!





?



Newcomer Pat Cummins replaced Rashad Evans against Daniel Cormier. UFC 170 (which I still haven't seen a commercial for on television) was dealt a major blow when Rashad Evans suffered a leg injury and was forced to withdraw from his fight against Daniel Cormier on Wednesday. The initial contingency plan called for the bout to be rescheduled, likely for April under the Jon Jones vs. Glover Teixeira title fight, but that was scrapped when Evans' injury was revealed to be worse than feared. When it was announced on Wednesday night that Evans was injured, two people publicly expressed interest in the bout. One was Chael Sonnen, which would have been a bad idea. The other was an unknown named Pat Cummins, who begged for the bout on Twitter and The Underground. Somehow, it worked.

On Thursday, as the story goes, Dana White called Cummins, who was at work at a coffee shop. Cummins was fired for taking the call, but he wasn't on the unemployment line very long as he got the fight. Cummins comes into the fight with a 4-0 record and as a two-time NCAA All-American wrestler. He and Cormier wrestled once, with Cormier winning on points 7-0. Cummins, however, relayed a story in which he once made Cormier cry while Cormier was training for the Olympics, and crying is apparently a bad thing. Cormier confirmed the story, but noted there were extenuating circumstances which had made him become very emotional.

Cormier opened as a monster favorite (he's currently -1200 on Bovada) and shouldn't have much trouble with Cummins. The most interesting aspect of the fight is it is Cormier's first at light heavyweight, where some feel he'll suffer as he won't benefit from the speed advantage he had at heavyweight. Really, Cormier's best qualities are his wrestling ability and the fact that he's one of the smartest fighters in the sport. Saturday's bout against Cummins probably won't tell us exactly where Cormier fits in the light heavyweight division, but I think he's a legitimate threat to the title.

Chael Sonnen vs. Wanderlei Silva moved from UFC 173 to May 31 in Brazil. The long-awaited showdown between Wanderlei Silva and Chael Sonnen will come a week later than planned. UFC announced the match for UFC 173 on May 24, underneath the Chris Weidman vs. Vitor Belfort fight. As the most heated rivalry in the sport at the moment and being between two name fighters, the bout seemed to be made for pay-per-view and really could have helped UFC 173. Instead, the match will emanate from Brazil and air on Fox Sports 1. Apparently Wanderlei Silva badly wanted the match in Brazil. From every indication I've heard, Sonnen vs. Silva could sell out a soccer stadium in Brazil, but with the World Cup beginning shortly after May 31 they won't be able to book a stadium. So it will take place in a regular arena, but they shouldn't have any trouble selling out and should be able to jack up the ticket prices. On Fox Sports 1, it should be the highest rated UFC show on that channel since the debut show in August. The other major change is that since it's now a main event fight, it will be five rounds. I favor Sonnen in the fight, but Silva has a chance, especially with five rounds to find a knockout blow.

Quick news: Tito Ortiz will no longer manage Cris Cyborg. I don't know if that will open the door for her in the UFC because the weight is still an issue, but it's one less issue. If it happens, Rousey vs. Cyborg would probably be the biggest fight of the year… Speaking of Rousey, am I the only one that thinks it's kind of weird every time someone from UFC talks about how beautiful she is? I'll only take that back if Dana continually talks about Yoshihiro Akiyama being sexy whenever he returns… Alistair Overeem turned down a fight against Junior dos Santos. He claimed injury, Dana claims he just doesn't want to fight Junior. When he was asked about Junior after his last fight Alistair seemed less than eager. Still, it makes no sense for a promoter to insinuate one of his fighters is afraid of the other only to turn around and promote that fighter… Bellator re-signed announcer Jimmy Smith to a five year deal… Holly Holm returns to fight Juliana Werner for Legacy FC on April 4.

---


As always, thanks for reading. Feel free to leave any feedback in the comment box or email me at plunkettdan@yahoo.com.

comments powered by