SPOTLIGHTS
411 MMA Fact or Fiction 2.19.14: Machida/Jacare, Cormier/Rashad, More
Posted by Wyatt Beougher on 02.19.2014

Is Lyoto Machida vs. Ronaldo Souza the best fight to determine the next UFC middleweight title shot? Should Daniel Cormier vs. Rashad Evans have been put off instead of giving Cormier a new opponent? 411's Dino Zucconi and Wyatt Beougher debate these topics and more!

Welcome back to another edition of 411's MMA Fact or Fiction, and as always, I'm your host, Wyatt Beougher. If you've been keeping track at home, this is the final week before the opening round of the tournament begins, and I've got a handful of people that I know will be competing for sure. Unfortunately, Samer Kadi, who is always a fan favorite and was the runner-up in last year's tournament, has declined to participate this year, as he is taking a break from all MMA-related writing for the foreseeable future. Fortunately, I was able to convince former Fact or Fiction host Dustin James to come out of retirement, so hopefully that'll lessen the blow of Samer's absence. At this point, it looks like the tournament will begin next Tuesday, February 25th, so expect to see brackets released sometime between when voting for this week's contest closes (midnight EST on Saturday, February 22nd) and next Monday morning.

Last week, our own Alex Watt took on the Wrestling Zone's Jarrod Atkinson, and it was a battle. Both guys gave their all in the form of excellent responses, and it ended up being a very close contest, as Watt picked up the 29-27 victory. Kudos to both guys for making it so hard for the voters to pick a winner, and I look forward to seeing both of them in the tournament. This week, oddly enough, features another UK-based MMA writer taking on a columnist from the Wrestling Zone, as Jonathan Butterfield steps into the ForF cage against Dino Zucconi. Will Butterfield fare as well as Watt did, or will Dino remain unbeaten? There's only one way to find out, so let's get to the action. Edit: Butterfield was MIA this week, so I stepped in at literally the eleventh hour to continue my "rivalry" with Dino, which has thus far consisted of him beating me in MMA Fact or Fiction and...him beating me in Wrestling Fact or Fiction. Oh well, maybe the third time's the charm…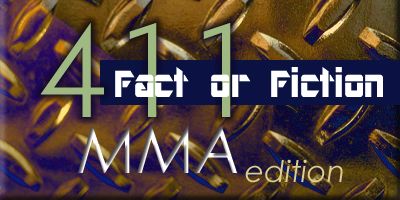 TALE OF THE TAPE

Red Corner
Dino Zucconi
'Awesome-O'
Columnist, Smart Marks (Wrestling Zone)
2-0-0

VS

Blue Corner
Jonathan Butterfield Wyatt Beougher
'MMA's Merv Griffin'
Host, MMA Fact or Fiction/Reviewer, Marvel's Agent of S.H.I.E.L.D. (TV/Movies Zone)
3-1-2

---

Anyone up for a contendership fight?



1.) With Lyoto Machida and Ronaldo Jacare Souza both picking up wins at UFC Fight Night 36, it makes more sense for them to fight for the middleweight contendership, rather than awarding it to either man.

Dino Zucconi: FICTION A very good case could be made for that fight to happen, sure, but I feel that Machida's two wins at 185 (Muñoz and Mousasi) in the UFC outweigh Jacare's three wins at the moment (Camozzi, Okami, and Carmont), and should place him closer to the shot. I also think that Jacare/Rockhold should happen again before Jacare gets a title shot. I just feel that Machida and Jacare, at the moment, are the clear next two contenders, and taking one of them out for a #1 contender's fight seems a bit unneeded to me. Give Machida the winner of Weidman/Belfort, and if Jacare wants a fight in the meantime, give it to him. If he wins, he gets the champion after Machida's had his chance. Though, to be totally clear, I'd have no problem if the UFC goes with Machida/Souza, and I also wouldn't be surprised. I just don't know that it necessarily "makes more sense" to go that route.

Wyatt Beougher: FACT As impressive as Machida's head kick win over Munoz was, he reverted to the pre-2009 Machida for that fight with Mousasi, and realistically, that's not a performance Dana is going to reward with a title shot. Fortunately for Machida (who has already been passed over for a title shot in the light heavyweight division on at least one occasion), Jacare's win over Carmont wasn't exactly on par with the four first-round finishes that came before it, so it's not a clear case of him leapfrogging Machida to face the winner of Weidman/Belfort, either. Machida's beaten better competition, sure, but it's hard to top the six-fight win streak Jacare is on since losing his Strikeforce title to Luke Rockhold, especially when all of those wins save for the Carmont one came via stoppage. To put that into perspective, Souza's had as many finishes in the last 23 months as Machida has had in the past 49. Since it's hard to make a clear-cut case for either guy to take on whoever emerges as the middleweight champion in late May, it just makes sense to me to have them fight in June or July and then face Weidman/Belfort in the fall.

---

Would a move back to light heavyweight be beneficial?



2.) Gegard Mousasi would be further ahead to move back to light heavyweight after his loss to Machida.

Wyatt Beougher: FICTION My initial thought was to go FACT on this one for the simple fact that Mousasi hasn't really shown the ability to push the pace of a fight when he gets behind early, and if we're looking at this strictly from a "can he be champion" perspective, I'm inclined to say no when looking at the middleweight division. But then I started thinking about it, and the going certainly isn't any easier at 205, with the additional problem of that division being full of guys a lot bigger and stronger than Mousasi would face at middleweight. With the ease that King Mo was able to take Mousasi's Strikeforce title, can you imagine what Ryan Bader or Phil Davis would do to him, much less current light heavyweight kingpin Jon Jones? At least in the middleweight division, Mousasi could conceivably earn a title shot facing guys with weaker wrestling backgrounds AND not have to go through Machida again. Let's say he's three fights out of contention right now, as the latest UFC rankings have him ranked 12th; I'd give him even or better odds against Tim Kennedy, Luke Rockhold, and Michael Bisping/Vitor Belfort, all of whom are ranked above him. In that scenario, he could be looking at a title shot, something that I don't see him doing at light heavyweight.

Dino Zucconi: FICTION I think Mousasi did just fine at 185, thank you very much, and a move back to 205 isn't necessary at all. We saw against King Mo that Mousasi may not always have the best luck against wrestlers, and while 185 has its share, 205 presents bigger, stronger wrestlers. Staying at 185 gives Mousasi a chance to try and combat the strength problem he ran into at 205, which may give him more of a chance taking on the wrestlers in this division. Does that mean guys like Muñoz, Carmont, and even the champ Weidman won't be able to put Mousasi on his back? Probably not, but I'd say he has a much better shot at middleweight. Going 5 rounds with Machida, in my opinion, speaks to just how much Mousasi belongs at 185.

---

A rare moment of civility.



3.) Moving Chael Sonnen/Wanderlei Silva from UFC 173 to likely main event a Fight Night card in Brazil one week later is a brilliant business decision from Zuffa.

Dino Zucconi: FACT I'm not sure what the actual dollar amounts will be, but the idea of a raucous Brazilian crowd going nuts for their hero, Wanderlei, to take down the hated villain in Chael has to outweigh the idea of this fight going down in front of a hyper Vegas crowd. In that sense, keeping the Brazilian market happy by delivering such a huge fight has to be considered a good business decision. Brazil cards (when Anderson, Aldo or Barao is unavailable) really seem to get some odd matchmaking, or fights that aren't quite as relevant now as in years past (Big Nog / Werdum, the almost Vitor/Wanderlei fight), with a lot of local talent used as well. This gives a Brazil card a gigantic, heated main event with no belts on the line. Yeah, I think this is a smart move, for sure.

Wyatt Beougher: FACT This is basically a license to print money in Brazil, but if the UFC is smart, they'll put Renan Barao or Jose Aldo on the card as well to get more American eyes on their fights. Sonnen hasn't really been relevant since losing to Jon Jones, but he still sells fights against the right opponent, and Wanderlei Silva certainly fits that bill. He's not exactly relevant himself, but he is a legend in the sport and also a hero in Brazil. Throw in the fact that the two have been butting heads as opposing coaches on The Ultimate Fighter: Brasil (including a supposedly legitimate fight) and you've got all the makings of another Brazilian blood feud for Sonnen. That easily trumps being the second- or third-billed (or worse) fight on the Weidman/Belfort undercard in Vegas, which is going to sell whether Sonnen is on the card or not.

---

Was this the preferable fight?



4.) On the opposite end of the spectrum, the UFC should've rescheduled Daniel Cormier/Rashad Evans for UFC 172, as was originally rumored, rather than having Cormier co-headline UFC 170 against a relative unknown making his UFC debut.

Wyatt Beougher: FACT I originally sent these statements out prior to getting the full backstory on Patrick Cummins, but my thoughts on the matter haven't really changed. Sure, there's some drama between Cummins and Cormier based on Cummins telling Dana that he "broke" Cormier and made him cry every time they wrestled, but really, this revised fight only benefits Cummins. As long as he turns in a good performance against Cormier, he'll validate the "light heavyweight prospect" hype he's been given since the fight was announced. If he wins, though, it's going to be a nightmare for the UFC - Cummins still won't be ready for the fight with a top contender that Cormier winning would earn, plus it scuttles all talk of Cormier/Jones for at least another year. At least if Evans would've won, it's the third-ranked guy in the light heavyweight division beating a guy making his light heavyweight debut, not a promotional newcomer stepping in on short notice and derailing a fighter with a ton of hype behind him. Of course, with Rashad's history, either he or Cormier would've suffered an injury at some point between now and late April, forcing the fight to be further postponed, so I can see why Cormier wanted to fight now.

And if Cormier wins against Cummins? He still hasn't proven anything at light heavyweight, as he's facing a guy with four professional fights, all against fighters who don't even have Wikipedia pages. I'd still want to see him face Rashad (or someone comparable) in June or July just to prove he can hang with a bona fide UFC light heavyweight. Of course, I'm still waiting to see if/how Cormier makes the cut - his physique when he fought at heavyweight certainly suggests that he should have no problem making light heavyweight, but until we've actually seen him do it and be dynamic at 205, I'm reserving judgment.

Dino Zucconi: FICTION Cormier wanted to fight, and he got to. I think the UFC did the right thing by letting him stay on the card, regardless of who the opponent is. All the work he had to put in to make 205 shouldn't be ignored here, and simply expecting him to keep on it for another 8-10 weeks seemed a bit unfair. If Cormier trounces Cummins as expected, you can rebook Cormier/Rashad without much worry. If Cormier looks horrible and loses, then perhaps he never belonged in the cage with Rashad at 205. Sure, the fight isn't as big as it was supposed to be, but sometimes just giving the fighter what he wants is the right decision, too.

---

Can they still do it 2 ½ years later? (credit: 411 commenter IvoMarston)



5.) Mauricio Rua/Dan Henderson II will be a disappointment after their classic fight in November 2011.

Dino Zucconi: FACT I hate to say Fact, really I do. The rematch could very well be 50 times better than the original. We don't know. That said, the first fight was so amazing, and has built up such a legendary reputation, that I can see the fight still being considered "disappointing" even if it's not. Rose colored nostalgia lenses, and all that jazz. Neither, outside of a hook to the chin of James Te Huna, have looked so hot in recent outings, and we as fans have no reason to believe that the second fight will be anything like the first. Henderson has too much to fight for this time to just go out gunslinging, and Shogun's right there on the line, too. If Hendo violently KO's Shogun, does the "Shogun is shot" talk return? If Hendo plods around doing nothing again, does the UFC just release him from his new contract? There's too much at stake for both to go balls to the wall, though, if any two fighters are gonna go out there and leave it all on the line, it's these two. Man, I hope they prove me wrong, but I'm sticking Fact on this.

Wyatt Beougher: FACT Is there any way that it won't be? Sure, Eddie Alvarez/Michael Chandler II was equally as good as the original and 24 months elapsed between fights; however, Alvarez was 29 at the time of the second fight (and coming off of a lengthy layoff that saw him put almost no wear and tear on his body) and Chandler was 27. When Shogun/Henderson II goes down, Shogun will be 32 and Hendo will be 43, with both guys suffering serious knee injuries in the interim. I sincerely hope that I'm wrong and that this fight blows the first one out of the water, but I just can't see it happening.

---


Who do you think won this week? Did Dino continue to beat up on me in Fact or Fiction competition, or was my short-notice effort enough to pick up the win? Voting will be open until midnight EST on Saturday, so make sure you vote and make your voice heard!










---

With "Spring 2014" just a few months away, shouldn't we be seeing a demo or at least gameplay videos by now?



Bonus) The latest batch of images from EA Sports UFC has renewed your excitement for the game.

Wyatt Beougher: FICTION As nice as those images look (and to be fair, they do look incredibly impressive), I'm holding out to see if this will finally be the MMA game that isn't completely broken in favor of striking. I've owned all of the THQ UFC games and played EA Sports MMA pretty extensively, and my greatest disappointment is that you can soften up a guy's limb for two-plus rounds and then lock in a submission hold with a guy who's known for his submission skills, and if you're on the highest difficulty, the computer will be out in a matter of seconds. It's just aggravating, and until I see some gameplay footage that shows me that submissions will be a viable finish in this game, I'm not allowing myself to get excited for it.

Dino Zucconi: FICTION At this point, a pretty looking game is to be expected in the generations. That doesn't impress me much. I'm also not the biggest EA fan. I'm sure this game will be fun (I enjoyed UFC 3 by THQ just fine), and I can even see this game being a decent improvement over the THQ series, but I know better than to let some fancy screenshots trick me into thinking the game is going to be good. Does gameplay suffer just for the more realistic fighter models and skin deformation system? Will it be a buggy mess that was rushed out because that's what marketing wanted? Those are just two questions that can't possibly be answered by some pretty pictures. Easy Fiction, here.

---


And that's it for this week! As always, if there's anything you'd like to see featured in a future edition, leave your statement in the comments and I'll add it in. Let us know what you thought in the comments, on Twitter, or on Google+.

comments powered by