SPOTLIGHTS
Five Quick Rounds 2.26.14: UFC 170, If Gold Beats Silver, Does Cyborg Beat Gold?, More
Posted by Evan Zivin on 02.26.2014

From Ronda Rousey's stoppage of Sara McMann and the rest of UFC 170 to Gilbert Melendez re-signing with the UFC and Cyborg vowing to fight Rousey at 135 pounds, 411's Evan Zivin examines these stories and more in Five Quick Rounds!

Hey hey, fight fans, and welcome back to five Quick Rounds! I am your host, Evan Zivin, and I am more excited than a parent whose child looks up to Ronda Rousey to be here once again!

Should you let your children look up to Ronda Rousey? I'm not sure but Arianny Celeste certainly doesn't think so. She said in an interview on Friday that women should empower each other and that Ronda is not a good role model for women. Arianny doesn't really get into why other than not liking her atittude, which I can understand. Ronda doesn't always carry herself the way one might like a high-profile athlete to but she's also one of the best female fighters in the world and THE reason why women are even fighting in the UFC today. She empowers women by the way she takes on the best athletes in the world and makes them look amateur by comparison. Sure, her attitude sucks, but at least she embraces it instead of putting on a fake smile for the cameras and hoping we'll buy into it (we won't). I'd rather Ronda choose not to shake an opponent's hand then pretend to love everyone and then get into domestic altercations with her boyfriend when the cameras aren't on, right, Arianny? Also, I don't know how much of an authority on female empowerment one can be when one performs their job in booty shorts. I've got nothing against Arianny. I just think she should be careful who she talks trash about. Remember when she tried that with Chael Sonnen? Hilarious.

All right, so with fighter introductions out of the way, I have five more rounds of MMA news and opinions to throw at you. This week, we look at the results of UFC 170, news of Gilbert Melendez re-signing with UFC, Nate Quarry's comments regarding pay and sponsors, and Cris Cyborg vowing to cut to 135 to fight Ronda Rousey. Let's to it do it.

FIGHTER YOU READY!!!!
FIGHTER YOU READY!!!!

FIGHT!!!!




Round One: UFC 170 Main Event, Gold Still Trumps Silver

***TOUCH OF GLOVES***

Live, from the Mandalay Bay Events Center in Las Vegas, Nevada, it was UFC 170 ON SATURDAY NIGHT!!!!!

How fitting that, while the Olympic games were winding down in Sochi (I believe Saturday night saw gold medals awarded in Human Rights Violations, all of which went to the host nation) the UFC was heating things up with a fight card headlined by Olympians. It's almost like they planned that or something. It had to have been. I know that the show needed a main event but they could have found a fight other than Ronda Rousey vs. Sara McMann to headline the card. They could have kept Daniel Cormier in the main event. He competed in the Olympics. Actually, it'd be hilarious if the booking was a coincidence. Maybe that would explain why there was so little promotion for this event. Maybe UFC needs to convince FOX to steal the Olympic coverage from NBC somehow, I dunno. Anyway, never before had two former Olympic medalists competed against one another in the UFC and not only was it finally happening, it was happening for the UFC Women's Bantamweight Championship. Yeah! Girl power! Do people still say that? Don't hurt me, ladies. I'm a gentle soul. And great once you get to know me. In one corner you had Sara McMann, silver medalist in freestyle wrestling at the 2004 games in Athens. In the other corner, "Rowdy" Ronda Rousey, bronze medalist in judo at the 2008 games in Beijing. it was a battle between the greatest female wrestler in American history vs. the greatest judo practitioner to compete in MMA. Both disciplines are based on taking your opponent down and controlling them with dominant positions. Both women are at the peak of their disciplines and this fight would prove which one is superior. So, which prevailed? Wrestling or judo?

The answer: who cares, because Ronda just kneed McMann really hard in the body, and I mean, like, REALLLLLLLY HARD. So yeah. We didn't quite get the grappling showdown we were expecting. We didn't get the long, drawn-out war we were expecting. What we got was this: McMann tagged Ronda with punches immediately, causing Ronda to grab hold of McMann and tie her up against the cage. Ronda tried to take McMann down but the wrestler wasn't having any of it so Ronda continued to clinch and throw knees to the body, aiming for the liver. Ronda landed a couple of well-placed knees, including one that dropped McMann about a minute into the fight, which was all it took for Herb Dean to stop the fight. People are complaining that the stoppage was premature. Was it? Probably. McMann was on her knees for about two seconds before starting to get up just as Herb jumped in. She was also clutching her side with her head facing down, which isn't exactly "intelligently defending" yourself, so I can't be too upset over the finish. What I am upset about is that a Ronda Rousey fight didn't end by armbar. What the hell? I thought that was her thing. I WANT MY MONEY BACK!!!!! Oh well. At least the fight showed how far along Ronda's striking has come. I mean, it's not world class or anything but Ronda is definitely more than just a judo fighter now. Bas Rutten is doubling over in glee. So congrats, champ. Hopefully the next movie you sign on for stipulates that you defend your championship again soon.

***HORN SOUNDS***




Round Two: Rest of UFC 170, Well That Was Expected

***TOUCH OF GLOVES***

That's not to say I'm taking anything away from the man known as Patrick Cummins. He's a tough dude. He was an All-American wrestler who trained on the national and Olympic teams and had a lot of supporters saying how good he is. Rashad Evans was even saying the man could beat Daniel Cormier, although he may have been saying that because he still wants the fight that was supposed to be his on Saturday before his knee decided to go home. Either way, you can't knock Cummins for one reason: he stepped up. He agreed to fight Cormier on nine day's notice and, in those nine days, he managed to hype up the fight (and the show) more than anyone else who fought on Saturday. I can respect him for that. Cormier can punch him in the face for that, and he did. Many times. After Cormier shook off some early takedown attempts, he hurt Cummins with a couple uppercuts. Cormier dropped Cummins about a minute into the fight and pounded on him until the referee stopped the fight. There was nothing early about that stoppage. Just a beatdown by a much superior fighter. It looks like Cormier's punching power survived the drop down to light heavyweight, which is bad news for whoever is placed in his cross-hairs next. I'm sure he'll get a top ranked fighter next. As for Cummins, at least Dana will give him another fight. Work on your trash talk and we'll see how you perform after a full camp. For now, enjoy all the coffee you can buy from that shop you got fired from with your UFC money. Aw yeah. UFC money.

Hey, did you know that Rory MacDonald and Demian Maia fought on Saturday? It seemed like nobody else did before they stepped into the cage to deliver a highly entertaining fight. The first round was huge for Maia, who scored a takedown early and used his world-class jiu-jitsu to secure mount and control MacDonald for almost the entire round. Yeah, Rory wasn't going to win with another round like that. He came out much better in the second, stuffing Maia's takedown attempts and throwing knees and punching combinations. The tide had completely turned and it looked like momentum would stay in Rory's favor in the third round before Maia landed another takedown. Luckily for the Canadian, he was able to get back to his feet quick enough to hurt Maia some more and maintain control of the round. MacDonald won the fight by unanimous decision. It was a good win to get Rory back on track towards a title shot, which he could potentially get against the winner of Johny Hendricks vs. Robbie Lawler next month. I don't know if it will happen but I'm sure the winner of next month's fight would love to fight Rory since one of the men has already beaten him and the other now knows he just has to put Rory on his back and he'll win. Also at UFC 170, Mike Pyle used his grappling and hard elbows to score a third round TKO against T.J. "Dark Horse" Waldburger feat. Juicy J, Stephen Thompson used his speed to finish Robert Whittaker with punches in the first round, and Alexis Davis used PeopleFinder to find the UFC Women's Bantamweight Championship in her next fight with a controversial decision over Jessica Eye. Has anybody else noticed Eye kind of looks like a really thin Chris Weidman? Am I the only one? I'm so lonely.

And that was UFC 170. Notice that I didn't even mention how I picked every correct winner in the Roundtable on Friday. It's called restraint. I think some guys are fighting in China on Saturday morning. I hope Dunkin' Donuts sells coffee by the trunkload.

***HORN SOUNDS***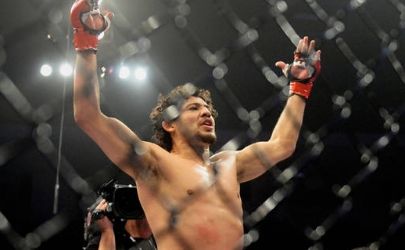 Round Three: Gilbert Melendez Re-signs with UFC, Will Coach TUF 20, Is Presumably Gettin' Paid

***TOUCH OF GLOVES***

Well, I guess that's a crisis averted. The story of Gilbert Melendez's contract status has been a big one for the last few weeks. The UFC's been trying hard to re-sign the former Strikeforce champion to a new deal but negotiations between the two sides haven't been going well. Many guessed that the main reason for the breakdown was money. Melendez was getting paid $175,000 per fight on his last contract, which is, unfortunately, a lot more money than most of the UFC roster makes per fight. So did UFC not want to pay Gil that much for his new contract? Did we ever actually get confirmation that this was the reason there were problems? Seriously, I'm asking. I don't know but Gil found one way to get what he wanted: go talk to Bellator. Dana White told Gil to start looking for work elsewhere and Gil called his bluff. Gil reached out to the Number 2 MMA Promotion in the U.S. (apparently that's a big deal) and Bellator President Bjorn Rebney sent Gil a contract. We don't know what exactly was on the contract but Gil was satisfied and agreed to the terms. This didn't mean that Gil was now fighting for Bellator and tarnishing the tournament format by getting an immediate title shot because UFC still had matching rights, but they weren't going to match. You saw how pissed Dana was just a few days ago. If he doesn't want to pay someone, he's not going to because he's Dana F'ing White and nobody tells Dana White what to---

Oh. They re-signed him? Well, that's......great.....I guess this is why you don't challenge Dana White to a pissing contest because he's going to buy all the damn asparagus he can find and bury you in it. I don't even think that made sense in my head. So what are the terms of this new UFC deal? We don't know all of them (I think it's because MMA journalists ask too nicely) but the main item are those elusive Payperview points that only the top UFC fighters get. Gil is getting them too now and, apparently, his points kick in at the lowest buyrate that UFC has ever agreed to in a fighter's contract. He also gets points no matter where he fights on the card and he's guaranteed that at least 75% of his fights will take place on Payperview. That's not all. As part of the news of Gil's re-signing, UFC has also announced that "El Nino" will be one of the coaches for The Ultimate Fighter 20. He will be coaching the first season of women strawweights opposite UFC Lightweight Champion Anthony Pettis, which means the two will be fighting for the championship at the end of the season. My first thought upon hearing that was, "Damn. We aren't going to see Pettis fight again until December?" My second thought was, "Gil got a great deal." It's good that UFC recognizes how important Gil is and how necessary it was to keep him fighting in the UFC. I don't know if he's getting paid as much as he was in his last contract but if he isn't, the Payperview points will more than make up for it. Plus, we get an awesome title fight....in ten months. Dammit. Somebody better go buy a bunch of bubble wrap. We ain't losing this fight.

***HORN SOUNDS***




Round Four: Nate Quarry Attacks Fighter Pay, Dana White Says "Who Cares," The World Continues to Turn

***TOUCH OF GLOVES***

Y'know, it's been a while since we've had a former UFC fighter go after the promotion regarding the way it pays and generally treats its fighters. You go back a year ago and it seemed like the company was getting criticized all the time. Everywhere you turned you had a John Cholish or a Jon Fitch or a Tim Kennedy extolling how persistent the business mindset of the Zuffa-led promotion is and how that tends to result in fighters not earning what they feel they deserve based off the level of danger in their chosen profession. What's that? Tim Kennedy still fights for the UFC? Wasn't he the one who said he could make more money as a garbageman? He better watch himself. Nate Quarry may have to as well after the recent comments he posted on that bastion of MMA truth and civility, the MixedMartialsArts.com Forums AKA The Underground. Quarry, a competitor on the first season of The Ultimate Fighter and a former UFC title challenger, had two main points with his post: 1) UFC is very restrictive when it comes to companies sponsoring fighters, even levying taxes of $50,000-$100,000 just for the privilege to sponsor a fighter, and 2) he only made $10,000 to fight Rich Franklin in the main event of a show that had one of the largest gates of its time. In response to that second complaint, my guess is Nate would have made more but UFC deducted the costs of finding his head after Rich punted it into the tenth row.

I'm kidding, Nate. I've been a fan of your's since back when it was still socially acceptable to say I watch The Ultimate Fighter. Plus, you made Craig Carton almost bearable to watch. That takes talent. So how did the bosses react to what "The Rock" had to say? Both Dana White and Lorenzo Fertitta gave a response in their typical ways --Dana by continuing his love affair with the f-word, Lorenzo by coming across as calm and rational while presumably staring at his biceps-- that more or less amounted to the same thing: Sorry you fought when we weren't making money. Apparently Nate would have been paid more to fight if it hadn't been at a time when the UFC was still in the red due to the millions of dollars they had to pump into the company just to keep it afloat. Thankfully, salaries for title challengers are much better now. No one gets paid $10,000 to fight for a title these days. What's that? Ricardo Lamas got paid $10,000 to fight Jose Aldo three weeks ago? Oh. As for sponsors, Lorenzo chose not to discuss it while Dana said it's not his problem even though he's part of the decision-making process that prevents a lot of companies from giving money to up-and-coming UFC fighters because they can't afford to. He also makes other arbitrary decisions regarding what companies are allowed to sponsor fighters. He's why The Gun Store isn't seen in the UFC anymore. He's why we don't get the unintentional hilarity of watching a fighter with Condom Depot on their butt. Don't deny it. You giggled too. I think some of these rules suck and they cost fighters a lot of potential money. It's unfortunate how the UFC runs things sometimes but that's the reality of the business. At least right now it is. The UFC is still in a building phase and is working its way to the multi-million dollar paydays that even the lowliest of athletes in other sports are guaranteed. I think the UFC will get there one day. It just sucks for the fighters until then.

Condom Depot....*giggle*

***HORN SOUNDS***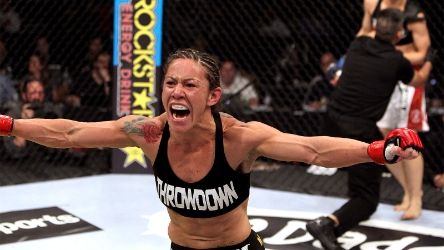 Round Five: Cris Cyborg Says She'll Make 135 to Fight Rousey Even If It Kills Her Even Though It Won't Kill Her

***TOUCH OF GLOVES***

After another successful title defense for the Rowdy One, the question is becoming less "Who is next?" for Rousey and more "Who is left?" Zingano, Davis, Tate again because it'd be funny...who is left to really challenge Ronda as a fighter? Well, there is someone out there who might be able to push Rousey and give her the challenge that we all want to see her face. Someone who can take the fight to Rousey and possibly even take her title in the process. That someone is the mythical creature known only as Cyborg. Or Cristiane Justino. Whichever. It's a rivalry that goes back to Strikeforce that has been kept from us due to 10 pounds of weight, as Cyborg, the former Strikeforce and current Invicta 145 lb. champion, has refused to cut the additional 10 pounds to make 135 and challenge Rousey for her belt, which is a more important championship than Cyborg's because the Fertitta's bank account says so. The main hold-up in making the fight happen are concerns that a cut to 135 would have a very negative effect on Cyborg's health, possibly preventing her from creating little Cyborgs in the future (yeah, let that image dance in your head for a bit). Most fans always considered that a bit of a cop-out as, not only is she just one inch taller than Rousey, but Cyborg has said she can make 140. Would it kill her to cut the additional weight? Apparently, although Cyborg's camp claim that it was just her doctor saying she shouldn't make a career of 135. Great. So don't. Now get to cuttin' so we can have this fight.

Well, it sounds like we might be getting closer to that reality. Whether it's because Cyborg is getting desperate to fight Rousey or fight in the UFC or both, she has said she will make the cut this year. She has outlined a rough plan that includes fighting for, and presumably winning, the Invicta 135 belt during the summer, which would set up a fight with Rousey and the UFC Championship at the end of the year. She already took the first step towards getting into the UFC, which was having Tito Ortiz step down as her manager. Getting his giant head out of the picture is only going to make getting Dana to let her in that much easier. Now, what does Dana think of this plan? Predictably he's not too impressed, saying that she would need to prove she can make 135 a couple of times before he'd entertain the thought of booking her and Rousey. That sounds like he's not too optimistic that Cyborg can do it. He's also being protective of Ronda, which is understandable since she's probably the biggest star actively fighting for him right now. He wants to get big fights for Ronda but he also wants to protect her star as much as he can so she makes him more money. Still, he can deny it all he wants right now but you know if the opportunity to book Rousey vs. Cyborg at 135 comes up later this year he'll book it so fast it'll make your Joe Rogan spin. I hope it does. The fight needs to happen someday anyway. How else is Ronda going to be able to leave MMA permanently for Hollywood? It worked for Gina Carano.

***HORN SOUNDS***

That's it for Five Quick Rounds. Thanks for reading. If you have any questions, comments, or suggestions, and it is always appreciated when you do, leave them in the comments section. I will be back in 7 for another Five Quick Rounds. Bellator's Season 10 kicks off this Friday, which means we're about a month away from Rampage vs. King Mo. So enjoy the fights and remember to fight clean, fight hard, fight fair, and never leave it in the hands of the judges...




LATER!!!!!!!!!!!!!!!!!!!!!!!!!!!!!!!!!
comments powered by