SPOTLIGHTS
The Greatest MMA News Column 02.25.14: Rousey vs. Cyborg
Posted by Dan Plunkett on 02.25.2014

News and thoughts on UFC 170, controversial main event stoppage, Rousey vs. Cyborg, Gilbert Melendez's new UFC deal, Melendez vs. Pettis, and more!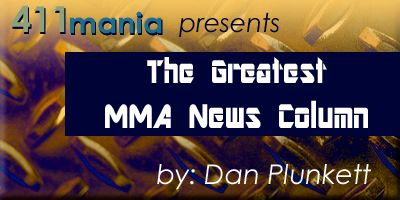 UFC 170: Rousey vs. McMann Thoughts
Quality-wise, UFC 170 was about what it was expected to be, which is to say it wasn't a great show. The Ronda Rousey headlined card drew $1.5 million at the gate, proving there's a difference between being the biggest star and being the biggest draw. Of course, the number of pay-per-view sales is more important than the gate, but I would expect this show to fall below Rousey's UFC debut last February. Promotion for the bout was oddly weak, although that becomes less puzzling when you consider UFC's main channels, Fox Sports 1 and Fox Sports 2, are fairly weak. UFC continues to struggle promoting fighters that don't have strong personalities and aren't willing to open up much to the public. Headliner Sara McMann fit that mold, but there was an angle to work from in that she posed, at least in theory, an interesting challenge for Rousey as an Olympic medalist in wrestling. In fairness, a quick turnaround from Rousey's last bout and McMann's lack of UFC experience and exposure made the task more difficult for UFC's marketing department. Still, Rousey attracted a good amount of attention and was the second most-searched term on Google Saturday night with 500,000+ searches. Normally, that would be indicative of a big show but Rousey's appeal is broader than the normal MMA star and doesn't include as high a percentage of fervent UFC PPV buyers.






Like all of Ronda Rousey's opponents, Sara McMann wasn't able to stop Rousey from closing the distance and securing a clinch. But it is unlikely McMann was quite as worried about being in that position as Rousey's past victims. A legitimate world class wrestler, McMann may have had the ability to stay vertical against the world class judoka in a pure grappling situation. Ultimately, we didn't get to find out. From the onset, Rousey was much more aggressive with knees than we had ever seen her. One knee hit McMann in the liver, forcing her to the ground as her body shut down. Rousey followed with a few punches and just as McMann seemed to gather her bearings, referee Herb Dean stopped the fight. It seemed like a premature call, but in Dean's defense McMann failed to defend herself initially as her body dealt with the immediate ramifications of the blow and fighters generally don't recover from those types of body shots so quickly. McMann didn't raise a stink about the stoppage, so that was that. Body shot finishes are always a thing of beauty, but the quick main event and controversial stoppage probably put a damper on the event for many.






Daniel Cormier ran through the ex-part-time coffee shop barista who took the fight ten days out. Cormier, who turns 35 next month, is no more than one win away from a title shot. Really, Cormier is overdue for a title shot. He's completely routed every opponent he's had, and would have walked into the UFC with a title shot at heavyweight had anyone but Cain Velasquez been champion. I still think he provides a strong challenge to Jon Jones, but with Glover Teixeira lined up to challenge for the title in April and Alexander Gustafsson likely to follow, Cormier may not see a golden opportunity until he's 36.


As for the rest of the card, Rory MacDonald beat Demian Maia by decision after a rough first round. Fun note: This is the tenth calendar year MacDonald, 24, has competed in. He looked great after the first round. Mike Pyle stopped TJ Waldburger in the third round. The stoppage was late, and although early stoppages get most of the attention, late stoppages are far worse. On this show, Herb Dean, who is usually excellent, was responsible for both early and late stoppages. In the opener, Stephen "Wonderboy" Thompson stopped Robert Whittaker with strikes in the first round. Thompson, 31, has only lost to Matt Brown.

---




NEWS!



Gilbert Melendez inks landmark deal with UFC. Last week it looked like Gilbert Melendez was heading to Bellator. If I had to wager on where Melendez would end up, I would have lost because UFC announced late Sunday night that they had matched Bellator's offer. Now, Melendez will coach season 20 of The Ultimate Fighter and get a crack at UFC lightweight champion Anthony Pettis. But this is much bigger news than a fighter signing on to coach a reality show or getting a title shot.

According to MMA Fighting, the terms of Melendez's deal are unprecedented. At least 75% of Melendez's fights will happen on pay-per-view, and he will benefit from that. No matter where Melendez is placed on the card, from jerking the curtain to the main event, he'll receive a cut of the pay-per-view. Generally, pay-per-view cuts only come into play for a main event fight or title match. Those pay-per-view points for fighters generally kick in when an event reaches 200,000 buys. Melendez's deal will begin at a lower number than any other contract in UFC history, so he'd be virtually guaranteed pay-per-view money for all of his fights.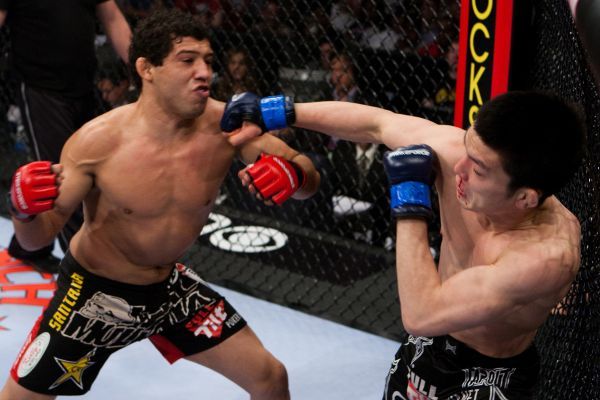 This is what happens when the number two promotion begins making strong offers for top talent. Fans want to see all of the best fighters under one roof, but at least one strong competing company is best for the fighters. Melendez isn't going to be the only fighter Bellator goes after, and he's not going to be the only fighter UFC signs to more favorable terms than they otherwise would have due to Bellator.

As for the Pettis vs. Melendez title match, that curbs any talks of a Pettis vs. Jose Aldo super-fight that seemed close to a sure thing earlier this month. Due to The Ultimate Fighter, the title match probably won't take place until December, which would mean Pettis and Melendez would be coming off more than a yearlong break. That's a long time for two fighters in the prime of their careers, so hopefully the show will increase the fight's drawing ability enough to make it worth it for both.

Cris Cyborg announces intention to drop to bantamweight. The biggest match in women's MMA history, and perhaps one of the biggest bouts in MMA history in general, is one step closer to happening. Cris "Cyborg" Justino (formerly Santos) declared her intention to cut to 135 pounds in a statement to Inside MMA. She stated she would first challenge for Invicta FC's bantamweight title, then go after Rousey, while maintaining she would fight at the weight no more than three times.

Talk of Rousey vs. Cyborg goes back to when Rousey broke through as a real star with her first win over Miesha Tate two years ago. UFC attempted to debut women's MMA in the promotion with the fight last year, but Cyborg could not be convinced to go to bantamweight. She was then granted her release and headed to Invicta. A clause in her Invicta deal allows her to leave for the UFC.

Justino, 28, became the second-biggest name in women's MMA in 2008 while fighting for EliteXC. A match against Gina Carano quickly became a dream bout, but the closing of EliteXC, following their desire to build to the match by featuring both fighters against different opponents, held it off until August 2009 in Strikeforce. The landmark fight – the first women's bout to headline a major MMA show – drew ratings records and attracted nearly 14,000 people in San Jose. It was popularly believed at the time the fight should have taken place on CBS, where it could have drawn a massive audience, but it was instead shown on Showtime. Cyborg largely dominated Carano and finished her with strikes at the very end of the round.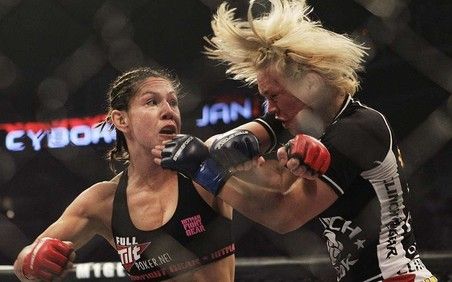 That began a period where Justino had difficulty finding opponents, and the opponents that were found were hopelessly overmatched. Marloes Coenen, who later captured Strikeforce's women's bantamweight crown, did little more than last for three rounds. Hiroko Yamanaka, ranked #2 in the division, lasted all of 16 seconds. That bout put a damper on Cyborg's career, as she tested positive for the anabolic steroid stanozolol. A hulking athlete known for her strength and ferocity, Justino had long faced PED accusations prior to the test failure, although she would deny knowingly taking the drug.

Until Rousey changed the game, Justino was, with the exception of the retired Gina Carano, the most recognizable female fighter in the world. Rousey was also the first to strongly challenge, and debatably overtake, Cyborg as the best female fighter on the planet. As Rousey's star grew, the two developed a bitter feud, trading barbs and expressing a strong desire to fight one another.

There is no question that Rousey vs. Cyborg would be a big fight, and very likely bigger than Rousey's recent major match-up against Miesha Tate. The difference between Justino and Tate is Justino had the notoriety from the Carano fight that Tate didn't, and Cyborg would be looked at as far and away the biggest challenge of Rousey's career. I've seen people predict that a Rousey-Cyborg match would hit one million buys, but that's impossible to tell at this point. However, I would be comfortable predicting 700,000 buys – a great number no matter how you look at it.

As for whether or not the fight will actually happen, who knows. It all comes down to whether Cyborg can make the weight or not. When asked about it this weekend, Dana White said Cyborg would need to make bantamweight once before the fight could be made.

Quick news: Anderson Silva is grappling again and could return before the end of the year. He turns 39 in April… Nick Diaz will only return for a title shot and says he's the UFC's only draw. He won't get a title shot to return, but he'd only be one win away… Combate Americas, a Spanish language MMA reality show created by Campbell McLaren, debuted Sunday night on Mun2… Yang Jianping vs. Ning Guangyou, the tournament finals for the TUF: China, has been postponed due to injury… Bellator re-signed middleweight champion Alexander Shlemenko to a new deal. Shlemenko is one of the most exciting and intriguing fighters in the sport… Bellator's start date on Fox Sports Latin America was pushed up from 2015 to Friday night. Bjorn Rebney previously stated the deal was worth tens of millions of dollars, but that's probably just promoter talk… Bellator also signed a TV deal with OSN, a pay-TV channel in the Middle East and North Africa.

---


As always, thanks for reading. Feel free to leave any feedback in the comment box or email me at plunkettdan@yahoo.com.

comments powered by