SPOTLIGHTS
The 411 MMA Top 4 3.05.14: Week 107 – The Mount Rushmore of MMA
Posted by Larry Csonka on 03.05.2014

From Chuck Liddell, Royce Gracie and Dan Henderson to Georges St. Pierre, Frank Shamrock, Fedor Emelianenko and more, the 411 staff shares their personal Mount Rushmore of MMA!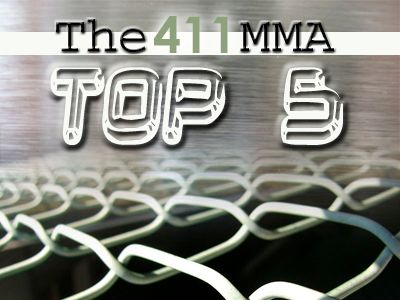 Welcome:
Welcome back to the MMA Top 5! What we are going to is take a topic each week and all the writers here on 411 MMA will have the ability to give us their Top 5 on said topic, plus up to three honorable mentions. It's highly non-official and final, like WAMMA.
THE MOUNT RUSHMORE OF MMA


To play off of pro sports recent obsession with the topic, lets do your PERSONAL Mount Rushmore of MMA… GO!




Jonathan Solomon
4. Royce Gracie - Let's get the most obvious selection out of the way first. Royce will always be remembered as the torchbearer for mixed martial arts in the United States. The gimmick of those early UFC events with him as the ringer was the perfect way to launch the new sport to an audience who had no idea what they were seeing. He brought the legend of the Gracie clan to the U.S. and maintained that grip around the world for many more years after 1993.

3. Chuck Liddell - Arguably, "The Iceman" may be the most popular fighter of all-time. A fan-friendly style to go along with the Mohawk and his aura paint an easy picture to understand why. The vast majority of his time was spent in the UFC where he was a dominant champion and the best drawing card. His classic fight with Tito Ortiz in 2006 remains one of the biggest in U.S. MMA history. Aside from his time in the cage, he broke out into the mainstream where he has appeared in hit television shows and major commercials. Oh yeah, he was part of the rocket ship that The Ultimate Fighter, season one, in 2005 proved to be.

2. Frank Shamrock - One of the first to encompass the true meaning of an MMA fighter, Frank was also the best fighter in the world for a stretch at the turn of the century. Between his focus on conditioning, power, grappling and intelligence, he became a star in Japan, then a star in America. Later on in his career, he turned San Jose into his town and has always been one of the best ambassadors for MMA.

1. Georges St. Pierre - Is GSP the greatest MMA fighter ever? The case can be made and his dominance in the octagon is there for all of us to recall. After the Matt Serra hiccup, he went on to dominate for six years against the best welterweights available to him. During that span, he not only became a top business draw for the UFC but he built Canada into one of the sport's hottest markets.


---



Koeddy Laemmle
4. Randy Couture - (Washington's spot) Captain America is the perfect candidate for a Mt. Rushmore of MMA. His list of accolades alone earn him the spot. After winning the UFC 13 Heavyweights tournament, Couture would go on to win 5 championships, a record, and became the first man to hold titles in two separate weight classes. He would continually defy the odds and went on to win his third UFC Heavyweight title at age 43.

3. Fedor Emelianenko - (Jefferson's spot) At a time in which the talent in which the Pride Heavyweight division outweighed the talent in the UFC's, Fedor Emelianenko was unstoppable. Although criticized for never stepping into the UFC octagon and suffering some unfortunate losses at the end of his career, he left a decade long path of destruction prior to that. This run of good enough for most sports pundits to name him the 2000's Fighter of the Decade and still regard him as one of the greatest MMA fighters of all time.

2. Royce Gracie - (Roosevelt's spot) Influential is the first word that comes to mind when thinking of Royce Gracie. Gracie revolutionized the way Brazilian Jiu-Jitsu was looked upon when he used it to defeat opponents much bigger than he. Since he fought in a completely different era of UFC, Gracie was dominant smothering his opponents, winning 3 out of the first 4 UFC tournaments. Gracie was also one of the first inductees into the UFC Hall of Fame.

1. Chuck Liddell - (Lincoln's spot) Chuck Liddell helped the UFC transition from "dark period" into the vision Zuffa had set out for, globalizing the promotion. With a laid back attitude and enthralling fight style that includes some the UFC's greatest knockouts, (and a few where he was on the receiving end) Chuck put together one of the most legendary runs in UFC history. Liddell is also one of the biggest PPV draws of all time, surpassed only by Brock Lesnar and GSP.


---



Jeffrey Harris
4. Randy Couture - No matter what, Randy Couture's contributions to the sport and the impact he made was monumental. Despite not having the most impressive overall record in the sport, Couture's surprising longevity as well as his penchant for being able to reinvent himself again and again made him a force to be reckoned with as well as one of the most beloved superstars in the sports. Couture started at a more advanced age, but he seemed to buck many trends by managing to succeed well into his 40's, surpassing all odds and managing to become the UFC heavyweight champion at the time when it was a land of giants. He bested the reigning and much maligned champion Tim Sylvia and then he knocked out the Crop Cop killer in Gabriel Gonzaga. It was a pretty epic run for an "old man."

3. Royce Gracie - One might argue that Royce Gracie could almost be like the George Washington of the sport or the UFC as it were. Gracie won three tournaments in the early days of the UFC, before the term MMA had really become commonplace and fighting was still in its No Holds Barred days. Gracie submitted the likes of Dan Severn and Ken Shamrock, and he did it with his trademark Brazilian Jiu-Jitsu of the legendary Gracie family. When you think of UFC history, Gracie is synonymous with the term.

2. Dan Henderson - To this day, Dan Henderson remains MMA's only champion to hold two belts in two different weight classes at the same time. Without a doubt he is one of the most respected, decorated athletes in the history of the sport. Hendo won Pride's 2005 welterweight tournament. And later in 2005, he ended Wanderlei Silva's epic run as Pride middleweight champion with an epic knockout. He did always come up short in the UFC to win the title, but his run there was classic as well. His knockout of Michael Bisping is still one of the best of all time. After spending some time in Strikeforce where he won another light heavyweight title and knocked out Fedor Emelianenko, he returned to the UFC and bested Mauricio "Shogun" Rua in the greatest fight in the history of history. That fight was the greatest battle this sport has ever, and it was a spectacle to see live.




1. Chuck Liddell - Chuck Liddell is on here because he helped change the game for the better and ushered in an era of UFC from it's more fringe days into becoming a more widely accepted, much more mainstream sport. Liddell attained a superstar level of popularity that was very rare at the time of his peak days. Once he finally became champion, he was a top draw and one of the most popular fighters in the sport. When he fought Tito Ortiz on PPV in 2006, the event drew over a million PPV buys, a number the UFC isn't often able to replicate as of late. Liddell was marketed very well, he appeared often in movies and TV shows. He had a lot of crossover appeal. Despite his mean, cold as ice look, he was actually a very nice, working class dude, but when he got into the cage, he became a beast. Liddell's style was also very tricky before his chin eventually came out, pioneering the style of sprawl and brawl.

---



Dan Plunkett
I can really only think of one way to determine who to put on this list. You could go for the four most important figures in MMA history, but it would be impossible to determine MMA's most important people objectively. Are Rorion Gracie and Art Davie more important for creating the UFC than the Fertitta brothers and Dana White are for bringing it to its current prominence? Is Royce Gracie more important for his early UFC success than his father Helio is for his hand in the development of Brazilian Jiu Jitsu and leading a couple of hot periods in Brazil in the pre-modern era? How do you compare Kazushi Sakuraba and Bob Sapp's impact in Japan to Tito Ortiz's and Ken Shamrock's in the United States? To me, the only way to determine a fair foursome for MMA's Mount Rushmore was to select the top four fighters in the sport's history.

4. Fedor Emelianenko - Historical records will show Fedor Emelianenko ruling atop the heavyweight division for seven years. Whether or not he was actually the best heavyweight in the world for all of those years is debatable. Fedor's competition in 2006 and 2007 is notable only for being an incredibly disappointing list of opponents for the #1 ranked heavyweight in the world. Things changed beginning in 2008 when Emelianenko when up against top ten heavyweights Tim Sylvia, Andrei Arlovski, and Brett Rogers, but history won't be kind to those three for what they did after losing to "The Last Emperor." But whatever you think of Fedor's run from 2006 onward, nobody can undervalue his run from 2002-2005. There were certainly less-than-worthy opponents for him at the time, but there were also the best of the best. Heath Herring had a strong reputation as one of the top heavyweights in the world when Fedor ran through him. Then he had a dominant performance against the man many thought would be the one to rule the division for years to come: Minotauro Nogueira. Kazuyuji Fujita, Mark Coleman, and Kevin Randleman were all quality opponents, but the crown jewel of Fedor's prime run was his 2005 showdown with Mirko Cro Cop. That fight cemented Fedor's spot as the scariest man on earth and the top fighter in history to that point.

3. Georges St-Pierre - The level of competition St-Pierre consistently topped throughout his career is remarkable. In just his fifth fight, St-Pierre beat Pete Spratt, who had turned down an offer to fight Matt Hughes for the UFC welterweight title. That earned him a shot in the UFC, where he beat Karo Parisyan, Jay Hieron, Jason "Mayhem" Miller, Frank Trigg, Sean Sherk, and BJ Penn before beating Hughes for the title. An upset loss to Matt Serra in his first title defense only set forth the next evolution of Georges St-Pierre. From there, he defeated Josh Koscheck, Hughes, Serra, Jon Fitch, Penn, Thiago Alves, Dan Hardy, Koscheck again, Jake Shields, Carlos Condit, Nick Diaz, and Johny Hendricks. From the first Koscheck bout to Diaz, St-Pierre won every single round he fought on at least one judge's scorecard. St-Pierre has fought and defeated top competition more consistently than perhaps any fighter ever.

2. Anderson Silva - What can you say about Anderson Silva? With ten title defenses, three wins at a higher weight class, and some of the most incredible knockouts in MMA history, Silva is certainly the best fighter ever as of this writing. No fighter is more deserving of having their face carved on a mountain than the best of all time.

1. Jon Jones - It blows my mind how much Jon Jones, just 26-years-old, has accomplished. His 2011 may have been the best calendar year any fighter has ever had. First he handed Ryan Bader his first defeat, then dominated Mauricio "Shogun" Rua, followed that with a submission of Quinton "Rampage" Jackson, and capped it off by choking out Lyoto Machida. Even more incredibly, Jones' run has been completely dominant with the exception of his most recent bout, a narrow decision win over Alexander Gustafsson. At such a young age, Jones poised to become the most decorated fighter in MMA history.


---



Todd Vote
4. Dana White - Say what you want to about the guys attitude, but you cannot deny the importance that Dana White and the Fertitta brothers have done for the sport of MMA. They took the sport from a place where nobody even wanted to show it on TV and have built it into what we have today: a global company that is the number one name in the sport. Since Dana is the face of the UFC, I think it is fitting his face is featured over the Fertitta brothers.

3. Chuck Liddell - One of the most popular fighters the UFC has ever seen, the Ice Man managed to capture the attention of fans for his brutal knock outs, and his ability to keep a fight standing, thus dictating the pace. Liddell, coupled with the success of the first season of TUF, are largely responsible for the boom in the sport we are still feeling.

2. Anderson Silva - In my mind the Spider sits as the best champion the sport has ever seen. Complete dominance over the middleweight division, usually by dismantling his opponents. For that alone he makes my Rushmore.

1. Royce Gracie - I'll be the first to admit it, as a 14 year old who had never seen MMA before, I had no idea what to expect. Seeing the small Royce Gracie topple opponent after opponent, some two to three times his size was both amazing, and perplexing. At the time I had no idea what jiu jitsu was, let alone how this tiny man just kept besting the competition, and doing so in ways I've never imagined. Looking back on it now, you tend to have a greater appreciation for the man that essentially started it all.


---



Robert Practor
4. Anderson Silva - Anderson Silva's run at the top of the UFC's Middleweight division, made even more amazing considering he dabbled at Light Heavyweight as well, was remarkable. His record ten consecutive title defenses is a record that may never be broken. "The Spider" is a fascinating, polarizing athlete and his records combined with the amazing things he did in the Octagon gave him the nod over a couple other close considerations for this 4th spot, those being Georges St. Pierre and Fedor Emelianenko.

3. Chuck Liddell - Chuck Liddell was arguably the biggest superstar in the company's history. "The Ice Man" was a massively exciting, dominant fighter and drew absolutely monstrous live gates and pay-per-view buyrates. For many years, his 2006 fight against Tito Ortiz at UFC 66 was the most purchased PPV in company history as well as their largest gate. He was the top star during the company's surge in popularity following the success of The Ultimate Fighter and his crossover appeal in shows like The Simpsons and (to this day) Miller Lite commercials lands him a spot on my Mount Rushmore.

2. Royce Gracie - Unlike my selection for the number 1 spot, Royce Gracie is sure to be on everyone's lists for their Mount Rushmore of MMA. Gracie (along with his family members) pretty much started it all. Gracie's run in the original UFC, complete with 11 straight submission victories in the first four events, was amazing to see.

1. Dana White - In my opinion, Dana White (along with the Fertitta brothers) has had the biggest impact on the world of Mixed Martial Arts. Sure, others were responsible for creating it in 1993 but we saw it fizzle out after a matter of years and who knows if it would have ever turned back around had it not been for White and the Fertitta's taking over. Regardless of White's faults, their vision and promotion of it has brought MMA to enormous heights. I was surprised to see that Dana White was on very few of my fellow writers' lists but I knew as soon as I saw our topic that he would hold the top spot on my Mount Rushmore of MMA.


---



Evan Zivin
4. Frank Shamrock - This may get some flack but I think Frank should be on here. He was the first dominant champion in major MMA history, winning the UFC Light Heavyweight (originally Middleweight) Championship in December 1997 and holding it until November 1999, defending it four times in the process. He also deserves credit for being one of the first UFC fighters to mix styles together to form a complete skillset. In an era when there were still strikers and wrestlers and jiu-jitsu fighters, Frank was becoming a mixed martial artist. It was a concept that would catch on years later but Frank was the first step in that evolution. That, along with being an inaugural champion in the UFC, WEC, and Strikeforce, makes me want to give him this honor too.




3. Chuck Liddell - Chuck is, arguably, the most popular fighter the sport has even seen. As UFC Light Heavyweight Champion from 2005-2007, he was the face of the company during its biggest period of growth, when The Ultimate Fighter premiered and the company finally turned the corner from hemorrhaging money to becoming an extremely profitable business and Chuck is a big reason for that. He was the first fighter to score major sponsors and sign on for multiple TV and film roles and paved the way for fighters like Jon Jones and Ronda Rousey to do the same. He was also an incredibly exciting fighter, winning 7 fights in a row by (T)KO, a feat that may never be equaled in the UFC. The biggest MMA promoter in the world would not be as big as it is without Chuck Liddell so he gets a spot.

2. Royce Gracie - He was the sports first champion, winning three out of the first four UFC tournaments. He was also the man to give the idea of mixing martial arts its intrigue by proving that technique can overcome size. I mean, did anyone think he stood a chance against behemoths like Gerard Gordeau and Kimo? Not only did he put Brazilian jiu-jitsu on the map in America, he showed that even the smallest man, with the proper training, can win any fight. David can beat Goliath, especially when Goliath is nothing but a striker without any grappling knowledge whatsoever. He was also part of the sport's first major feud against Ken Shamrock. There's no question Royce is a legend and deserves this accolade.

1. Dana White - Number one has to be Dana White. He is the face behind the entity that is responsible for the sport being as popular as it is today and, with how poorly the sport was viewed back in the late 1990s, responsible for the sport even still existing today. He was the one who saw the potential for MMA and convinced the Fertitta brothers to buy the UFC and work with the athletic commissions and institute rules to turn MMA from "human cockfighting" to a respectable sport that can be enjoyed by everyone. Even without ever having stepped into a cage to fight, this one man has impacted the direction the sport has taken more than anyone else. The sport may not even be here today without his tireless effort, so he gets the top spot.

---



Wyatt Beougher
4. Royce Gracie - Arguably the first real star of MMA, I'm sure Gracie surprised a lot of people with his performance at the first UFC. After all, very few people at the time knew that it had been designed simply as a showcase for Gracie Jiu Jitsu, and with each seemingly effortless win, Gracie's legend grew. Forget how his latter years were tainted by a one-sided loss to Matt Hughes and PED allegations, Royce is probably the one unanimous choice for this MMA Mount Rushmore.

3. Kazushi Sakuraba - Conversely, you have Sakuraba, the man who handed Gracie the most memorable defeat of his career in what will probably be the longest MMA fight ever. Even more than the outcome, the levity and personality that Saku showed in that fight made him a star, and the fact that he was able to dispatch pretty much whoever the Gracie family threw at him to become the Gracie Hunter didn't hurt matters either.

2. Fedor Emelianenko - "The Last Emperor" is the greatest heavyweight fighter of all time. Say what you want about his post-PRIDE career, but the fact remains that Emelianenko dominated with ease the deepest heavyweight division that the sport has ever seen, and it's hard to argue against his inclusion.

1. Randy Couture - One inclusion from South America, one from Asia, one from Europe, and now one from North America - I think I've got my bases covered globally. So why Randy Couture, when Chuck Liddell was a bigger draw and a more dominant champion? Because Randy Couture is my personal favorite MMA fighter, and he was also one of the first true ambassadors for the sport. His Olympic background and service in the military, the fact that he was well-spoken and respectful, Captain America arguably did more for the sport outside of the cage than inside it. It's hard to argue with his exploits inside the Octagon, though, when you consider that he's a multi-time champion in two different weight classes, he competed at the highest level at an age well beyond what anyone ever would've expected, and he has quite possibly the greatest upset in the sport, coming back from a year-long retirement to take the heavyweight title from a younger, bigger, stronger fighter in Tim Sylvia. I'd certainly never begrudge anyone for including Liddell (or Matt Hughes, Anderson Silva, GSP, or any other fighter), but for me, Couture was the one guy I was absolutely sure of when I sat down to write, so he had to make the list.


---
YOUR TURN KNOW IT ALLS

List your Top Five for this week's topic in the comment section using the following format:

5. CHOICE: Explanation
4. CHOICE: Explanation
3. CHOICE: Explanation
2. CHOICE: Explanation
1. CHOICE: Explanation
Your heart is free. Have the courage to follow it…TO CSONKA'S TWITTER!

http://www.twitter.com/411wrestling
http://www.twitter.com/411moviestv
http://www.twitter.com/411music
http://www.twitter.com/411games
http://www.twitter.com/411mma

Have you checked out the Csonka Podcasting Network? If you haven't, you should We run anywhere from 15-20 shows a month, discussing pro wrestling, the world of MMA, the NBA, general sports, popular TV series of the past, bad movies, battle rap, interviews, MMA & Wrestling conference calls and more! Around 10 different personalities take part in the various shows, which all have a different feel; so you'll likely find something you like. All of the broadcasts are free, so go ahead and give a show a try and share the link with your friends on the Twitter Machine and other social media outlets! Running since May of 2011, there are currently over 500 shows in the archive for you to listen to.



Larry Csonka is a Pisces and enjoys rolling at jiu jitsu class with Hotty McBrownbelt, cooking, long walks on the beach, Slingo and the occasional trip to Jack in the Box. He is married to a soulless ginger and has two beautiful daughters who are thankfully not soulless gingers; and is legally allowed to marry people in 35 states. He has been a wrestling fan since 1982 and has been writing for 411 since May 24th, 2004; contributing over 3,000 columns, TV reports and video reviews to the site.
comments powered by