SPOTLIGHTS
411's MMA Roundtable Preview - UFC Fight Night: Kim vs. Hathaway
Posted by Dan Plunkett on 02.28.2014

Dong Hyun Kim faces John Hathaway in the main event of UFC Fight Night! Plus Matt Mitrione battles Shawn Jordan, Hatsu Hioki vs. Ivan Menjivar and more! Check out our roundtable preview and join 411 for LIVE coverage of the event on Saturday!




WELCOME:
Dong Hyun Kim faces John Hathaway in the main event of UFC Fight Night! In the co-main event, welterweights Sai Wang and Lipeng Zhang square off. At heavyweight, Matt Mitrione fights Shawn Jordan. Plus, Nam Phan takes on Vaughan Lee, Hatsu Hioki vs. Ivan Menjivar, and more!

THE STAFF:


From MMA's 3R's, Jeffrey Harris!


He's the new guy from The Round Horn, Koeddy Laemmle!


From The 411 MMA Top 10, Alex Rella!


Your host of MMA Fact or Fiction, Wyatt Beougher!


From Forgotten Fights, Paul Lapointe!


He's 411's resident interviewer, Jon Butterfield!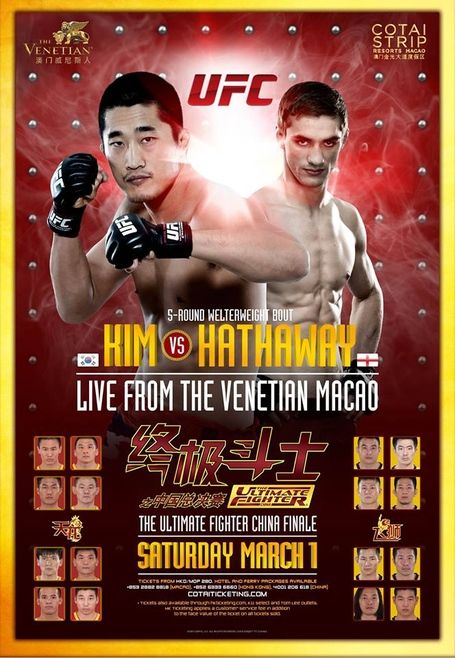 THE PRELIMINARY CARD:




Prelims and main card streamed on UFC Fight Pass.




Featherweight Bout: Jumabieke Tuerxun vs. Mark Eddiva



Jeffrey Harris: Mark Eddiva, Decision
Koeddy Laemmle: Jumabieke Tuerxun, Decision
Alex Rella: Tuerxun, Decision
Wyatt Beougher: Tuerxun, Decision
Paul Lapointe: Tuerxun, Decision, RD3
Jon Butterfield: Tuerxun, Submission, Round One
The staff picks Jumabieke Tuerxun, 5-1.



Welterweight Bout: Albert Cheng vs. Anying Wang



Jeffrey Harris: Albert Cheng, Decision
Koeddy Laemmle: Anying Wang, Decision
Alex Rella: Wang, Decision
Wyatt Beougher: Wang, TKO, Round 2
Paul Lapointe: Cheng, Decision, RD3
Jon Butterfield: Albert Cheng, Decision
The staff calls it a draw, 3-3.



Welterweight Bout: Zak Cummings vs. Alberto Mina



Jeffrey Harris: Zak Cummings, TKO, Round 1
Koeddy Laemmle: Zak Cummings, TKO, RD 1
Alex Rella: Cummings, Submission, Round 1
Wyatt Beougher: Zak Cummings, Decision
Paul Lapointe: Cummings, Split Decision, RD3
Jon Butterfield: Zak Cummings, Decision
The staff picks Zak Cummings, 6-0.



Lightweight Bout: Kazuki Tokudome vs. Yui Chul Nam



Jeffrey Harris: Kazuki Tokudome, Submission, Round 2
Koeddy Laemmle: Kazuki Tokudome, Submission, RD 2
Alex Rella: Tokudome, Decision
Wyatt Beougher: Nam, KO, Round 3
Paul Lapointe: Nam, Decision, RD3
Jon Butterfield: Kazuki Tokudome, TKO, Round Two
The staff picks Kazuki Tokudome, 4-2.

---




THE MAIN CARD:




Featherweight Bout: Hatsu Hioki vs. Ivan Menjivar



Jeffrey Harris: This is really do or die for the UFC career of both fighters. Both guys are 1-3 in their last four Octagon fights. Hioki has lost his last three fights (granted one was an iffy split decision against Clay Guida). Ivan Menjivar has lost his last two. A loss here basically means this is a loser leaves town fights. Both fighters are very experienced and strong grapplers, but they've been lukewarm in their UFC tenure. Menjivar takes a move up in weight here. Hioki, will have a significant height and reach advantage over Menjivar in this fight. I expect him to take Menjivar to the ground and out grapple him to get a dominant decision win.

Winner: Hatsu Hioki, Decision

Koeddy Laemmle: Both fighters are in a must win situation, particularly Hatsu Hioki who has dropped his last three since rejecting a UFC Featherweight title shot nearly two years ago. Hioki will use his size advantage and keep this fight grounded and grind out the long three round unanimous decision victory, earning himself another day on the roster. I think Ivan Menjivar gets another shot even with a loss due to lack of depth in the men's Bantamweight division.

Winner: Hatsu Hioki, Decision

Alex Rella: This is a must win situation for both veterans as the loser could be out of a job. Regardless of the aftermath, this should make for a good fight. Hioki looks beyond stupid nowadays for turning down a title shot back in 2004 and is now on a three fight losing streak. Menjivar is on a two fight losing streak of his own and is trying to breathe some life into his career by moving back up to featherweight. Menjivar has a bit of a size disadvantage, but he's fought as high as welterweight so I think he'll be ok. I'm going with Menjivar as I think he's the better grappler.

Winner: Menjivar, Decision

Wyatt Beougher: Hioki's riding a three-fight losing streak, while Menjivar has lost two in a row, so both of these guys are probably fighting for their jobs in this one. It seems like every time Menjivar takes a step up in competition, he loses, and while I'm not sure Hioki should still be considered a step up in competition, I think he's good enough to win this. If nothing else, I'll give him the benefit of the doubt based on relative home field advantage and needing less rigorous travel to actually get to the event.

Winner: Hatsu Hioki, Submission, Round 2

Paul Lapointe: Hioki has been a bust in the UFC from no fault of his for the most part and Menjivar has been wholly inconsistant against top tier names. So with one carrot dangling which man can get off the schnide and show up? I see this fight hitting the mat pretty quickly with each man battling for top control. Problem with that is Hioki is the much smaller man and I see Menjivar using that to his advantage. I see Ivan being willing to let it hang out while Hioki will be playing it safe, which will cost him in the form of submission loss/

Winner: Menjivar, Submission, RD2

Jon Butterfield: I like both these guys, so it's a shame that the loser could very easily be cut with a loss. Menjivar has been around forever, and always fights at a high tempo and can pull off some really neat grappling moves to confound inexperienced opposition, but against someone of Hatsu Hioki's ilk, I really don't see what he can possibly pull out of the bag. A striking battle could either be fun or awkward, since neither are great, though don't discount Menjivar breaking out wilder strikes. Nothing Hioki does is wild, though, and I expect him to fight ultra-smart and show his class to ride out a top position-heavy decision.

Winner: Hatsu Hioki, Decision

The staff picks Hatsu Hioki, 4-2.

---




Bantamweight Bout: Nam Phan vs. Vaughan Lee



Jeffrey Harris: Nam Phan makes his UFC bantamweight debut here after a rather underwhelming run at bantamweight. Both guys are treading on water and really can't afford another loss here. That being said, both fighters are good for an enjoyable scrap, and this fight will be no exception. Nam Phan is incredibly tough and durable, but he's proven to be a rather one dimensional fighter overall. He has good striking and boxing, but his grappling and takedown defense are pretty poor. Lee gets this fight to the ground and eventually finds the submission.

Winner: Vaughan Lee, Submission, Round 2

Koeddy Laemmle: I'm anticipating this to be an explosive fight given Nam Phan's fighting style and Vaughan Lee looking to make a statement before he drops down to Flyweight. I'm guessing Lee's game plan will be to take this one to the ground but he will more than likely diverge from that plan and throw some bombs with Phan. All of Nam Phan's UFC fights have ended in decision and I expect this to continue the trend and possibly a controversial decision with Phan being the victor.

Winner: Nam Phan, Decision

Alex Rella: Neither of these fighters are great, but this should make for a fun fight. Nam Phan usually has entertaining fights, but the guy is 3-7 in his last ten so he desperately needs a win. This will be Lee's last fight at 135 lbs before dropping down to flyweight where he will probably fair better. Nam is the better striker of the two, but he doesn't really have KO power and Lee isn't terrible in that department either. I would give Lee the clear advantage on the ground though, so I'm going to pick him in this one. I don't know Lee will get a submission, but I think he'll still get the win.

Winner: Lee, Decision

Wyatt Beougher: Oh, Vaughan Lee, you killed my parlay bet by beating Norifumi Yamamoto back at UFC 144, and I've vowed to pick against you any time you fight because of it. Still, though, this fight gave me pause, because while I think Nam Phan is a game fighter, he also hasn't shown much improvement since his time on The Ultimate Fighter. Still, though, Vaughan Lee cost me a tidy sum, so I'm going with Phan. (I won't be putting any money on this fight, though.)

Winner: Nam Phan, Decision

Paul Lapointe: A battle for who gets to keep there job, yipeee! Seriously though, potentially with a loss Lee could keep his spot if his drop to flyweight is a true goal of his. But as for Phan its all systems fired if he does come out on top here. With these facts known this fight becomes a massive tug of war where each man should be desperate, which will be interesting to see what gameplans are used here. All in all Phan will box and Lee will will follow, should be fun. I will lean towards the man with Asian descent getting the favoured nod here.

Winner: Phan, Split Decision, RD3

Jon Butterfield: Hardly a glowing indictment of the bantamweight division's current status, Nam Phan and Vaughan Lee are two also-rans who always put up a game fight, but are frequently overmatched at this level. Lee has already said he intends to drop to flyweight after this fight, and maybe that gives him one more go in the UFC, though it will probably be up to Dana's discretion since I don't see him getting a whole deal going against Nam Phan. Phan is decidedly mediocre, but he hasn't been finished (or finished anyone) in the UFC, so expecting that to change here is a little optimistic. I see Phan out-working Lee in a multi-levelled affair, but really Lee has to finish to win in my opinion – unless he locks on a submission, he'll probably eat too many shots on the feet.

Winner: Nam Phan, Decision

The staff picks Nam Phan, 4-2.

---




Heavyweight Bout: Matt Mitrione vs. Shawn Jordan



Jeffrey Harris: Despite an awful performance against Cheick Kongo in his second UFC bout, and a recent loss to Gabriel Gonzaga, Jordan has looked better in his more recent UFC bouts after that snoozefest against Kongo. Both guys are strong strong heavyweights that can hit hard. In this fight though, I favor the speed and punching power of Matt Mitrione over Jordan. Both have some underwhelming performances against Cheick Kongo in common. However, Mitrione is not facing a superior grappler or wrestler, and the matchup favors his skills. Mitrione wins eventually by knockout.

Winner: Matt Mitrione, Knockout, Round 1

Koeddy Laemmle: This is where one of those "Performance Bonuses" will go. These guys are going to trade punches for close to 5 minutes and someones going to drop to the ground unconscious. It's not often either of these guys make it out of the first round, win or lose. I think Shawn Jordan carries the stronger punch evidenced by TKO victories over heavy hitters Pat Barry and Mike Russow. I don't think Mitrione is as good as any of those guys and stands a good chance of getting cut following a loss.

Winner: Shawn Jordan, KO, RD 1

Alex Rella: I'll be surprised if this one goes past the first round. Neither heavyweight is an elite fighter, but both hit really hard. Mitrione is probably the quicker striker of the two, but he's 1-3 in his last four fights and just got submitted by Brendan Schaub. Jordan is small for a heavyweight, but he's picked up some brutal knockouts over some tough heavyweights in the past couple years. I think Jordan is the better overall fighter and I expect him to come out victorious.

Winner: Jordan, TKO, Round 1

Wyatt Beougher: On the one hand, you've got Meathead, who just lost to Brendan Schaub, and on the other, you've got Shawn Jordan, who is looking to rebound from a loss to Manbearpig in his last outing. Both guys have lost whenever they've fought someone who's better than average in the heavyweight division, so this one, to me, is basically a pick'em fight. Jordan's shown some flashes of brilliance during his time in the UFC, and I'd like to see him bust out the standing backflip in front of a Chinese crowd.

Winner: Shawn Jordan, Decision

Paul Lapointe: Since Jordan has seen the barrel end of a shotgun blast to his face leading to defeat in his UFC career the smart play is he takes this one to the ground. Jordan is gifted and I believe has much more mobility to utilize jiu jitsu (ugly jiu jitsu) but Jiu Jitsu nonetheless in this fight. Meathead on the other hand hits like a barrel of bricks and has shown lately that his ground game is pedestrian as a whole so it should be exploited. Will it? I am doubtful most HW just wing and ding like giant cavemen and when it hits the mat its usually ugly and grunty. I want to be surprised here, hopefully I am.

Winner: Jordan, Submission, RD3

Jon Butterfield: This is pretty much a 50-50 on paper. Shawn Jordan looked awesome when he blitzed his friend Pat Barry, but has looked lacklustre against above average heavyweights like Cheick Kongo and Gabriel Gonzaga. One thing's for sure, Jordan comes to finish, and with Roy Nelson and Brendan Schaub proving Mitrione's defences are less than watertight, he could easily do it again here. Mitrione has always flattered to deceive, posting good performances against under-talented opposition, but his most impressive win to date has to be Joey Beltran, and that doesn't say a great deal for his evolution as a fighter. Something tells me Mitrione will have too much confidence in his boxing here, and I expect him to get KO'd by 'The Savage' the second he realizes he can't get the fight to the floor either.

Winner: Shawn Jordan, KO, Round Two

The staff picks Shawn Jordan, 5-1.

---




Welterweight Bout: Sai Wang vs. Lipeng Zheng



Jeffrey Harris: The 6-4 Sai Wang makes his UFC debut against the 6-7-1 Lipeng Zhang, also making his UFC debut here. Both fighters are from China and are on the card to cater to the local crowd and fan base. It doesn't really look like they are UFC level or have really earned their way into the Octagon as of yet. That being said, with UFC's global expansion, they will need fighters such as this to fill up space on the international events meant to cater to the local fan bases. Neither fighter has really faced or beaten anyone of note. I'm leaning towards Wang here as it looks like he will be more likely to stop and finish Zheng.

Winner: Wang, TKO, Round 2.

Koeddy Laemmle: Neither of these guys are UFC ready but when you are trying to make stars in a country where MMA is as undeveloped as it is in China. It's kind of like if UFC had tried doing the Ultimate Fighter in five years earlier in America. Wang is easily the better fighter of the two and will use his advantage on the ground to wrestle out a win and a meaningless Ultimate Fighter crown.

Winner: Sai Wang

Alex Rella: I didn't watch the show so I'm not going to lie and pretend to know anything about these two. It's great that the UFC tried to expand into this new market and maybe they'll find some new stars in China. I'm picking Wang cause he has a winning record.

Winner: Wang, Decision

Wyatt Beougher: This is TUF: China in a nutshell, isn't it? A guy with a losing record facing a guy who will be lucky to be employed by the UFC by this time next year, even if he wins this fight and the contract. Considering the season started with a coach on a three-fight losing streak and another who is retired, featured a yoga instructor who had never fought before and never really trained in any combat sport, and some seriously outdated training methodology (a full strength and conditioning workout on the day of the fight?) and ended with one of the two final fights postponed because of a fight injury, hopefully the UFC will learn from this and skip China the next time they're looking at potential international TUF locations. As for the fight itself, Zhang Lipeng is a better fighter than his 6-7 record would indicate, but I still think top pick Wang Sai will win this fight and the contract. He's shown that he can come out and take over a fight early, but if he does get behind early in a round, he's able to stay focused and make the necessary adjustments to steal the win. In a very, very shallow pond, I think that makes him a big fish.

Winner: Wang Sai, Decision

Paul Lapointe: The less said about this show the better. Ugh, just flat out abysmal really. I wanted this to succeed but geez o petes I see no upside to any guys on this show but this TUF was never really about that, it would have been a fine bonus though. Asian cannon fodder at its finest, sloppy and wreckless and hard to watch. Guy with the winning record takes it. That is all but seriously WTF happened to this show?

Winner: Wang, Mercy, Sooner the better

Jon Butterfield: I've heard of Wang Sai, so that fills me with confidence. I think he wins this battle of the "only here because we're Chinese" fighters, though I must say I'm disappointed we aren't getting to see the Yoga instructor fighting inside the cage – that would've been fun!

Winner: Wang Sai, Out-Wangling, Round One

The staff picks Sai Wang, 6-0.

---




Welterweight Bout: Dong Hyun Kim vs. John Hathaway



Jeffrey Harris: While this isn't a huge card, this is at least an interesting welterweight contest. This is actually a risky fight for Kim, while John Hathaway has a 7-1 UFC record, he hasn't fought inside the UFC with any regularity over the course of the last two years. In fact, Hathaway last fought in September 2012, a year and a half ago, winning a decision against John Maguire. Hathaway is still fairly young at 26 and can still get something done in the sport, however his career has been tremendously set back by injuries and an inconsistent fight schedule. Kim on the other hand has looked remarkably strong and dominant as of late. He's worked to No. 11 in the top 15 rankings of the welterweight division, and he's coming off an incredible knockout win over Erick Silva. In this fight, I'm favoring the momentum and gradually improving skill level of Kim. Kim has much better MMA wrestling and more dynamic throws than Hathaway. I think he will continue to come forward and will get Hathaway to the ground and dominate this fight to a decision.

Winner: Dong Hyun Kim, Decision

Koeddy Laemmle: I've always thought Dong Hyun Kim was an underrated fighter and he seems to have really taken him game to the next level, especially with his shocking knockout win over heavy hitting Erick Silva. John Hathaway hasn't fought in a year and a half and jumping right into a five round fight could prove to be a mistake even though 7 of his 8 fights in his UFC career have ended in a decision. Both men will be in unfamiliar territories once the fight goes past the 3rd round but I think Hathaway's time off will end up being his downfall as Kim controls him on the ground for the decision victory.

Winner: Dong Hyun Kim, Decision

Alex Rella: This is a really important fight for both guys as they try to break into that higher level rankings in the UFC welterweight division. Both fighters are on three fight winning streak and the winner should get a big fight next. Kim is coming off an awesome knockout victory over Erick Silva a few months ago, while Hathaway hasn't fought since September 2012 when he dominated John Maguire in England. I thought Hathaway had some serious potential back then and I really hope the time off doesn't derail that. I think he should be able to win if he looks as good as he did back in 2012.

Winner: Hathaway, Decision

Wyatt Beougher: And we get to the one fight on the card that's truly tantalizing (as well as the only one not to feature at least one fighter coming off of a loss in non-TUF tournament competition). Both fighters come into this fight riding three-fight win streaks, and while Kim's recent hit list is quite a bit more impressive than Hathaway's, Hathaway does have high profile wins over Diego Sanchez and Rick Story (back when that meant something). Unfortunately for Hathaway, he's also coming off of a nearly 17 month long layoff, which makes it hard for me to pick him. If that weren't enough, the fact that Kim possesses solid skills in the clinch and a dominant top game (combined with the fact that Hathaway is a Brit) also have me confident in picking him to win. Of course, I don't think anyone picked Hathaway to beat Diego Sanchez either, and that didn't exactly turn out the way pundits planned, so there's the potential for the upset here, as Hathaway could always stay outside and try to outpoint Kim. However, considering their very similar measurables, I think it's more likely that Kim comes out, imposes his will, and either grinds out the victory or (more surprisingly) gets his second finish in a row.

Winner: Kim Dong Hyun, Decision

Paul Lapointe: This is the most interesting fight on the card and considering the rest of the card that is both a compliment to this fight and an insult to this card as a whole. I i digress though as both guys need some RESPECT when it comes to their respective next booking options. This fight will be there defining moment or just another check on a meaningless list. Kim has only lost twice in the UFC as the Karo fight was NC and was close as balls anyhow. Those losses are to a former champion and a freak injury. He has also managed to knock Golden Boy Erick Silva down a peg or two even against the hopes and prayers of Joe Silva. Hathaway on the other hand is 7-1 in the UFC but has beaten who...? Diego Sanchez? Sure when he was evolving from the nightmare to the dream or as I say, the Leonard Garcia of the Welterweight/Lightweight divisions. That does not mean he has not been super impressive as I personally thought he was undervalued when he was going on his little run but now he returns to little fanfare and 17 months of sitting on his hands out of the public eye. He needs a finish and it needs to be decisive. This mentality proves that he become impatient and Kim is a Asian Jon Fitch unless your name is not Silva. Hathaways last name is not Silva. I see a technical ground battle on the level of Maia and Shields. Hopefully more exciting though.

Winner: Stun Gun, Decision, RD3

Jon Butterfield: Easily the best fight on the card, Kim-Hathaway has genuine consequences in the welterweight division, and while it would probably only open a main card in the States, it's still an intriguing fight. Both guys have really neat records, but there's no question that Kim has fought the better opposition. While Hathaway does hold wins over Rick Story and Diego Sanchez, he's only fought three times since his 2010 loss to Mike Pyle, though to be fair he's undefeated since. Both men can play the 'spoiler' to a tee, strategising to make their opponents like ineffectual, but like I say, Kim has done that against much more dangerous fighters, and is particularly at home making elite strikers look like plodding home run seekers – but Hathaway is an entirely different prospect, since Hathaway is much more ground-oriented then any of Nate Diaz, Paulo Thiago, Siyar Bahadurzada and Erick Silva, though obviously most of those are capable grapplers in their own right.

Hathaway will most likely look to stifle Kim in the clinch, occasionally seeking to gain top position, but don't expect him to do a whole lot with it even if he manages it. Kim's defences are absolutely outstanding, and his stand-out weakness seems to be his chin. That particular weakness won't come into play here, and while I'd be HUGELY impressed if Hathaway could impose his usual tactics on the Korean, I just don't think he can. Kim won't finish, but he has more tools than Hathaway on the feet, has good takedown defence (unless he's getting his rib broken by Demian Maia), and should be able to keep Hathaway at bay.

Winner: Dong Hyun Kim, Decision

The staff picks Dong Hyun Kim, 5-1.

---
Remember to join 411's coverage of UFC Fight Night on Saturday!
comments powered by