SPOTLIGHTS
Five Quick Rounds 03.04.14: Fight Night 37, Bellator 110, No TUE's for TRT by NAC, More
Posted by Evan Zivin on 03.04.2014

From Vitor Belfort withdrawing from his UFC 173 title fight to Nevada and Brazil banning exemptions for TRT and more, 411's Evan Zivin examines these stories and more in Five Quick Rounds!

Hey hey, fight fans, and welcome back to Five Quick Rounds! I am your host, Evan Zivin, and I am more excited than Mark Coleman's eBay profile to be here once again!

I wasn't even aware eBay was still a thing. I haven't used the site since back when I tried to buy an original Xbox on there after they came out. I thought I was sure to score one since all the auctions started bidding at $0.01, which I could almost afford back then. How foolish I was. Nowadays, I need over $24,000 just to get my hands on a UFC Hall of Famer's Pride Grand Prix trophy. That's right. Ears perked up last Tuesday after it was learned that Mark Coleman was selling the trophy and novelty check he won for winning the legendary 2000 Pride Grand Prix. It was the first Grand Prix in Pride's history and featured names like Royce Gracie, Kazushi Sakuraba, Guy Mezger, Igor Vovchanchyn, Gary Goodridge, and Mark Kerr. Coleman won the 16-man bracket to become the promotion's first champion and the first man to win both a UFC and Pride tournament. It was one of the biggest moments of his career and it seemed odd and a little sad that he would put the trophy up for sale, especially on eBay. I mean, couldn't he find a decent auction house to sell that? Maybe it was all just an April Fool's joke. Also, Coleman's brains are so scrambled that he thinks it's April. It's possible since the auction ended on Friday without any bids being made. Maybe he had second thoughts. Maybe he realized no MMA fan who would want the trophy has $24,500 to spend on it. I don't know. Maybe I could have scrounged up the money for it. I guess I'll have to put it towards one of the user's other auctions, such as....the trunks worn by Art Jimmerson at UFC 1? And they're only $7,500? Hmmm....that is tempting. Also, insane.

All right, so with fighter introductions out of the way, I have five more rounds of MMA news and opinions to throw at you. This week we'll look at Nevada and Brazil banning TUE's, Vitor Belfort "withdrawing" from his UFC 173 title fight, the results of Fight Night 37 and Bellator 110, and Quick Thoughts on Nate Diaz's latest Tweet and UFC's debut in Mexico. Let's to it do it.

FIGHTER YOU READY!!!!
FIGHTER YOU READY!!!!

FIGHT!!!!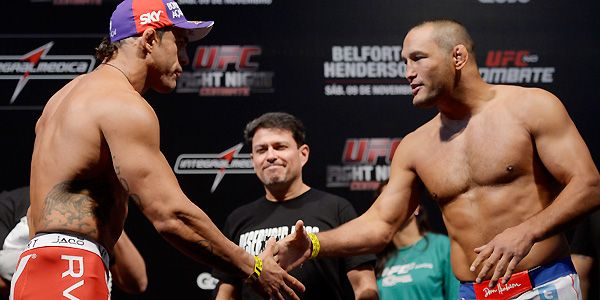 Round One: Nevada and Brazil Ban TUE's for TRT, Dan Henderson Feels Sad and Alone

***TOUCH OF GLOVES***

And here I was thinking it was going to be a rather quiet week. After all the craziness that unfolded out of UFC 170, intentionally and unintentionally, I expected things to be a lot simpler this past week. Well, so much for that, as the MMA world was shaken on Thursday by the news that the Nevada (State) Athletic Commission, the most visible, most influential athletic commission in the U.S., voted in favor of banning therapeutic use exemptions for testosterone replacement therapy in the state of Nevada. That's right. The ol' TUE's for TRT are being done away with. What does that mean? It means that fighters will no longer be given passes to inject testosterone into their bodies to bring their levels up to what is considered the "normal" range in preparation for their fights. It is a practice that has been taken up by many MMA fighters, many of whom have failed drug tests in the name of TRT, such as Chael Sonen, Nate Marquardt, and Antonio "Bigfoot" Silva. It is a practice that has been derided by fans, athletes, and even the UFC for being a form of cheating. Is it? I mean, it only allows fighters with naturally low levels of testosterone, most likely caused by either past steroid use or just as a result of the fighter getting older, the ability to bring their levels up to that of a fighter half their age. Does that sound like cheating to you? It does? Well, crap. I guess it is.

Personally, I've always been something of an "all or nothing" kind of guy when it comes to drug use in sports: either allow all substances to be used and even the playing field for everyone or ban all of them and get rid of all these shades of gray that serve to do nothing but damage the integrity of the sport. So, while I'm not jumping for joy the way that some people are over this news, I definitely support the NAC for taking the initiative to end this messy practice once and for all. The one thing I do want to say is that people should be careful when they talk about how brave and noble the NAC is for banning this practice. They didn't ban TUE's because it was the right thing to do. They banned TUE's because it would be too expensive to continue handing them out. The concern made during the hearing was that, as more fighters make requests for TUE's, the NAC would need to step up their efforts to perform random drug test on these fighters (like they have for Vitor Belfort) and the commission didn't have the funds or the resources to adequately perform this function for all the active fighters requesting exemptions in their state. So, instead of continuing to grant TUE's and perform a half-assed job of drug testing fighters, which would allow all of them to abuse the treatment and get away with it, the NAC has decided to just do away with the practice entirely and save them (and everyone else) that headache. I completely understand that rationale and, while the decision was made more out of necessity than anything else, it was still a very bold move to make and we shall see what happens from here. The UFC has agreed to ban TRT exemptions in cases where they act as a sanctioning body and Brazil has done away with the practice too, but states like New Jersey and California aren't ready to do away with it. At least not yet. C'mon! The ban train is leaving the station and you don't want to be left behind. Trust me. Have you been on any MMA message boards lately? Exactly.

***HORN SOUNDS***




Round Two: Vitor Belfort "Withdraws" from UFC 173 Main Event, Lyoto Machida will Risk Injury Against Chris Weidman

***TOUCH OF GLOVES***

No sooner did news of the TRT ban come out that people started talking about former UFC Light Heavyweight Champion and current Middleweight Championship contender Vitor Belfort, since it is physically impossible to mention TRT without the name of God's favorite Brazilian materializing into the conversation. Vitor has been the poster boy for TRT for as long as he's been using it, which goes back at least since his last title shot against Anderson Silva at UFC 126. That fight is an example of why I don't lose my mind over fighters using TRT as much as some people because Vitor could have consumed every steroid on the planet and he still would have crumbled when Silva kicked him in the face. Vitor has used the treatment in every fight since that 2011 battle, including his last three fights, all of which have received even more scrutiny because they've taken place in Brazil, a place that was considered much easier to receive a TUE since Nevada said they would not hand out exemptions to past steroid users. Vitor hasn't officially failed a drug test since he pissed hot back in 2006 but he still gets flack for using the treatment, which most feel has contributed greatly to his physique, a musculature he didn't have when he was younger and weighed more than he does now. Once an abuser, always an abuser, right? Or at least that's how some people feel. I mean, even if he was forced to quit the treatment entirely, he'd still get shit because he did it before, right?

Well, we're going to find out. Almost immediately after news of the TRT ban in Nevada, the site of Vitor's next fight, came out, it was announced that Vitor was withdrawing from his middleweight title fight against Chris Weidman at UFC 173. There are two main controversies stemming from this news. The first is whether Vitor voluntarily withdrew from the fight or, as Vitor claims, UFC pulled him from the fight. The truth to that controversy may help to explain our second one, which is why. The "official" reason news sites have been giving is that, since Vitor is completely shutting down his TRT program due to the ban, his body will need time to adapt to the change and to start producing natural testosterone again. That means Vitor won't physically be ready for a May fight. Some people claim this explanation is faulty due to Dan Henderson only needing two months before his UFC 161 fight to cease his TRT regimen in time to put in a horrendous performance against Rashad Evans. The "actual" reason behind Vitor withdrawing/being pulled may have to do with a random drug test that was performed last month. The athletic commission can't reveal the results because Vitor hadn't applied for a license yet and Vitor has said he won't reveal the results. One would think if the results were clean then there should be no reason for him not to reveal the results and clear his name. Then again, would anyone believe him if he said the test was clean? Everyone already hates Vitor for his TRT use, among other reasons, so would people actually listen to him if he said he was clean? I doubt it. If he doesn't have to reveal the results, then he doesn't have to. Then again, the test may have nothing to do with anything. In the end, None of it matters since he's out and we're now getting Weidman vs. Lyoto Machida at UFC 173, which should be a good fight. Vitor will likely get the winner of that fight and, unless Vitor shows up super pudgy to that fight, the steroid accusations will continue all over again because they always do whenever Vitor fights. He'll never escape them. My job isn't to condemn Vitor, since everyone is already doing that. I just want to make fun of him. Speaking of which, did you see that cross he put in his hair? Blech. I haven't seen hair that bad since the Academy Awards. Seriously, what the hell, Jennifer Lawrence? I thought the trend of looking like a Justin Beiber cosplaying prostitute had already passed. Hollywood is weird.

***HORN SOUNDS***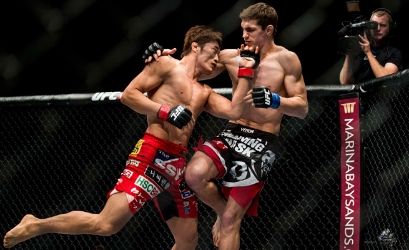 Round Three: Fight Night 37 Quick Thoughts, How Do You Say "Don't Be Scared, Homie" in Korean?

***TOUCH OF GLOVES***

So, after all that excitement, let's get to some real excitement. That's right. I'm talking about live fights, but not just any live fights. Live fights at 6:30 A.F'ing.M. That's because the UFC was in China once again. UFC returned to Macau with a cast of mostly unknowns and a few slightly knowns who were sure to light up the live crowd and make many a liveblogger sitting at home thank one or more deities of their choosing that we live in a world where coffeemakers exist. Overall, it was a decent little card. It was packed with a lot of decisions but there were only eight fights so it didn't feel nearly as unbearable as watching seven straight decisions before even making it to the main card. The main event of this show was a welterweight showcase between the always entertaining Dong-Hyun "Stun Gun" Kim and John Hathaway, fighting for the first time since September 2012. Hathaway is a fighter who relies on controlling his opponents through grappling and clinchwork to win fights, so thankfully Kim kept that from happening by being reckless and wild with his striking, just like in his last fight against Erick Silva. The man is nuts for doing it but that's why he's awesome. Plus, it can work against the right opponent. It worked in the first round as the white hot Dong....Hyun Kim (thank you, John Anik) hurt Hathaway a couple of times throughout the five minutes. Hathaway worked to even things up in the second round with his grappling but it was all for naught when Kim cracked Hathaway and knocked him out with a spinning back elbow a minute into the third round. Seriously, that was a sick strike. Jon Jones has to be jealous of that. The fight won't affect Kim's standing in the welterweight rankings but it was a great fight and I thank both men for finding their inner Diaz.

The co-main event was the thrilling conclusion of The Ultimate Fighter: China. Did you forget that they did a Chinese version of the show? They totally did. I have no idea how well it was received over there but it featured Cung Le every week so it couldn't have done too badly. Oh man. Remember the last time UFC was in Macau and Cung Le jacked Rich Franklin in the face and Rich spun around while he crumpled to the canvas? Good times. Well, not for Rich. There really isn't a way to appreciate a quality knockout without sounding deranged or evil, is there? There wasn't a ton of action in the fight between welterweight finalists Zhang Lipeng and Wang Sai. There was a lot of grappling and posturing for position. It was a tough battle that many thought Wang managed to pull out....*giggle*....but the split decision victory was awarded to Zhang. Oh well. Enjoy your Harley-Davidson made out of chow mein or whatever your prize is. In other action, fatties went boom! Matt Mitrione, looking lean for being 260 pounds, went toe-to-toe with Shawn Jordan for a very punch-heavy first round. That isn't to say that there was a lot of action but the fight was mostly just the two moving in and out of the pocket, throwing feints while trying to lure the other into a punching exchange. The fight ended when Mitrione caught Jordan against the cage and unloaded with punches, finishing Jordan off right before the first horn sounded. That'll do, Meathead. That'll do. Also, Ivan Menjivar did his best but it wasn't enough against the more-calculated attack of Hatsu Hioki. Well, at least one of them has a win now.

And that was Fight Night 37. We got another one of these Fight Night things happening this coming Saturday, this time in England. So grab some fish and/or chips, find your favorite red telephone booth, and hope that Alexander Gustafsson doesn't get injured like Jimi Manuwa's last two opponents have. Be afraid.

***HORN SOUNDS***




Round Four: Bellator 110 Quick Thoughts, Get Ready For Some Black-on-Black Nonviolence!

***TOUCH OF GLOVES***

The Fight Night card in China wasn't the only major fight card to go down last weekend. On Friday night we got to be amazed as...well, yeah, there was the premiere of Titan FC on the CBS Sports Network. Mike Ricci beat Jorge Gurgel to the surprise of no one and Matt Riddle actually finished a fight, but the show I want to talk about is...yes, there was also a World Series of Fighting Canada show. Ryan Ford went Anderson Silva all over Joel Powell's face to become the Canadian equivalent of Steve Carl, but the fight card I wanted to talk about is...no, no one cares about the M-1 Challenge show. I'M TALKING ABOUT BELLATOR 110 GODDAMMT!! Bellator's tenth season kicked off on Friday with opening round fights in the featherweight tournament and semi-final fights in the light heavyweight tournament. That's right. The 145'ers have to fight one more time than the 205'ers to win a tournament and earn a title shot. That's what those little guys get for not being former UFC champions or wearing Miss America knockoff tiaras to their fights. At least their fights were decent, although they were marred by some poor judges' decisions. Matt Bessette was given a split decision win in a fight most people thought Diego Nunes won and Desmond Green won a unanimous decision victory in a fight most people thought Mike Richman won. Those were unfortunate. The tournament also saw Will Martinez defeat Goiti Yamauchi by unanimous decision in a fight he actually won and Daniel Weichel was smart and choked out Scott Cleve in the first round. He wasn't trusting those judges. Good for him.

The big draw of this season opener was, supposedly, the light heavyweight tournament, which featured Quinton "Rampage" Jackson and Muhammed "King Mo" Lawal on opposite sides of the bracket. Obviously, Bellator wanted these men to win to set up a big fight between the two for the tournament championship. So, are we getting that monumental fight? Yeah, but I can't imagine too many people are excited after the way they performed on Saturday. King Mo's fight against Mikhail Zayats was pretty dreadful. Aside from a couple punches, kicks, and takedown attempts by Mo, there really wasn't a whole lot of action over the three round fight. King Mo won a unanimous decision but I saw scorecards in favor of both men and it's hard to say either side is wrong because neither guy did anything. It wasn't a fight. It was a light sparring session. It was "do as little as necessary and hope that the judges gift you a win because they want you to fight Rampage." Rampage's fight against former Bellator champion Christian M'Pumbu almost went the same way before Rampage finally made contact two minutes into the fight and finsihed M'Pumbu off with strikes a little while later. Then, after the fight, Mo entered the cage and Rampage, channeling his own inner Diaz, almost started a brawl. I guess he thought he was in Nashville, since brawling is just what MMA fighters do there, right, Gus Johnson? It was a nice attempt to create hype for the fight and, while I do think the lead-up to the fight will be amusing, I don't have much faith that the fight itself will be anything worth caring about. Oh well. It should make a nice addition to the May 17 Bellator Payperview that is totally happening this time, you guys, I swear *WINK*.

And that was Bellator 110. Bellator 111 will have the heavyweight tournament opening round and bantamweight champion Eduardo Dantas versus a guy who isn't supposed to be here today. Don't miss it! Or do. Whatevs.

***HORN SOUNDS***

Round Five: Lil' Quick Thoughts, Nate Says the Darnedest Thing, UFC Set for Tequila Run in November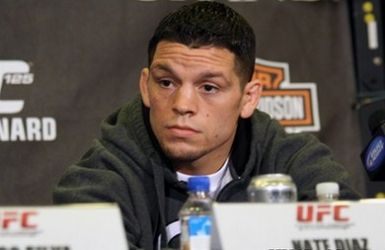 ***TOUCH OF GLOVES***

Nate Diaz is adorable. He's like his brother in that he says crazy things and carries the same uncaring, "don't mess with me" kind of attitude but, at the end of the day, he's a lot more dependable than Nick is. Remember last year when he said he wouldn't be able to fight Gray Maynard because his high school reunion was the same night? I guess he must not have cared about anyone in high school since he still showed up to fight. Well, now he's saying he wants out of the UFC. I won't quote exactly what he said on Twitter (I'll leave stuff like that to other people on this site who have nothing else to fill their columns with) but it says that he wants to be "released" so he can "be on his way ..?" The Tweet hasn't been removed yet so he must mean serious business. What could it possibly mean? Maybe he's taken up drunk Tweeting to compliment all his stoned Tweeting. Maybe he wants to leave to start some sort of traveling knife-throwing business (don't ask me how one makes money with that). Or maybe he's just jealous that his teammate Gil Melendez got a really nice contract from the UFC after negotiating with Bellator and Nate wants to do the same thing. That could be likely. He only got paid $15,000 to show for his last fight, which seems crazy since he's an Ultimate Fighter winner and a former title challenger. The man needs to get paid and I hope he does. We don't need another Diaz refusing to fight.

And some positive news for our friends south of the border. Well, I guess that depends on what country you are reading this in. No, I'm not talking about France or New Zealand, I'm talking about Mexico. Mexico doesn't get the best reputation since most of the news that gets reported out of there has to do with drug lords and kidnappings. Well, not to worry, as only days after Joaquin "El Chapo" Guzman was captured, the--- wow, that's a terrible transition. I'm just gonna say it: the UFC is coming to Mexico in November. The promotion will tape a season of The Ultimate Fighter: Latinoamerica and then hold the Finale in Mexico. The UFC has been looking to hold an event in Mexico for years and came close to announcing a show for April but that date hinged on whether UFC Heavyweight Champion Cain Velasquez, recovering from shoulder surgery, would be able to fight by then. The UFC really wants Cain to fight on their Mexico card so this November date may indicate that they expect him to be ready to fight by then. Don't quote me on that. For all we know, the main event will be something else, like Roy Nelson vs. child obesity or something. Either way, congrats Mexico, although the news says that the taping of TUF: Latinoamerica is happening in Las Vegas and not in....uh...Latinoamerica. I'll just assume it's because UFC doesn't have the proper facilities to train fighters in Mexico right now and not because they are scared the fighters will get assaulted by a roving pack of luchadores. Those are a thing, right? I should probably stop getting my world news from FOX.

***HORN SOUNDS***

That's it for Five Quick Rounds. Thanks for reading. If you have any questions, comments, or suggestions, and it is always appreciated when you do, leave them in the comments section. I will be back in 7 for another Five Quick Rounds. Go check out the heavies at Bellator 111 and Alexander Gustafsson praying his leg doesn't explode at Fight Night 38. Enjoy the fights and remember to fight clean, fight hard, fight fair, and never leave it in the hands of the judges...




LATER!!!!!!!!!!!!!!!!!!!!!!!!!!!!!!!!!!!!!
comments powered by