SPOTLIGHTS
411's MMA Roundtable Preview - UFC Fight Night: Gustafsson vs. Manuwa
Posted by Evan Zivin on 03.07.2014

Alexander Gustafsson faces Jimi Manuwa in the main event of UFC Fight Night 38! Plus Melvin Guillard battles Michael Johnson, Gunnar Nelson faces Omari Akhmedov and more! Check out our roundtable preview and join 411 for LIVE coverage of the event on Saturday!




WELCOME:
Alexander Gustafsson faces Jimi Manuwa in the main event of UFC Fight Night! In the co-main event, lightweights Michael Johnson and Melvin Guillard square off. At flyweight, Brad Pickett fights newcomer Neil Seery. Plus, Gunnar Nelson takes on Omari Akhmedov, Cyrille Diabate vs. Ilir Latifi, and more!

THE STAFF:


From MMA's 3R's, Jeffrey Harris!


From Forgotten Fights, Paul Lapointe!


Your host of MMA Fact or Fiction, Wyatt Beougher!


He's the new guy from The Round Horn, Koeddy Laemmle!


From Locked in the Guillotine, Robert Winfree!


From The 411 MMA Top 10, Alex Rella!


And moi, from Five Quick Rounds, Evan Zivin!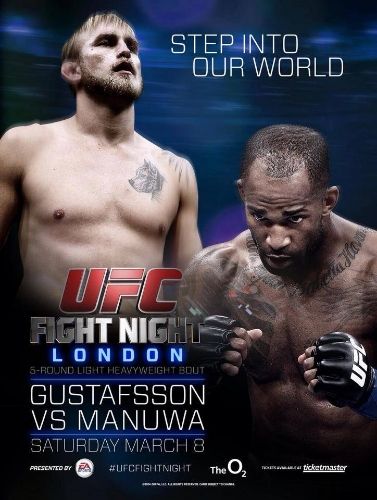 THE PRELIMINARY CARD:




Prelims and main card streamed on UFC Fight Pass.




Flyweight Bout: Phil Harris vs. Louis Gaudinot



Jeffrey Harris: Louis Gaudinot, TKO, Round 2
Paul Lapointe: Gaudinot, TKO, RD3
Wyatt Beougher: Gaudinot, Decision
Koeddy Laemmle: Phil Harris, Decision
Robert Winfree: Louis Gaudinot, Decision
Alex Rella: Gaudinot, Decision
Evan Zivin: Louis Gaudinot, Submission, Round 3
The staff picks Louis Gaudinot, 6-1.



Welterweight Bout: Igor Araujo vs. Danny Mitchell



Jeffrey Harris: Danny Mitchell, Decision
Paul Lapointe: Mitchell, Decision, RD3
Wyatt Beougher: Araujo, Decision
Koeddy Laemmle: Danny Mitchell, TKO, RD 2
Robert Winfree: Danny Mitchell, Decision
Alex Rella: Mitchell, Decision
Evan Zivin: Igor Araujo, Decision
The staff picks Danny Mitchell, 5-2.



Bantamweight Bout: Davey Grant vs. Roland Delorme



Jeffrey Harris: Roland Delorme, Decision
Paul Lapointe: Delorme, Submission, RD2
Wyatt Beougher: Grant, Decision
Koeddy Laemmle: Roland Delorme, Decision
Robert Winfree: Roland Delorme, Decision
Alex Rella: Grant, submission, Round 2
Evan Zivin: Roland Delorme, Submission, Round 2
The staff picks Roland Delorme, 5-2.



Middleweight Bout: Brad Scott vs. Claudio Henrique da Silva



Jeffrey Harris: Brad Scott, Decision
Paul Lapointe: Claudio, Submission, RD2
Wyatt Beougher: da Silva, Decision
Koeddy Laemmle: Claudio Henrique da Silva, Submission, RD 1
Robert Winfree: Claudio Henrique da Silva, TKO Round 2
Alex Rella: Scott, Decision
Evan Zivin: Claudio Henrique da Silva, Decision
The staff picks Claudio Henrique da Silva, 5-2.



Middleweight Bout: Luke Barnatt vs. Mats Nilsson



Jeffrey Harris: Luke Barnett, TKO, Round 2
Paul Lapointe: Barnatt, Decision, RD3
Wyatt Beougher: Barnatt, Decision
Koeddy Laemmle: Luke Barnatt, KO, RD 1
Robert Winfree: Luke Barnatt, TKO Round 2
Alex Rella: Barnatt, TKO, Round 1
Evan Zivin: Luke Barnatt, TKO, Round 2
The staff picks Luke Barnatt, 7-0


Light Heavyweight Bout: Cyrille Diabate vs. Ilir Latifi



Jeffrey Harris: Cyrille Diabate, TKO, Round 1
Paul Lapointe: Diabate, KO, RD1
Wyatt Beougher: Latifi, Decision
Koeddy Laemmle: Ilir Latifi, Decision
Robert Winfree: Cyrille Diabate, TKO Round 3
Alex Rella: Latifi, Decision
Evan Zivin: Ilir Latifi, Decision
The staff picks Ilir Latifi, 4-3.

---




THE MAIN CARD:




Welterweight Bout: Gunnar Nelson vs. Omari Akhmedov



Jeffrey Harris: This fight could have the makings of an interesting grappler vs. grappler battle. Gunnar Nelson came into the UFC and had a lot of hype at the onset of his Octagon career. He's looked dominant and impressive so far. Akhmedov debuted in the UFC with an impressive knockout over Thiago Perpetuo. His resume doesn't have any names that jump out, but the UFC has a few fighters that have come out of Dagestan that have been surprisingly dominant thus far in Khabib Nurmagmedov, Rustam Khabilov, and Ali Bagautinov. I'm not sure if Akhmedov can achieve similar results, but sometimes an unknown opponent can be a very dangerous opponent. That being said, I'm hoping to see Nelson shake off the ring rust and I think his grappling skills will ultimately give him the edge and net him his third UFC win.

Winner: Gunnar Nelson, Decision

Paul Lapointe: I cannot tell you how excited I am that Gunnar is back in the mix at 170. After his initial reluctance and absence from competing in 2011 I thought he was going to stick to teaching and grappling turney's but then the UFC came calling. So though he is coming off a huge layoff he remains a heavy favourite and for good reason. This mother has the ground game of a savant if he avoids the hail mary hand strength this Russian brute showed in his debut he should take this.

Winner: Gunnar, Submission, RD1

Wyatt Beougher: What a difference a week makes. Last week's card featured only one fight (the main event between Dong Hyun Kim and John Hathaway) that didn't feature at least one fighter coming off of a loss (and many featured one or both fighters on multi-fight losing streaks). This week's main card opens with an undefeated fighter taking on a fighter whose one loss came in 2010. Pretty significant step up, if you ask me. Nelson has black belts in BJJ and Goju-ryu, trains with a team named after Thor's hammer (and also Renzo Gracie), and shares a name with one-half of the two-hit wonder group responsible for "Love and Affection"; Akhmedov holds International Master of Sport distinctions in both Sambo and hand-to-hand combat (but unfortunately there's no 90s link that I've been able to find). More importantly, Akhmedov is a powerful striker with a solid submission game, while Nelson is a submission specialist who's also very comfortable on his feet. This fight should, by all indications, be dynamite, and I honestly think it could go either way, so I'm making my prediction based on this:



Winner: Gunnar Nelson, Submission, Round 3

Koeddy Laemmle: I guess I'm in the minority in genuinely thinking this is a pretty solid card for UFC's Fight Pass, I don't believe "big names" are necessary to have an intriguing matchup and this fight is a perfect example of that. The Brazilian jiu-jitsu expert Gunnar Nelson still holds an undefeated MMA record but injuries have prevented him from fighting more than once a year since his UFC debut in 2012. Omari Akhmedov has finished his last nine fights in the first round, including a Fight of the Night performance in his UFC debut last November. I think this will end up being a slug fest but Akhmedov's inexperience in fights that last past the 1st round will be his downfall and Nelson will easily take this fight to the ground where he will rack up another submission victory.

Winner: Gunnar Nelson, Submission, RD 3

Robert Winfree: You know, for a main card opener you could do a lot worse than a couple of welterweight guys who've yet to have a boring fight. Gunnar Nelson is a decorated grappler who isn't afraid to fight on the feet and boasts an undefeated professional record. Akhmedov is 12-1, a power puncher who isn't afraid to grapple. These are two guys who are comfortable everywhere and aren't afraid to actually fight. Nelson is the favorite, and the guy the UFC has been hyping a bit more, but Akhmedov is a live pick as the underdog. With two guys who are closely matched, for me the determining factor here is that it's been over a year since Nelson last fought so I'm giving a slight edge to Akhmedov.

Winner: Omari Akhmedov, TKO Round 3

Alex Rella: So Omari Akhmedov is making his welterweight debut against Gunnar Nelson who hasn't fought in over a year. Akhmedov had an impressive performance against a TUF Brazil alumnus in his UFC debut so this is a step up in competition for him. Nelson hasn't fought in what seems like forever, but he was looking very good before his injury and I still think he has potential to reach the top of the welterweight division. He may not submit Akhmedov since he is a high level grappler as well, but I do see him coming out victorious.

Winner: Nelson, Decision

Evan Zivin: Gunnar Nelson....hey, I remember him. He's that Icelandic welterweight that came in with a bit of hype and got two straight victories against DeMarques Johnson and Jorge Santiago. Neither man is an amazing opponent, but they were impressive wins nontheless. Gunni hasn't fought in over a year due to injuries and is returning against a dangerous prospect in Omari Akhmedov. Omari won his UFC debut by KO against Thiago "Bodao," improving his record to 12-1 with 9 straight first round finishes. Gunnar is unbeaten in his MMA career and has the grappling to put the dangerous man from Dagestan away. Omari also has the ability to dominate Gunnar with his striking or his grappling. Man, this is a tough fight to call. I'm going to go with the underdog here just because I think Omari has a lot more momentum coming into this fight against a man returning from a 13 month injury layoff. Let the Dagestani invasion continue.

Winner: Omari Akhmedov, TKO, Round 3

The staff picks Gunnar Nelson, 5-2.

---




Flyweight Bout: Brad Pickett vs. Neil Seery



Jeffrey Harris: Brad Pickett is one of my favorite fighters because I don't think I've ever seen a bad Brad Pickett fight. Frequently throughout his WEC and UFC career, Pickett, win or lose, would show up in the best or most exciting matchups of the night. I'm a little skeptical on this move down to flyweight and how well he will be able to handle it. Previously, he seemed reluctant to the idea of moving down in weight, and cutting all that extra weight doesn't always give you that extra edge. Pickett here faces a late notice replacement against 34-year-old Irish fighter Neil Seery. Now Seery could be a tough opponent, but based on his 13-9 record and looking at his resume of opponents, nothing really jumps out at me that makes me believe he will be a major threat to Pickett. Pickett might not have been able to break into the elite level yet, but he's actually got a pretty well rounded skill set. His ground game and submission game is actually very underrated. He's actually won more fights in his career by submission than knockout, and Seery doesn't appear to be a grappling or BJJ expert. Pickett's wrestling and grappling skills are a cut above most fighters from the UK area because he trains out of ATT, and I think that gives him another edge here. Pickett wins his debut at flyweight.

Winner: Brad Pickett, Submission, Round 1

Paul Lapointe: And again though this card is getting a bit of a stink here outside of the main event for various reasons I believe its filled with under the radar and worthwhile scraps. Though Pickett Vs McCall is the much better matchup in the long run giving Pickett a little bit more of a handible match up for his premiere at 125 makes more sense. Now Seery is a breath of fresh air with his whirlwind Couture like resurgence in the latter stages of his career but let us face it he should need a big stroke of luck to take this one. If Pickett is half as good on his feet standing at flyweight as he is at 135 he should be able to Diaz the elder statesment for the W.

Winner: One Punch, TKO, RD2

Wyatt Beougher: This *should* be a showcase fight for Brad Pickett, as Seery was chosen to replace Ian McCall just three weeks ago. I will say that nickname battle for this fight is a little more appropriate - rather than "One Punch" taking on "Uncle Creepy", he's instead faced with "2 Tap". Seery is a BAMMA and Cage Warriors veteran, but I don't think he's faced quite the level of competition that Pickett is going to bring. On the other hand, Pickett has shown that he's susceptible to submissions, with half of his losses coming that particular way, and you'd think a guy nicknamed "2 Tap" would be at least proficient in that category. Still, though, I like Pickett, and I think that he's a better fighter than his up-and-down career in the UFC has illustrated, so I'm picking him in this one to get back on track.

Winner: Brad Pickett, TKO, Round 2

Koeddy Laemmle: Brad Pickett was originally scheduled to face "Uncle Creepy" in his Flyweight debut however he was replaced by the (13-9) Neil Seery. Obviously a step down in competition, this fight favors "One Punch" making an early statement at Flyweight. I think Seery will put on a better fight than everybody's expecting and possibly earn him a follow-up fight in the UFC. This should be a solid warm up fight for Pickett who has won some type of performance bonus in all but once of his fights with the UFC.

Winner: Brad Pickett, Decision

Robert Winfree: This is kind of a get well fight for Brad Pickett. Pickett was a fair to middling bantamweight fighter who lost to guys who were better than him but never really improved as a fighter. Now at flyweight Pickett will likely get a couple of wins, lose to a better fighter, and repeat that pattern before retiring. Unless he loses something by cutting weight he should win here.

Winner: Brad Pickett, Decision

Alex Rella: This was originally going to be a great fight between Pickett and Ian McCall, but McCall got injured and now Seery is stepping up to the plate in his UFC debut. I admit that I know nothing about Seery besides his record, but I do know that Pickett was one of the best bantamweights in the world before making the weight cut. I expect him to finish this one quick either by knockout or submission. I can't wait for him to tear through the flyweight division.

Winner: Pickett, KO, Round 1

Evan Zivin: This is Pickett's Flyweight debut and it was originally supposed to be against Ian McCall because he got injured or he was concerned his mustache couldn't handle the flight or something. So, in his place, Pickett will face Neil Seery, a 34 year old fighter from Dublin with a 13-9 record and the nickname "2 Tap." And here I am thinking 1 tap is more than sufficient...The only name fighter on Seery's record is a decision loss to Phil Harris in 2010 but he does have 11 finishes on his record and enters the fight on a 4 fight win streak. While anything can happen in a Pickett fight, as his 3-3 UFC record shows, I'm guessing UFC picked Seery to give Pickett a win. This fight does have upset potential, as Pickett is susceptible to being submitted, but I'm going to go ahead and put faith that One Punch can get the job done, even though it may take multiple punches to do it.

Winner: Brad Pickett, TKO, Round 1

The staff picks Brad Pickett, 7-0.

---




Lightweight Bout: Michael Johnson vs. Melvin Guillard



Jeffrey Harris: While this was originally set to be a rematch between Ross Pearson and Melvin Guillard after their first fight ended in a no contest, I actually like this match-up more and find it much more interesting overall. This is a fight that is getting very overlooked for this card, but haters will be loath to acknowledge it. Johnson and Guillard have both had some impressive streaks and wins at lightweight, but their UFC runs are also marred by inconsistency. Johnson has looked good in his last two fights, dominating Joe Lauzon and knocking out Gleison Tibau. However, that was after he got beat by the likes of Myles Jury and then submitted by Reza Madadi. Guillard has now left the Blackzilian and relocated to American Top Team, and I think that will pay off with him here. Both fighters have some suspect flaws in their overall games, but between the two, I think Guillard brings the superior boxing and power to the table.

Winner: Melvin Guillard, TKO, Round 2

Paul Lapointe: I do not like Melvin Guillard. There I said it. He has tenure and some sick boxing skills but he just seeps perpetual D head to me no matter what he says. That not withstanding this new bout against Johnson I see as a chance for more fireworks then his previously scheduled rematch in the first place. His luck that against Pearson the bout was ruled a NO contest saved his UFC career but I see a surging Johnson derail his hopes with a right hand. Fingers crossed.

Winner: Johnson, KO, RD1

Wyatt Beougher: Disclaimer: I DESPISE Michael Johnson. I have no real reason to, but for some reason, whenever he's fighting, I just really, REALLY want him to lose. That said, he's shown tremendous improvement thus far in his UFC career, though I don't know that his natural skill set and ability will ever allow him to make it much further than "middle-of-the-division hanger-on". On the other hand, you've got Melvin Guillard, who has all of the talent in the world and none of the brain to put it all together. Guillard will look like the best fighter in the lightweight division for a fight or two, then flake out and look like complete garbage in his next fight. While I think Guillard is the better fighter, I'm giving the nod to Johnson in this one, as Guillard switched camps thrice in 2013, and that's not including an attempt to return to Jackson/Winklejohn that got ugly. That's a lot of turmoil in a single year, and after an illegal knee ended his fight with Ross Pearson early back in October, I'm inclined to believe that Guillard is still in full-on flake mode.

Winner: Michael Johnson, TKO, Round 1

Koeddy Laemmle: This is one of my favorite match ups on the card. Michael Johnson reminds me of a younger version of Melvin Guillard without the bad attitude. Johnson, much like Guillard, has an overall inconsistent UFC track record since his days on the Ultimate Fighter in 2010 but he has turned heads recently with impressive victories over Joe Lauzon and Gleison Tibau. I think the little bits of trash talk is going to motivate both fighters to head into this fight guns-a-blazing and Guillard will be the one to drop. I've really been impressed with Johnson's stand up lately and I think he gets a Top 10 ranked opponent in his next fight and Guillard probably gets cut.

Winner: Michael Johnson, KO, RD 1

Robert Winfree: Michael Johnson hit rock bottom not too long ago when he lost a fight to Myles Jury. Fortunately he seems to have rebounded nicely with back to back impressive performances, a three round drubbing of Joe Lauzon and a second round TKO over Gleison Tibau. Guillard has had a rough go of it lately, his last win was over Mac Danzig and his last fight wound up being a No Contest after he hit Ross Pearson with an illegal knee strike. Guillard hits hard, but his chin and striking defense are suspect. Guillard's biggest asset is his killer instinct and swarming potential, because if he thinks you're hurt he wont let up until you prove him wrong. Michael Johnson has looked good lately, he has improved his movement and learned how to land his punches. Guillard is just too inconsistent for me to feel comfortable picking him.

Winner: Michael Johnson, TKO Round 1

Alex Rella: I initial reaction is to groan since Michael Johnson is replacing Ross Pearson here, but this should still make for a solid fight. It looked like Johnson was going to get cut from the UFC last summer, but since then he has picked up the two biggest wins of his career against Joe Lauzon and Gleison Tibau. He's taking on the incredibly inconsistent Melvin Guillard. Guillard is an incredible striker and he could finish this fight within the first couple minutes if Johnson is too willing to stand with him. Though I am going to take Johnson in this one as he's shown a lot of improvement, has a pretty good chin, and Guillard's submission defense probably still sucks.

Winner: Johnson, Submission, Round 2

Evan Zivin: This is a much more intriguing match-up than one would think. Johnson, TUF 12 runner-up, has been on quite the tear lately. After a very inconsistent start to his UFC career, he has been surging with a dominant decision win over Joe Lauzon and a knockout of Gleison Tibau. Johnson became the first man to finish Tibau in 5 years. Impressive stuff. Can he keep that momentum going against Melvin Guillard? I think he can. Guillard has shown moments of brilliance in his UFC career but he hasn't looked good in quite a while, only winning one of his last four fights. Again, this is another fight where Guillard can easily win, especially if Johnson has a poor performance like we saw him put in against Myles Jury or Reza Madadi, but if the Johnson we saw in his last two fights shows up on Saturday, then he's got this one in the bag.

Winner: Michael Johnson, TKO, Round 3

The staff picks Michael Johnson, 6-1.

---




Light Heavyweight Bout: Alexander Gustafsson vs. Jimi Manuwa



Jeffrey Harris: Alexander Gustafsson must get past this challenge in order to get a rematch with Jon Jones or fight for the light heavyweight belt again. Jimi Manuwa, the undefeated Nigerian-English prospect, gets the biggest opportunity of his career. For Manuwa, this is a big step up in competition. He's never gone the distance in his career at 14-0. He's undefeated in the UFC at 3-0, though two of those fights were stopped due to injuries, though granted, he wasn't really losing a round in any of those fights. Manuwa even held off on going to the UFC in order to get more experience. I think even in a loss, Manuwa could still be a strong British prospect, but I don't see how he wins the fight here. Gustafsson proved to be more of a matchup to Jon Jones than anyone was willing to admit or acknowledge he would be. He will have a significant height and reach advantage in this fight. He's used his size advantage very well against fighters like Shogun. And I don't think Manuwa will much of a challenge to him on the ground either. I think Gustafsson takes care of business here. If he doesn't submit Manuwa, I think he will outpoint him to a decision.

Winner: Alexander Gustafsson, Submission, Round 4

Paul Lapointe: Two bangin' kickboxers here and the chance for a cat and mouse later rounds fight. The main difference here is if Gusto gets ahead of himself seeing as he wants a rematch for the LHW title that he gets broken by the Brit. With the spotlight on him and people just taking Manuwa for granted he is still a major threat come Saturday no doubt. But Alex has had this same problem before with Mr. Cokey Head Gym Threatener himself Thiago Silva and thwarted that threat with a smart gameplan. He is dangerous but he is smart, he drags this into deepwater and its his fight.

Winner: Gustaffson, Submission, RD3

Wyatt Beougher: This fight should be SO GOOD, you guys. In one corner stands Alexander Gustafsson, the only man who's given Jon Jones a true challenge in his MMA career. In the other is an undefeated fighter with incredibly heavy hands who has finished all 14 of his fights in the first or second round. Gus has a four-inch height advantage, but that only translates into a 2.5" reach advantage, so he probably won't have an easy time keeping Manuwa on the outside in this fight, even though he's very good at fighting long. But, as he showed in the Jones fight, Gustafsson is comfortable fighting in close and he earned that "Mauler" nickname for a reason. If this fight makes it past the second round, I think it'll be a very telling bout for Manuwa's future, not only because we'll get to see how good his conditioning really is, but also because he survived multiple rounds with a guy who could very well be wearing the UFC light heavyweight title right now. I think Jimi's got a great future in the UFC, but I also really want to see a rematch between Gustafsson and Jones, so I have to go with Gus in this one.

Winner: Alexander Gustafsson, TKO, Round 4

Koeddy Laemmle: I love this matchup of kickboxing. Alexander Gustafsson looks to get himself a much anticipated rematch with Jon Jones. Jimi Manuwa is a machine with a 14-0 MMA record, finishing all of his fights he could legitimately end up as a top contender in the Light Heavyweight division with a win so he's going to be coming to FIGHT. I honestly think these guys have the capability of putting on a "Fight of the Year" type caliber performance on Saturday. Manuwa has phenomenal striking skills but Gustafsson is obviously no slouch himself. Even though Gustafsson is the taller fighter, Manuwa has the reach advantage. This could very well be a major upset but I think the fact Gustaffson has been training for 5 round fights for over a year will give him the slight upper hand when this one reaches the later rounds.

Winner: Alexander Gustafsson, Submission RD 4

Robert Winfree: Alexander Gustafsson became the only man to have a legitimately competitive fight with champion Jon Jones when he lost a unanimous decision to him last year. Gustafsson fought well there, a lot of people scored the fight for him and might view him as the uncrowned champ at 205. Jimi Manuwa is undefeated, but he's taking a monumental step up in competition going from Ryan Jimmo to Alexander Gustafsson. Gustafsson likely controls the distance, gets a takedown and works his grappling game for a finish. If I were picking to troll everyone, it would be Manuwa by injury TKO in the second or third round, but since I'm not it's got to be Gustafsson.

Winner: Alexander Gustafsson, Submission Round 3

Alex Rella: Not only should this make for a good fight, it's also a really intriguing one. Gustafsson pushed Jon Jones to the limit in his last title fight and should only need a win or two to get his rematch. Standing in his way is the undefeated Jimi Manuwa. Manuwa is 14-0 and 3-0 in the UFC. So either the #2 light heavyweight in the world gets another crack at gold or the UFC has a new undefeated top contender. Manuwa has dominated in every fight of his career so far, but this is a huge step up in competition. I'm really interested in seeing how Manuwa does in a fight that goes past two rounds. I'm still going with Gustafsson here as I think his reach, boxing skills, and improved wrestling will be too much for Manuwa.

Winner: Gustafsson, Decision

Evan Zivin: This could be either a very quick fight or a long-drawn out war. We all know that Alexander Gustafsson is one of the best fighters in the light heavyweight division. He has wins over Mauricio Rua and Thiago Silva and, more importantly, he gave Jon Jones the toughest fight of his career. Gustafsson is the only man to successfully take the Light Heavyweight Champion down and he came extremely close to unseating Bones and taking his championship. Honestly, Gus should be training for a rematch right now, but Jon wanted to give Glover Teixeira the title shot that was promised to him so that means Gus had to take one more fight before getting his rematch. The opponent picked for him is Jimi Manuwa, who is still a bit of a wild card. The 34 year old from Nigeria is 14-0 with 13 wins by (T)KO. His UFC debut ended due to a doctor stoppage because he caved in Kyle Kingsbury's face with his fists and his last two fights were stopped due to leg injuries. Personally, I'd be terrified to fight this man but I know Gus can handle the challenge. It may not even be that much of a challenge. Manuwa has some good wins but he hasn't beaten a single ranked fighter yet. This fight will either be Manuwa's coming out party or the ceiling for how far his skills can get him. I'm thinking it will be the latter. Gus will be smart with how he approaches this fight, staying out of the pocket and using well-timed strikes and takedowns to control Manuwa. The fight could go all 5 rounds but Manuwa is going to gas at some point (he's never been out of the second round) and Gus will catch him and put an exclamation point on his request for another shot at 205 gold. The belt is almost as shiny as his hair. He's so dreamy...

Winner: Alexander Gustafsson, Submission, Round 3

The staff picks Alexander Gustafsson, 7-0.

---
Remember to join 411's coverage of UFC Fight Night on Saturday!
comments powered by