SPOTLIGHTS
Five Quick Rounds 03.11.14: Fight Night 37, Bellator 111, Gangsters Never Retire, More
Posted by Evan Zivin on 03.11.2014

From Chael Sonnen contemplating retirement following the news of California banning exemptions for TRT to the results of UFC Fight Night: Gustafsson vs. Manuwa and Bellator 111, 411's Evan Zivin examines these stories and more in Five Quick Rounds!

Hey hey, fight fans, and welcome back to Five Quick Rounds! I am your host, Evan Zivin, and I am more excited than a man fighting three times in one night to be here once again!

Who doesn't love one man tournaments in MMA? Well, I guess a lot of people don't, or didn't, but that was back in the Wild, Wild West days of the sport. Back when there were no rules and no rounds and Keith Hackney punching convicted rapists in the balls. Yeah, those were the days. I don't think Battleground MMA's one night, eight man tournament is going to look like old UFC but it will harken back to the original ideal that the company was founded on: taking eight men and finding out who is the best martial artist. Of course, those were men who trained in one discipline whereas these will be modern-day mixed martial artists. Also, this tournament will be highly regulated and follow the Unified Rules with the exception of all elbows being illegal except for the final fight. So, some people may still object to it but I like the idea and will be interested in following the event when it takes place this June. Besides, it has to be safer than that 2-on-2 American Gladiators-style MMA show that's airing on AXS TV this week. That looks insane. Also, fake as hell. I can't wait.

All right, so with fighter introductions out of the way, I have five more rounds of MMA news and opinions to throw at you. This week, we look at the results of UFC Fight Night, California banning TRT, the results of Bellator 111, and UFC attempting to run two shows on the same day again. Let's to it do it.

FIGHTER YOU READY!!!!
FIGHTER YOU READY!!!!

FIGHT!!!!




Round One: UFC Fight Night, A Jimmy Defeated a Jimi, Possibly While Wearing a Jimmy but Before Smoking a Jimmy Filled with Jimmies

***TOUCH OF GLOVES***

Live, from the O2 Arena in London, England, it was UFC Fight Night 37 ON SATURDAY NIGHT!!!!!

At least it was Saturday night for some of you. Where I was, it was the afternoon. It was different but at least I didn't have to stay up until 2 A.M. to watch a UFC event like you UK'ers are normally forced to do. So hopefully you enjoyed the event. I mean, the odds of Dana White and company giving you a decent title fight are slim (unless he creates a set of European belts or something) but at least you'll be getting live events more regularly. You even get your own announce team plus your own ring announcer who talks funny JUST LIKE YOU!!!! I mean no offense to my British readers, assuming I have any. I'm just doing my job as a warm-blooded 'murican. Speaking of which, I don't know what an Octagun is but I want one. I imagine it shoots 6-ounce gloves in the face of anyone who thinks it's a good idea to spend an entire fight trying to take down Ronda Rousey or something like that. Anyway, the main event of this Fight Night 37 ---wait, is it 37 or 38? I thought 37 was last week. I'm seeing both on different sites. Technically, it should be 38 but I guess people aren't counting the TUF China Finale from last week as a Fight Night? Was there a meeting where this was decided upon or something? Why wasn't I invited? Also, what are the odds that most people think the coaches of TUF China were Dong-Hyun Kim and John Hathaway? Either that or Cung Lee did all the coaching, which I'd be fine with because Cung Lee is awesome and any movie he is in is bad in spite of him, not because of him. Blame RZA.

So the main event was Alexander Gustafsson, the Swedish dreamboat fresh off his Fight of the Year battle with UFC Light Heavyweight Champion Jon Jones, against undefeated British nightmare Jimi Manuwa. Gustafsson was looking to get back to the title that he came so close to winning last September and, while Manuwa isn't a top-ten ranked fighter, he is still extremely dangerous. Two of his UFC fights ended in leg injuries and the other ended when the ringside doctor told Manuwa to stop because his opponent's face had become unrecognizable. It's safe to say the man is a heavy striker. How would Gus be able to beat this man who has wrecked everyone that has stepped in front of him? It was simple, actually: he took Jimi down. The first round was spent with Gus on top of Jimi, throwing strikes and wrenching Jimi's arm as Gus looked for a possible submission. It wasn't the most exciting round but it was effective. Gus could have used that strategy to win a safe decision but Gus was looking to make a statement to ensure he gets his title rematch. So he decided to stand with the Poster Boy. This resulted in Gus catching Jimi with a knee and finishing him with strikes a little over a minute into the second round. Damn, he made that look easy. Nobody can say Gus isn't deserving of a rematch with the way he destroyed Manuwa on Saturday. So, of course Jon Jones thinks Gus should fight Daniel Cormier first. To that, I say this: shut up, Jon. Your job is to fight whoever is put in front of you and, according to Dana, it will be Gus next, setting up the huge rematch everyone wants to see. Well, assuming Jon can get past Glover Teixeira next month. Man, how awkward would it be if Glover were to upset the champion? Then again, considering how "popular" Jon is, it may not be that big of a deal. Either way, good luck at UFC 172, Double J. Don't screw up.

***HORN SOUNDS***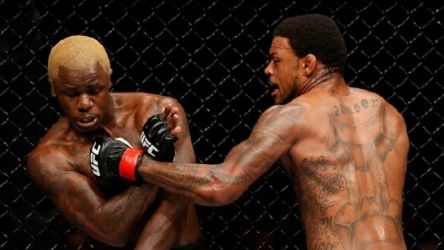 Round Two: Rest of Fight Night Whichever, Johnson vs. Guillard Happened, One Punch Beats 2 Tap

***TOUCH OF GLOVES***

Overall, this was a nice little card that UFC brought to London. I know it wasn't meant to be so small, as a few fights were changed and the Davey Grant vs. Roland Delorme fight got scrapped after the weigh-ins because the doctors were apparently unable to determine that Davey's knee injury was too severe to let him fight until after he already hit the scales, but it still ended up being a fine show. One of the lowest points of the show may have been the co-main event. The fight was originally a rematch between Melvin Guillard and Ross Pearson. Then, because Pearson was nervous about people ogling his ring card girlfriend (or he suffered a knee injury), he decided to pull out of the fight. His replacement was Michael Johnson, the former TUF runner-up who has been on a hot streak as of late and is dying to work his way up the lightweight rankings. Well, this fight may see him continue his climb but not by much. It wasn't a bad fight skill-wise but there wasn't a whole lot that happened. It looked like Johnson came into the fight with the strategy that he would pick Guillard apart through counterstriking the usually aggressive knockout artist. Unfortunately for Johnson, and everyone, Guillard chose to be cautious of Johnson's power and used foot movement to prevent himself from getting into any wild exchanges. The result was fifteen minutes where very little happened. Both men did catch each other on occasion but it wasn't enough to appease the bloodthirsty crowd. There must not be any British Blackzilians. Oh well. Congrats to Johnson on the unanimous decision win.

One guy who did look to please the crowd was Brad Pickett. The Brit made his flyweight debut on Saturday. Originally he was going to fight Ian McCall but, instead, he faced off with Irishman Neil Seery. Both men were ready to bang and Pickett used his punching combinations, along with several takedowns, to secure a unanimous decision over the very game Seery. Pickett looked good and, with his previous win against champion Demetrious Johnson and a very small pool of flyweight contenders, it shouldn't be hard for him to get a title shot if he can win another fight or two. Gunnar Nelson made his UFC return after being gone for a year and absolutely manhandled Omari Akhmedov. Nelson got the fight to the ground quite easily and, in a scramble, cinched up a tight guillotine, forcing Akhmedov to tap inside the first round. If that's what he looks like after being gone for a year, I wonder how he'll look in his next fight. Also on the card, Ilir Latifi showed what having more than three days to prepare for a fight can do by submitting Cyrille Diabate in three minutes, Luke Barnatt proved that Brits can actually win a fight (again, no offense) by TKO'ing Mats Nilsson, Brad Scott was ineffective in a unanimous decision loss to Claudio "With a Chance of" Henrique da Silva, Danny Mitchell had a bitchin' mullet but it wasn't enough, losing to Igor Araujo by unanimous decision, and Louis Gaudinot ran through Phil Harris and got the submission win a minute into their fight. Seriously, though. Danny Mitchell's mullet is awesome. That is some Harold Howard level of amazing right there. He better be getting another fight because the people need to know. They need to understand.

And that was Fight Night 30-Something or Other. UFC 171 is this Saturday. For the first time since 2008, there will be a new welterweight champion. And no, interim champion doesn't count. Not when you don't defend it at all. WAR BIGG RIGG!!!!!

***HORN SOUNDS***




Round Three: California Issues "Ban" on TRT, Chael Sonnen is Sweating Heavy Right Now

***TOUCH OF GLOVES***

The TRT Ban Train is definitely a-rollin' and once that train starts, it can't be stopped. Well, I suppose the train could be stopped if an athletic commission votes to ban said train to prevent people who abused the train in the past from using it, but I'm getting ahead of myself here. The story began when the Nevada Athletic Commission voted to ban the practice of granting Therapeutic Use Exemptions (TUE) for Testosterone Replacement Therapy (TRT), essentially banning TRT itself. Among the many questions this decision created was whether other states would follow suit and end the practice. We've already learned that Brazil has banned TRT and the UFC will follow the Nevada rules in any countries where they act as the regulating body. Now we can add California to the list. Well, technically what California is doing won't be a permanent ban on the practice. What they are doing is reforming their rules for granting TUE's for TRT so that they meet the requirements laid out by the World Anti-Doping Agency (WADA). The WADA rules are very restrictive, only granting exemptions in extreme cases, so it more or less means the practice will be banned for everyone else. Also, until that process is complete and the regulations are in place, the practice is banned for everyone. So even if you wanted to make a plea for why you need an exemption right now (medical condition, you were born with low testosterone, you're a gangster from West Linn) it won't matter because no one is getting one.

Speaking of our favorite OG from West Linn, this puts Chael Sonnen in quite a dilemma. Chael is in the same situation as Vitor Belfort and Dan Henderson and every other fighter who has been relying on TRT to increase their testosterone levels as part of their fight preparation. Now, in an ideal world, TRT doesn't give an unfair advantage because it's only meant to bring a fighter's levels back up to what is considered normal for their age and body type. Of course, we don't live in an ideal world and athletic commissions don't have the money and resources to ensure fighters with exemptions aren't abusing the treatment. Plus, exemptions are still granted to men like Sonnen and Belfort even though they have failed drug tests in the past. So, now the practice is being banned and Chael has to determine what he is going to do because if he feels he really needs TRT to fight, then he has very few options left. Unlike Vitor, Chael hasn't been pulled from his upcoming fight, a battle of TUF Brazil 3 coaches with Wanderlei Silva on May 31. The fight takes place a week after when Vitor would have fought next so make of that what you will. The physical condition Chael's body will be in come fight time will be a mystery. If it's supposedly going to take 90 days for Vitor's body to adjust to life without TRT, wouldn't it be similar for Chael? How drastic of a change could it have on the outcome of the fight? And then what happens to Chael after that? Will he be able to continue fighting without TRT? Will he have to retire? He may have to, as he speculated on UFC Tonight last week. The trend to ban TUE's may have a lot of far-reaching consequences that may not be fully understood for quite a while. We may witness an entire generation of fighter disappear in a matter of months. It's going to be an interesting year as the fallout from this story continues to shake out. Well, at least we still get to see Wandy and Chael's staged fight on TUF Brazil 3. Well, we get to for $9.99 a month. Thanks a lot, UFC.

***HORN SOUNDS***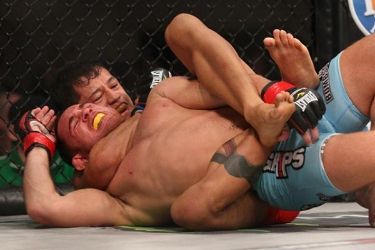 Round Four: Bellator 111, Eduardo Dantas Proves that Skipping Dance Class to Fight Can Pay Off

***TOUCH OF GLOVES***

Back in America, the land of baseball and restaurants refusing to serve people based on their religion and sexual orientation (USA! USA!), we got another night of fights from our friends over in Bellator. The main event of Bellator 111 featured the first title defense of Season Ten as Bantamweight Champion Eduardo Dantas defended his championship for the second time against Anthony Leone. Dantas was supposed to fight the Summer Series tournament winner Rafael Silva but Silva got injured so Dantas ended up fighting the man Silva beat to win the tournament. Gotta love that Tournament Champion Replacement Clause. Even when you lose you can still win. It seemed a little odd that the fight was booked since there's another tournament winner, Joe Warren, ready to go. Maybe they want to save him for the Payperview or something. It looks like things may have worked out for the best as Leone came out on Friday ready to take the fight to Dantas. After a few strikes to open the fight, Leone completed a takedown on the champion and managed to win the round by controlling Dantas for the remainder of the five minutes. Leone tried to take Dantas down in the second but it wasn't working. Dantas showed great balance in circling out of Leone's attempts. Leone tried too hard for another takedown when Dantas stepped over Leone to take his back and immediately lock up a rear naked choke, scoring the submission two minutes into the second. It was an incredible sequence, almost as incredible as Dantas' dance after Leone tapped. Dantas is continuing to improve with each fight and I look forward to his clash with Warren later in the season. Joe better get some samba lessons.

Bellator 111 saw the opening round of the Heavyweight Tournament commence. That's right. The big men came to play and, for the most part, they did. Lavar Johnson began his second attempt at winning a Bellator tournament and is off to a better start, although it looked like he'd be bowing out early again. His opponent was the wily Ryan Martinez. I don't know if it makes any sense to call a 260 pound man "wily" but he did almost win the Summer Series last year and he was able to get a takedown to control Johnson for most of the first round of this fight. Amazingly, though, Johnson was able to get back to his feet and, a couple hooks and uppercuts later, the tired Martinez's night was over. Lavar came back to win by TKO in the first round. This was a great win for "Big" Johnson, especially since he can now get "that ring money" for his girlfriend. With what they pay in Bellator, I hope she's cool with a Ring Pop. The Mighty Mo vs. Peter Graham fight appeared to be Graham's fight to lose after two rounds. It wasn't a high pace fight but Graham threw tons of leg kicks to keep Mo at distance. This changed in the third when "The Samoan Submission Machine" (sorry, Joe) was able to get a takedown and submit Graham from side control using a modified head and arm choke or Scarf Hold (blame Sherdog if I got the name wrong). We also saw former Heavyweight Champion Alexander Volkov thrash Mark Holata with punches to earn a pretty quick first round TKO. At least I think he's a former champion. The way ring announcer Michael Williams mentioned it made it seem like an afterthought. That and I always feel like he's trying to sell me a used car.

And that was Bellator 111. Bellator 112 features the rubber match between Daniel Straus and Pat Curran, AKA the fight everyone wanted to see *WINK*. Also, whatever is left of the Welterweight Tournament.

***HORN SOUNDS***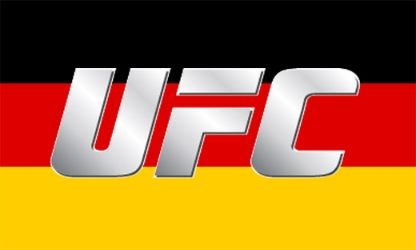 Round Five: UFC Might Actually Be Serious About Holding Two Events on the Same Day This Time

***TOUCH OF GLOVES***

I remember the first time the UFC said they were going to hold two events on the same day. The discussion began back in late 2011 when the UFC announced they would be holding a show in Japan. It was a pretty big deal since there hadn't been a UFC event take place in the Land of the Rising Hello Kitty since UFC 29 way back in 2000. That show happened before Zuffa took control of the company, that's how old it is. The event featured UFC Lightweight Champion Pat Miletich. That's right. Welterweight wasn't even a thing yet. You kids have it so good nowadays. The UFC's return to Japan in 2012, UFC 144, was a fairly successful show but it wasn't the only event originally planned for that day. Months before the show, Dana White and Lorenzo Fertitta said there were plans to hold an event in Las Vegas on the exact same day. The idea was that, with the massive time difference between Japan and the U.S., UFC could have the Japan show air live on free TV during the day as a lead-in for a live Payperview from Las Vegas immediately afterwards. It was quite an ambitious idea but it did seem rather odd. What's the point of having two events on the same day when the company struggles to promote just one? Also, what would the quality of those cards be when so many guys would be fighting on the same day? Plus, who wants to spend the entirety of their Saturday watching fights? I've got a lot of important things I need to get done. That drying paint isn't going to watch itself, you know.

For whatever reason, the plans for the Vegas show were nixed, the Japan show was put on Payperview, and everything seemed right with the world if only for a few minutes. Well, it looks like UFC wants to tempt fate again by holding two shows on the same day again. The UFC just announced they will be returning to Germany on May 1. This will be the first show the UFC has held in Berlin and only the third time the company has been in the land of beer and bratwurst in it's 20 year history. So congrats to all the German MMA fans. You've been waiting years to get another event so enjoy it. I'm sure UFC will even put together a German broadcast team and everything to make you all feel comfortable. Maybe they'll have David Hasselhoff ring announce, I dunno. Is that still a relevant joke? Most of my Germany jokes are...um...inappropriate (at least by this century's standards) so I'll need to brush up on material before May 31, assuming UFC doesn't scrap the event because they announced it as happening on the same day as the Wanderlei Silva-Chael Sonnen grudge match in Brazil. I can see how the timing will work. The Germany show will air there in primetime, meaning it will air in the afternoon on Fight Pass on this side of the Atlantic. That allows for Chael and Wandy to scrap live on Fox Sports 1. It can work but, considering how thin the roster is being stretched right now with UFC's 5 million shows a year, it'll be surprising if there's more than one decent fight on either of these cards. Well, the Brazil show is the TUF: Brazil 3 Finale so it will probably be filled with fighters from the show. I guess that will help. It won't make the show watchable but it will be on free TV, which means we aren't allowed to complain. At least according to Dana.

***HORN SOUNDS***

That's it for Five Quick Rounds. Thanks for reading. If you have any questions, comments, or suggestions, and it is always appreciated when you do, leave them in the comments section. I will be back in 7 for another Five Quick Rounds. Bellator on Friday and the crowning of King Hendricks on Saturday. Enjoy the fights and remember to fight clean, fight hard, fight fair, and never leave it in the hands of the judges...




LATER!!!!!!!!!!!!!!!!!!!!!!!!!!
comments powered by