SPOTLIGHTS
The Greatest MMA News Column 03.11.14: UFC 171 Preview
Posted by Dan Plunkett on 03.11.2014

News and thoughts on Saturday's UFC 171, Johny Hendricks vs. Robbie Lawler, Alexander Gustafsson earning a title shot, the retirement of Jay Hieron, and more!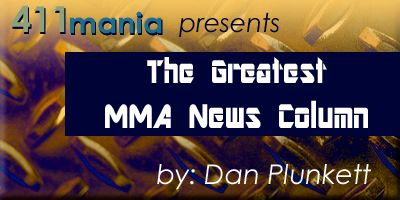 NEWS!



UFC 171 is Saturday. Last week in London, England, UFC CEO Lorenzo Fertitta described the promotion's early business plans at the Leaders Sport Summit. He talked about the UFC getting no press, forcing them to build their audience through television and convince them through that medium to buy their pay-per-view events. Today, UFC's television audience that they used to build those pay-per-views, with the Countdown and Primetime shows, is too small to make the great difference one great hype special could make in the past. The expensive to produce Primetime series, once the best way to build a big pay-per-view, was kicked to the curb after falling flat on Fox Sports 1. Countdown shows on Spike TV were seen by several hundred thousand viewers, but on Fox Sports 1 the shows fail to hit even 200,000 viewers. That's the growing pains of Fox Sports 1 and the UFC. The channel is still young and has yet to gain much traction; UFC's rapid expansion has left casual fans less likely to seek out Countdown shows.

UFC 171 on Saturday marks the welterweight division's first big post-GSP show. Since The Ultimate Fighter, UFC's welterweight champion has always been a big star. Even Matt Serra, the one-time champion thanks to his monumental 2007 upset of Georges St-Pierre, became a big name for a period. Unless some unlikely shenanigans occur, either Johny Hendricks or Robbie Lawler will walk away with the UFC welterweight title on Saturday night. Whether it is Hendricks or Lawler that is crowned the UFC's ninth welterweight champion, the winner will have the least going for them of any welterweight champion in the modern era. Some of that is because the winner will not have earned a decisive victory, at least officially, over longtime dominant champion St-Pierre; the rest is because far fewer people will be aware of Hendricks' and Lawler's stories than they were of St-Pierre or Hughes. It is for that reason St-Pierre's departure hit UFC especially hard. Whereas when former top stars retired UFC still had remaining stars and easily accessible means to build new ones, St-Pierre was one of UFC's few remaining big draws and of those he was far and away the biggest one they had. UFC can't replace a St-Pierre. They can't replace even half a St-Pierre. A St-Pierre title reign, or at least presence, extending through Fox Sports 1's growing pains would have meant fewer pains for the UFC; one less thing to worry about. Saturday night, UFC begins the task of filling the gaping hole left by St-Pierre, a hole that would have been nearly impossible to patch up while on Spike; a hole that is fully impossible to patch on a young Fox Sports 1.





Saturday's main event promises to be an exciting affair. Johny Hendricks, a power puncher with great wrestling, was involved in two of the best fights of 2013. First, he took a narrow decision over Carlos Condit in a three round war. Eight months later, he finally got a crack at the UFC welterweight title and Georges St-Pierre. In a world where purity of sport is valued above all else, Hendricks would have gotten the title match in March, but he was passed over for the far more marketable Nick Diaz. But, if anything, the eight extra months were only a positive. Going up against the most dominant fighter in UFC history, Hendricks had the champion rocked in round two. Round four was even more decisive for the challenger, with Hendricks taking advantage of a St-Pierre slip and bloodying the champion. Those two rounds for Hendricks were easily the clearest of the fight. St-Pierre squeaked by in rounds three and five, and the opening round would become the subject of controversy once the ultimate decision was read. One judge gave it to Hendricks. Two others gave it, and as a result the fight and the championship, to St-Pierre. On that November night, Hendricks was in an Al Gore position: he won the popular vote, but lost the contest.

If Hendricks wins gold on Saturday it will be a year in the making. For Robbie Lawler, a championship win would a decade overdue.

At 20, Lawler was UFC's golden boy. A favorite of then-new UFC owners Lorenzo Fertitta and Dana White, Lawler was sent to public speaking classes in preparation for his inevitable breakout (and to solve his shy demeanor). When UFC had its first opportunity to get on cable television, the company was to choose from one fight on its hastily pasted together UFC 37.5 to air. Despite a main event featuring Chuck Liddell vs. Vitor Belfort, the fight selected was Lawler's TKO victory over Steve Berger. He closed out his year with a first round knockout of Tiki Ghosn. Had Lawler not been a teammate of champion Matt Hughes, he may have been fast-tracked to a title shot at that moment. Instead, he faced Pete Spratt, who battered Lawler with a healthy (or unhealthy, from Lawler's perspective) dose of leg kicks. In the second round, Lawler could no longer continue on what was later revealed to be a dislocated hip.

At 22, Lawler was out of the UFC, having lost three of his last four bouts. He built a reputation as a top middleweight with finishes of Frank Trigg, Murilo Rua, and Scott Smith. But by 2012, Lawler's career as a top fighter seemed to be nearing an end. He had gone on a 3-5 run, capped by a loss to Lorenz Larkin. He returned to the UFC last year, just a month before he turned 32, for a match against Josh Koscheck he was widely expected to lose. Then he finished Koscheck in the first round. Then he scored an impressive head kick knockout over Bobby Voelker. And then, in another match he was figured to lose, he defeated the promising Rory MacDonald. In order to pull off a third major upset in his second UFC run, Lawler will have to connect one of his big punches to the beard of Hendricks while evading, or less advisably absorbing, the power of Hendricks.





Gustafsson earns title shot. Six months ago Alexander Gustafsson took Jon Jones to his limit in one of the best title fights in UFC history. After talk of an immediate rematch subsided, Gustafsson found himself in charge of his own fate: win his next fight, and he gets another title shot. On Saturday, Gustafsson did just that, stopping the overmatched Jimi Manuwa in the second round. The fight aired on the UK's Channel 5 and drew 591,000 viewers, which I believe makes it the most-watched UFC show in that market, although that number is below what boxing matches do in the same time slot. Gustafsson will get his shot at the winner of April's Jon Jones vs. Glover Teixiera bout, with Daniel Cormier waiting in the wings behind him. Cormier stated he was not content to wait for a title shot and would like to fight in the interim.

Elsewhere on the London card, Michael Johnson beat Melvin Guillard via decision. After being a title contender in 2011, Guillard has gone 2-5-1. Brad Pickett made a successful flyweight debut against newcomer Neil Seery. Gunnar Nelson, as expected, submitted Omari Akhmedov. In the prelims, Ilir Latifi, who last year stepped in for Gustafsson to face Gegard Mousasi on very short notice, beat Cyrille Diabate. Diabate, 40, announced before the fight that it would be his last. His most notable fight is probably a 2006 loss to Shogun Rua.

Jay Hieron retires. Veteran Jay Hieron, 37, announced his retirement from MMA on Twitter on Friday. Hieron's MMA journey began in 2003, and after a year he found himself in the UFC facing a young Georges St-Pierre. The future UFC champion knocked Hieron out early in the first round in highlight fashion. A year later, Hieron had another cup of tea with the UFC, losing on a cut stoppage to Jonathan Goulet. He then moved on to the IFL, the team-based publicly traded MMA company that had initial success on MyNetworkTV, but was cancelled from that channel in a year. Hieron fought nine times for the IFL, eventually winning their welterweight championship. After that company folded, Hieron moved on to another flash-in-the-pan MMA company, Affliction Entertainment. On that company's second and final show, he defeated future UFC and Strikeforce fighter Jason High.





Following Affliction's demise, Hieron had disappointing runs with Strikeforce and Bellator, but the disappointment didn't come from his performances. Hieron was set to face Nick Diaz for the welterweight title on Strikeforce's big August 15, 2009 show, headlined by the landmark Gina Carano vs. Cris Cyborg fight. However, Diaz skipped out on the necessary drug tests to get licensed for the California fight and was scrapped from the card. Hieron remained on the card and beat Jesse Taylor. Instead of rewarding Hieron with a title shot, Strikeforce instead went in a different direction. Correctly sensing Diaz could be a star, they immediately put him in a different fight for the vacant welterweight title, this time against Dream champion Marius Zarmoskis, and Hieron was placed on the online prelims of the same card against Joe Riggs. The fight marked the last on Hieron's deal, and he couldn't come to a new agreement with the San Jose based promotion.

Hieron entered Bellator, the three-year-old promotion far behind UFC and Strikeforce in the North American MMA landscape. He successfully entered and won the season four welterweight tournament, although not without controversy. Hieron advanced through the final two rounds via close decision victories. His apparent proclivity for close bouts hurt Hieron in his next bout, a welterweight title match against standout Ben Askren. Hieron lost the match in a close split decision; a lot of people felt the match should have went his way. To date, nobody has challenged Askren, an otherwise dominant champion, the way Hieron did. Feeling he rightfully beat Askren, Hieron requested an immediate rematch, which Bellator promptly denied. Until Eddie Alvarez went into free agency in 2012, a year after Hieron fought Askren, Bellator had a policy of only giving title matches to tournament winners, and losers of championship matches had to go through the tournament to get another title shot. Not wanting to go through the tournament again, Hieron requested his release, which he was granted after returning his signing bonus.

Following a bout for Legacy Fighting Championship, Hieron returned to the UFC for one last run. He faced top level talent right off the bat in Jake Ellenberger, but dropped a dull decision. Four months later, in what would turn out to be his farewell fight, Heiron was knocked out in 36 seconds by Tyron Woodley.

Quick news: UFC Fight Pass, after being available in only four countries at launch a couple months ago, expanded to 178 countries this week… The CSAC banned TUEs for TRT. They had previously put a stop to handing out new exemptions… Tyron Woodley called Carlos Condit a point fighter. A note to fighters: if you're going to talk trash, ensure what you're saying isn't blatantly false… UFC returns to Dublin for the first time since January 2009 on July 19… UFC heads to Germany on May 31, which is the same day as the Chael Sonnen vs. Wanderlei Silva fight in Brazil. The idea of two shows on the same day isn't new, as UFC planned a pay-per-view in Las Vegas and a TV event in Japan on the same February date in 2012, but ended up pulling the Vegas show and putting the Japan show on PPV.

---


As always, thanks for reading. Feel free to leave any feedback in the comment box or email me at plunkettdan@yahoo.com.

comments powered by