SPOTLIGHTS
Five Quick Rounds 03.18.14: UFC 171, Bellator 112, Beards Win Championships, More
Posted by Evan Zivin on 03.18.2014

From Johny Hendricks' victory over Robbie Lawler and the results of UFC 171 to Pat Curran reclaiming his gold at Bellator 112 and the wackiness of Hip Show: Arena Combat, 411's Evan Zivin examines these stories and more in Five Quick Rounds!

Hey hey, fight fans, and welcome back to Five Quick Rounds! I am your host, Evan Zivin, and I am more excited than Dennis Siver to be here once again!

Another week, another drug test failure. What else is new? This one is a little different, though. The perpetrator is Dennis Siver, German kickboxing stud, who was last seen defeating Manny Gamburyan by unanimous decision at UFC 168 in December. The substance that Siver tested positive for is called human chorionic gonadotropin (hCG). It is a hormone that is naturally occurring in males and females and, by itself, is not necessarily harmful. The problem is that if someone is taking extra hCG, it's usually in conjunction with a steroid, as hCG can help restore natural testosterone production. It hasn't been revealed if any other substances were detected in Siver's system or what his levels of hCG were. It sounds like the Nevada Athletic Commission is looking to give Siver a temporary suspension. Then, at an upcoming meeting, the NAC will decide whether Siver should serve a full suspension, a fine, and if the win should be overturned. There are a lot of details that aren't known yet and Siver hasn't made a comment yet so we'll have to wait to see what exactly happened. Either way, this isn't good for Siver. It may be a while before he see him attempt to spinkick a dude in the liver again. That makes me sad.

All right, so with fighter introductions out of the way, I have five more rounds of MMA news and opinions to throw at you. This week, we look at the results of UFC 171, the results of Bellator 112, the weigh cut issues for fighters at both shows, and my brief look at Hip Show. Let's to it do it.

FIGHTER YOU READY!!!!
FIGHTER YOU READY!!!!

FIGHT!!!!




Round One: UFC 171, Robbie Lawler Wasn't Ruthless Enough to Stop the Bigg Rigg

***TOUCH OF GLOVES***

Live, from the American Airlines Arena in Dallas, Texas, it was UFC 171 ON SATURDAY NIGHT!!!!!!

The UFC was back on Payperview this past Saturday, which meant we got a night filled with fighters worth caring about. Hooray! That's not to say that you shouldn't be interested in watching fighters like...um....that one guy, or...that other guy with the hair...and...uh...I think one their names was Neil. I keep thinking there was a Neil who fought a week ago but I'm not 100%. Anyway, they're all just swell. So the main event of this show was a big one, as it featured the crowning of a welterweight champion not named Georges for the first time since 2008 (and the first title fight to not feature a Georges since 2006). The fight featured two men with incredible stories and at least one with incredible facial hair. Robbie Lawler is the Matt Hughes protege who was a top welterweight ten years ago and, after a rough few years fighting at middleweight, he returned to the UFC recharged and motivated to take over the UFC welterweight division. Johny Hendricks is the 2 time NCAA wrestling champion who burst into the spotlight with a punch to Jon Fitch's jaw and defeated Georges St-Pierre last November even though two judges didn't agree with the rest of the planet. These two men have both worked hard and proved they had what it takes to be the best welterweight in the world. I love both guys but, unfortunately, there can only be one, or so I am led to believe by random movies I see on TNT on Sunday afternoons. So, who walked out champion?

The fight was a close one throughout all five rounds of action. It was mostly contested on the feet as, for as good as Hendricks' takedowns are, Lawler's takedown defense was phenomenal. Lawler knew if he was going to win the fight it was going to happen with his fists. Hendricks knew that as well and was prepared to go toe-to-toe with Lawler. You could tell both men approached the striking game differently, as Lawler threw more punching combinations with a more traditional stance whereas Hendricks relied a lot on his power and mixed up his striking with knees and kicks. It was Hendricks' diversity of strikes and ability to get inside and push Lawler around the cage that helped him win the first two rounds. It would not be a one-sided fight, though, as Lawler came back in the third and fourth rounds, ratcheting up his striking output and landing the cleaner, more accurate punches. Lawler even came close to knocking Hendricks out in the third when he landed a dozen or so punches on Hendricks before Johny went for a desperation takedown to give himself time to recover. Johny did recover, leading to a fifth round that was up for grabs; whoever won it would win the fight. Lawler landed more punches in the last round but Hendricks pushed for more takedowns, securing one on the exhausted Lawler, and tying him up to take the round. It wasn't the most exciting finish but Johny did what he needed to win and, in the end, all three judges awarded him the decision and the welterweight championship. It was a great fight. I am amazed by how good Robbie Lawler still is and I don't think there's a question that he'll be fighting for the belt again. For now, though, all hail the beard. The beard is strong. The beard is good. The beard is the only hair that's gonna be left on Johny's head soon. Seriously, someone get him some Minoxidil or something. Congrats, Bigg Rigg. Congrats, champ.

***HORN SOUNDS***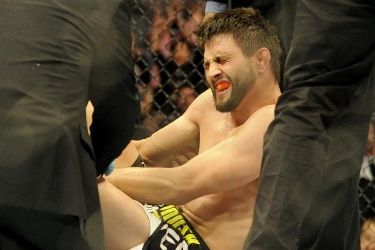 Round Two: Rest of UFC 171, Tyron Woodley and Hector Lombard Successfully Ruin Dana White's Night

***TOUCH OF GLOVES***

Regardless of who won the main event last Saturday, there was one thing that seemed to be a guarantee: the new champion's first title defense was going to be against Carlos Condit. He's been in the top 3 of the weight class since he became Interim Champion in 2012 and many felt he should have been in the main event fighting for the belt on Saturday. Whether he should have been or not, UFC made it clear that they wanted him to get the first crack at the gold by placing him in the co-main event. All he had to do to punch his ticket to the next welterweight title fight was defeat Tyron Woodley, a man who got this fight by canvassing Twitter and making Dana realize that there wasn't anyone else in the Top 10 to match up Condit with. Woodley is a good fighter but he hadn't yet proven he deserved to fight one of the best fighters in the world. Well, that apparently didn't matter, as he really took the fight to Condit. Tyron must have studied Condit's fight with Hendricks as he effectively mixed up his striking with takedowns to win the first round. Woodley was able to take Condit down in the second round but it was clear something was wrong with Condit. He grimaced badly on the takedown, like he injured his leg or something. Woodley noticed this and, on the standup, Woodley kicked Condit's left leg, causing Condit's right knee to buckle as he spun around and dropped to the mat in pain. The ref called off the fight as it appeared Condit tore a ligament. Reports are saying he may have torn his ACL in addition to a small meniscus tear. That's unfortunate as it may be a year before we get to see the Natural Born Hunk fight again. So congrats to Woodley for getting a huge win over a top welterweight and also for ruining all of the UFC's title plans. Now it looks like, with Rory MacDonald fresh and ready to go, the UFC is going to be giving Nick Diaz a title shot after all. Oh boy!

Woodley wasn't the only fighter to make the UFC's welterweight rankings obsolete, as Hector Lombard put on a strong performance against Jake Shields. I thought Shields looked like death at the weigh-ins. He must have had a bad weight cut (along with everyone else) as he looked slow and timid throughout the fight. It probably didn't help that Hector was literally tossing Jake around the cage. Lombard's striking was effective, he stuffed all of Jake's takedowns, and he cruised to a dominant, albeit very sluggish, unanimous decision. Myles Jury had his breakout moment when he went three rounds with the wild and crazy Diego Sanchez and won. Jury mixed up his striking, moved around to avoid the charging bull that is "The Dream" and, despite a few submission attempts from Diego, controlled the fight and took a unanimous decision. Let's see how far this kid can go. One of the most impressive performances on the card (or most embarrassing, depending on who we're talking about) came from Ovince St. Preux. St. Preux went for a quick takedown on Nikita Krylov and found himself in a guillotine while in side control. So what did OSP do? He dug his shoulder into Krylov's neck and choked him unconscious with a freakin' Von Flue choke. Wow. Nobody saw that coming. I haven't seen a Von Flue choke performed in the UFC since the last guy who did one. I forget his name. Congrats to OSP and congrats to all the guys who won on the undercard. There were five guys with undefeated records on this card and they all maintained their perfect records. Congrats guys but you can't hang on to that 0 forever. Just you wait....

And that was UFC 171. Next up is a Fight Night featuring the rematch of one of the greatest fights of all time between Dan Henderson and Shogun Rua. Will it live up to the original? Probably not but it should still be a fun one. Be sure to catch all the action this...Sunday? Sure, why not.

***HORN SOUNDS***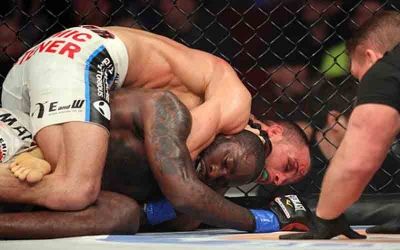 Round Three: Bellator 112, Samson Feels Daniel Straus' Pain As He Taps to Pat Curran

***TOUCH OF GLOVES***

Bellator brought us another fight card this week, as is tradition, and it was a pretty entertaining show. The main event featured what has become an interesting rivalry at the top of the promotion's featherweight division, as Daniel Straus defended the 145 title for the first time against the man he took it from, Pat Curran. The fact this fight was even made was rather controversial due to the fact that their last fight wasn't very exciting and was fairly one-sided. Well, it looked like both men took that criticism to heart and delivered a great fight, possibly an early Fight of the Year contender. The first two rounds were split, as Curran scored with a few takedowns to win the first round and Straus busted Curran up with punches to win the second round. The third and fourth rounds were both very close. Both men found success in striking and grappling exchanges and it's hard to say who definitely won either round. That made the fifth round crucial. Whoever won the round may win the fight. Curran was tagging Straus with right hands but Straus was firing back with hard leg kicks. Curran tried to score a takedown and, as Straus tried to get back to his feet, Curran took his back and locked in a rear naked choke. It looked like Straus might survive but, with only 14 seconds left in the fight, Straus tapped to allow Curran to regain his belt late in the fifth round. What a strong performance by both guys. I'm sure this isn't the last time we'll see them fight, mainly because Bjorn Rebney already said they may fight again. Before that happens, though, Pat will rematch with Patricio Freire. Then Straus will get the winner. Then, maybe, Bellator will head to The Shire to find out what happened to "Frodo" Khasbulaev. Maybe he got attacked by Shelob or something. Or it's visa issues. Whichever.

Bellator 112 saw the opening round of the Season 10 welterweight tournament, one of the most exciting tournaments of the season...or at least it was last week, when Joe Riggs and War Machine were still a part of it. Eh, maybe it was for the best that they dropped out. They would have just been smashed by Andrey Koreshkov anyway. The Season 7 tournament winner literally ran over former UFC fighter Nah-Shon Burrell. Koreshkov threw a wild body kick that clipped Burrell on the chin and dropped him. Koreshkov pounded on Burrell until the ref ended the fight 41 seconds in. Add another former UFC fighter to the list of Bellator busts. Those tournaments be vicious. Also advancing with a first round stoppage was Sam Oropeza. After working Cristiano Souza over in the clinch and on the ground, Oropeza blasted Souza with a right hook. Oropeza threw a few follow-up punches before the fight was stopped about 3 minutes in. That was some good violence right there. Even the other two opening round matches were entertaining, although neither involved anyone getting angrily separated from their consciousness. After getting into trouble early, Adam McDonough was able control Jesse Juarez to take a unanimous decision. Also, Nathan Coy stayed on the offensive for all fifteen minutes to take a unanimous decision against Paul Bradley. Wait, another former UFC fighter lost on this card? Damn. Maybe Riggs and War Machine aren't injured. Maybe Bjorn put them in hiding so that they don't get beat up like every other UFC fighter who isn't Rampage. That Bjorn. What a saint.

And that was Bellator 112. Bellator 113 features the light heavyweight championship unification bout between Emanuel Newton and someone who isn't King Mo. Bellator must be very disappointed.

***HORN SOUNDS***




Round Four: What was With All the Weigh-In Problems Last Weekend?

***TOUCH OF GLOVES***

Geographically, Dallas, Texas and Hammond, Indiana are nowhere near each other. Culturally, they are quite different. Politically, they are....kinda similar. For all the differences, though, they do share something in common: a lot of fighters completely screwing up their weight cuts and almost ruining some big fights. Let's start with Thursday at the Bellator 112 weigh-ins. Overall, the fighters did all right, possibly due to the fact that half the prelims are almost always catchweight fights because they consist of whichever local guys they can find who can sell the most tickets. There were two bantamweight fighters who missed weight, the funny thing being they were fighting each other. That fight ended up going on as a catchweight. So what happens as far as the money in that instance? Usually, if you're overweight you give up a portion of your purse to the athletic commission and a portion to your opponent. Did the commission just get the full 20% from both fighters? Aw yeah, raking in that fighter money. Everyone did fine on the main card until we got to (now former) featherweight champ Daniel Straus. Straus had a bad cut and knew he might come in overweight so he did one of the craziest things anyone has had to do to make weight: he cut off his hair. HE CUT OFF HIS HAIR! His precious dreadlocks...all gone, and he still had to weigh in a second time to get to 145. That must have been some heavy hair. Also, amazing and possibly technicolor. It was sorely missed during the fight. It will not be forgotten. Or washed. Ew.

We then survived long enough to reach Friday for the UFC 171 weigh-ins, where it looked like UFC should just pay somebody to stand next to the scale with a towel. Two guys on the prelims missed weight: Renee Forte and Ultimate Fighter winner Kelvin Gastelum, plus Dennis Bermudez needed to drop trou to be able to make 146, which he did. Kelvin ended up making weight after TWO more tries, but he looked really bad afterwards and it probably affected his fight on Saturday. Forte didn't attempt to lose the extra weight and forfeited 20% of his purse so he could go lose to Francisco Trevino. Everyone on the main card made weight until the big shocker of the whole affair: Johny Hendricks missed weight. Robbie Lawler came in at 170 but Johny hit the scale at 171.5, a pound and a half over the limit. Wait a sec....Bigg Rigg can't miss weight. He had Mike Dolce with him. HOW COULD THIS HAPPEN!!!???? According to Dolce, it may have been due to a faulty scale that was used when Johny was shedding the last few pounds. I think it may have been due to the commission member who was weighing everyone in. Did you see that guy? His gravitational pull was probably throwing the scale off. He was fat is the point I'm trying to make. Thankfully, Johny came back 2 hours later and made 170, keeping the fight a title fight for both men. I think Nick Diaz played a big part in Johny's success here. If he wasn't heckling the crap out of Johny throughout this whole ordeal, I don't know if Johny would have made weight. Actually, I do know. He would have. And the beard survived. Oh happy day.

***HORN SOUNDS***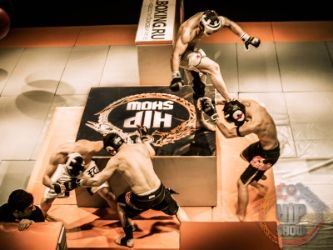 Round Five: Should I Admit that I Watched Hip Show on Friday?

***TOUCH OF GLOVES***

So, I was hanging around on Friday, doing my usual thing. My usual thing consists of some combination of the following: hanging out with my friends, watching fights, pretending to play the guitar, drinking Caffeine-Free Coke because too much caffeine gives me a headache, and staring at my fingernails to give the impression to others that I got a lot going on. That's right. I got life all figured out. The line starts to the right, ladies. So anyway, when I got home, I put on AXS TV, Mark Cuban's favorite TV channel, and caught the replay of this show called Hip Show: Arena Combat. I had been aware that the show was going to be premiering soon and I was a little curious about it, mainly because it sounded extremely messed up. All I had heard was that it involved teams of fighters running around an American Gladiators-style arena in some sort of organized or unorganized chaos. The preview clips showed a lot of interesting action: guys tackling each other off large obstacles, guys sucker punching each other to save their partners,and two guys putting two different submissions on one poor bastard at the same time. It looks really crazy and really unsafe. It's also from Russia. That may explain a lot of it. The show is, according to co-host Casey Oxendine, the "evolution" of mixed martial arts. I'm not so sure about that but I will admit I was intrigued enough to watch some of it and form a rational opinion of the program. I should know not to condemn something without at least giving it a chance. If more people thought that way, UFC would be holding events in Madison Square Garden right now. So let's get settled in and check out the action.

*TWO HOURS LATER*

Wow. This show is extremely messed up. Is it as crazy as I thought it was going to be? Yes. Is it as unsafe as I thought it was going to be? Kind of. There are a lot of rules in place that limit how out of hand the action gets. The object of the matches isn't necessarily to knock out or submit your opponent (they aren't even allowed to go for submissions until the third round of the three round contests). The matches are point based, with points being awarded for takedowns and knockdowns and ground and/or pound. You get the most points for finishing an opponent and, if that happens, the match turns into a 2-on-1 situation where the 1 has to survive for one minute to earn points for his team. I don't like the 2-on-1's. Every 2-on-1 I saw played out the exact same way: the 1 runs for dear life around the arena until the 2 grab hold of him, pull him down, and lock on simultaneous submissions. Almost every time, one of the guys put on a leglock while the other went for an armbar. Not only is it dangerous (at least one guy got his ankle wrecked because he was too busy defending the armbar) it also got boring after a while. In fact, the whole show got boring because every match played out the same with the same generic fighters. They barely even made use of the obstacles, one of which has a hole in it. Why does it have a hole? Did the producers hope someone would try to jump through it and spear their opponent? I don't know. I don't feel like the show will get better from here but I may give it one more shot. If I hear more commentary gems like "Gladiator got dragged off the cake" then I may be in for the long haul. We shall see.

***HORN SOUNDS***

That's it for Five Quick Rounds. Thanks for reading. If you have any questions, comments, or suggestions, and it is always appreciated when you do, leave them in the comments section. I will be back in 7 for another Five Quick Rounds. Bellator on Friday and the rematch of the century on...Sunday? Enjoy the fights and remember to fight clean, fight hard, fight fair, and never leave it in the hands of the judges...




LATER!!!!!!!!!!!!!!!!!!!!!!!!!!!!!!!!!!!!!!
comments powered by