SPOTLIGHTS
The Greatest MMA News Column 03.18.14: The Welterweight Title Picture
Posted by Dan Plunkett on 03.18.2014

News and thoughts on the UFC welterweight title picture, Hendricks' win, who should get the next title shot, UFC's big July weekend, Bellator PPV, Phil Baroni signing, and more!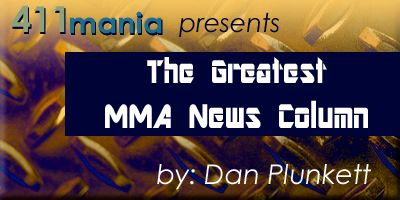 On Saturday, the ninth title reign of the UFC welterweight division began as Johny Hendricks became the division's seventh different flag bearer. The welterweight championship belt around Hendricks' waist carries with it a rich history. Two of its other six champions are among the five greatest fighters to ever compete in the sport. The division's only other champion with a successful title defense held the belt for nearly three years. The others were one-and-done by way of falling to a much more talented foe that would rule for years, or in one case a complete disregard for contractual obligations.

By 1998 the once-profitable UFC had mostly fallen out of favor with the American public. Political outcry resulted in events switching locations at the last moment and pay-per-view systems across the United States and Canada washing their hands of the fringe sport. No longer the unlikely pay-per-view hero of the early-mid nineties, the UFC had to legitimize itself in order to emerge from the hole it had become trapped in largely due to its own sensationalist – and debatably necessary – marketing. Introducing weight classes in early 1997 was one of the first steps towards legitimacy. After a year of just two weight classes – one for fighters above 200 pounds and another for those under that weight (UFC owner Bob Meyrowitz believed the public wanted to see larger fighters) – UFC introduced a new lightweight class (the name would be changed to welterweight when Zuffa bought the company in 2001) with a 170-pound cutoff.

On October 16, 1998, Pat Miletich became the division's first champion, capturing the title by winning the narrowest of judges' decisions. Between winning the title and losing it a few years later, Miletich lost three times outside of the UFC, which was at its lowest point and no longer the big stage it had once been. Still, Miletich had a strong reputation; two months before capturing the title he went the distance with the substantially larger and well-regarded Dan Severn.

After 931 days on top, Miletich's throne was overtaken by Carlos Newton. The new titleholder proved to be nothing more than a transitional champion to Matt Hughes, a Miletich protégé. Hughes became the most dominant champion UFC had ever known and was widely regarded as one of the finest fighters in the world. His days as champion came to a brief end when he was upset by BJ Penn, but he soon regained the championship and remained on top for another two years.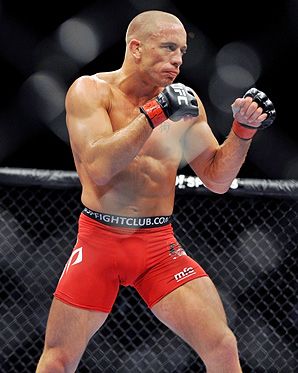 When Hughes initially won the title back, it was in a match against a young Georges St-Pierre. Despite the vast difference in experience, St-Pierre proved to be a tough fight for Hughes before one mistake had the Canadian tapping with one second remaining in the first round. Two years later, St-Pierre was far better equipped to handle the moment, and he smashed Hughes in two rounds to take the title. Save for a brief slip against Matt Serra in 2007, St-Pierre rode high on his horse until November 2013, establishing a legacy that surpasses all but one or two fighters in history.

In their November bout, Hendricks was the first fighter to take it to St-Pierre in a non-fluky fashion. He lost a controversial split decision, but the match was still a changing of the guard. When St-Pierre vacated the championship in December and it was announced Hendricks would face Robbie Lawler, it was widely assumed Hendricks would take the belt. Most failed to foresee the war Hendricks and Lawler would wage at UFC 171. Fists flew, faces were punched, and brains were damaged. When the afterglow of the fantastic bout settled, it left one to question if Hendricks is really the next long-term champion of the welterweight division.

A cluster of contenders await Hendricks when he is ready for his first title defense. Saturday's event did little in the way of putting one fighter on a clear path to a championship bout. Tyron Woodley was extremely impressive against Carlos Condit, but the match ended on a sour note when Condit injured his knee. Hector Lombard was dominant against Jake Shields, a fighter that beat Woodley not even a year ago, but the fight was a snoozer. Finally, Robbie Lawler performed at a level nobody could have expected from him a little over a year ago and came minutes away from walking away with the belt. But the result, while very close, was no more indecisive than Jon Jones' win over Alexander Gustafsson last year, after which Gustafsson was not granted a rematch.

Of those that didn't fight on Saturday, there are two more legitimate contenders and even a sixth option UFC may choose. No question about it, if Georges St-Pierre decides to return he should get the title shot. But it appears St-Pierre is holding out for UFC to change its drug testing policy (a most noble cause) and even if that were to change his return isn't a sure thing. A popular option is St-Pierre's teammate Rory MacDonald, who beat Demian Maia last month. Before that though, MacDonald lost a close-but-clear decision to Lawler. The final option, and certainly the most drastic move, is newly unretired Nick Diaz.




Diaz, 30, has retired twice in the past two years. First after losing a decision to Carlos Condit in their interim welterweight title bout. Then again a year later, he fell to St-Pierre after being gifted a championship match. Despite a lack of a single win post-2011, Diaz would make for the second-most lucrative option, behind St-Pierre, and unlike St-Pierre he'd certainly accept a title opportunity. Going with Diaz would be a credibility killer for the UFC if their credibility in handing out title shots hadn't already been killed last year with Chael Sonnen and Diaz himself being given title matches despite no real claim to the opportunity. Indeed, Diaz receiving a title shot would lead to outrage from the pure-sport advocates, but UFC's inclination towards fighters who can draw is well noted.

On the flip side, UFC had the opportunity to offer Diaz a title match for UFC 171, but ruled in Lawler's favor. Returning to Diaz may be tempting, especially in a year that doesn't look to have many big fights, but it seems too outlandish, even for the UFC.

Because of the obvious story with MacDonald's ties to St-Pierre, I would peg him as the favorite to be Hendricks' first challenger. It's a built-in story stronger than anything Woodley or Lombard have going for them, and with all else being equal that makes a difference. Nick Diaz vs. Robbie Lawler, likely with a title shot hanging in the balance, is another logical direction. Their exciting first fight was ten years ago next month, and it's a rematch a lot of people have wanted to see for a long time. It's the type of style match-up that should guarantee a great rematch.

---
---




NEWS!



UFC primed for two Las Vegas shows July 4th weekend. In addition to the traditional pay-per-view and "International Fight Week" festivities, UFC is bulking up its Fourth of July weekend offering with The Ultimate Fighter finale on Sunday, July 6. The 'TUF' card is expected to be headlined by a featherweight bout between season coaches BJ Penn and Frankie Edgar, although that fight could obviously be flexed to the night before by the time everything is squared away. There's no strong indicator of what will headline the July 5 pay-per-view, which is usually loaded up and made one of the biggest shows of the year. A Ronda Rousey fight could fit in there, but the opponent would be a big question mark. Perhaps Johny Hendricks' first title defense could come on that date. With more UFC fans flying into the area for the weekend, and not to mention a strong marquee main event, the Ultimate Fighter show should do better at the gate than the more recent finales.

Rampage vs. Mo announced for Bellator PPV. This shouldn't come as a shock. Bellator announced the Quinton Jackson vs. Muhammed Lawal fight will take place at the company's second attempt at a first pay-per-view on May 17. The show, Bellator 120, will take place just down the road from Jackson's hometown of Memphis in Southaven, Mississippi. The Landers Center holds about 8,400 people, so in theory Bellator has a shot at beating the attendance record they set with this season's opening show, although it will be more difficult without a casino eating some tickets.

Bellator signs Phil Baroni. Come on. It's been nearly ten years since Baroni has had a win of any significance. He has a 15-17 record, winning just two of nine bouts since 2009. His two-fight UFC return from 2009-11 was pushing it. This isn't a move a top level promotion makes, even if it is just a one-fight deal. At one time or another, every major MMA promotion has brought in or continued to book aged stars and put them in fights they had no realistic chance of winning for the sake of building the company. Whether this is another example of that or a weird favor to Phil, I don't know, but I don't like the signing either way. With the vast growth in awareness of brain trauma issues in recent years, it's irresponsible to book fighters past a point where it's clear they can't compete at close to a high level.

Quick news: Pat Curran submitted Daniel Straus in the fifth round of what was apparently a great fight (I haven't been able to catch up on it yet) to recapture Bellator's featherweight title. I still don't think it validates the booking, because making a great booking decision on paper that leads to a terrible fight doesn't make the initial booking decision a bad one… Carlos Condit suffered possible tears to his meniscus and ACL in Saturday's loss. Hopefully it's not as bad as it could be… Diego Sanchez, 32, has been hit with the third-most head strikes in UFC history. I'd like to see him retire, but it won't happen… Bellator on Friday drew a 699,000 viewer average, which is one of the best numbers they've pulled on a Friday without a major star… Dennis Siver failed his UFC 168 drug test. How long until Dana uses that to counter someone who asks about the current testing system?

---


As always, thanks for reading. Feel free to leave any feedback in the comment box or email me at plunkettdan@yahoo.com.

comments powered by