SPOTLIGHTS
MMA's 3R's 3.20.14: UFC 171 Edition
Posted by Jeffrey Harris on 03.20.2014

From Johny Hendricks' win over Robbie Lawler and Tyron Woodley upsetting Carlos Condit to Nick Diaz announcing his readiness for a title shot and more, 411's Jeffrey Harris breaks down the Right, the wRong and the Ridiculous from UFC 171!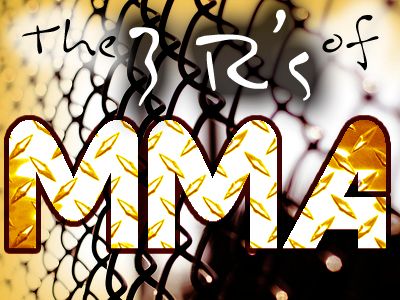 *The Column Concept*
Greetings loyal readers and welcome back to a brand new edition of The 3R's of MMA. And starting this week, I've decided to change things up a bit. The general layout of the Right, the wRong, and the Ridiculous is staying the same. I'll just be changing things up a little at the start and end. So for the MMA's 3R's we look at the Right or the good, the wRong or the bad, and Ridiculous or the absolute worst in the MMA world.

First thing's first, and this is unrelated to MMA. I started on this site as a movie reviewer for Movies/TV. I live in Los Angeles, and I attend a great deal of press and industry screenings for films, and I watch a lot of movies in theaters in general. Last weekend, I was at a specific press screening. This one was early in the morning and on a Saturday, so a lot of people brought their children to this. This is a bit of an old style theater so the seats and rows are tightly packed. It doesn't have stadium seating either. The lower level is an orchestra-style seating area. There was a group sitting next to me and when I had to get up, I said excuse me and I apologized but I had to get through. Generally, when this happens to me I get up and I sit up in my folded seat so a person can get by. Instead, this group basically ignored me and didn't move at all. They just left their feet out so I practically had to bend over the seats in front of me that already had people in them to avoid stepping on these people's feet. I said, "OK, sorry, but if I step on your feet it's your own fault." They ignored that too, oh well.

So following that, about three groups there had some small children. One group was sitting to my left, another to my right and another behind. After the movie started, the kids eventually started screaming and screeching non-stop. Now, where I am from, it is proper etiquette to take screaming or screeching children out of the theater. I know it kind of sucks, but what also sucks is having the noise ruin the experience for everyone else. Instead the arrogant and idiotic parents refused to remove their kids from the theater and take them outside to calm them down. Now listen. I'm not a parent. I do not have children. I'm not trying to be a parent counselor here. I'm talking about proper etiquette. And this is happening to me more and more in Los Angeles, and it's sickening. Even if it's a kids or family movie, what is happening with the movie is obviously freaking out or scaring the kid. A family movie still might have something scary in it that could frighten a child. It might be too loud and the dark could scare the kids too. So take them outside. Don't try to comfort them in the theater because all you are doing is exacerbating the problem and screwing up my whole viewing experience. So this continued to happen throughout the movie and ruined the whole damn day because I'm supposed to be reviewing this movie, but these dumb parents couldn't swallow their pride and take their kids outside. So the moral of this rant/story, if you bring your child to a movie, if they start screaming, take them outside. You don't want someone else talking on their cell phone during the movie. This is just as bad.

Next up, I wanted to give a shout out to new 411mania MMA staff writer Koeddy Laemmle. Laemmle has started an awesome, new MMA zone column called The Round Horn. Last week, I got to participate in his first "Round the Horn" style panel. It was a lot of fun, so CHECK IT OUT HERE.

Alright, so UFC was back in action for UFC 171. Johny Hendricks at last finally captured the UFC welterweight title in an amazing back and forth battle. Carlos Condit was felled by Tyron Woodley after he suffered a knee injury during the fight. Nick Diaz was also in town, and he was barking for a title shot again last week. All in all a great night of fights.

Bellator was back on Spike TV with Bellator 112. Pat Curran regained the title in his trilogy bout with Daniel Straus in a great fight.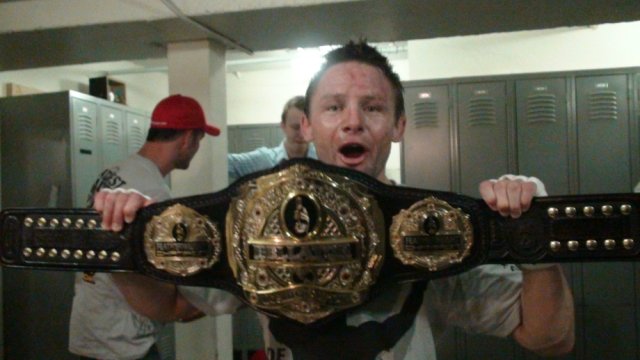 THE RIGHT:


Johny Hendricks vs. Robbie Lawler: The welterweight title main event turned out to be quite a back and forth battle. Both guys have knockout power and granite chins. Lawler has been in there with some tough strikers over the years, and only one man has ever knocked him out in his career, that being Nick Diaz. And that fight happened almost 10 years ago. I figured what would happen is that if either guy would get the knockout, it would happen in the first round. And if that didn't happen, then it would go all five because fatigue would set in and a lot of that one hit knockout power would go away. So it didn't come as a surprise that it ended up going the distance. That being said, Lawler has really shown overall in his recent run some much improved takedown defense. Hendricks was only ever really able to get him down once, and it happened toward the end. Unfortunately, it was that takedown and Hendricks getting in some ground and pound action that likely cost Lawler the fight and the title. Regardless, it was a great back and forth war. Both guys left everything they had inside the cage. Hendricks started strong, but then he started getting beat up by Lawler in the second and third rounds as it looked like Lawler started to take over. However, Hendricks pushed forward and came back in the final frame to edge out the round, securing a takedown and landing some ground shots to give him the fight. Ultimately, Hendricks won on points. I would not object to seeing this rematch sooner rather than later. Let's say Lawler puts another win together, I would like to see this fight again. Regardless, Hendricks finally gets to take home the welterweight title in his home state of Texas.


Johny Hendricks finally won the UFC welterweight title at UFC 171 in his adopted hometown of Dallas, Texas.

Tyron Woodley vs. Carlos Condit: Unfortunately, as he has a penchant for doing, Carlos Condit started slow again in this fight. Tyron Woodley came into this fight in excellent shape and ready to rumble. He didn't give Condit a moment to find his rhythm and his range. He moved forward and landing some really good right hands that were rocking Condit. In addition, he was able to land his takedowns, another flaw in Condit's game that continues to rear its ugly head. Unfortunately for Condit, jacked his knee in the second round off what looked to be the takedown from Woodley. Woodley threw a leg kick on what looked like Condit's support leg, and Condit moved up and twisted his knee in nasty fashion. It likely resulted in Condit having a torn ACL and/or meniscus. Unfortunate for Condit, and the fashion in which Woodley won will have people degrading and questioning his win. While it sucks that Condit got injured, I still don't see how this is worst case scenario for Woodley. He didn't just blanket and lay and pray on Condit the whole time. He was actually aggressive and attacked him with punches in addition to his takedown. Condit's takedown defense and MMA wrestling is generally terrible, and it's really something he has to improve if he returns and wants to make another run of it. His other issue is that he tends to start slow a lot. While it turned out for him OK in fights against Rory MacDonald and the rematch with Martin Kampmann, it cost him big time in this fight and against Johny Hendricks. Other UFC fighters tend to have this recurring problem as well, such as Donald Cerrone. Ben Henderson can also be a bit of a slow starter at times.


Tyron Woodley defeated Carlos Condit at UFC 171.

Ovince St. Preux vs. Nikita Krylov: Krylov's debut at light heavyweight in the Octagon was short-lived. OSP took care of him quickly taking him down and applying an incredible Von Flue choke submission. It was an incredible, surprising visual, and it's a rare submission we do not get to see very often. OSP has looked very good thus far in the UFC, but that being said his opponents were borderline softballs and not exactly world beaters. So now that he's had three strong wins at light heavyweight, it's probably time to throw him into some deeper waters to see how he could do. Perhaps a fight against someone like Jimi Manuwa or Ryan Bader is in order, fighters who are just outside of the top 10.



THE wRong:

Jake Shields vs. Hector Lombard: Now credit to Lombard because he had some really slick judo throws here. And in this fight, he basically did to Jake Shields what Shields does to almost everyone he fights. So there was a bit of satisfaction seeing someone give Shields a taste of his own medicine for once. While I wouldn't call Shields one dimensional, his striking definitely is. For years, striking has been the weakest aspect of his game. In addition, he doesn't react well to getting hit, and he clearly didn't here. Now Hector Lombard. He had a good first round, but after that he was basically trying to run the clock and avoid completely gassing out. He looked like he was really starting to tire after the first round. Lombard has great judo and he has some sick knockout power, but what he doesn't seem to have at all is footwork and movement. He seems to just pick a spot and stand there, still as a stone. After the first round, his pace seemed to screech to a halt, and the fight became very dull. Overall an ugly fight. That being said, it was a big and crucial win for Lombard and slots him in the top 10 now. However, I think the top shelf welterweights or someone with much better wrestling, dynamic striking as well as cardio would be able to easily deal with him.

Dennis Siver fails UFC drug test for hCG: So after the news came out that two fighters drug test samples were inconclusive, Dennis Siver and Siyar Bahadurzada, and their B samples were being tested, it turned out only Dennis Siver failed his drug test for hCG. Manny Ramirez previously popped for this substance. It's a female fertility drug used to stimulate natural testosterone production. It's also used by steroid users as they are cycling off since the steroids they are taking messes up their testosterone production. Siyar Bahadurzada's second drug test came back negative, so he is in the clear with this fight. Disappointed to hear this for Siver. I've always enjoyed watching his fights and found him to be a solid lightweight and featherweight fighter. Unfortunately, it is hard to take many fighters at their word when they claim they are clean. It's easy for any fighter to say they are clean and test me whenever you want. Talk is cheap. It hasn't happened yet, but I imagine Siver's win over Manny Gamburyan at UFC 168 will be overturned. I still think more can be done with drug testing in the sport, but at the same time critics who say anyone no one fails the commission drug tests or the overseas UFC drug tests is wrong.


Dennis Siver has failed his UFC 168 drug test and been temporarily suspended by the Nevada State Athletic Commission.
THE RIDICULOUS:

Nick Diaz wants an immediate title shot: Nick Diaz was all around UFC 171 this weekend despite not fighting. Nick Diaz last won a fight at UFC 171 in 2011. However, Nick Diaz gets a lot of attention. He's a draw, and whenever he does something, everyone eats it up. And even I will admit that I am partially feeding the beast so to speak by discussing Diaz's antics. Even though Nick Diaz is retired, and it's not the first time he's done so, no one really takes it seriously. No one takes it seriously because this is just part of the whole Nick Diaz experience. Recently, Nick Diaz made it clear that he would only return to the UFC for another title fight. He was offered a basic title eliminator fight with Carlos Condit for UFC 171 last night. It seemed like the UFC was even willing to offer him superfights with the likes of Michael Bisping and Lyoto Machida, but Diaz wasn't keen on those fights either. So Diaz is back and he's ready to fight, but he was at UFC 171 to announce that he wants the winner of Hendricks/Lawler, which is now Hendricks. He was taunting Hendricks throughout the weigh-ins for missing weight on his first attempt, and he blatantly did it for attention. He even said he'd make weight for UFC 171 to fight the following night before Hendricks eventually made weight. One thing I noticed when people asked Dana White about Nick Diaz and what's up with him, Dana White didn't ever really say no to the idea of giving Nick Diaz a title shot. Now on one hand, I get it. Nick Diaz has a legion of fans. He's popular, and he gets people interested in fights. He's not a huge draw, but he's generally a very strong one. With Georges St-Pierre and Anderson Silva out of commission and their futures in question, the UFC might be driven to give Nick Diaz the next title shot anyway. I hope they don't. I don't think Diaz deserves it. I'm not a fan of Diaz's antics and his behavior. I think Scott Coker in Strikeforce often enabled Diaz's bad behavior and blatant insubordination by cow-towing to and rewarding Diaz. I think rewarding Diaz again here would be a mistake. Diaz shows up to fight, but he also costs the UFC money by avoiding the Countdown show filming, refusing to show up to press conferences in order to promote his fights, as well as conference calls. I get that he doesn't like doing those things, but it's part of the job. He thinks he should be played Floyd Mayweather money, well the guys who make bigger money are the guys who put themselves out there and brand themselves and promote themselves. Is Nick Diaz a great fighter and a hell of a fighter to watch? Yes. But ultimately, it seems like fighting is not a good thing for his mental state it would be better for him mentally if he stayed retired.



Nick Diaz announced that he's ready to fight for the UFC title. Will the UFC indulge him?

Diego Sanchez food poisoning-gate: So Diego Sanchez lost on the main card of UFC 171 to Myles Jury. The following day, he explained on Twitter that his poor performance was directly attributed to food poisoning. What caused him to get food poisoning? Well, after the weigh-ins, he decided to eat a dish of steak tartare and raw quail egg. For those who do not know, steak tartare, is raw, minced beef. Now, giving him the benefit of doubt for this excuse and why he did have food poisoning, why would you want to eat raw beef a day before a big fight on PPV? I like Diego Sanchez. He's a tough fighter and generally exciting to watch. But it appears that the game has passed him by. He's always had this weird, almost kind of manic personality. Sanchez would've been better off not saying anything about his food poisoning. Because saying he ate this kind of makes him look silly and it makes him sound like he's making more excuses. His problem against Jury is that it looks like he had an adrenaline dump before he got into the cage by trying to look so intense and pumped up. He gets into the cage and acts really mean and fired up, and then Jury nails him with the first big shot of the fight that clearly stuns Sanchez. Then Sanchez starts waving his hands at Jury telling him to bring it on. The other problem is, and I've seen Sanchez do this before, he spent a great portion of this fight chasing and cornering Jury and then just not attacking. If you are going to chase an opponent down, why chase him, corner him, and then just not attack? Sanchez coming from the original cast of The Ultimate Fighter will probably give him a certain amount of job protection. He signed an eight-fight deal before this bout. I truly believe he could lose the next eight of those fights and probably still keep his job, but in that respect, Sanchez is starting to become the Leonard Garcia of lightweight.



The cause of Diego Sanchez's food poisoning before UFC 171.

That's it for the R's. But what else is going on at 411mania.com with yours truly, the 411mania Jack of All Trades?

It didn't have enough gas to make No. 1 last weekend, but check out my official review of Need for Speed.

Check out my exclusive interview with UFC welterweight fighter HERE. Woodley just got the biggest win of his career over Carlos Condit. I interviewed him a couple weeks before UFC 171 during a UFC Black History Month tour event.

For Blu-ray, check out my official, wibbly wobbly, timey wimey review of Doctor Who: The Time of the Doctor, which is the final can't miss appearance of Matt Smith as The Eleventh Doctor.

In addition, feel free to check out my YouTube channel, youtube.com/users/TheVileOne/videos. Last week I added some new clips from my interviews with Tyron Woodley. I also added a video of Tyron Woodley speaking to kids at the Challengers Boy & Girls Club for Black History month, which was a great event.

Also coming up this week: an early review of the new sequel, Muppets Most Wanted!



* TWITTER *
* http://www.twitter.com/411mma *
* http://www.twitter.com/411wrestling *
* http://www.twitter.com/411moviestv *
* http://www.twitter.com/411music *
* http://www.twitter.com/411games *
comments powered by