SPOTLIGHTS
Five Quick Rounds 03.26.14: Fight Night 38, Bellator 113, Dan Henderson Hates Betting Lines, More
Posted by Evan Zivin on 03.26.2014

From Dan Henderson's knockout of Shogun Rua and the results of Fight Night 38 to Duane Ludwig leaving Team Alpha Male, the releases of Melvin Guillard and Will Chope and more, 411's Evan Zivin examines these stories and more in Five Quick Rounds!

Hey hey, fight fans, and welcome back to Five Quick Rounds! I am your host, Evan Zivin, and I am as excited as Pat Barry in a kickboxing ring to be here once again!

You all remember Pat Barry? He's the Techno Viking enthusiast (remember when that was a thing?) who had a propensity for violently knocking out people while getting violently knocked out himself. His fan friendly style made him a favorite in the UFC's heavyweight division but it sure didn't do much for his MMA record. Or his health. He left the UFC after going 5-7 in the promotion, but everything is all right now. Why is that? Because Pat has returned to his first love. That's right. He gone back to hitting people in the face exclusively as a kickboxer. Sorry, grappling. Trust me, it's not you, it's him. Pat returned at Combat Sports Challenge 39 on Saturday, defeating Ed Burris by knockout in the second round. Either Pat performed well or his opponent performed terribly but I'm happy for his win and am interested to see where he goes from here. His next fight will by his Glory debut at Glory 16 in May in a tournament reserve bout. Could Pat go far with this kickboxing thing? It's possible. Mirko Cro Cop won the K-1 Grand Prix after leaving UFC, which would have been a big deal at one point. We shall see if similar success is in the future of Cro Cop's hard-hitting singing partner. Hype or die, Pat. Your words, not mine.

All right, with fighter introductions out of the way, I have five more rounds of MMA news and opinions to throw at you. This week, we look at the results of Fight Night 38, Duane Ludwig leaving Team Alpha Male, the results of Bellator 113, and the UFC releases of Melvin Guillard, Ivan Menjivar, and Will Chope. Let's to it do it.

FIGHTER YOU READY!!!!
FIGHTER YOU READY!!!!

FIGHT!!!!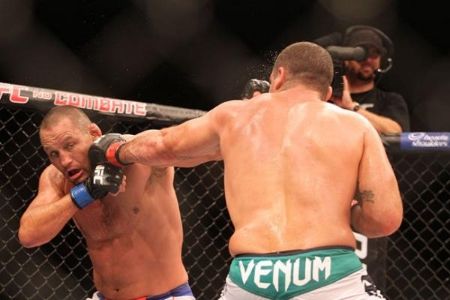 Round One: UFC Fight Night 38, Who Are You to Doubt El Hendo?

***TOUCH OF GLOVES***

There's nothing like waking up on Sunday morning after a wild night of partying (as we all do) and wondering what happened at the fights last night only to realize that the fights haven't happened yet. Did that happen to anyone else? I'm still not entirely sure if I have any readers left so I'll just go ahead and assume the answer is yes. Stop messing with my routine, UFC. If Fox Sports 1 tells you they can't run a show on Saturday because of racing or some other sport no one is watching, you just walk up to them and say "Stop it. Just stop it." They'll be so confused they'll give you any time slot you want. You're welcome, Dana. How could Fox Sports 1 do that to UFC, especially with a main event like Shogun/Henderson 2? That's right, Sunday night gave us the rematch of one of the greatest fights of all time. The first fight between Mauricio "Shogun" Rua and Dan Henderson, from UFC 139 in November 2011, told such a crazy story. The level of grit and determination exerted by both men was just unbelievable. Henderson hurt Shogun badly over three rounds before Shogun came back, took down the wrestler, and came dangerously close to ending the fight himself. It was a fight that legitimized both men, both former champions, as true living legends in the MMA world. I wasn't expecting the rematch to be as good as the first fight, and pretty much everyone expected Shogun to be able to continue where he left off and defeat Henderson in the rematch. So was it, and did he?

It wasn't the same kind of fight as the first one but the rematch was definitely one to remember. It also looked like Shogun was prepared to finish what he started. The fight started off fairly tentative, both men gauging the distance and waiting to see what the other would do. It looked like Henderson might take the round after hurting Shogun with a left hook but, almost immediately after that, Shogun nailed Henderson with a right hand and proceeded to pound on Henderson until the round ended. Dan got hit hard. I'm impressed he survived the round. The second round ended being more of the same after Shogun blasted Henderson with a huge uppercut and pounded on the American from his guard for most of the rest of the round. It was starting to look like it was just a matter of time before Shogun landed the shot that would finally shatter Henderson's granite chin. Or it would have been if Dan Henderson cared what people like I think. Henderson showed a little more urgency in the third round and looked like he was starting to headhunt. It seemed like he was getting desperate until he cracked Shogun with a right hand that dropped Shogun. Henderson pounced with a few follow-up punches (to the back of the head) and the fight was stopped. Henderson defied all the odds and told all us MMA "journalists" to cram it with a third round TKO of Shogun Rua. All I can say is: anyone wanna see a third fight? These guys are fun together and neither of them are getting a title shot anytime soon so why not? Let's just hope Dan doesn't lose his power when he loses his TRT. Remember, drugs are bad, or at least the athletic commissions say they are. Damn buzzkills.

***HORN SOUNDS***




Round Two: Rest of Fight Night 38, C.B. Dollaway Doesn't Care About Mutant People

***TOUCH OF GLOVES***

The co-main event was a quick and violent fight but not in the way that people were expecting, or at least not in the way the Brazilian crowd was expecting. C.B. Dollaway had defeated TUF Brazil runner-up Daniel Sarafian in a very close fight last year. Cezar "Mutante" Ferreira, the winner of that season, also won a close fight against Daniel-san. So it seemed logical to assume that a fight between Dollaway and Ferreira would be close, especially since both men have won the majority of their UFC fights by decision. Yeah...no. Ferreira came out aggressive to start but it backfired when Dollaway nailed Mutante behind the ear with a right hand and put him out with a few follow-up punches. It was a hard break for Lil' Vitor Belfort but I'm sure he'll bounce back. That is, unless he's been borrowing Vitor's "supplements." The other winner of the first season of TUF Brazil, Rony "Don't Call Him Rony Bezerra" Jason, also competed on the card. The self-professed fan of classic slasher flicks needed to bounce back from a tough knockout loss to Jeremy Stephens last November. He succeeded in doing so against Steven Siler. Siler looked to diminish Rony's punching power by throwing leg kicks but they weren't doing enough when Rony used his reach and rocked Siler with a right-left combo and, before the crowd could start properly losing its mind, the fight was stopped. It appeared to be a quick stoppage but it still resulted in a quick win for Rony Jason. Now he can prepare for his rematch with Freddy Kreuger. I don't come up with these bad jokes. I just embarrass everyone I've ever known by rehashing them.

If you are a fan of point deductions, then Sunday night was your Super Bowl. Leonardo Santos and Norman Parke (they both won seasons of TUF so I don't expect you to know who they are) competed in a very close, albeit boring, contest. The striking exchanges weren't too bad but there was a lot of clinching were nothing happened. One of the most eventful moments was when Parke got deducted a point for grabbing Santos' shorts in the second round. The deduction proved costly for Parke as he would have won a split decision, but the fight was instead ruled a draw. Remember, never leave it in the hands of the judges. Also, don't grab another dude's shorts. It's probably not a good idea to grab the cage either, since Mairbek Taisumov had a point taken away for that. He also lost a point for an illegal upkick. Unlike Parke, though, the deductions made no difference here as Michel "My Belle" Prazeres used strikes and takedowns to secure a convincing unanimous decision. Fabio Maldonado got off to a bad start in his fight after being taken down by Gian Villante. Gian failed to do much with the position and Fabio lived to see the second round. It was a good thing as he turned up his striking output and took advantage of an exhausted Villante to pound on him for the second and third rounds and win a unanimous decision. Also, Thiago Santos took out Ronny Markes with a liver kick, Jussier Formiga choked out Scott Jorgensen, Kenny Robertson choked out Thiago Perpetuo, and Godofredo "Pepey" killed a dude with a flying knee. So I'd say it was a pretty good show.

And that was Fight Night 38. We get a two week break before Big Nog fights Roy Nelson in Abu Dhabi. I hope Nermal bought his ticket.

***HORN SOUNDS***




Round Three: Duane Ludwig Leaves Team Alpha Male, Will Head to Where the Grass is Higher, I Mean Greener

***TOUCH OF GLOVES***

You all know Team Alpha Male (TAM). It is the fight camp founded by professional chin model and Pharrell Williams collaborator Urijah Faber. It is based out of Sacramento, California and is the home of some of the best lighter weight fighters in the world, including Faber, Joseph Benavidez, Chad Mendes, and TJ Dillashaw. The camp also has top notch coaches, such as Fabio Prado, Lance Palmer, and Master Thong. Master Thong is nuts. I don't know where they found that guy but I am eternally grateful that they did. As good as the camp is, and they are very good, there were some issues back in 2012 that required the team to change things up, so they did with a "Bang." You like my wordplay there? I thought it up in 2 seconds. What did you do in the last two seconds? Exactly. In December 2012, TAM brought in former kickboxer and UFC veteran Duane "Bang" Ludwig to serve as the team's head coach. It seemed like an odd choice at first but, in time, it made sense. The team primarily consists of wrestlers. Why not bring in a noted striker to not only oversee the training of all the fighters but to also assist in strengthening their stand-up skills. In the year and a half since he took over, Duane has turned the team from a group of guys who win a lot to a group of guys who win a lot with better punching. I'm sure Duane did help the team but it's not like he was teaching a group of inner city LA kids calculus or anything. These guys were winning and knocking dudes out before he showed up. They had the tools. He just tightened them up. Either way, for as much credit as he gets (and however much of it he deserves) he at least didn't screw up the guys too badly. So good on you, Coach. I look forward to your continued success with Alpha Male.

Or not. It was revealed on Wednesday that Team Alpha Male was parting ways with its revered head coach after 15 months. Duane found out the news the same way many of us have learned of being let go from our jobs: on Fox Sports 1 during UFC Tonight. Curse you, Kenny Florian, harbinger of bad news! Curse you and your perfectly evil hair! The story became controversial as, while Duane had mentioned to Urijah that he was thinking about moving on, he didn't expect Urijah to tell the team, alert the media, and create a press release looking for a new head coach. It put Duane in an awkward position because, while he has a dream to return home to Colorado and open his own gym, he doesn't have any concrete plans yet. Well, I guess it's time to start planning then. Duane will stay on as TAM's head coach until May 24, when two of his fighters, Dillashaw and Chris Holdsworth, will compete at UFC 173. Will the changeover in head coaches and the possible issues between Duane and the team over his release have an affect on their fights? Duane claims they won't but we won't know for sure until then. For now I'll just say that I wish Duane the best in creating his Bang Muay Thai gym and doing it back home in Colorado, where the state laws allow him the ability to establish his own joint. Yep, he'll be able to feel the grass under his feet, get wind in the high elevation, and bake under the warm sun of his home. I may have been a little blunt about the situation. My apologies, Bang. No, my eyes are usually this level of glassy. Why do you ask?

***HORN SOUNDS***




Round Four: Bellator 113, The Hardcore Kid Becomes the Hardcore Champion

***TOUCH OF GLOVES***

Let us step away from all that exciting UFC exciting...ness and take a look at what the competition is up to. Bellator had another great show on Friday with fun action and violent finishes. Or at least most of the show provided that. The main event was the first title unification bout in Bellator's short history, as Light Heavyweight Champion Attila Vegh returned to face Interim Champ Emanuel Newton. Newton won the interim championship at Bellator 106 last November (AKA The Payperview That Would Not Be) against King Mo. Vegh was expected to defend his championship last fall but he suffered an untimely injury and--what's that? Vegh wasn't injured? Bellator just wanted to do a rematch between Newton and Mo? Well, all right then. It wasn't fair that Newton had to settle for an interim belt instead of the full championship but he beat the odds (and Mo) and got his chance last Friday and definitely made the most of it. Newton struck early and often against Vegh over the course of five rounds. Vegh looked content to counterstrike Newton and wait for him to make mistakes. Vegh had Newton hurt in the third round but, for the most part, Vegh stayed on the defensive as Newton outstruck and outpaced the champion. It wasn't the most exciting title fight but Newton continued to impress, taking a split decision victory over the only man to defeat him in the last four years. He is no longer an interim champion. He is the undisputed champion. I can only imagine how happy he must have been updating his online resume.

Last Friday also saw the opening round of the Season 10 Lightweight Tournament, featuring all your favorite fighters, such as....um.....uh....well, there's a guy who dresses like a caveman. That's something, right? I actually like David Rickels. I think the intro video of him smashing stuff with a rock is pretty stupid but I appreciate that he's actually attempting to create a memorable character for himself. You may not remember his name but you'll remember the guy who walks out to cageside wearing a Flintstone's car, although he didn't have the car on Friday. Maybe that's why he lost to Patricky Freire. Well, that and Freire is a scary knockout artist. After eating some hard punches in the first round, Patricky swarmed Rickels in the second and dropped him with a vicious left hook. Bamm-Bamm indeed. Polish fighter Marcin Held did what he does best, that being rip people's legs off, by submitting Rodrigo Cavalheiro with a toe hold in less than two minutes. There seems to be no stopping the kid, especially since he's over 21 now. Derek Anderson punched his ticket to the semifinals with a KO of Brandon Girtz. Actually, he kneed his ticket by crushing Girtz's jaw with one shortly after the start of the second round. It was a glorious knockout. The fourth spot in the semifinals belongs to Derek Campos after a dominant unanimous decision win over Tim Welch. It looks like Campos' next fight will be determined based on what he'd rather have broken: his jaw or his ankle. Decisions....

And that was Bellator 113. Bellator 114 sees the return of Russia's second favorite fighter, Alexander Shlemenko, as he faces Season 9 winner Brennan Ward. I'm sure Shlemenko's baby will be ready.

***HORN SOUNDS***




Round Five: Quick Farewells, Melvin Guillard, Ivan Menjivar, Will Chope

***TOUCH OF GLOVES***

Let's end the column by getting you up-to-date on all the latest shitcannings by the UFC. The major ones that were announced this week were that of Melvin Guillard and Ivan Menjivar. Both men had spent many years in the UFC, Guillard debuting in 2005 and Menjivar originally debuting in 2004 before returning in 2011. Guillard, a contestant on season 2 of The Ultimate Fighter, back when it meant something, was known for having a brash attitude that got him in trouble with management and athletic commissions on many an occasion, including a failed drug test due to cocaine use back in 2007. Guillard was also known for possessing speed and a knockout power that one too many people making fun of Joe Rogan's commentary style would describe as "explosive." He was a very exciting fighter but he wasn't that great at actually winning fights. He won 2 of his last 8 and, combined with a dull performance in his last fight and the amount of money he was being paid to fight (UFC is a stickler for things like actually paying fighters a decent wage), he was deemed expendable and let go. Menjivar was fun to watch but was never able to beat decent competition and, after three straight losses, was also released. It was either due to that or the UFC wanting to avoid a lawsuit from Marvel over Ivan using the Wolverine claws. I expect to see Ivan in the new X-Men film. His old opponent Georges St-Pierre should be able to hook him up. He's got connections.

While those firings were unfortunate but understandable, this one is just uncomfortable. Will Chope was originally considered terrifying for the fact that he is 6'4" (that's 193 cm for my non-'Murica readers) and competes at featherweight. Also, his nickname is "The Kill." Well, I'm not sleeping tonight. Chope may not be either as he learned on Sunday that he had been released due to a "previous military conviction." Specifically, Chope was discharged from the United States Air Force in 2009 for assaulting his ex-wife. The court documents list numerous interactions between Chope and his ex, including an argument over a credit card, that resulted in Chope attacking her. Chope requested an appeal in 2011, saying the conduct wouldn't be repeated due to their divorce, but he was denied by the appeals court. Chope is feeling the effects of the discharge five years later as his fight against Diego Brandao that was supposed to take place on Sunday was cancelled and he's been released. While what Chope did is undoubtedly horrific, it does make one wonder why the UFC didn't become aware of this until now. Sunday wasn't Chope's first UFC fight. He fought back in January. Why didn't UFC look into his military history then? Also, was this the best way to handle the situation? Chope's actions were inexcusable but it's not like they just happened the other day. Maybe he has moved on. I'm not trying to defend the guy but Alexander Gustafsson is set to receive another title shot and he spent 15 months in jail for assault when he was younger. I can't say that the situations are entirely comparable but it is annoying when UFC makes these kinds of decisions just because they failed to do their homework on a fighter. I guess it will work itself out somehow. At least Brandao got his show and win money, allowing him more time to threaten to stab other fighters like the upright citizen he is. Good for him.

***HORN SOUNDS***

That's it for Five Quick Rounds. Thanks for reading. If you have any questions, comments, or suggestions, and it is always appreciated when you do, leave them in the comments section. I will be back in 7 for another Five Quick Rounds. There is Bellator on Friday. We also got World Series of Fighting 9 on Saturday. Can Steve Carl survive the Rousimar? Will Palhares even make it to the fight? We shall see. Enjoy the fights and remember to fight clean, fight hard, fight fair, and never leave it in the hands of the judges...




LATER!!!!!!!!!!!!!!!!!!!!!!!!!!!!!!!!!
comments powered by