SPOTLIGHTS
The Greatest MMA News Column 03.25.14: Retirement
Posted by Dan Plunkett on 03.25.2014

News and thoughts on Shogun vs. Henderson 2, why it's time for both to retire, Weidman's injury, possible UFC 173 main events, Bellator 114, and more!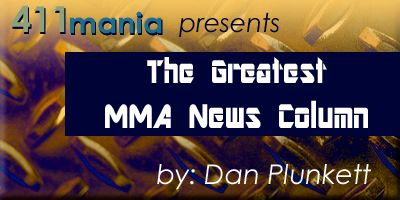 Quitting Time for Henderson, Shogun



Slow. Predictable. Knocked down with increasing ease. Such are the qualities of fighters that continue to compete after their expiration date. More often than not, their fights end badly; a painful-to-watch knockout made more uncomfortable to witness knowing what they once brought to the table. All legends, especially those in sports of inches like mixed martial arts, eventually fall. Most continue to compete after the initial sad fight. Some may find another moment or two of greatness, but more sad moments are inevitable.

In a sport like baseball, those sad moments are easier to digest. A swing and a miss isn't just common, it's fairly innocuous to the player and team. In combat sports, those moments are profoundly sadder. It's months of anticipation, knowing the inevitable but hoping for a miracle. Then the fighter can't get out of the way of strikes like he or she once could. The strike lands, and the fighter can't shake it off like he or she once could. The fighter falls, and you hope he or she feels the obvious sense to walk away. Walk away from the hopes of one last shot at the top. Walk away from any chance of more brain damage.

Both Dan Henderson and Mauricio Rua are competing past their expiration dates. The two were already past their peak days when they first met two-and-a-half years ago. Sunday's rematch failed to reach the excitement level becoming of such a pairing because of their sub-par combined 2-5 record since the first meeting and the unmatchable intensity of the 2011 classic.




Sunday night in a grievously hot arena in Brazil, Dan Henderson looked to be fighting his last fight. In the past, his game plan was never a question, especially in the latter stage of his career, but wicked strength, major punching power, a seeming invulnerability to unconsciousness, and toughness possessed only by the manliest of the manliest of men led him to success. But landing knockout blows becomes increasingly difficult the slower a fighter gets, as does evading an opponent's knockout blows. Henderson's tried-and-true plodding face-punching strategy met the brink of failure Sunday after revealing itself to be just too slowed down.

The 43-year-old all-time great was knocked down in each of the first two rounds against Rua. The 11-years-younger Brazilian looked to be playing a different game than Henderson, finding openings to punch him in the head, kicking his planted feet with a thud, and easily moving away from his power shots. A loss could have meant the end of Henderson's career, as it would have marked the 17 year vet's fourth consecutive loss. In the long-run, a loss may have been preferable to the eventual outcome.

In the third round, Henderson cracked Rua with a right hand to the nose as Rua broke off a clinch. Rua tumbled backward before Henderson ended the match with follow-up blows. The comeback win opens up many realistic opportunities, none of which involve retirement. That means more fights, more punches absorbed, more knockdowns, and probably more knockouts. Closing in on 44 with an already stellar career resume and no real chance of winning a championship, sticking around is only guaranteeing that sad moment we first got a taste of when Henderson was bulldozed by Vitor Belfort in November. It's unfortunate accomplished, past-prime fighters see a great win as a reason to continue rather than an opportunity for a happy exit. Although that competitive drive is a large part of what made them successful in the past, there comes a time when it needs to be parked.

It's even tougher to turn off that competitive drive and step away from the sport when you're at an age a lot of other fighters continue to thrive at. Mauricio "Shogun" Rua, 32, once the finest light heavyweight mixed martial artist in the known world, was never able to regain his place in the sport after returning from a knee injury in 2011. With knees held together with random office supplies and maybe even a piece of bubble gum, Rua has taken the worse losses of his career since that injury, which wasn't his first to his knees. Shogun sat out all of 2008 with repeated ACL tears and upon returning looked like a perennial preliminary card fighter. He had a remarkable turnaround, putting on perhaps the best performance of his career later in 2009 against Lyoto Machida, but he hasn't had anything close to that performance since re-injuring his knee.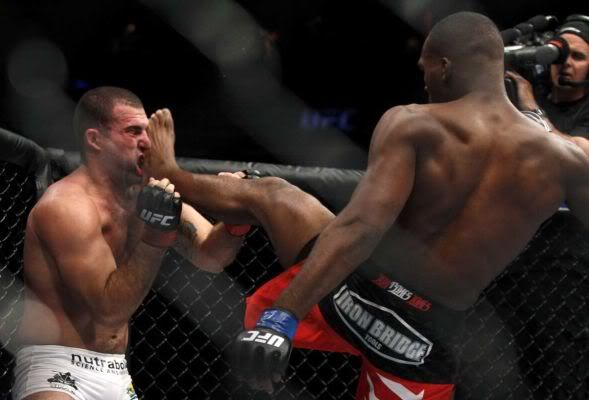 There was his ugly loss to Jon Jones, the first match against Henderson in which he took a lot of damage, a fight against Brandon Vera that was far tougher than it should have been for Rua, a loss to Alexander Gustafsson where he took a good amount of shots, and finally Sunday's knockout loss. The most telling bout of Shogun's fall though was one where he took hardly any damage. Last August, Shogun was little more than a grappling dummy for Chael Sonnen. Rua didn't land a single meaningful strike or threaten with anything at all before tapping to a guillotine late in the first round.

At least to the degree of not getting finished, Rua could likely hang with a good number of the top light heavyweights in the world today, but he'd be unlikely to win and a lot of those bouts would see him take a significant level of punishment. Rua will likely continue to find success here and there: knockouts like that in December against James Te-Huna's, solid performances like Sunday against Henderson. But it's tough to see him breaking out of the give-and-take level he's fallen to. He should be able to beat lower and mid-level fighters for years to come, but the curse of having a name and career like Shogun's is he's going to have to fight really tough opponents nearly every time out. As he declines, that only increases the likelihood of a sad ending.

---
---




NEWS!



Weidman injured; Machida bout moved to UFC 175. A knee injury has forced Chris Weidman out of the main event of UFC 173 on May 24. The match has been rescheduled for UFC 175 on July 5. No new fight has been found to replace it on top of UFC 173, and there aren't really any strong options. The current UFC 173 co-main event of Junior dos Santos vs. Stipe Miocic isn't strong enough to be considered unless there are no other options. The best drawing fight would likely be the Wanderlei Silva vs. Chael Sonnen grudge match currently scheduled to headline a Fox Sports 1 show May 31 in Brazil. The fight was originally slated for the pay-per-view card but was switched apparently as part of the demands from Silva. It was tough to get him to sign for the fight, so it would likely be difficult to get him to agree to move it back to Las Vegas.

A title match featuring one of the lighter champions, Demetrious Johnson, Renan Barao, or Jose Aldo, is probably the most likely outcome. None of those would draw well, but they're something. The option I would go with, if possible, is Nick Diaz against Robbie Lawler, Rory MacDonald, or Tyron Woodley. Diaz proved to be a legitimate star in main events against Carlos Condit and Georges St-Pierre and has the right personality to draw in non-title situations. The business upside to a Diaz-headlined pay-per-view is much greater than the potential upside from an Aldo, Barao, or Johnson title fight. With PPV buys from UFC 171 looking to be in the low-300,000s according to Dave Meltzer, perhaps Robbie Lawler would be the best option of the three potential Diaz opponents.

Bellator 114 is Friday. If there was any justice in this world Alexander Shlemenko would be one of the most popular pugilists on it. The dynamic striker returns Friday to defend his middleweight title against Brennan Ward. I expect Shlemenko to take that one. In a middleweight tournament semi-final, Brett Cooper fights Kendall Grove. Cooper had a great fight last year against Shlemenko, while Grove won his Bellator debut in October. Also on the main card are the featherweight tournament semi-finals with Desmond Green vs. Will Martinez and Daniel Weichel vs. Matt Bessette. On the prelims, Rad Martinez, who gained fame as the subject of an ESPN piece detailing his care of his ailing father, will have his retirement match against Edson Berto. Other notables on the prelims are Justin Wilcox, who fights Jason Fischer, and Bubba Jenkins, who faces Sean Powers.

Quick news: Wanderlei Silva finally signed the contract to fight Chael Sonnen on May 31 in Sao Paulo, Brazil… Emmanuel Newton won the Bellator light heavyweight title from Attila Vegh at Bellator 113… UFC released prelim fighter Will Chope before Sunday's show after details about domestic abuse incidents leading to a bad conduct discharge from the Air Force came to light… UFC released Melvin Guillard and Ivan Menjivar… Frankie Edgar vs. BJ Penn is confirmed for the TUF 19 Finale on July 6… Ben Henderson vs. Rustam Khabilov headlines UFC Fight Night in Albuquerque on June 7… I have no idea why people are talking about Anderson Silva vs. Georges St-Pierre like it's a better idea now than it was from 2009-2013. The entire point of the fight was the top two pound-for-pound fighters fighting. At least it's not as nonsensical as people still wanting to see Fedor vs. Lesnar. Regardless, I don't see that fight ever happening unless Anderson comes down to Georges.

---


As always, thanks for reading. Feel free to leave any feedback in the comment box or email me at plunkettdan@yahoo.com.

comments powered by