SPOTLIGHTS
Five Quick Rounds 04.01.14: WSOF 9, Bellator 114, Injuries Are Everywhere, More
Posted by Evan Zivin on 04.01.2014

From Georges St-Pierre tearing his ACL and the Chris Weidman vs. Lyoto Machida fight getting scratched from UFC 173 due to injury to the results of WSOF 9 and Bellator 114, 411's Evan Zivin examines these stories and more in Five Quick Rounds!

Hey hey, fight fans, and welcome back to Five Quick Rounds! I am your host, Evan Zivin, and I am more excited than Cris Cyborg fighting a Dutch kickboxer to be here once again!

I will begin with a philosophical question. Here goes: If a Cris Cyborg falls in a Muay Thai kickboxing match, does the MMA community make a sound? It's a question that some have been answering in the wake of Cris "Cyborg" Justino's loss to Jorina Baars at Lion Fight 14 on Friday night. I've even seen comments that say Cyborg will need more wins to challenge someone like Ronda Rousey after a performance like that, which I think is absolutely silly. First, it was a kickboxing fight, not MMA. Her performance in one sport should not have any bearing on another. Second, look at who she fought. You know what Baars' Muay Thai record is? 36-0-5. Yeah. She's competed 41 times and hasn't lost. She hasn't fought as much in recent years but that's mainly because no one would fight her because she's that good. Muay Thai is her sport. If this had been an MMA fight, things would be completely different. You know what Baars' MMA record is? 1-3. Third, Cyborg did really well in the fight. She was rocked a few times, yes, but she came back later in the fight and dished out as much punishment as she took. It was a great fight and just the fact that she was competing for a title against one of the greatest kickboxers on the planet in just her THIRD kickboxing match AND she was holding her own? That's damn impressive. Cyborg is more than ready to fight Rousey. She just has to finish cutting off her leg so she can make 135. She's getting weight loss tips from BJ Penn so it should all work out just fine. Just. Fine.

All right, so with fighter introductions out of the way, I have five more rounds of MMA news and opinions to throw at you. This week, we look at the postponement of Weidman/Machida and the new UFC 173 main event, GSP tearing his ACL, and the results of WSOF 9 and Bellator 114. Let's to it do it.

FIGHTER YOU READY!!!!
FIGHTER YOU READY!!!!

FIGHT!!!!




Round One: Chris Weidman Injured, UFC To Allow Team Alpha Male One More Title Loss Instead

***TOUCH OF GLOVES***

File this one under "News that broke after I turned my column in last week and now I look bad because my work is now," especially since I still wrote it for Tuesday and it got put up on Wednesday, but Chris Weidman is injured, you guys. Like, for reals. As if enough champions (current and former) aren't injured right now, it was reported that the UFC Middleweight Champion hurt his knee last Monday and will be unable to defend his championship against Lyoto Machida at UFC 173. That's a big loss for the Memorial Day weekend event, which is usually highlighted with a big fight since Las Vegas is always busy that time of year and because our veterans deserve it, dammit! They fought too hard to not be rewarded with a big fight featuring the best talent the world leader in mixed martial arts fighting has to offer. Oh well. At least the fight isn't being cancelled. It wasn't a major injury and just required minor surgery. The result is that the title fight is being pushed back to UFC 175, the July Fourth weekend card. So now that event has a big title fight, which is great because our founding fathers deserve it, dammit! They fought hard and should be rewarded with a big fight featuring the best talent the world leader in mixed martial arts fighting has to offer. What's that? All of the founding fathers are dead? That's all right. They can rest easy knowing that they made it possible for us to live in a country where we have the freedom to watch top fighters like Weidman and Anthony Pettis over-train to the point of injury, costing themselves, their trainers, and the promotion they represent lots of money at the same time that the fans lose the fights they want to see the most. God bless the USA.

So UFC 175 has it's main event set but what about UFC 173? Who can UFC find to top this card featuring such scintillating fights as the newly-added Robbie Lawler vs. Jake Ellenberger and Junior dos Santos versus the Croatian guy in the checkered shorts who isn't Mirko Cro Cop even though we want him to be? How about Renan Barao vs. TJ Dillashaw? Is that okay with everyone? I've seen two complaints with this fight. The first is that everyone thought Raphael Assuncao was getting the next shot. He's on a six fight win streak which includes a win over Dillashaw. Why is he getting passed over? The answer to that question is...you guessed it...he's injured! Raphael is still recovering from a rib injury sustained in his last fight and wouldn't be ready in time so UFC is giving Dillashaw the fight. He was already preparing to fight on the card so it shouldn't be too big a deal other than Dillashaw went from training to fight Takeya Mizugaki to fighting one of the pound-for-pound best fighters in the world. Eh, I'm sure he'll do fine. The other complaint I've seen is that the fight is considered a step down from Weidman/Machida and it won't draw as well. Well of course it won't. Machida is a much more intriguing and deserving challenger to Weidman than Dillashaw is to Barao. I think TJ is good but I wouldn't say he's ready to fight a champion the caliber of Barao. We all saw what Barao did to Dillashaw's mentor Urijah Faber in his last fight, right? There's actually a good story there that can be crafted for this match-up, kind of like how Matt Hughes avenged Pat Miletich after he lost to Carlos Newton. Well, except Barao is a million times better than Newton. The fight will also be the last one for Team Alpha Male with Duane Ludwig as their head coach. It's the last opportunity he'll have to win UFC gold. Can Dillashaw be the one to finally bring the UFC belt back to Sacramento? No, but I have no problem seeing him try. It's still going to be a good fight so you should watch it. Now get to promoting it, UFC. The story practically writes itself.

***HORN SOUNDS***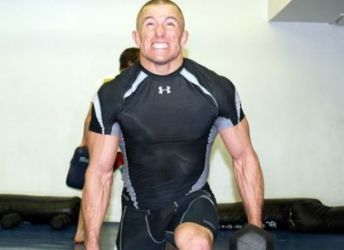 Round Two: Georges St-Pierre Doesn't Have an Upcoming Fight, Tears ACL Anyway

***TOUCH OF GLOVES***

Does anyone remember those UFC Primetime specials that UFC used to roll out to hype up big Payperview main events? I loved those. The shows were extremely well produced and did an excellent job of highlighting a fighter's story and personality and really allowed you to get to know individual fighters and what they've been through in their personal lives to become a top fighter. The show created some genuinely emotional moments, such as when Ronda Rousey recounted the story of her father's death. The show also showed us a side of fighters we hadn't seen before, such as Brock Lesnar and Nick Diaz. Seriously, the show managed to make Diaz look human and not just the thug stereotype that he continues to portray to get attention. The producers should have gotten an Emmy just for that. In addition to showing the lighter side of fighters, the show also excelled at giving an inside look at the training camps of these elite athletes. One of the best examples of that is of Georges St-Pierre. I remember watching the show back in 2011 when the former UFC Welterweight Champion was preparing for his title defense against Jake Shields. It involved track and field and gymnastics and using a freakin' Olympic training center because it was the only place that had the equipment necessary for GSP's extremely intense training regimen. He didn't become as good as he is by coasting on natural skill. He worked hard and, with how hard he's pushed himself to be as good as he is, it's surprising he hasn't injured himself. Well, any more than he did back in 2011 when he tore his ACL and was on the shelf for a year. Well at least he doesn't have to worry now, since he's not fighting right now......right.........?

Dammit. Seriously Georges? You tore your ACL again? Yes, it has happened. It was reported last Thursday that GSP tore his left ACL while training. Training for what, you may ask? For nothing. Absolutely nothing. He just enjoys training. He may not be defending the title of Best Welterweight/Tommy Hilfiger Model in the World right now but he still enjoys the act of training and sparring and bettering himself as a martial artist even when he's not actively competing. Even when he stepped away from the UFC spotlight in November he still continued to train because it's what he loves to do. It's what makes him happy. I'm not faulting GSP for training when he doesn't have to. It's good that he does. Not only is it good for his mental health, it also keeps him in good physical condition for when the time comes that he's ready to return to fighting since you know it's going to happen. Fighting is what Georges does. He is inseparable from the sport and he's still near his peak so you know he'll be back in the cage sooner or later. Well, now it looks like it'll be later, as an ACL tear means it won't be until next year before he even considers fighting again. That's unfortunate, especially because UFC may have been willing to look into some of the complaints Georges had regarding their drug testing policies and start implementing changes as a way to get their top PPV draw to come back and get people to actually pay for fights again. So much for that. At least Nevada banned TRT, since that will totally stop fighters from using steroids. Yep.....

***HORN SOUNDS***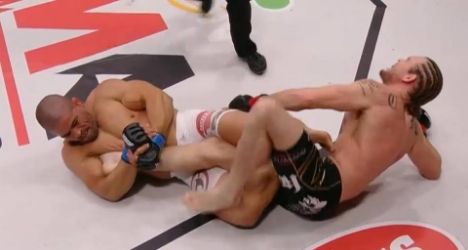 Round Three: WSOF 9, Rousimar Palhares Rips Off a Championship Leg to Add to His Mantle

***TOUCH OF GLOVES***

Well, after all that exciting talk about injuries, let's talk about something else. Let's talk about injuries! Wait. Crap. I said we weren't going to talk about those. How about this then...let's talk about not injuries. That's right. MMA is afflicted with many injuries that hurt fight cards and the sport in general, but did you know that, for as many top fighters who get injured in training and fights, there are just as many and even more who don't get injured? I know. I just blew your mind. Hopefully it won't require surgery. One man who managed to not get injured over the weekend was World Series of Fighting Welterweight Champion Steve Carl. Carl become the inaugural WSOF champion last October when he defeated noted People's Warrior Josh Burkman to claim the gold. Now, normally it wouldn't be a big deal to say that Carl didn't get injured over the weekend but it is when you know who he fought. On Saturday, Carl defended his championship for the first time at WSOF 9 against Rousimar Palhares. Palhares is known as a fierce ground fighter and the best leglock specialist in modern MMA. He's also known for his erratic behavior, which includes holding on to submissions long after his opponent taps. He's a dangerous man who got cut by the UFC for his behavior. WSOF was willing to take a chance on him and give him an immediate title shot, much to the dismay of many, including Carl. So, was giving Paul Harris the title shot a good idea? Was Carl able to survive the leglock onslaught?

Nope.

Oh. I should probably elaborate more. The fight was pretty quick. It was one of those "blink and there's a bloody stump where you used to have a foot" kind of moments. Rousimar's best chance to win the fight was, of course, on the ground, so he immediately took the fight there with a fast takedown. Carl looked like he was going to hold Palhares tight (awww...), maybe force a standup. Then, he decided to get active from Palhares' guard and he threw up a triangle. Now, I'm not a grappling expert, but I would think the last thing you would want to do against a master of leg-based submissions is put your legs within his reach by trying to wrap them around his head. Sure enough, Palhares pulls out of the submission and instantly grabs Carl's right foot. Palhares then digs Carl's foot into his right armpit and cinches up an inverted heel hook, which is a lot more painful than a standard heel hook. I wouldn't know that from experience but Bas Rutten said it hurts more and he makes me laugh so I always believe everything he says and so should you. Carl tried to roll out of the hold but once Palhares had the leg, it was already too late. Carl had no choice but to tap and, after only a minute and nine seconds of work, Rousimar is now a champion. He even let go of the submission and everything! I mean, he didn't stop exactly when the ref told him to, but close enough! We might be seeing a new Rousimar. A smart Rousimar. A respectful Rousimar. A Rousimar who badly wants back into the UFC but will settle with being the WSOF champion. For now. Start practicing your leglock defense now, Jon Fitch. July is only four months away. Long live the myth of the Rousimar.

***HORN SOUNDS***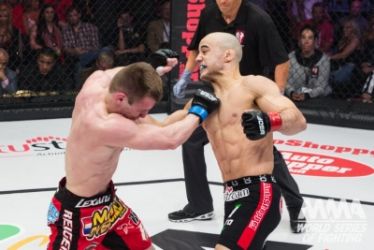 Round Four: Rest of WSOF 9, Marlon Moraes Fulfills the Blood Prophecy, Captures WSOF Bantamweight Championship

***TOUCH OF GLOVES***

Saturday night was a big moment for World Series of Fighting, as the first true WSOF homegrown fighter ascended to the throne that had been built for him a year and a half ago. Of the first nine U.S. World Series of Fighting events (I'm not talking about any of that WSOF Canada nonsense), Marlon has competed in 5 of them, including the very first one where he took a hard-fought split decision victory over former WEC Bantamweight Champion Miguel Torres. Man, remember when he was The Man? Marlon was just some scrappy unknown prospect who WSOF clearly thought was destined for big things and he proved that right out of the gate by beating a former champion. Marlon proved to be a good investment in three subsequent fights, setting up a fight with Josh Rettinghouse for the inaugural title. Rettinghouse came into this fight as a virtual unknown but he looked like he might give Marlon a challenge by taking him down in the first round. That happened, though, after Marlon had already hammered on him with punches and kicks. Marlon threw a lot of kicks in the first half of the fight to the point that Rettinghouse could barely stand by the the third round. It looked like Marlon's "nice guy" nature got the better of him in the second half of the fight, as he threw almost no leg kicks even though he knew Rettinghouse's legs were trashed. The kid was also swinging for the fences in the fifth round so maybe Marlon was smart to play it safe and not rush in to kill his prey just because he smelled blood. It's that kind of thinking that made the Brazilian kid a champion, as he won the title by unanimous decision. It was a great moment for Marlon and for WSOF. I'm sure President Ray Sefo and matchmaker Ali Cool J must be so proud. What? Am I the only one who thinks he looks like LL? Oh well. It's easier than spelling out Abdel-Aziz.

This card was a unique one as, not only did the mythological man known as "Toquinho" make his WSOF debut, we also saw the debut of Yushin Okami, the top ranked middleweight and former UFC title challenger who got cut by the promotion because it apparently wasn't worth the money he was making to keep him around and have him beat everybody. First world MMA problems, amirite? Well, UFC's loss has become WSOF's gain as not only did Okami defeat Harry Potter villain Svetlozar Sevov, he finished the fight. By submission. Yeah. The performance was similar to one Okami's teammate Chael Sonnen had against Brian Stann back in 2011. Okami easily took Sevov down, controlled him from mount, and locked up an arm triangle choke, getting the tap in the second round. I guess training with Chael, living at his house, and having his wife cook steaks for you --Medium Rare-- really pays off. The show also saw the return of Josh Burkman, complete with fuzzy beard action. His opponent was Tyler Stinson, a journeyman fighter who was pegged as Steve Carl's backup opponent in the event Rousimar failed his pre-fight drug test. One can only wonder how different the title fight would have been if Stinson had fought Steve Carl, since Burkman came out aggressive and drilled him with a huge overhand right, putting out his lights about two minutes into the first round. It was a huge win for Burkman and, with a new king atop the 170 pound division, I imagine it shouldn't be too long before he gets another shot at the title. Start strengthening those ankles. That's good advice for everyone to take. You never know when The Rousimar might be lurking. Hey, what's that outside your window? Could it be....nah. It's just your creepy, perverted neighbor who spends all day sitting in his garage and has serious boundary issues. Nevermind.

And that was WSOF 9. WSOF will return in June with a featherweight title fight and the crowning of the first WSOF Middleweight Champion between David Branch and Jesse Taylor. I'm sure Dana White is laughing his ass off right now.

***HORN SOUNDS***




Round Five: Bellator 114, "Storm" Shlemenko Rains on Brennan Ward's Parade

***TOUCH OF GLOVES***

I kind of get the feeling that a lot of people wish the Cold War was still going on. What am I talking about, you ask? Not much. Just that, with all of the issues with what Russia is and isn't doing right now and what the United States is and isn't doing in response to them and with how much fun Rocky IV was, it just seems like we feel better as a society when Americans and Russians are fighting each other. Or maybe we don't want that. I don't really pay much attention to the world, just to people punching each other in the face. Bellator noticed, though, and they had the perfect response to it: a title fight between Bellator Middleweight Champion and Vladimir Putin's favorite hitman for hire (that may not be true) Alexander Shlemenko and the tough, American-born Brennan Ward. Brennan was the winner of the Season 9 Middleweight Tournament, which earned himself a shot at the gold at Bellator 114 last Friday. Brennan ran through that tournament, finishing all three fights. "The Irish Bad Boy," as someone apparently calls him, showed himself to be a very strong, very aggressive fighter. This may be due to his intolerance for, and I am quoting Ward from the pre-fight video package, "pussy shit." Yeah, that sounds American to me. Bellator found a man who could potentially be one of Shlemenko's toughest fights yet, but Shlemenko has taken world-class fighters and made them look like amateurs many times. Plus, he had his wife and daughter there so you know he was ready to go.

The first round of the fight was a close one. Shlemenko won the first half with his striking. Ward came into the fight with a more diverse set of punches and kicks and he looked to be putting his combinations together better but Shlemenko has massive power in his hands and did damage with his overhands and hooks. It was a good start for the champion but Ward was game, taking Shlemenko down halfway through the round and controlling him for the rest of the round. Was this fight going to be a 5 round, back-and-forth chess match? It could have been but then Shlemenko latched on a guillotine choke off a takedown attempt and finished the fight about a minute and a half into the second round. Wow. You can't show any weaknesses to Shlemenko or he will latch onto it and choke the life out of it. It was a great effort by Ward but it wasn't his night. Shlemenko wasn't perfect but you have to be a damn good fighter to give him problems so props to the scrappy Irish kid. Bellator 114 also saw the final of the Season 10 Featherweight Tournament set as the German Daniel Wiechel will battle the dreadlocked Des Green. Do it Des. Do it for Daniel Strauss...'s hair. Also in a Season 10 Middleweight Semifinal, Kendall Grove came close to finishing former title challenger Brett Cooper only to get his lanky ass knocked out in the second round. So another UFC vet lost in Bellator? And it was an Ultimate Fighter winner? A winner from the first five seasons? But the show was still decent back then! This new world of ours continues to frighten and confuse me.

And that was Bellator 114. Bellator 115 features Cheick Kongo's shot at the Bellator Heavyweight Championship against undefeated Vitaly Minakov. Will a former UFC fighter become a Bellator Champion? And will any of Cheick's friends maintain interest when he tells them about it? Tune it to find out!

***HORN SOUNDS***

That's it for Five Quick Rounds. Thanks for reading. If you have any questions, comments, or suggestions, and it is always appreciated when you do, leave them in the comments section. I will be back in 7 for another Five Quick Rounds. There is more Bellator on Friday. Enjoy the fight and remember to fight clean, fight hard, fight fair, and never leave it in the hands of the judges...




APRIL FOOL'S!!!!!!!!!!!!!!!!!!!!!!!!!!!!!!!!!!!!!!!!!!!!!!
comments powered by