SPOTLIGHTS
The Greatest MMA News Column 04.01.14: No Joke
Posted by Dan Plunkett on 04.01.2014

News and thoughts on Barao vs. Dillashaw at the new UFC 173 main event, new MMA brain injury study, St-Pierre's injury, Henderson vs. Cormier, World Series of Fighting results, and more!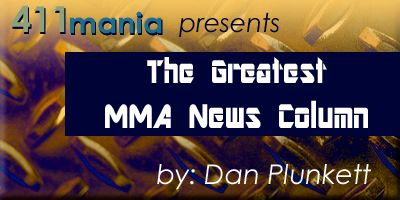 NEWS!



Renan Barao vs. TJ Dillashaw now headlines UFC 173. UFC 173 went from being one of the bigger shows of the year with Chris Weidman vs. Lyoto Machida to a show where the main event weight class may be more than the amount of pay-per-view buys (in thousands). After the Weidman vs. Machida fight was shuffled to July due to a Weidman injury, UFC had limited options for a replacement main event. Wanderlei Silva vs. Chael Sonnen or a Nick Diaz fight were the strongest realistic options, with championship bouts from Jose Aldo, Barao, or Demetrious Johnson being more realistic, but less preferable options. UFC announced Thursday that Barao, perhaps the least known of UFC's nine champions, had been tapped to headline the show against TJ Dillashaw. The challenger slot was initially offered to Raphael Assuncao but he declined citing injury.

News of the main event, though preferable in the top slot to the Junior dos Santos vs. Stipe Miocic co-main event, was met with a collective whimper. Although the champion is unquestionably a fantastic fighter, BaraoMania hasn't quite caught on. Historically, it's difficult for lighter weight and non-English speaking fighters to get over with the North American audience. Dillashaw is no more known than Barao and doesn't figure to pose any more of a threat to the champion than his teammate Urijah Faber did in his two bouts with Barao.

Also added to the show was Robbie Lawler vs. Jake Ellenberger. The fight, like every recent Lawler fight, should be really good. Ellenberger has been out of action since July, when he was picked apart by Rory MacDonald. Despite Ellenberger being a top talent, the fight probably moves Lawler out of the immediate welterweight title discussion. The fighters in the picture are Rory MacDonald and Tyron Woodley, with Nick Diaz and Hector Lombard as longshots. With champion Johny Hendricks looking to be out until of action until fall, the gives the contenders time to sort things out in the interim. A win could notch MacDonald or Woodley the opportunity, or the right match-up could give Diaz or Lombard an opportunity.





ACL tear stops talk of St-Pierre return for the near future. There was speculation that maybe Georges St-Pierre, who vacated the welterweight title in December to take time away from fighting, could perhaps return in time to be Hendricks' first title challenger. That won't be happening. The 32-year-old announced on Twitter that he had torn his left ACL in training. He had previously torn his right ACL in December 2011 and didn't return for 11 months.

If St-Pierre is determined to return, the injury isn't a career ender and not as serious as blowing out his right ACL again would have been, but it's still a major blow and may swing the odds of a return into the "highly unlikely" category. St-Pierre was never quite the same upon returning from his last ACL tear. He didn't have the same speed or explosiveness, which hurt his takedowns and caused him to absorb a high amount of strikes in his last three fights. By the time St-Pierre would return, he'd be close to 34 and coming off a long layoff after a significant injury. I don't think that St-Pierre would be well equipped to beat a healthy Johny Hendricks.

Cormier vs. Henderson added to UFC 175. Whatever talk there was of Daniel Cormier vs. Rafael Cavalcante has been pushed to the side. MMA Fighting reported Monday night that Cormier will instead face Dan Henderson with the winner getting exclusive rights to use of the first name in the UFC.

Cormier is waiting on a light heavyweight title shot and chose to remain active instead of sitting back as everything inevitably goes wrong forcing him to fight again anyway. He looked excellent in his divisional debut against the unheralded Pat Cummins in February, but it would have been surprising if the fight saw him do anything but run over Cummins. A real test is needed to see how Cormier has adapted at light heavyweight, and unfortunately Henderson probably isn't that test.

Despite never having a big run on top of a division, Henderson, 43, has firmly established himself as an all-time great. He was able to become the top title contender at 41, which in a way is just as impressive as Randy Couture winning the heavyweight title at 43 in 2007. The UFC heavyweight division was incredibly weak at that point in time and 2007 Tim Sylvia was no better than the 2011 versions of Shogun Rua and Fedor Emelianenko. Henderson is still the only fighter in major MMA history to hold titles in different weight classes at the same time. In 2005, he won a Pride Grand Prix. The crown jewel of his career would have been a UFC title belt in the post-Pride light heavyweight or middleweight divisions when UFC had nearly all of the top talent, but he failed in a hotly contested bid against Rampage Jackson and was Anderson Silva's fourth UFC victim.

For the vast majority of his stellar career, Dan Henderson would have provided a very tough test for a fighter like Cormier. The Dan Henderson that competed two Sundays ago versus Shogun Rua is a fighter Cormier should be a major favorite against. Cormier, 35, is faster, a better wrestler, a better boxer, and one of the smartest fighters in the game in terms of avoiding the most dangerous aspects of his opponents' games. Henderson still has the super right hand of ensured doom, but he's getting knocked down more than ever.

If Henderson can pull off the improbable, it would put him at most one more win away from a title shot and be a big addition to his career resume.

World Series of Fighting 9 results. I wouldn't call World Series of Fighting 9 a good show. It had the usual wackiness and mismatches of second tier promotions and there weren't any great, high level matches. In the main event, Rousimar Palhares said screw unpredictability and beat Steve Carl with a heel hook in 69 seconds. He even held it for a bit too long, but not so long that it would cause an uproar. The fight made me wish Ben Askren signed with WSOF, because he would be a really interesting fight for Palhares. Next for Palhares is likely Jon Fitch. The match was announced for early July, but Fitch later noted on Twitter he agreed to fight no later than June.





The co-main event was an embarrassment. Marlon Moraes, a very good fighter, went against Josh Rettinghouse for the right to become the promotion's first bantamweight champion. Moraes landed hard leg kicks that had Rettinghouse barely able to stand by the third round. Even as he collapsed to the ground with every kick Moraes would land, the referee, the doctor, and Rettinghouse's corner allowed the match to continue. It was a failure of duty on every level. It was clear Rettinghouse was done in the third round when for an extended period he did nothing but turtle up. When referee Jason Herzog failed to stop the fight at that point, Rettinghouse gamely continued on and would eventually change his stance and throw strikes, but nothing was to great effect. After five lopsided rounds, Moraes took home the title via decision. Commentator Todd Harris called it an early fight of the year contender.

Yushin Okami made his promotional debut by totally dominating the outmatched Svetlozar Savov. An arm triangle choke ended Savov's night. In the last main card match (well, there was one more, but I didn't see it), Josh Burkman knocked out Tyler Stinson in the first round.

University of Toronto study says MMA more dangerous for brain than boxing, football, and hockey. The American Journal of Sports Medicine published a University of Toronto study which claims MMA fighters are at a greater risk for brain trauma than pretty much every other athlete. The study determined that one fighter receives a traumatic brain injury in about a third of UFC bouts. That is a much higher rate than boxing, football, kickboxing, and hockey.

The study reviewed records from numbered UFC events from December 2006 to May 2012. Since the traumatic brain injury diagnoses came via reviewing records and not medical data, the conclusion isn't reason to institute widespread changes in the sport, but should be cause for concern and lead to a more expansive study on the subject.

Additionally, the study reviewed tape of 142 matches to examine the knockouts themselves. The average referee response time to a knockout, or the time from the knockout to the referee stopping the fight, was 3.5 seconds. That's something athletic commissions can monitor relatively easily and make a real attempt to improve on, so hopefully that happens. For TKOs, the study found fighters absorbed 17 punches to the head in the final thirty seconds before a fight was stopped. The study recommended that matches be temporarily stopped when a fighter is knocked down, which goes against the conventional wisdom that something like boxing's standing 8 count only serves to allow fighters a brief window to recover so they can go on to receive even more damage. Also recommended were mandatory brain scans after a fighter suffers a loss via (T)KO, which is a good idea.

The study fails to take into account the damage done in training. A number of fighters believe the real damage is done in the gym and not the cage. Training is something that's very difficult to take into account because it's impossible to follow every fighter around and document how many hits to the head they take and what the real damage of those blows is.

Essentially, the really meaningful parts of the University of Toronto are being overlooked for click-friendly headlines and premature conclusions. The most meaningful data in the study came from the portion of reviewed tape, because is documented clear safety issues that can be addressed relatively easily. The other portion of the data amounts to little more than what we already know: MMA is dangerous. It did, however, manage to shed light on that danger, which isn't a bad thing because it can lead to stronger precautions, like longer medical suspensions and mandatory testing after (T)KOs, being put in place. Ultimately, medical data collected over a long period is needed to draw actionable, drastic conclusions.

Quick news: I wish I had more time to write about it, but Cris Cyborg lost her Muay Thai fight this weekend. I don't think it hurts a potential Rousey fight, especially with there being a personal issue between the two. A Cyborg win would have been better for the Rousey fight, but it's not a big deal… The Ultimate Fighter 19 cast list was released, with the most notable name being former Bellator champion Lyman Good. There is one surprise fighter that will be revealed during the premiere. I assume it's a name fighter, but not a name big enough to move ratings or else they would have promoted it beforehand… UFC announced plans to move into Puerto Rico in 2015… Alexander Shlemenko beat Brennan Ward to retain his Bellator middleweight title… In their long-delayed rematch, Eddie Bravo and Royler Gracie went to a draw in BJJ at Metamoris 3. I also wish I had more time to write about this. Bravo, as a brown belt, submitted Royler, a multi-time world champion by that point, with a triangle in 2003. The rematch was said to be great with Bravo coming across really well.

---


As always, thanks for reading. Feel free to leave any feedback in the comment box or email me at plunkettdan@yahoo.com.

comments powered by