SPOTLIGHTS
MMA's 3R's 4.03.14: Bellator 114, WSOF 9, Injury Changes to UFC 173, and More
Posted by Jeffrey Harris on 04.03.2014

From Georges St-Pierre getting another torn ACL injury and Rousimar Palhares winning the welterweight title at WSOF 9 to Alexander Shlemenko defending his belt and more, 411's Jeffrey Harris breaks down the Right, the wRong, and the Ridiculous from the week in MMA!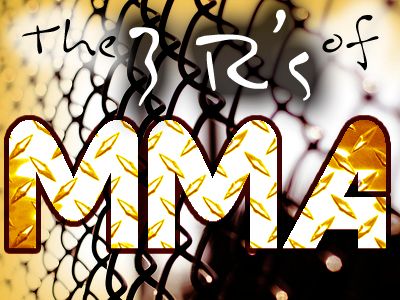 *The Column Concept*
Greetings loyal readers and welcome back to a brand new edition of the MMA's 3R's, where we look at the Right or the good, the wRong or the bad, and the Ridiculous or the absolute worst in the MMA world.

First off, I wanted to give a shout out and thanks to all the people who read the column and left me some feedback last week. So that was very much appreciated.

Alright, so this weekend, we actually had the week off from UFC. Bellator MMA was back with Bellator 114. World Series of Fighting was also back in action with WSOF 9. So let's get to it.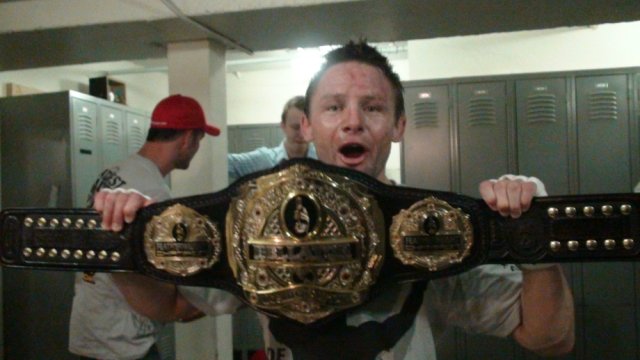 THE RIGHT:


Rousimar Palhares vs. Steve Carl: Well that title run by Steve Carl was short-lived. Palhares was given another chance to fight and continue his MMA career by Ray Sefo in WSOF, and now he's won their welterweight title in his promotional debut. Palhares ended the fight almost immediately by going for his signature move, a heel hook, and he finished the fight in just over a minute an inverted version of it. Well Palhares has quickly staked his claim in WSOF after getting dropped by the UFC for his penchant to hold on submissions too long, as well as a string of bizarre behavior throughout his UFC run. This included a drug test failure. To Palhares' credit, he was randomly tested for this fight and it was clean. And while I see there was some controversy about the finish, I don't think this was as heinous as his previous offenses. I think the talk comes from Palhares' rather spotty reputation, and that's understandable. The referee came in and called for Palhares to break the hold, and he did. Now all that being said, Palhares should be getting this added scrutiny due to his reputation. This is really his last chance to prove he can turn over a new leaf on a bigger stage. Now Palhares will be fighting Jon Fitch next in a title bout, and that's a good, intriguing fight for WSOF and Palhares. I'm not sure Palhares will be able to pull off his nasty submission work on Fitch.


Rousimar Palhares submitted Steve Carl in just over a minute to win the welterweight title at WSOF 9. It was Palhares' promotional debut.

Josh Burkman vs. Tyler Stinson: Burkman rebounded from a tough loss in impressive fashion and made quick work of Tyler Stinson. He stopped Stinson with a beautiful knockout just over two minutes into the first round. Burkman looked great here, and he's clearly gotten the disappointment of losing the WSOF welterweight title bout to Tyler Stinson behind him. That was a tough loss because he was the favorite to win and he went in with all the momentum. He submitted Jon Fitch right before that fight, a guy that had beaten him before in his middling UFC run. He looked fantastic here, though. Burkman's really established himself well as WSOF's top stars, and I imagine he will probably fight the winner of whoever wins the upcoming Fitch/Palhares fight. Honestly, depending on how things go, I really hope Burkman can get another shot in the UFC at some point because his recent work in World Series of Fighting has been very impressive.


Josh Burkman knocked out Tyler Stinson in the first round at WSOF 9.

Alexander Shlemenko vs. Brennan Ward: Alexander Shlemenko continued his winning ways at Bellator 114. He submitted season 9 tournament winner Brennan Ward with an awesome guillotine in the second round (you can check out the clip of the finish below). Shlemenko has been a consistent and dominant champion for Bellator, which is good for them in terms of building stars and branding their roster. This marks Shlemenko's third Bellator title defense.


Alexander Shlemenko submitted Brennan Ward in his middleweight title defense at Bellator 114.

Jake Ellenberger vs. Robbie Lawler now set for UFC 173: Now this is one of those situations where an injury turns out a much better and more interesting matchup. Jake Ellenberger and Tarec Saffiedine were supposed to fight on the UFC Fight Pass event in Singapore. Then Ellenberger got injured. Saffiedine made his UFC debut and beat Hyun Gyu Lim. After that, the fight with Ellenberger and Saffiedine got put back on, this time for UFC 172. What happened this time? Saffiedine got injured. While it's a major blow to UFC 172, we however get a great matchup between Ellenberger and Lawler for UFC 173 as a result. It's a nice gain for UFC 173 after the major loss of Machida/Weidman on that card (more on that below). Everyone at welterweight thinks they deserve a title shot right now. Everyone is asking for one. Well, Johnny Hendricks is injured right now and probably won't be able to fight until the end of the year at the earliest. Props to Lawler for stepping up for this fight. I really like this matchup. Lawler, while he didn't get the job done, looked impressive and put in a hell of a fight against Hendricks. In his current UFC run at welterweight overall, he's shown a ton of improvement with his takedown and grappling defense. So I like his chances against Ellenberger. Lawler is ranked No. 1 right now, and rightly or not, Ellenberger is ranked No. 5. Ellenberger still has that stink of that horrendous performance against Rory MacDonald he has to overcome. The way I see it, this fight is his chance to redeem himself, and it is his second chance to prove he can be a top contender. All the things he wants to be in the UFC come through here basically. For Lawler, this is a fight against a top 5 UFC welterweight to keep his name in the running for a potential rematch against Hendricks. So, I dig this matchup and can't wait to see what happens with this fight.


THE wRong:

Chris Weidman injured, off UFC 173: It seems the major injury bug that has long been a plague for major MMA events of the last two years is continuing well into 2014. When I was saying on the 411 Ground & Pound Radio Show around February that we were already experiencing some 2012 levels of major injuries, I wasn't trying to joke and exaggerating. It really seems that way at this point. And here is yet another one. Chris Weidman has been forced to withdraw from the UFC 173 card against Lyoto Machida. The fight has not completely fallen apart yet, and will now hopefully only be delayed to UFC 175 in July as of now. Now I'm glad the fight only appears to be delayed. And honestly, the two new fights for UFC 173 I think are good fights in Renan Barao vs. TJ Dillashaw and Robbie Lawler vs. Jake Ellenberger. Now, is Barao/Dillashaw as enticing a fight as Machida/Weidman? No, but it's still a fight I want to see. Barao's been having a great run and he's been knocking off top contenders left and right. I think that will continue against Dillashaw. But the disappointment of losing Machida/Weidman for this card really stung.


Lyoto Machida will have to wait a little longer for his title shot against Chris Weidman. The fight has now been moved to UFC 175 later this summer.
THE RIDICULOUS:

Georges St-Pierre tears his other ACL: Georges St-Pierre revealed last week that he tore his other ACL, this one in his left knee, during training. He'll have to undergo training and surgery for it soon. Now honestly, I generally saw GSP's recent sabbatical from MMA as just that. He didn't seem ready to close to the door on his MMA career yet. There seemed to be a little bit of a back and forth between him, Lorenzo Fertita, and Dana White on the conditions surrounding his leaving after UFC 167 and vacating the welterweight title. Unfortunately, after his second torn ACL injury, the ultimate choice might be taken out of GSP's hands. So now he's had a torn ACL in both of his knee. Recently, I got the sense that GSP would probably return. Despite all the back and forth, it really just seemed like GSP was burnt out. Since he is OCD, perhaps the complaints and critiques about his recent run were starting to get to him on top of the grind of training and having to fulfill all of his commitments as a champion. Yet even a short time after his sabbatical, he was constantly talking to the press and being around the sport. It didn't seem like he really needed to "get away" all that much. But regardless, his having another torn ACL injury is terrible news. Honestly, GSP really has nothing to prove by coming back. If he does come back, he could probably get an automatic welterweight title fight, be it Johnny Hendricks for a rematch or whoever else. But if he doesn't return, he's still only like 32 and has the rest of his life ahead of him. I'd have no problem with him continuing to play Captain America's personal punching bag, Batroc, in the Marvel Cinematic Universe.



Georges St-Pierre sustained another torn ACL injury last week that could delay any potential return to MMA for him significantly. You can still see him appear in the new movie, Captain America: The Winter Soldier, opening this weekend.

That's it for the R's. But what else is going on at 411mania.com with yours truly, the 411mania Jack of All Trades?

Check out my exclusive interview with Mortal Kombat: Legacy writer and director Kevin Tancharoen.

And for another exclusive interview, I give you the fan-favorite and stunningly gorgeous actress, Eliza Dushku.

Also, check out my official review of the new sequel Muppets Most Wanted.



* TWITTER *
* http://www.twitter.com/411mma *
* http://www.twitter.com/411wrestling *
* http://www.twitter.com/411moviestv *
* http://www.twitter.com/411music *
* http://www.twitter.com/411games *
comments powered by