SPOTLIGHTS
Five Quick Rounds 04.08.14: Bellator 115, Carano Wants to Fight, Burkman Wants to Get Paid, More
Posted by Evan Zivin on 04.08.2014

From Gina Carano's meeting with Dana White and Josh Burkman threatening to leave WSOF to Holly Holm winning her first MMA championship and the altercation between Royce Gracie and Eddie Bravo, 411's Evan Zivin examines these stories and more in Five Quick Rounds!

Hey hey, fight fans, and welcome back to Five Quick Rounds! I am your host, Evan Zivin, and I am as excited as a Las Vegas fashion model with a dream to be here once again!

And what is that dream, you ask? Take a bunch of female models and (some) athletes, put them in lingerie, and have them compete in MMA matches. Roni Taylor got that idea after watching some ring girls fight at a local event and, thus, the Lingerie Fighting Championships was born. Amazing, right? Nothing like hot women with rudimentary grappling skills attempting to fight each other, although some of them are apparently decent, or at least that's what Roni says. It appears that there is a lot of opposition to the concept, with some saying this sets women's MMA back 20 years. To that I say: were women even fighting MMA 20 years ago? Was anyone? The sport barely existed in 1994. I await your apology, critics. So would I watch this sport? Probably not but not because of the scantily-clad women. I wouldn't watch it because the fights are gonna suck. Roni said most of the fights take place on the ground. I demand hot women knockouts! Knockouts or no buys! Oh well. At least this gives men something to watch if they have friends who make homophobic remarks about watching men's MMA. Yeah, shirtless, sweaty men grappling with each other. So much more sexually suggestive than football, where men in tight pants pass balls between their legs and try to tackle each other. Yeah.

All right, so with fighter introductions out of the way, I have five more rounds of MMA news and opinions to throw at you. This week, we talk about Gina Carano's planned meeting with Dana White, Josh Burkman threatening to leave WSOF, Holly Holm winning her first MMA title, Bellator 115 results, and the altercation between Royce Gracie and Eddie Bravo. Let's to it do it.

FIGHTER YOU READY!!!!
FIGHTER YOU READY!!!!

FIGHT!!!!




Round One: Gina Carano to Meet with Dana White to Discuss Either Fighting or Why Arsenio Hall is Still on TV

Hey, remember a couple of weeks ago when Joe Rogan was on a random radio show? You know, the one where the show hosts asked him stupid, ignorant questions about fighting and Rogan responded by making fun of them and telling awful jokes? What's that?You're telling me that applies to every radio appearance he makes? All right, I'll be more specific. It was a month ago on KROQ's Kevin and Bean show (for the record, I hate morning radio shows) and Joe said that a major announcement was going to be coming soon regarding the next fight for UFC Women's Bantamweight Champion Ronda Rousey. The Rowdy one is itching for some competition in the UFC after running through three opponents rather easily. There aren't many options for a next opponent that could be considered major, but there are these three: Gina Carano, Cris Cyborg, and Holly Holm. As for the likelihood of those fights taking place, it comes down to whether UFC is willing to pay Holm the money her management thinks she deserves and whether Cyborg can make 135 and convince Dana that she can do it consistently. As far as Gina is concerned, that seems like quite the long shot. She hasn't fought since 2009 and since then, she has been successful as an actress, starring in such films as Fast and Furious and that one where they altered her voice because it didn't sound rugged enough or something. Gina left fighting years ago and has never looked back. She would never consider returning to the cage for one more run. Would she?

Maybe she would. Gina made an appearance this past week on The Arsenio Hall Show to discuss her acting career and her fighting career. First off, how did she get on Arsenio Hall? Does she have a time machine that can transport people back to 1992? How did she obtain this technology? Will she use this technology for good or just to raid the snack trays from 1990's TV show green rooms? Wait, Aresnio has a show again? That's wild, man. Wild. Gina, wearing her most elegant leather jacket, said that she misses fighting and that now is the time for her to decide to either fight one more time or retire. She hasn't fought in five years but she never stopped training and, at 31, she is still young enough that she could make some waves in the women's MMA scene again if she wanted to. Ronda Rousey has even said that she would love to fight Gina and she would be willing to fight at a catchweight instead of forcing Gina, who competed at 140 and 145, to have to cut to 135. Ronda hasn't made that concession for Cyborg so that tells you how much she respects Gina (or how much she hates Cyborg). Gina also said that she is meeting with Dana White this week. Will it be to discuss a UFC debut? Dana has played ignorance over what they will be discussing but he has said that if Gina wanted to fight, they would allow her to. Technically, she's still under contract to Zuffa for four fights from her old Strikeforce deal so UFC is all ready to go if she is. Or the meeting could just be to discuss UFC promoting her new movie, In the Blood. I don't know what it's about but it involves her fighting in a club while wearing a red dress. I watched the video of the scene a few times for...uh...research purposes. Yeah, AJ Grey knows what I'm talking about! You keep doing your thing, AJ, posting pictures of pseudo-celebrities who are in no way attractive in said picture. It's what makes the Internet go 'round, among other things....

***HORN SOUNDS***




Round Two: Josh Burkman Threatens to Leave WSOF, Stays After Learning UFC Has Enough "People's Warriors"

***TOUCH OF GLOVES***

World Series of Fighting has only been around for about a year and a half, but in that time, the promotion has been successful in doing one thing: creating stars. Now, of course, I'm speaking in relative terms but Ray Sefo and company have done a good job of finding tough, talented, and interesting men and women and turning them into recognizable names closely associated with the promotion. They've done that with Marlon Moraes. They've done that with Nick Newell and Justin Gaethje. They were doing it with Anthony "Rumble" Johnson before he left to return to fighting guys who aren't scrubs. One of the best examples of this is the so-called "People's Warrior," Josh Burkman. Burkman had some success in the three years he fought in the UFC but he also lost as many fights as he won. The time he's spent in the WSOF, though, has made him look like one of the best welterweights in the world. He won fights against UFC veterans Gerald Harris and Aaron Simpson (he won the Simpson fight by KO) before capping off his career resurrection with a stunning 40 second submission victory over Jon Fitch. This lead to Burkman participating in the first title fight in WSOF history. He would lose that fight to Steve Carl, but it was a fun and competitive affair and there's no doubt that people wouldn't want to see him fight for the title again, which he will since he keeps winning and he loves WSOF.....right?

The answer to that would be...as long as he gets paid. Burkman raised WSOF to the big leagues of UFC and Bellator by involving them in a contract dispute. It's the first publicized one in WSOF history. Hooray! These fight promotions grow up so fast. Burkman went on Twitter, the most judicious of all speaking platforms, to ask for his release from the promotion. The issue was over, of course, money. WSOF is like most fight promotions, where a fighter is guaranteed a certain amount of money to show up and fight. The promotion will also guarantee a "win bonus," usually double the show money, if the fighter wins. In Burkman's last fight, a KO win over Tyler Stinson at WSOF 9, Burkman was paid $25,000 with no win bonus. This amount was not his contracted pay rate but part of a special arrangement, as Burkman wasn't originally scheduled to fight on this card but WSOF agreed to get him a fight because he needed the money. We don't know what Burkman's pay rate currently is but WSOF matchmaker Ali Cool J said that it's more than the $25,000 flat rate. So Burkman got pissed that WSOF was disregarding his contract and threatened to leave, but all is good now. WSOF cut Burkman a check for the difference and we have our Joshy back. That's good. I got scared there for a minute. So, congrats to Burkman and I look forward to seeing you fight the winner of the Rousimar Palhares-Jon Fitch title fight. You better keep growing that beard out if you want to win. It worked for Johny Hendricks. Just sayin'.

***HORN SOUNDS***




Round Three: Holly Holm Wins MMA Championship, May Fight Cyborg Just to Make Ronda Rousey Jealous

***TOUCH OF GLOVES***

It looks like Dana White and the UFC brass have been busy lately talking to female fighters. While Dana *may* be talking about Gina fighting in the UFC, he's already had talks with Holly Holm and her management about joining his ass-kicking menagerie. The meeting didn't go well, with the likely stumbling block being...what else...money. As a result, Dana has said he's no longer interested in her, which, going by what Dana has said in the past about fighters he has negotiated with, I'm surprised they haven't already announced her signing. Maybe they were waiting for her to finish up her latest fighting commitment, which went down Friday night at Legacy FC 30. The show, which took place in her home of Albuquerque, New Mexico, saw Holm compete against Juliana Werner for the LFC Women's Bantamweight Championship. It was a fight where you could tell that Werner was completely outmatched against the boxer-turned-undefeated MMA fighter. Holm was landing at will, throwing tons of punches and kicks, but she also was smart about her striking, never over-committing lest she allow Werner to catch her with a strike or take her down. Holm used her size and reach to land combinations, tire Werner out, and wait for her opportunity to finish the fight, which came in the fifth round when she threw a right hook and then crushed Werner with a left head kick that Mirko Cro Cop would be proud of. It was a masterful performance put together by Holm and her coaches, Greg Jackson and Mike Winklejohn. She is well on her way to being an elite MMA fighter. Or, as Dana White calls it, a "f*cking sport killer."

So now that Holly Holm has proven herself as a top prospect by defeating an unknown Brazilian fighter to capture a championship that likely isn't worth the tin it's made out of, what's next? It's all right, Practor, you don't have to answer this one. There are two options. Holm will either A) sign a deal with the UFC and probably fight Ronda Rousey at the end of the year, or B) fight Cris Cyborg on Payperview. Wait, what? Winklejohn, the man responsible for turning Holm into a killer, said there have been talks of putting on a Payperview between the two female strikers. There were plans to have Cyborg attend the fight on Friday but those plans fell apart when Cyborg lost to Jorina Baars at Lion Fight 14 last week. I don't know why that would cause problems in booking a fight. Cyborg lost in a Muay Thai fight to one of the greatest female kickboxers to ever compete. Cyborg vs. Holm isn't going to be a kickboxing fight. It's going to be an MMA fight, which will make things a bit more interesting. Neither woman has spent much time fighting on the ground but Cyborg, who has been fighting MMA longer than Holm, may conceivably have an advantage in that aspect. Still, if we learned one thing from the Baars fight it's that a good striker can defeat Cyborg, so if Holly is truly the real deal and comes in with a smart gameplan, she can definitely win a stand-up battle with Cyborg. It's an intriguing match-up but I don't see it actually happening. UFC is probably going to announce Holly's signing any day now. All she has to do is threaten to sign with Bellator. It works every time. Well, it works some of the time.

***HORN SOUNDS***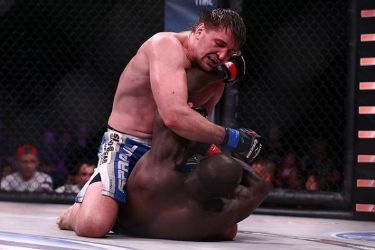 Round Four: Bellator 115 Quick Thoughts, Can the Referee Deduct This Title Fight From My Memory?

***TOUCH OF GLOVES***

You gotta love that Bellator. Just when you think they've run out of fight cards to run, BAM! They hit you with another one. Yeah, I got nothing. Bellator's latest Friday night event was highlighted by the big boys as Vitaly Minakov defended his Bellator Heavyweight Championship for the very first time. Minakov has looked unstoppable in his MMA career, racking up an incredible 13-0 record heading into this fight. He made his Bellator debut in November 2012, winning by TKO. He then racked up two more TKO's to win the 2013 Summer Series Heavyweight Tournament before finishing Alexander Volkov with punches at Bellator 108 to become champion in three minutes. That's as good of a run as anyone in the promotion has had. It's hard to imagine Bellator finding anyone who can challenge the Russian. Then Cheick Kongo showed up. The former UFC gatekeeper came on the Bellator scene last October, winning the Season 9 Heavyweight Tournament to set himself up with this title shot. Kongo presents an interesting challenge to Minakov. He isn't the first UFC fighter Minakov has fought (he has wins over "legendary" "fighters" such as Eddie Sanchez and Fabiano Scherner) but it's the first formerly top ranked fighter he has had the pleasure to face. Winning this fight would mean that Minakov is good enough to face true UFC-level competition. If Kongo wins, it'll be more of a consolation prize for him and a validation that he's not that bad. Either way, somebody better get knocked out or this fight is going to be hella boring. So, how did it go?

Well, I'll say this: the fight didn't end by knockout. The most interesting parts of this five round --FIVE ROUND-- fight were all the fouls and warnings by the referee. Minakov got the worst of it as he caught Kongo in the nuts twice in the first round, the second time resulting in the referee taking a point. I know that it's a running joke to talk about Kongo hitting fighters in the balls, since he did it a few times in the UFC, but I almost felt bad for him here. The second shot, a knee strike, looked really painful. I was hoping we weren't going to have another Eric Prindle-Thiago Santos situation, even though a nutshot-based rivalry could be beneficial for the champion, and thankfully we didn't as Kongo was able to continue. It sucked for Kongo but he returned the favor by relentlessly grabbing Minakov's shorts in the fourth round. Kongo ended up winning that round, which made the fight interesting because Minakov won the first three rounds. With the point deduction added in, Kongo could have forced a draw if he won the last round, not that it would have meant much since the champion keeps the belt in the event of a draw. Plus, it would have opened up the possibility of a rematch and I sure as hell don't need to see these two fight again anytime soon. Anyway, Minakov ended up winning the round by dominating in the clinch and on the ground and took a unanimous decision victory to defend his title. That was fun. Let's not do it again. Seriously, I'm glad that Minakov proved he can hang with decent competition but can he go back to facing overmatched competition again? Those fights were more exciting.

And that was Bellator 115. Bellator Heavyweight semi-finals headline Bellator 116 on Friday. Lavar Johnson and Blagoy Ivanov have both faced death before and laughed. This better not be a 15 minute fight.

***HORN SOUNDS***




Round Five: Eddie Bravo Fights Royler Gracie and Gets Yelled at By Royce Gracie, Is Totally Stoked About It

***TOUCH OF GLOVES***

With no UFC happening this past week (I know, we fight fans have it rough), let's talk about something related to MMA that ended up involving the original Ultimate Fighter, and no, I am not talking about Forrest Griffin so quit asking. As a fan of MMA, I am at least somewhat interested in the goings-on of other sports and martial arts, as I think all fans should be, and on March 29th, we were treated to another Metamoris grappling event. In three events, Metamoris, founded by Ralek Gracie, has taken the Brazilian Jiu-Jitsu world by storm and has provided a huge platform for it to succeed in the American market in the same way that Relek's father Rorion introduced us to Vale Tudo fighting by creating the UFC in 1993. The first two events went well and the third was no different. It featured a huge rematch between Royler Gracie, one of the most accomplished BJJ practitioners in the Gracie clan, vs. Eddie Bravo, creator of 10th Planet Jiu-Jitsu and the first number on Joe Rogan's speed dial whenever he gets the munchies late at night. Eddie made his name in the jiu-jitsu world by submitting Royler at the 2003 ADCC Submission Wrestling World Championships. He was only a brown belt at the time and he defeated a Gracie. That's huge. I imagine minds were quite blown at the time. Eddie used that win to launch his career as a world-renowned instructor, creating a form of BJJ that focuses on submissions from the opponent's guard and not wearing a gi, both of which are very controversial ideas in the jiu-jitsu world, or so I was told in a Youtube video.

I guess now was as good a time as any for the two jiu-jitsu greats to rematch and for Eddie to prove the first fight wasn't a fluke. I won't get into too much detail about the match, since my first paragraph has likely already upset my readers who are fans of jiu-jitsu (all two of you) but it was an entertaining fight. Eddie spent most of the 20 minute, submission-only match in Royler's half-guard but he used it to sweep and to attempt the Electric Chair submission, which amounts to forcing your opponent to do the splits and hope they shred their nuts in the process. The fight ended with Bravo attempting to break Royler's ankle with a Vaporizer but time ran out. Due to the rules, the fight was declared a draw but everyone agrees that Bravo won the match. Eddie definitely earned Royler's respect that day. The same wasn't true for UFC Hall of Famer Royce Gracie, who bitched Eddie out after the fight for disrespecting his family. Oh, those Gracies and their respect. It's adorable. He also challenged Eddie to an MMA fight. Eddie, who has never competed in an MMA fight, is not high enough to answer that challenge. He's high but not that high. He did say he'd be cool grappling with Royce, though. I hope people aren't too upset over Royce's conduct here. He's a legend, yes, but that doesn't mean he isn't kind of an asshole. Remember, before Rousimar Palhares and Babalu Sobral were holding onto submissions for too long, Royce was doing it on a regular basis in the early UFC's. It's all right. If it wasn't for that selfish pride that Royce and all of the Gracies possess, MMA as we know it wouldn't exist. So congrats, Eddie, and enjoy your career as the new Gracie Hunter. A&E should probably be calling about filming a pilot any day now.

***HORN SOUNDS***

That's it for Five Quick Rounds. Thanks for reading. If you have any questions, comments, or suggestions, and it is always appreciated when you do, leave them in the comments section. I will be back in 7 for another Five Quick Rounds. There is more Bellator on Friday as well as UFC Fight Night from Abu Dhabi. The prelims start at midnight. It's all right. You didn't need sleep. Enjoy the fights and remember to fight clean, fight hard, fight fair, and never leave it in the hands of the judges...




LATER!!!!!!!!!!!!!!!!!!!!!!!!!!!!!!!!!!!!!!!!!
comments powered by