SPOTLIGHTS
411's MMA Roundtable Preview - UFC Fight Night 39 & Bellator 116
Posted by Dan Plunkett on 04.11.2014

Antonio Rodrigo Nogueira faces Roy Nelson in the main event of UFC Fight Night 39 and Blagoi Ivanov goes up against Lavar Johnson at Bellator 116! Check out the full roundtable for all the details and join 411 for LIVE coverage of Fight Night on Friday!




WELCOME:
Friday is a big day for MMA with UFC and Bellator running shows. In the UFC main event, Antonio Rodrigo Nogueira faces Roy Nelson live from Abu Dhabi! In the co-main event, Clay Guida faces Tatsuya Kawajiri. Over on the Bellator side, Blagoi Ivanov fights Lavar Johnson, and veteran Vladimir Matyushenko competes in his final match against Joey Beltran. Before a rundown of the main card for both shows, let's meet the staff!

THE STAFF:


From MMA's 3R's, Jeffrey Harris!


From Forgotten Fights, Paul Lapointe!


From The Round Horn, Koeddy Laemmle!


From The Greatest MMA Column, Dan Plunkett!


From the Locked in the Guillotine MMA News Report, Robert Winfree!






BELLATOR 116




Main card bouts air on Spike TV. Prelims streamed on Spike.com



Preliminary Card:
Light Heavyweight Bout: Carlos Eduardo vs. Virgil Zwicker
Middleweight Bout: Dave Vitkay vs. Keith Berry
Featherweight Bout: Brandon Bender vs. Mario Navarro
Light Heavyweight Bout: Phelipe Lins vs. Travis Clark
Welterweight Bout: Ron Keslar vs. Karo Parisyan
Bantamweight Bout: Joe Taimanglo vs. Rob Emerson
Middleweight Bout: Joe Pacheco vs. Brandon Halsey



MAIN CARD




Light Heavyweight Bout: Joey Beltran vs. Vladimir Matyushenko



Jeffrey Harris: Joey Beltran, TKO, Round 1
Paul Lapointe: Vlad The Janitor, Submission, RD2
Koeddy Laemmle: Joey Beltran, TKO, Round 2
Dan Plunkett: Beltran, TKO, Round 1
Robert Winfree: Joey Beltran, TKO Round 1
The staff picks Joey Beltran, 4-1.



Welterweight Bout: Nathan Coy vs. Adam McDonough



Jeffrey Harris: Nathan Coy, Decision
Paul Lapointe: Coy, Decision, RD3
Koeddy Laemmle: Nathan Coy, Decision
Dan Plunkett: Coy, Decision.
Robert Winfree: Nathan Coy, Decision
The staff picks Nathan Coy, 5-0.



Heavyweight Bout: Alexander Volkov vs. Siala-Mou "Mighty Mo" Siliga



Jeffrey Harris: Alexander Volkov, TKO, Round 1
Paul Lapointe: Volkov, TKO, RD3
Koeddy Laemmle: Mighty Mo, Submission, Round 2
Dan Plunkett: Volkov, Decision
Robert Winfree: Alexander Volkov, TKO Round 2
The staff picks Alexander Volkov, 4-1.



Heavyweight Bout: Blagoi Ivanov vs. Lavar Johnson



Jeffrey Harris: Blagoi Ivanov, TKO, Round 1
Paul Lapointe: Ivanov, Decision, RD3
Koeddy Laemmle: Blagoi Ivanov, TKO, Round 1
Dan Plunkett: Ivanov, Submission, Round 2
Robert Winfree: Blagoi Ivanov, Submission Round 1
The staff picks Blagoi Ivanov, 5-0.

---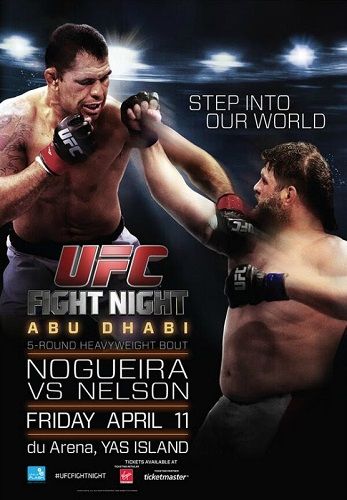 UFC Fight Night: Nogueira vs. Nelson




All bouts air on UFC Fight Pass.



Preliminary Card:
Featherweight Bout: Alan Omer vs. Jim Alers
Middleweight Bout: Chris Camozzi vs. Andrew Craig
Middleweight Bout: Thales Leites vs. Trevor Smith
Bantamweight Bout: Rani Yahya vs. Johnny Bedford
Heavyweight Bout: Jared Rosholt vs. Daniel Omielanczuk



MAIN CARD




Lightweight Bout: Ramsey Nijem vs. Beneil Dariush



Jeffrey Harris: Beneil Dariush may have very well become Mark Radulich's favorite after he quickly dispatched Charlie Brenneman in his Octagon debut, now he has to face a TUF finalist in Ramsey Nijem. Nijem has some decent wrestling and grappling skills, but he hasn't shown to be exceptionally well rounded in his 4-3 UFC run. He also has a questionable chin. Dariush really impressed me in his Octagon debut, I'm predicting he will surprise Nijem with his power and stop him quickly again here.

Winner: Beneil Dariush, TKO, Round 1

Paul Lapointe: When it comes to the pecking order in the crowded lightweight division this matchup makes sense. Now what will happen going forward is the complete opposite though in regards to career trajectory. Former TUF finalists Nijem has shown some developing facets to his game but a weak chin and in the UFC its sink or swim when floating around .500. This fight will last longer then the Dariush's drubbing that was The Spaniards inept and feeble striking attempt last time out but I still see Nijem going night night. And when he wakes its walking paper time. Interested to see who Beneil would get next if impressive but I am thinking the UFC is hoping to not have a bust performance from a young foreign export like they did with Mairbek a few weeks back, they see something in him and so do I.

Winner: Dariush, TKO, RD2

Koeddy Laemmle: Ramsey Nijem is coming off a much needed win against Justin Edwards earlier this year after suffering back-to-back losses against undefeated TUF 15 cast members James Vick and Myles Jury last year. Nijem's chin has been an issue since losing via KO in the finals of TUF 13 in 2011 and his opponent Beneil Dariush showed he's willing to throw punches in his UFC debut before earning himself a submission win over Charlie Brenneman back in January. If the fight goes down to the ground Dariush has a distinct advantage due to his superior submissions. I think Nijem will just prove to be another stepping stone for Dariush as he finds himself a spot in the seemingly always crowded UFC Lightweight division.

Winner: Beneil Dariush, Submission, Round 2

Dan Plunkett: Nijem is a solid wrestler. Dariush is a fantastic grappler. I give Dariush a clear advantage in this fight.

Winner: Dariush, Submission, Round 1

Robert Winfree: Ramsey Nijem has had a few decent performances, but he's got some serious issues that haven't been shored up just yet. His striking defense is pretty horrible, and his chin isn't exactly made of stern stuff. Nijem has a good top game, but his wrestling isn't as explosive as it perhaps needs to be all things considered. Beneil Dariush choked Charlie Brenneman out of the UFC for a second time in his last outing, and given Nijem's weak chin and poor defense, I'm inclined to think Dariush can land a big shot and finish him off.

Winner: Beneil Dariush, TKO Round 2

The staff picks Beneil Dariush, 5-0.

---




Welterweight Bout: John Howard vs. Ryan LaFlare



Jeffrey Harris: Interesting fight here. LaFlare is a tough, new undefeated prospect who is now 3-0 in the UFC. Howard's recently returned to the UFC and been looking good, scoring upsets against Uriah Hall and Siyar Bahadurzada. Howard's played the gatekeeper in these types of situations before, but something tells me his experience and his much-improved striking game plus looking much hungrier, sharper and motivated overall gives him the edge here. Howard wins this one.

Winner: Howard, Decision

Paul Lapointe: Doomsday has Kryptonite in his hands but he needs to land to obviously be effective. Now if anybody remembers his earlier UFC fights, especially his clash with Dennis Hallman, you can see that though improved over his first run he still struggles with heavy top control guys. Saying that his overhand that landed in the last 20 seconds against "Superman" years ago saved his ass from losing on the cards is an understatement and if I am LaFlare you utilize a similar gameplan to avoid getting rocked. If he can do that he cruises to a decision win in a effective albeit one dimensional fight. I would not try and stand in this one.

Winner: LaFlare, Decision, RD3

Koeddy Laemmle: I'm expecting this fight to be the stinker of the night. Both fighters have backgrounds in wrestling but I think not only does LaFlare have more upside, he's better all around and a better technical striker. John Howard has disappointed me in pretty much all of his UFC performances ever since his first run with the company usually boring me to sleep (Uriah Hall could have won their fight if he had done more than train the deadly smile and high five game plan). I think LaFlare will grind out this one out and advance his career win streak to 11 before possibly getting a ranked opponent in his next fight.

Winner: Ryan LaFlare, Decision

Dan Plunkett: Howard has power. LaFlare is a wrestler and has been training with the Blackzilians. I think LaFlare does enough for the win here.

Winner: LaFlare, Decision.

Robert Winfree: I like John Howard, he's got good striking and rarely has a boring fight. Unfortunately he's got suspect wrestling defense and isn't great at regaining his feet. Guys with a smothering top game have long been the weakness of Howard, and LaFlare fits that bill to a tee. Outside of landing a big power shot, Howard isn't likely to win this one, look for LaFlare to keep improving his position in the division.

Winner: Ryan LaFlare, Decision

The staff picks Ryan LaFlare, 4-1.

---




Featherweight Bout: Clay Guida vs. Tatsuya Kawajiri



Jeffrey Harris: Honestly, while a lot of people like to be down on Clay Guida as of late, this looks like a match-up that is tailor made for him. Kawajiri is a solid fighter. He's won six straight fights since he moved down to featherweight, and he won his Octagon debut against Sean Soriano. All that aside, I don't think he will be able to handle the top game and wrestling of Guida in the Octagon. I see this fight going a lot like Guida vs. Kawajiri. Guida will go his goofy caveman dance, get Kawjiri to the mat, and submit him.

Winner: Clay Guida, Submission, Round 2

Paul Lapointe: Asian fighters have a hard time with top game blanket hoggers and the Carpenter fits the bill. I would love to see Kawajiri got a submission here but with Clay's ability to just hump the mat into submission I cannot see a way Tats beats him striking because he won't be able to implement a ground attack either. It may be one dimensional from the outside but since the Pettis fight Clay has been one dimensional and if the peg fits.

Winner: Guida, Split Decision, RD3

Koeddy Laemmle: Not only does Clay Guida need a win desperately in this fight, he needs to show fans some of that spark and energy that made him one of the most popular fighters on the UFC roster years ago. Guida's career has been in a downhill trajectory since losing his #1 contender fight to Ben Henderson in 2011 before dropping down to 145. Tatsuya Kawajiri looks to quickly establish himself in the UFC's Featherweight division after debuting on the first Fight Night of 2014 with a convincing rear-naked choke victory over Sean Soriano. I think Kawajiri is a very underrated veteran only losing twice over the past five years, both title fights to Gilbert Melendez and Shinya Aoki. I think time is quickly running up for "the Carpenter" and Kawajiri will keep this fight grounded. Guida just hasn't shown he still has that desire to fight in any of his recent performances. Judging by the recent release of Jake Shields I'm guessing the loss will bring Guida's run in the UFC to an end. Kawijiri could get a Top 5 opponent in his next fight with a title shot quickly coming into the picture.

Winner: Tatsuya Kawajiri, Submission, Round 3

Dan Plunkett: This will probably be another weird Clay Guida fight, so I have no idea who's going to win. Kawajiri, 35, ran through Sean Soriano, but looked his age at key points. He won't be able to take Guida down with the type of takedowns he was attempting in that fight. I'm guessing Guida will walk away with a close decision win, but who knows how he'll decide to fight.

Winner: Guida, Decision.

Robert Winfree: I really don't care much for Clay Guida but picking against him is usually a mistake. Guida doesn't do much other than bounce around, score takedowns, and hold top position. Now that is technically a winning strategy, unfortunately it puts a clear limit on his abilities as if he can't get a takedown he can't win. Japanese fighters tend to have a hard time with that style, though Kawajiri is himself something of a grinder by nature. If Kawajiri can keep himself off of the fence he'll be in a good position to win as Guida does very little in fights, but I think Guida is able to grind out another decision.

Winner: Clay Guida, Decision

The staff picks Clay Guida, 4-1.

---




Heavyweight Bout: Antonio Rodrigo Nogueira vs. Roy Nelson



Jeffrey Harris: I think this could be a decent, little fight. Minotauro really probably should've retired after he beat Dave Herman in Brazil to have his feel good moment and end his career on a high note. Nogueira does have some decent striking himself, but his head movement has always been poor, and I think that's bad mojo against a fighter like Roy Nelson. Nelson will never be a world champion or an elite level talent, but I think he is just good enough to beat a fighter like Nogueira this point in his career. I think they will bang it out for a bit before Nelson lands that one good shot.

Winner: Roy Nelson, TKO, Round 3

Paul Lapointe: Nogueira gets punched alot. So does Roy. Both have had cardio issues the last few years and have suffered from it and now its a rock meet a hard place situation. Saying that the rock is now Big Country's hand and the hard place is Big Nog's Nog and if Grizzly Adams gets five rounds to find his H-Bomb that I dub the Jiggily Bomb thats the fight. Nog has ground but when do you see a beached walrus get subbed? Never...exactly.

Winner: Big Country, Brain Cell Theft, RD2

Koeddy Laemmle: I love both these fighters and both could really use a win with both coming off devastating losses and dashing their title aspirations. A win could easily propel either man in the shallow pool of quality challengers for Cain Velasquez that is the UFC Heavyweight division. "Big Country"'s jiu-jitsu is underrated but it is nowhere in the same league as "Big Nog"'s. Both men are heavy handed and will be willings to exchange but I think a heavy haymaker from Nelson will quickly change Nogueira's willingness to trade blows and try and get the fight to the ground. Even in some of his greatest triumphs Rodrigo Nogueira took brutal beat downs and if he's able to pull out the win here it will be much of the same. However, I think the toll of all those wars have taken their toll on Nogueira and for just the third time in his career he will taste defeat via either KO or TKO.

Winner: Roy Nelson, KO, Round 2

Dan Plunkett: The match-up definitely favors Nelson. It's going to be difficult for Nogueira to take Nelson down. It's going to be difficult for Nogueira to submit Nelson. It's going to be difficult for Nogueira to knock Nelson out. Nogueira still has power, but Nelson's chin has held up against big power before. I really hope it doesn't turn into a sad fight for Nogueira, but I fear it may.

Winner: Nelson, KO, Round 1

Robert Winfree: Big Nog is one of my favorite fighters, he's a fighter I can't root against, an absolute legend of the sport, and sadly likely in the final few fights of his career. Nogueira's best days were in PRIDE, and with all the abuse he's taken he's nearing the end of his fighting days. Roy Nelson has good grappling, but also has unholy power in his right hand. Nogueira used to have an ironclad jaw, but even iron cracks and corrodes over time. Nelson should win, likely with a big power punch that crumples Minotauro to the canvas.

Winner: Roy Nelson, KO Round 1

The staff picks Roy Nelson, 5-0.

---
Remember to join 411's coverage of UFC Fight Night on Friday!
comments powered by