SPOTLIGHTS
Five Quick Rounds 04.15.14: Fight Night 39, Bellator 116, Sorry Guys, No Gina Carano, More
Posted by Evan Zivin on 04.15.2014

From the announcement of Ronda Rousey's next fight and Roy Nelson's KO of Antonio Rodrigo Nogueira at Fight Night 39 to the Diaz Brothers' current issues with the UFC and the results of Bellator 116, 411's Evan Zivin examines these stories and more in Five Quick Rounds!

Hey hey, fight fans, and welcome back to Five Quick Rounds! I am your host, Evan Zivin, and I am more excited than Tyrone Spong's shin bone to be here once again!

Are you, by chance, a fan of leg breaks? Does seeing a tibia or fibula snap in two just excite you in a way that few other things do? If so, then seek help. Seriously, you have problems. So does Tyrone Spong. The current kickboxing and MMA star suffered a major setback at Glory 15 Saturday night when he broke his leg in a match against Gokhan Saki. The fight, live on tape delay from Instanbul, was the finals of a mini tournament to crown the inaugural Glory Light Heavyweight Champion. Spong and Saki had both won fights earlier in the night and were ready to go one more time for the belt. Unfortunately, the fight was over 90 seconds in when Spong threw a right kick that wrapped around Saki's knee when it was checked. The injury was pretty much the same as the one suffered by Anderson Silva back in December against Chris Weidman. We're slowly building enough examples of this exact injury to show that it isn't a freak accident when it occurs. If you check a leg kick just right, this will happen. You will break your opponent's leg. This is unfortunate for Spong, who was looking to return to World Series of Fighting sometime in the summer. Now, he likely won't fight again until next year, but fight again he shall. He has to. If he doesn't, he'll make Rashad Evans sad, and a sad Rashad is not as funny as you'd think it'd be.

All right, so with fighter introductions out of the way, I have five more rounds of MMA news and opinions to throw at you. This week, we look at the results of Fight Night 39, the results of Bellator 116, Ronda Rousey and Alexander Shlemenko's next opponents, and the latest on the Diaz brothers. Let's to it do it.

FIGHTER YOU READY!!!!
FIGHTER YOU READY!!!!

FIGHT!!!!




Round One: Fight Night 39, Big Country Knocks Out Big Nog with a Big Right Hand

***TOUCH OF GLOVES***

Let's start off by talking about the latest UFC offering that a lot of people didn't get to watch live (besides those who get paid to) because it took place in a country not in North America. Also, it aired on UFC Fight Pass, which I have yet to purchase because I'm still angry that they didn't offer Wrestlemania 30 as part of the price. Jerks. I wouldn't have been able to watch this show live anyway, since it aired in the early afternoon and, for some reason, I have a job. I know. Surprised you there, didn't I? An unfunny, annoying freak like me is employed. This world doesn't make much sense. I came to terms with that years ago. The main event of UFC's return to Abu Dhabi was a big fight, and I mean that literally since it was a heavyweight fight. I'm clever. Antonio Rodrigo Nogueira is a legend in the sport of MMA. Roy Nelson is one of the most popular fighters with one of the most weirdly loyal fanbases in the UFC. Both men are known for finishing fights and for their abilities to take insane amounts of punishment. This wasn't a title eliminator by any means. It was a fight for the fans. A fun clash between two interesting fighters to, more or less, see what would happen. Would Big Nog put Nelson on his back and add another submission to his long list of accomplishments? Would Nelson cream Nogueira with bombs until the legend collapses? What would happen?

It was the second one. The one that involved Noguiera resembling the prototype in a new line of Brazilian-made punching bags. There really wasn't much to the fight. It consisted of Nelson and Nogueira standing in front of each other, throwing single punches with all the power they could muster. Nelson, unsurprisingly, got the better of the punching exchanges. Nelson performed well in this fight. His footwork was good, he kept his hands close to his body, and he stayed more aggressive than Nogueira. He also blocked a lot of Nogueira's punches with the top of his head, which is not something I would recommend most fighters do, but when you have a skull made of adamantium as Roy apparently does, he can get away with it. Nelson also landed better strikes, dropping Nogueira with a right hand a minute into the fight. Roy knocked Big Nog down again two minutes later and, after letting Nogueira up and seeing how wobbly his legs were, Nelson wound up one more giant overhand right and unloaded it, knocking Nogueira out cold three-and-a-half minutes into the first round. That's a definite Knockout of the Year contender right there. It wasn't flashy but it was a powerful shot that completely put Minotauro's lights out. I don't know if this is the end of the road for Big Nog (I never like being the one to say a fighter should retire) but it was a huge victory for Roy. It was also a huge victory for Abu Dhabi, as they got a UFC event that ended better than the last one that took place there. So congrats all around.

***HORN SOUNDS***




Round Two: Rest of Fight Night 39, The Carpenter Crushes Kawajiri

The co-main event of the evening featured the return of the Tequila Cazadores Fighter of the Month every month, Clay Guida. According to the commentary, Guida made some changes in his fight preparation after his last fight, a loss to Chad Mendes. He trained with some different coaches and sparred with some different fighters. He even got slapped in the face before the fight by someone other than his brother (his brother was there, he just let the honor go to someone else). Whatever specific adjustments Clay made, they may have worked as Guida looked very impressive in his victory over Tatsuya "Crusher" Kawajiri. Guida had Kawajiri reeling from the start after landing an overhand right seconds after the fight started. From there, we got a solid grappling battle for two rounds. Guida got the better of Kawajiri by stuffing his takedown attempts and hitting takedowns of his own, but Kawajiri stayed active and pressured Guida with submissions. The third round saw Guida, still moving at 100 mph (160 kph), land elbows on an exhausted Kawajiri, who tried to end the fight with a guillotine choke but Guida slammed out of it and ended the fight on top. Guida got the win by unanimous decision in a fight that won't necessarily put Guida in line for a title shot at 145 but it definitely gets him back on track to make a run at it and, considering how starved for new challengers Jose Aldo is right now, it could happen sooner than later for the self-professed caveman. Or Aldo leaves the division, Chad Mendes gets the belt, and Clay saws off a leg in an attempt to make 135. We shall see.

There was plenty of other action going down in the UAE on Friday. Ryan "Stop Calling Me Gray Maynard and Martin Kampmann's Love Baby" LaFlare used his wrestling brilliance to edge out an always-game John Howard. It looked as though the fight was going to end on an unsatisfying note after LaFlare nailed Howard in the cup with a knee that took Howard almost five minutes to recover from. Howard's Twitter comments after the fight indicate that he didn't fully recover but he still put in an excellent effort against LaFlare. LaFlare still won though. Sorry to burst everyone's bubble. Ramsey Nijem shocked everyone when he not only took the fight to undefeated prospect Beneil Dariush, he finished him in the first round. Nijem put Dariush on his back with punches and then turned him into a bloody mess before the referee ended the fight at 4:20. That's not a pot joke. The event, which saw Thales Leites win by TKO for the first time in almost 10 friggin' years, also began with some controversy between Johnny Bedford and Rani Yahya. After a failed takedown attempt by Yahya, the two men had an accidental clash of heads that knocked Yahya out 30 seconds into the fight. The fight was declared a no contest even though Bedford was, and still is, claiming that he knocked Yahya out. Sure you did. And Michael Bisping didn't intentionally knee Jorge Rivera in the head. Whatever you say.

And that was Fight Night 39. There are two --TWO-- UFC events happening this week. There is the TUF Nations Finale, featuring Bisping vs. Tim Kennedy, on Wednesday and Fabricio Werdum vs. Travis Browne on FOX this Saturday. This is gonna be a long week.

***HORN SOUNDS***




Round Three: Bellator 116, Blagoi Ivanov Goes Where Many Men Have Gone Before By Submitting Lavar Johnson

***TOUCH OF GLOVES***

Are you like many MMA fans who absolutely hate the lighter weight classes because your prehistoric brain can't get past the idea that men who weigh the same as most of us did in junior high can be as exciting as the giant, 200+ pound gas bags we obsess over so much? Then Bellator 116 was the show for you, being highlighted by the semi-finals of the Season 10 Heavyweight Tournament. The main event was an intriguing styles clash between heavy-handed striker Lavar Johnson and World Sambo Champion Blagoi Ivanov. Hey, did you know that Blagoi was stabbed in 2012 and almost died? You should since every single website that mentions him has to bring up that fact. It's not that I'm trying to make light of that very serious situation. It's just there's more to Blagoi than that. Did you know that, in the 2008 Sambo World Championships, he defeated Fedor Emelianenko? This was back when Fedor was still the greatest fighter in the world/universe/history of man. The man is a Sambo Grand Master and Blagoi beat him. That is huge. Also, has everyone forgotten that Lavar was almost killed too? He was shot three times back in 2009. It's why he's not a fan of family reunions. Both men have incredible stories that have brought them into this fight and I just want to make sure they are getting their fair share of respect, is all. I'm-a nice guy.

So in this fight, we have a classic, old-school striker vs. grappler match-up. A common assumption that could be made is that the grappler wins unless the striker can keep the fight standing. Lavar has improved tremendously since he first started fighting but, against a decent grappler, he always has trouble. The best opportunity Lavar had to win was when, off a standing guillotine choke attempt, Lavar picked Blagoi up and slammed him on his back. Lavar was able to secure mount but it lasted about two seconds before Blagoi escaped. Blagoi then took Lavar down with a judo throw and submitted him with an Americana. It was a very intense four minutes of fighting and a very impressive victory for the Bulgarian. His opponent in the finals will be Alexander Volkov. The former Bellator Heavyweight Champion shook off Siala-Mou "Mighty Mo" Siliga's takedown attempts and ended the fight early by cracking Mo with a beautiful left head kick. This means the finals will be another striker/grappler match, although this striker is much more versatile and defensive than Dwayne Johnson's stunt double is. Also on the show, Brandon Halsey dominated Joe Pacheco to advance to the finals of the Welterweight Tournament by unanimous decision and Vladimir Matyushenko tempted fate by announcing his retirement prior to fighting Joey Beltran and, as a result, got tapped with a friggin' North-South choke in the third round. Well, that probably isn't why he lost but a North-South choke? Seriously? What is this, 1996? You've had a long career, Vlady. Enjoy your retirement.

And that was Bellator 116. Bellator 117 has a Welterweight title fight between Not Ben Askren and Not Ben Askren, so that means Dana White will be watching.

***HORN SOUNDS***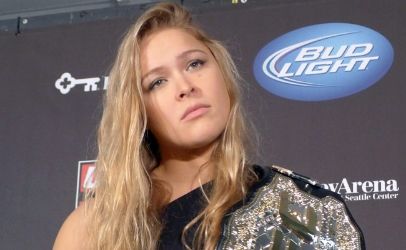 Round Four: Ronda Rousey and Alexander Shlemenko are Bored, Will Fight Alexis Davis and Tito Ortiz

***TOUCH OF GLOVES***

When Ronda Rousey isn't busy smashing car windows for movies based on HBO shows, she likes to fight. The UFC Women's Bantamweight Champion said she was hoping to defend her title again during the summer and it looks like she's getting her way (as usual...) with the news that she will be fighting on the UFC 175 card in July. She will be fighting on the same card as the Chris Weidman/Lyoto Machida Middleweight title fight so it makes you wonder which of the three Dana is concerned can't draw on their own. Probably all of them. So who will Ronda be fighting on this blockbuster card? Gina Carano? Cris Cyborg? Holly Holm? Cat Zingano? Miesha Tate again since it was so funny the last time? How about Alexis Davis, the only other woman other than Rousey with a 3-0 UFC record who has actually worked to earn a title shot? Is everyone all right with her? I know it's not the most glamorous option and, as Davis is the quiet, polite type, the build to this fight will be rather uninteresting, but it could still be a good fight. I mean, I don't expect Davis to offer up that much of a challenge. The only real advantage Davis will have is experience but that won't make a difference when it comes to the dominance of the Rowdy One. Still, I'm happy with the decision because I like to see fighters who actually work to earn title shots receive them and I'll still be interested to see these ladies do battle right after The Fourth of July, or as the Canadians call it, Friday.

Over on the Bellator side of life, Middleweight Champion Alexander Shlemenko is definitely getting bored. He won the vacant championship 14 months ago and, after defending it three times, he's proven that Bellator can't find him a decent challenge. His next title fight will be against either a 6-0 nobody and a guy he's already beaten. Geez, no wonder he's looking for other challenges. Shlemenko wanted to fight on the Bellator Payperview on May 17 and, with no more tournament winners until the Brett Copper/Brandon Halsey fight, Shlemenko and Bellator came up with the perfect solution: match him up with the guy who killed Bellator's last attempt at a Payperview. Remember the story of the Not Ready for Payperview Players at Bellator 106 last November? It all fell apart when headliner Tito Ortiz suffered a neck injury a week before the show, causing his monumental clash with Rampage Jackson to get scrapped along with the whole Payperview. Personally, I wouldn't want to tempt fate by booking him again for Payperview but at least he won't be the main event this time. I do like the matchup, though. Tito isn't what he used to be but he does carry name value. If Shlemenko defeats Ortiz, which he probably will, he'll get to say he beat a former UFC champion and, more importantly, he'll get to say he beat someone that people have actually heard of. It won't say much about how good a fighter Shlemenko is to defeat a man who hasn't been ranked in years, but at least it will give Bellator one more accomplishment to herald when promoting their Lil' Fedor. He's even been working on his English. Good for him. Bigger things will only come from this, like a TNA Tag Team Championship run with his infant daughter. Look out, people. A Storm's a-brewin'.

***HORN SOUNDS***




Round Five: Super Diaz Brothers, Extended Hiatus Edition

***TOUCH OF GLOVES***

You know, it's been a while since we've had the privilege of seeing a Diaz brother taunt a fighter until they mentally break and get their ass knocked out. So what have they been up to? Where they at, homie? Seriously,do people still say "homie" other than these guys? I have no clue. Let's start by checking in with Nick Diaz, the man who was winning rounds 1,2, and 5 before it was cool (...or not). It's been over a year since Nick lost to Georges St-Pierre. Is he ever going to fight again? Well, Dana White is at least trying to get him to come back. The word is that Dana recently sent Nick an offer to fight former Bellator Champion Hector Lombard. Dana said that Nick liked the bout because who wouldn't want to see that fight? Lombard is a Judo master with extremely heavy hands who loves knocking guys out. I think a fight between him and Nick would be fantastic. It could be better than Nick vs. Karo Parisyan. So let's get to making this fight happen! It'd be the perfect main event for an upcoming FOX card, assuming Nick ever gets back to Dana about taking the fight. Dana told Nick about the fight and that's it. Good job, Nick. I get that you aren't a fan of fighting but you should know that Dana is not going to give you an immediate title shot. He's not going to do that again unless you take a fight. So either stop your bitching and get in the cage or stop teasing us and retire. He's like the crazy ex-girlfriend that you still kinda want to get with even though all she ever does is make you miserable. Why can't I quit you, Rebecca? WHY?????

Maybe things are going better in the lighter-weight neck of the Diaz woods. What's going on with Nick's little brother Nate? Nate never seemed to have issues with taking a fight the way his brother did. Well, he did threaten to miss his last fight against Gray Maynard due to a conflict with his high school reunion. Then he turned down a fight with Khabib Nurmagomedov in January after his teammate Gilbert Melendez didn't take the fight. Hmmm...perhaps I spoke too soon. So what's his deal? Apparently, it's his deal, which isn't paying him enough per fight. Ah, good, old-fashioned money issues. Nate isn't the first UFC fighter to complain about his pay. His brother Nick wants to get paid half a million dollars to fight again and Gil threatened to sign with Bellator, which resulted in the punishment of getting a pay increase, a spot on a TV show, and a title shot. That's a punishment, right? So how much is Nate making right now? Dana says Nate is on a 60/60 deal ($60,000 to fight, $60,000 to win), although all the salary reports I have found say that Nate's last few fights were on a 15/15 deal, which, if true, seems low for an Ultimate Fighter winner and a former title challenger. Maybe Dana is including those mysterious locker room bonuses we hear so much about. I dunno. Apparently, the contract Nate signed prior to his title shot against Benson Henderson in December 2012 would have set him up to earn "Justin Beiber money" but it didn't work out because he lost to Benson and then was knocked out by Josh Thomson after that. I'm always in support of fighters making more money. They are athletes and entertainers and deserve to earn as much as everyone else in those fields for the risks they take. I do agree with Dana that bitching won't make Nate any money but someone has to do it if we're ever going to see decent payouts for more fighters. C'mon Dana. SHOW US THE MONEY!!!

That was a lame way to end the round and I regret the previous sentence.

***HORN SOUNDS***

That's it for Five Quick Rounds. Thanks for reading. If you have any questions, comments, or suggestions, and it is always appreciated when you do, leave them in the comments section. I will be back in 7 for another Five Quick Rounds. There is Bellator on Friday, plus more UFC than you can shake a stick at. If you have a stick, though, I wouldn't judge. Enjoy the fights and remember to fight clean, fight hard, fight fair, and never leave it in the hands of the judges...




LATER!!!!!!!!!!!!!!!!!!!!!!!!!!!!!!!!!!!!!
comments powered by