SPOTLIGHTS
The Greatest MMA News Column 04.15.14: A Look Back
Posted by Dan Plunkett on 04.15.2014

411's Dan Plunkett looks back at The Ultimate Fighter 1 Finale, plus news and thoughts on Gina Carano's potential return, Vladimir Matyushenko's retirement, new UFC matches, Ortiz vs. Shlemenko, and more!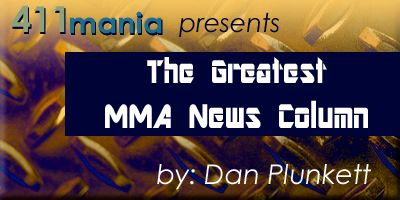 The Ultimate Fighter: Nine Years Later



Last week marked the nine year anniversary of what many people would consider the most important night in mixed martial arts history. A total of 2,950 fans (779 paid for $180,950) packed the small Cox Pavilion on April 9, 2005, to witness history: the first live mixed martial arts card on basic cable television. The event was the culmination of a 12 week reality competition series titled The Ultimate Fighter. The tournament-style competition promised two six figure contracts for winners in the middleweight and light heavyweight divisions with the struggling Ultimate Fighting Championship.

Following surprising early success on pay-per-view, the UFC fell victim to political opposition and public perception in the late-1990s. It was thrown off pay-per-view systems, outlawed in New York, and became a money pit for owner Bob Meyrowitz. In January 2001, Meyrowitz sold the company for $2 million to casino magnates Frank and Lorenzo Fertitta. Over the next few years, the Fertitta's poured money into the pet project and received only brief glimpses of hope in return.

The endgame was to get the product on television in order to drive pay-per-view sales, but stations were weary of the product and there was the question of how the product would be presented. UFC president Dana White championed a Friday Night Fights-like show – a tough sell to the networks. Somewhere along the line, perhaps due to the Fertittas being featured on American Casino, the idea of a reality show was hatched. White was against the reality show format, but it was more likely to be accepted by television stations than live matches.

In July 2004, UFC announced The Ultimate Fighter would air on Spike TV, which had branded itself "the first network for men." Years later, White revealed Spike TV would only take on the show as a time buy. The Fertittas, having already sunk tens of millions into the UFC, footed the $10 million cost of the show – a last ditch effort to make something of the company. Failure for the show would have resulted in the company being sold or folding. Success and failure was to be measured by the show's ability to draw an audience and attract new buyers to the company's pay-per-view events.




The show's ultimate success may have been determined from the moment its time slot was decided. Spike TV's WWE Monday Night Raw was one of the top shows on cable, but follow-up shows had trouble retaining its large audience. When The Ultimate Fighter was tapped to follow Raw at 11:05pm (or whenever Raw decided to end), WWE Chairman Vince McMahon had the option to nix the UFC show from the slot. He declined to do so. On any other night of the week, The Ultimate Fighter was much more likely to fail. Not only was UFC able to follow a show with a very large audience, that audience was one accustomed to purchasing monthly pay-per-views.

The Ultimate Fighter debuted on Monday, January 17, 2005 to a strong 1.42 rating. The next week, ratings held steady. Key demographic ratings were up drastically across the board. After the second week, Spike TV officials were said to be overjoyed with the show's success. Those first two weeks would end up on the lower end of the season's ratings. The season peaked with episode 6, the culmination of the Chris Leben vs. Josh Koscheck feud. Koscheck beat Leben, the big star of the season, in a very dull bout that drew UFC's first 2.0 rating and 2.2 million viewers. Some worried the poor payoff for a strong build would cripple the show and UFC, but there was only a slight drop off of 200,000 viewers for the next episode. By March, UFC and Spike TV were in negotiations for a second season.

By the time the finale rolled around in April, The Ultimate Fighter was a great success. If a deal for season two wasn't done by the time of the live show, it was close enough for the UFC to announce it prior to the light heavyweight finals. A deal for a third season was also in the works by this point.

The three-fight card was built around the Ken Shamrock vs. Rich Franklin main event. Although Franklin was hardly known, Shamrock was far and away UFC's biggest name at the time and the perfect headliner for the TV debut. But that fight is hardly remembered. As is the middleweight final bout between Diego Sanchez and Kenny Florian. The standout fight of the show, and one of the most notable fights of all-time, was the light heavyweight final between Forrest Griffin and Stephan Bonnar.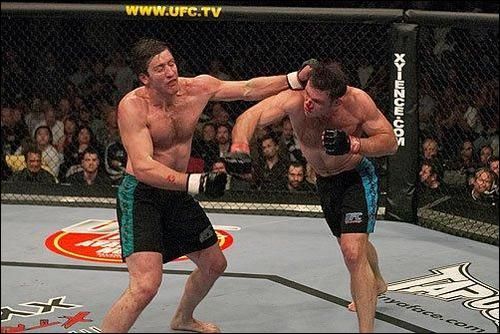 "[If it weren't for Griffin vs. Bonnar] I'd be over picking up cigarette butts from the parking lot at Palace Station and I'd be sleeping on the underpass at I-15," White told reporters years later. The story of Griffin vs. Bonnar quickly grew to mythical proportions and today it's widely believed without that fight the UFC either wouldn't be around or would be on a much lower level. Like the once-popular myth that it was the Fertittas and White that pushed the UFC towards rules and regulations while the old owners ran away from those things, the story of Griffin vs. Bonnar has been Zuffafied.

No, the fight didn't save the UFC. There's no reason to believe the key events after The Ultimate Fighter wouldn't have taken place had Griffin and Bonnar not put on such a show, so the UFC would likely be in essentially the same spot it's in today. Ultimately, it's not a great fight that decides if a show is going to get renewed, but great ratings. No, there wasn't a point in the fight when 10 million people were watching, as Dana White and Joe Rogan have claimed on a few occasions. The fight averaged 3.3 million viewers, which is a strong number, and the peak quarter hour was a 2.5 rating. That quarter hour was also the peak of the show. Looking at the quarter hour ratings alone (not a fool proof method, but the best we've got in the absence of real numbers and minute-by-minute ratings), the fight appeared to gain roughly 550,000 viewers from start to finish. That's a good number, but not outstanding. To compare, the famous Leonard Garcia vs. Korean Zombie WEC match gained about 700,000 viewers from beginning to end (even more impressive when you consider the match started with 832,000 viewers).

The Ultimate Fighter was already successful enough to get second and third seasons, as shown by the negotiations prior to the finale and Spike officials' excitement about the product after just two weeks. There wouldn't have been talks for a third season if Spike had concerns about a second. The first post-TUF pay-per-view, UFC 52 featuring coaches Randy Couture and Chuck Liddell battling it out, was going to do the 300,000 buys or so that it would have done with an average light heavyweight final. The next key Ultimate Fighter season, the third, which led to the 2006 explosion on pay-per-view and monster television ratings, would have still happened. Really, it was the Leben vs. Koscheck feud that proved the concept and put the show on the map. The fans tuned in for a well-built feud between two well-built personalities, the two traits of UFC's most successful events since that time, and even though the fight was dreadful, people still tuned in the next week.

In the years since the first finale, there have been many better fights than Griffin vs. Bonnar. There have even been fights that were likely more important. The success of the first Ortiz vs. Shamrock match may have been the reason Lorenzo Fertitta pulled plans to sell the company. The second Ortiz vs. Shamrock, as well as Hughes vs. Gracie two months earlier, blew up the company's pay-per-view business. The third Ortiz vs. Shamrock proved UFC as a television property. The first Lesnar vs. Mir set the company up for the biggest run it ever had in North America. However, none of those matches happened on a night that had obvious potential to be a clear step forward. On US television, only five UFC matches have had opportunities on nights like that: Robbie Lawler vs. Steve Berger, which was chosen after the fact to air on Fox Sports Net's Best Damn Sports Show Period in 2002; the three Ultimate Fighter finale bouts, and Cain Velasquez vs. Junior dos Santos on UFC's 2011 Fox debut. Of those, the only great fight was Griffin vs. Bonnar.

Griffin vs. Bonnar did help in the sense of causing Spike to lock down a deal with the promotion right away (Spike officials were not the only television network executives at the finale). White frequently tells the story of the deal was squared away in an alley after the show, which by all accounts is true. A deal was inevitable, especially with Spike's top franchise, Raw, set to depart in the fall of 2005.

On May 3, Spike and UFC announced a 2 year partnership that included 6 live fight cards through the end of 2006 (they would end up doing 8, excluding Ultimate Fighter finales), and 26 episodes of what would become UFC Unleashed.

---




Carano In Talks With UFC



Five years after her last match, Gina Carano is in talks to return to mixed martial arts. On Wednesday, Carano met with UFC president Dana White to discuss a potential deal. Carano's current deal with the UFC, which transferred over after Zuffa purchased Strikeforce in 2011, runs out in May.

At a Wednesday media event prior to the Carano meeting, White noted the match he was interested in making was Carano against current top star Ronda Rousey. Rousey, also in attendance at the event, claimed Carano deserved an immediate title match based on her impact in the sport. The problem with an immediate title match is Carano hasn't fought in five years, lost her last fight, and even a peak Carano would be a big underdog to the UFC women's bantamweight champion. There's nothing wrong with doing the match at some point, but putting Carano in against Rousey right off the bat is putting her in a position to fail. In this sport, that's how people get hurt. An immediate title fight would be a money grab, which isn't necessarily a bad thing, but it is a bad thing when one fighter isn't even given a fair chance to succeed. No fighter, no matter how great, is going to return from a five year absence and be in a good position to beat the best fighter in any given division.





In truth, Rousey vs. Carano isn't much different than the Ortiz vs. Shamrock series or Matt Hughes vs. Royce Gracie, both of which were key fights in the growth of the UFC and did major business. But those matches didn't do any favors to the brains of Shamrock and Gracie. It's one thing to make a one-sided match when an athlete has proven to at least deserve the opportunity with a string of wins or strong performances, it's another to make a clearly one-sided match without an athlete having proved an ability to compete at a certain level. Ken Shamrock was on the receiving end of two stoppage losses immediately before stepping in against Ortiz for the second time. Then, when that match was perhaps stopped slightly early, Shamrock was thrown in to get beaten again. Before facing Hughes, Gracie had just gone the distance with Hideo Tokoro, an undersized, mid-level lightweight who later found some success at bantamweight. Had the rules not been for the match to be ruled a draw if it went the distance, Tokoro almost certainly would have won on the judges' cards. Such matchmaking is the very antithesis of fighter safety.

In her heyday, by no means was Carano the product of hype; she was a real fighter with talent. The result of a match between a prime Carano and Rousey wouldn't be in doubt, but there would be little room to complain about the matchmaking. With a five-years-removed Carano, the null hypothesis is that the game has passed her by and even if the female talent pool hadn't increased, Carano's skills would have diminished. Instead of attempting to prove the alternative correct, instead of giving her a tune-up fight, instead of giving her a real chance, she'll likely be thrown to the wolf of the division.

Certainly, the lure of the almighty dollar is enticing. Rousey vs. Carano would be the biggest fight of the year and the match would create a media firestorm perhaps unseen by any other mixed martial arts bout in history. What Rousey is today, Carano was from 2008-09. While Rousey was the fighter that opened the floodgates for women in the UFC, Carano proved women had a place in MMA as major attractions.

In late 2006, Gina Carano was an outsider brought in to face local fighter Elaina Maxwell for Strikeforce. Carano won the match and showed star potential. Just days after the Strikeforce show, Showtime and ProElite announced a partnership, creating EliteXC. Promoter Gary Shaw saw Carano's potential and signed her to fight on the company's debut show. Showtime executives were against women fighting on the television portion of the card. Shaw and Wallid Ismail of all people convinced Showtime executive Ken Hershman that it was worth a shot. Showtime agreed that it was worth a shot, but just one: they had Shaw agree that if the female match didn't go well, he could never broach the subject with them again.

It's fair to say the match went well. Carano and Kedzie stole the show.

A year later, EliteXC led the charge for MMA's major network debut. Carano had already been on a major stage as a gladiator in the reboot of American Gladiators and was a star to those who had seen her compete, but her name value would go through the roof after fighting Kaitlin Young on CBS on May 1, 2008. The match, which Carano won after two rounds via doctor stoppage, gained 1,643,000 viewers over the previous match – the highest viewership gain in North American MMA history at that point.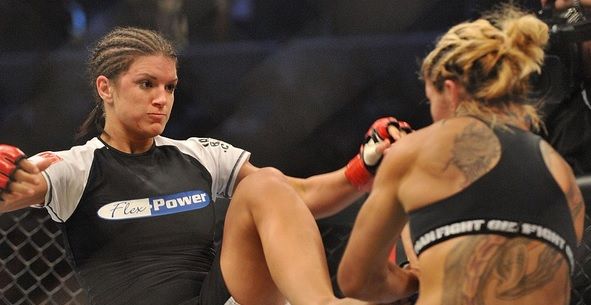 After the show, Carano was clearly one of the promotion's top two stars along with Kimbo Slice. Even at that time, there was a feeling Carano wasn't long for the sport and soon outside offers would be too tempting to resist.

On EliteXC's second CBS special, the fighter Carano would forever be linked with emerged. The idea was that at a worst case scenario, Shayna Baszler would become the new big female star should Carano leave MMA. At best, they could build to a match between the two. Baszler was paired with 4-1 Brazilian Cris "Cyborg" Santos (now Justino) at EliteXC: Unfinished Business. Cyborg blitzed Baszler and was totally dominant. The crowd chanted for Carano, sitting at ringside, and the seeds for the dream match had been planted.

Rather than put the match together right away, the deeply in debt EliteXC planned to build a Carano-Cyborg match for a February or March 2009 pay-per-view. Carano fought Kelly Kobold on the October 4 CBS show, with Cyborg in action in the preliminary card. Again, Carano's match saw strong viewership growth of 1,160,000 viewers, while the company made sure clips of Cyborg's win made air.

By the close of 2008, Carano was a legitimate superstar. She was the focus of two pieces on ESPN's E:60, the second-most searched MMA fighter on Google, featured in a video game, and ranked the fifth most influential woman in the United States by Yahoo (I'm skeptical of the criteria used, but oh well). In 2009, she would be given a brief cameo in a Super Bowl commercial for Pepsi, become the first mixed martial artist featured in ESPN The Magazine's The Body Issue, and score the #16 spot on Maxim's annual "Hot 100" list.

After the October show, EliteXC and parent company ProElite crumbled. In February 2009, Strikeforce purchased select assets, including 42 fighter contracts, from ProElite for more than $3 million. Carano's $25,000 per fight deal was one of those contracts purchased, but her management argued it was non-transferrable, which would make her a free agent. The UFC had interest in her during this time, attempting to sign her to compete in the WEC as a means of dipping their foot in women's MMA before making the full UFC commitment. However, Carano and Cyborg had agreed to sign with the same company to make the fight between them a reality, and Justino had already signed with Strikeforce. In June, Strikeforce announced Carano vs. Cyborg, which most felt should headline a CBS card, would main event an August 15 show on Showtime.

The match for the women's lightweight championship answered any questions about whether women could draw on top of a card. The show drew 13,976 fans in San Jose paying $753,710. The television numbers were even more impressive. When Strikeforce closed in 2013, Carano vs. Cyborg stood out as the promotion's highest rated show on Showtime with a 2.17 rating (some later shows had more viewers, but Showtime had more subscribers by that time, resulting in a lower rating). An average of 576,000 viewers tuned in to the show, peaking with 856,000 viewers (2.91 rating) for the main event.

Carano had brief moments of success in the bout, by Cyborg was largely dominant. With one second remaining in the first round, the referee called the match off. Watching the match at home was director Steven Soderbergh, who followed in the great Hollywood tradition of finding someone that was good at one thing and turning them into an actor. In early 2010, filming started for Soderbergh's Haywire, with Carano in the leading role. The film wasn't a box office success but was a solid critical success. For the next year or two there was talk of an MMA return here and there, but nothing materialized.

In Carano's absence, there were few female stars in MMA. Cyborg, the biggest of those stars, had no challenging opponents – part of the reason she never headlined another Strikeforce card. There were small successes, like Marloes Coenen vs. Liz Carmouche 135-pound title match positioned as the co-main event drawing more viewers than the Rafael Cavalcante vs. Dan Henderson main event match. There was no real heir to Carano until late 2011, when an undefeated judo champion took center stage.

Ronda Rousey picked up the ball where Gina left off and proved the same things Carano proved, just on different platforms. (Yes, there is enough talent for a division in the UFC. Yes, women can draw headlining on pay-per-view.) Those accomplishments and parallels between the two don't necessitate a fight. A match could serve to advance women's MMA, but it would be set up to serve Rousey more than Carano. Under these circumstances, that isn't fair or right.

---




NEWS!



Rousey vs. Davis added to UFC 175. Dana White announced on Twitter Friday night (a weird time to announce your biggest star's next match) that Ronda Rousey has been added to UFC 175 on July 5 against Alexis Davis. The match means nothing for the potential Rousey-Carano bout, which wouldn't take place until late in the year anyway. Also added to UFC 175 was the Wanderlei Silva vs. Chael Sonnen grudge match, with Junior dos Santos vs. Stipe Miocic replacing its spot on May 31 in Brazil. The Daniel Cormier vs. Dan Henderson bout, previously targeted for UFC 175, is likely to change. UFC is hoping to move the fight to UFC 173 pending Henderson being cleared. Henderson was knocked down twice in a fight last month so a Memorial Day Weekend fight doesn't seem like the best of ideas. The backup plan is Cormier vs. Ryan Bader on Memorial Day Weekend.

UFC 175 is being positioned as the biggest card of the year, but the crowded top of the card may overshadow the heated Silva-Sonnen feud. Being third from the top will lessen the focus on the bout in promotion, which may be less preferable than a stronger focus at the cost of a Rousey fight. It also takes three potential main event matches and stuffs them on one show. Most fans certainly won't complain about that, but an event in August or September may be stuck with a relatively weak main event. If the three fights stick, I wouldn't be surprised if it was UFC's second $60 show.





Tito Ortiz vs. Alexander Shlemenko added to Bellator PPV. There are two ways this fight could go. The first is Shlemenko beats Ortiz, who hasn't fought in nearly two years and shouldn't be fighting anymore. The positive in that is maybe some of Ortiz's name value will rub off on Shlemenko and he'll be a bigger star for it (you know, in the same way Matt Hamill became a massive superstar after beating Ortiz in 2010). The other way is Ortiz, 39, beats Bellator's middleweight champion. Neither option is good. It's matchmaking in the same ilk of Ortiz's matches with Shamrock, only with no chance at being as meaningful. The match is scheduled to take place at light heavyweight.

UFC offers Nick Diaz Hector Lombard; Diaz won't fight for less than $500,000. Nick Diaz seemed interested in a match with Hector Lombard when asked by Dana White, but he never accepted the match. Then Diaz gave an interview to MMA Fighting saying he wouldn't fight for less than $500,000 or a title shot. If UFC collects $24 per North American PPV buy, Diaz would have to add 21,000 buys to make up for his expense. But an alternative headliner wouldn't make $0, so the true number is even less than that. If Diaz replaced the June main event where Demetrious Johnson would make at least $175,000, he would only have to add 13,542 buys to make up the expense. I would be shocked if Diaz didn't add significantly more than 14,000 buys over a Johnson PPV, so he's absolutely worth it. However, he also noted in the interview he doesn't want to fight, and I'm not a big proponent throwing money at someone to fight when they really don't want to. If he wants to fight, he's worth the money. If he doesn't want to fight, he shouldn't for any amount.

Weekend recap. UFC returned to Abu Dhabi on Friday for a strong $1.8 million gate. Roy Nelson obliterated Minotauro Nogueira, knocking him out in the first round. Nogueira was known for being able to absorb tremendous punishment in his Pride days which is a trait that dissipates over time. In ten UFC bouts, Nogueira has been knocked down eight times, knocked unconscious twice, and finished by strikes another time. He should not step foot inside the cage as a competitor again. Clay Guida beat Tatsuya Kawajiri by decision in a good fight. Kawajiri, nearly 36, isn't quite the fighter he once was. Ryan LaFlare advanced to 11-0 beating John Howard. In the main card opener, Ramsey Nijem knocked out the favored Beneil Dariush. Over at Bellator, Blagoi Ivanov, who is a walking miracle, submitted Lavar Johnson to move to the heavyweight tournament finals. He'll be matched against Alexander Volkov, who beat Mighty Mo in the opener via head kick. In between those bouts, Adam McDonough knocked out Nathan Coy, and Joey Beltran submitted Vladimir Matyushenko.

Vladimir Matyushenko retires. Prior to stepping in the cage Friday night, Vladimir Matyushenko acknowledged it would be his final competition no matter the result. The 43-year-old had lost two of his last three bouts and injuries were becoming more frequent. Despite never reaching an elite level, Mayushenko's career brought him to a number of interesting places, including one of the most notable events in UFC history.

After a successful early career where he went 9-1 beating names like Vernon White (though White later avenged the loss via split decision), Anthony Macias, and Travis Fulton, Matyushenko got the call to compete at UFC 32. There he defeated Yuki Kondo in a poorly received fight. He was then matched with former heavyweight champion Kevin Randleman at UFC 33. The event was key to the UFC: not only was it their first show in Nevada, which had recently sanctioned mixed martial arts, it was their first show back on cable pay-per-view. After years of being available in the 5-7 million homes with satellites, UFC's pay-per-view universe immediately jumped up to more than 40 million for UFC 33. They stacked the card with three title matches, headlined by Tito Ortiz vs. Vitor Belfort. At the time, UFC president Dana White revealed the show would need 100,000 buys to break even.

A week before the fight, disaster struck as Belfort was forced out of the fight. UFC tried to save the card by offering the match to Frank Shamrock, who would only do the fight at 185 pounds. Ken Shamrock was next on the call list, but he priced himself out of the fight. Then Matyushenko was approached and turned the fight down. Finally, Randleman agreed to take the match. He then immediately injured his wrist and was pulled from the card. After all that, Matyushenko agreed to the title fight.

On fight night, every main card match prior to the main event was boring and went the distance. Satellite time was running low as Ortiz and Matyushenko entered the cage. During the fourth round of a dull match, the show went off the air. Matyushenko would end up losing a wide decision. White has repeatedly referred to the card as the worst in UFC history. The show, coming just a few weeks after 9/11, pulled in around 75,000 buys. Instead of being a launching point, UFC 33 marked a major disappointment and it wasn't until UFC 40 a year later they would even come close to eclipsing 75,000 buys.




After the loss, Matyushenko soldiered on. Following a one-off bout outside the UFC beating Antonio Rogerio Nogueira (in Nogueira's fourth match), "The Janitor" returned to the UFC in November 2002 as a heavyweight. After picking up wins over Travis Wiuff and Pedro Rizzo, he was matched with Andrei Arlovski in what essentially amounted to a number one contender's match. The match was exciting, but brief, and didn't go Matyushenko's way. He wouldn't fight again for nearly two years, and fought sparingly before signing with the IFL (International Fight League) in 2007.

Soon after Matyushenko's debut in the promotion, IFL Battleground debuted on MyNetworkTV and drew a strong 1,120,000 viewers for the debut, but the content was universally panned. The taped show accentuated MMA's most violent aspects – the very thing that put UFC in the dark ages years earlier. One of the show's promotional pitches was that one fighter would leave on a stretcher. The show was so bad the IFL quickly apologized for the debacle. Ratings began a steady fall and a year later the show was cancelled. In 2008, the IFL folded.

As the IFL fell, Matyushenko's career surged. He won all six of his bouts in the promotion, and became the promotion's only light heavyweight champion in late 2007. After the IFL went out of business, Matyushenko, carrying a 21-3 record by this point, was signed to Affliction.

Perhaps MMA's most famous failed would-be UFC competitor, Affliction snatched up high priced talent with the idea of recouping their losses on pay-per-view. The crown jewel of their promotion was the top heavyweight in the world, Fedor Emelianenko, and they hoped to put together a match between "The Last Emperor" and UFC champion Randy Couture, who was on the outs with Zuffa. The first show, despite receiving a publicity boost after UFC decided to throw together a competing show headlined by Anderson Silva on short notice, didn't come close to breaking even. Still, Affliction had hopes of breaking through with the Fedor vs. Couture match. In the meantime, Affliction asked at least one fighter to take a 50% pay cut. In early September 2008, the dream match went out the window as Couture came to a new agreement with the UFC. Days later, Affliction cancelled its second event due to poor ticket sales. Their next event, dubbed "Day of Reckoning," would ultimately be their last.

Matyushenko headlined the HDNet preliminary card matches of "Day of Reckoning" against Antonio Rogerio Nogueira. The Brazilian got his revenge by knockout in the second round, but Matyushenko still got a call from the UFC when Affliction went under in the summer of 2009.

Just one week away from the six year anniversary of his loss to Arlovski, Matyushenko defeated Igor Pokrajac on the preliminary card of UFC 103. That show saw the introduction of televised prelims – a move made in attempt to combat the Floyd Mayweather fight UFC was going up against that night. After beating Eliot Marshall in his next outing, Matyushenko went up against who many considered the most talented young fighter in the sport: Jon Jones. In the headlining bout of UFC's second show on Versus, Jones easily dispatched Vladimir in under two minutes. The show drew an audience of 991,000.

Matyushenko then had a brief late-career resurgence. He scored first round knockouts of Alexandre Ferreira and Jason Brilz, the latter in just 20 seconds. In December 2011, he once again played the role of elder gatekeeper against a young highly-regarded fighter. Like Jones, Alexander Gustafsson made short work of Matyushenko. After just one more match in the UFC, a 50 second loss to Ryan Bader, Matyusheno was released from the promotion.

The final portion of Matyushenko's career took him to Bellator MMA – a UFC competitor with strong television that hadn't made many foolish financial decisions. At Bellator 99 he defeated Houston Alexander in a dreadfully dull fight, which took him to Friday. A gassed Matyushenko submitted to Joey Beltran in the third round of their Bellator 116 match. After the contest, Matyushenko placed his gloves at the center of the cage. He plans to stay involved in MMA through coaching.

Quick news: The top two fights at UFC 174 in June will be Demetrious Johnson vs. Ali Bagautinov for the flyweight title and Rory MacDonald vs. Tyron Woodley. It won't do well on pay-per-view, but those are interesting fights... I don't think anybody reads columns this long... Bjorn Rebney doesn't believe Ronda Rousey is the biggest star in MMA, as UFC loves to claim. Out of all the current top stars, Rousey is the most famous in the United States... Alistair Overeem is likely headed to Team Jackson/Winkeljohn... There was an awful incident in Wyoming where a fighter named Junior Maranhao passed out on his stool and fell the floor face down unconscious. His corner then propped him back up on the stool and he was allowed to continue fighting after a doctor's examination that did not include even glancing at Junior but rather asking the corner a question. This is how fighters die. The Wyoming State Board of Mixed Martial Arts blatantly lied in a statement after the fight about the doctor having examined the fighter. Even if that was the case, he shouldn't have been allowed to continue. The cornermen, the doctor, and the referee are all at fault.

---


As always, thanks for reading. Feel free to leave any feedback in the comment box or email me at plunkettdan@yahoo.com.

comments powered by