SPOTLIGHTS
411 MMA Fact or Fiction 4.17.14: Diaz/Lombard, Roy Nelson, More
Posted by Wyatt Beougher on 04.17.2014

Is Roy Nelson unrealistic in asking for a title shot? Will the winner of the potential Nick Diaz/Hector Lombard fight earn a title shot? 411's Jeremy Lambert, Dustin James and a special guest debate these topics and more!




Welcome to MMA Fact or Fiction, and I'm your host, Wyatt Beougher. Last week was the finals of the 2014 411 MMA Fact or Fiction Tournament, and what a contest it proved to be, as newcomer Koeddy Laemmle went down to the wire with journeyman Todd Vote. When the dust settled, Koeddy edged out Todd by a mere four votes, making him this year's tournament champion and earning him a guaranteed number one seed in next year's tournament, should he choose to compete. Unlike last year, I've decided to reboot the win-loss totals this year, so that the annual tournament becomes the MMA Zone's playoffs, and since we're switching to a seasonal format, I've got a special pre-season exhibition match-up for you. Stemming from a Twitter conversation from a few months ago, I've gotten two of the last three hosts of MMA Fact or Fiction together, which they knew about. On top of that, I've asked the former host of Wrestling Fact or Fiction and the first champion of the MMA Tournament of Great Significance, Steve Cook, to join in on the fun.

As I mentioned, this will be an exhibition bout of sorts, so the result won't count against anyone's record going forward, because it's difficult to score a triple threat bout fairly. That's not even including me springing Big Stevie Cook on them, so in the interest of fairness to my predecessors, you'll still be picking a winner this week, and that winner will receive the points that they would get if this were a standard bout, but the losers won't be docked points.




Jeremy "Cardio Freak" Lambert VS Dustin "King" James VS Steve "Last of a Dying Breed" Cook
---

Is Nelson being too optimistic?



1.) Roy Nelson is overly optimistic in asking for a title shot after his win over Antonio Rodrigo Nogueira.

Jeremy Lambert: FICTION Why not? Don't they hand out title shots like candy nowadays? Roy Nelson knocks people out. UFC loves guys who knock people out cause it's easier to put them highlight packages. After Fabricio Werdum and that one guy fight, who else is left? I bet Dustin James would be thrilled if Roy Nelson got a title shot. He's a bit of a chubby chaser. And Todd Bergman told me years ago that Roy Nelson would beat Cain Velasquez and ever since then I've wanted to see that fight because it's funny when TBerg is wrong.

Dustin James: FICTION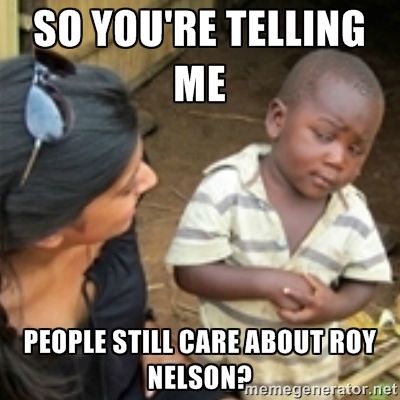 Steve Cook: FACT A win over Big Nog would have been a grand accomplishment for Roy Nelson if this was 2004. It's 2014 & Big Nog has been 5-5 since entering the UFC. Roy Nelson getting a title shot because he beat this guy would be pretty ridiculous, but it's not like you can fault him for asking. I asked Jeremy Lambert one time why he kept hitting on 15-year old Disney Channel actresses on Twitter, and he said that he wouldn't know if they were interested unless he asked. Similar logic here for Roy Nelson. He won't get the title shot but he will get mentioned in columns like this one & Dana will remember he exists. Win-Win.

---
Remember when Clay Guida was known for awesome fights?
2.) Clay Guida suggesting that the UFC is protecting Conor McGregor, regardless of his intention, isn't going to score him any points with his employer.
Dustin James:
FACT


Steve Cook: FICTION My first thought on this topic was that Dana White doesn't really seem like the type of guy that appreciates criticism from his employees. Or criticism from anybody. Then I remembered that UFC is sports entertainment, and what better way to get what you want than to criticize management? It worked pretty well for Stone Cold Steve Austin back in the day, and for CM Punk & Daniel Bryan more recently. Guida is simply implementing reverse psychology so Dana will be tricked into booking him against McGregor. It reminds me of how Todd Bergman swore for years that he would never appear in this column again after he retired as the host. Then he came back after people repeatedly pointed out the yellow streak running down his back. Guida will get his fight.

Jeremy Lambert: FICTION I don't know who Conor McGregor is, but I don't see the harm in what Guida is saying. What's the worst that's going to happen to him? Dana White might bury him or maybe he'll get to fight Connor McGregory. They might even make it a main event on some random Monday night fight card. TBerg can watch that since he's given up on wrestling.

---

Was this a fitting ending to the career of the Janitor?



3.) Joey Beltran choking out Vladimir Matyushenko was actually a fitting end to the Janitor's career.

Steve Cook: FICTION As a man that wishes peace & goodwill for my fellow man, I find it hard to argue that getting choked out is a fitting end to anybody's career. I also find it hard to argue that a janitor retiring in his early-40s is fitting. Most janitors I've known were well over their early-40s & were holding out until they hit 65 so they'd get their Social Security. You can tell I haven't known many janitors in the past ten years. Honestly, this question seems a bit mean-spirited. It's like saying that drowning in a duck pond would be a fitting end to Dustin James's career.

Jeremy Lambert: FICTION A fitting end to a Janitor's career would be if he was cleaning up spilt milk and then his son walks up, takes the mop, and cleans it for him. Then Vladimir can say, "You don't have to do that" and Vladimir Jr. can say "I know, and neither do you" while the audience cheers. Sup Steve Cook?

Dustin James: FICTION


---

Could Diaz really get another title shot?



4.) If the UFC can put together a Nick Diaz/Hector Lombard fight, the winner of said fight would likely receive a title shot, deserved or not.

Jeremy Lambert: FACT Sure. Georges St. Pierre is still the champion until he loses. So whatever. Sup Samer Kadi?

Dustin James: FICTION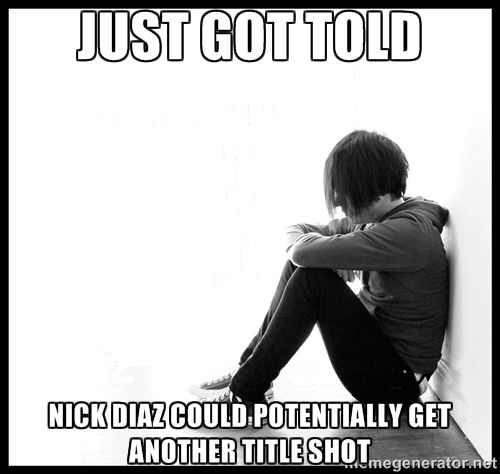 Steve Cook: FICTION I guess it depends when they would receive the title shot, and if Nick Diaz wins the fight. Diaz is coming off of 2 straight losses and theoretically would need to win at least one more fight to be worthy...but he has name value. Lombard doesn't have the name value that would motivate UFC to book him ahead of several others. I would think that the upcoming fight between Rory MacDonald & Tyron Woodley would have more impact on who gets the next title shot since they are both higher in the OFFICIAL UFC RANKINGS than Lombard. Then again, I'm assuming UFC does things based on their own rankings system, which is probably a silly thing for me to assume. Maybe it's just about the name value, like it was when T-Berg had me win the first MMA Fact or Fiction Tournament.

---
Even though the fight didn't go off due to illness, Camozzi's heart was in the right place.
5.) More fighters need to follow Chris Camozzi's lead, and work out sponsorship deals that give money to charity.
Dustin James:
FICTION


Steve Cook: FACT Come on now, who in the blue hell is going to suggest that fighters should not find ways to give money to charity? Not even people as terrible as the people I'm paired with this week could think of this as Fiction. If I was in a position where I could generate money for charity I would. Unfortunately I'm so hard up for work these days that I'm appearing in a Wyatt Beougher column. Where the hell is my life going? [Editor's Note: I appreciate your charity, Steve. -W]

Jeremy Lambert: FICTION Who is Chris Camozzi? And is there a charity named UFC Fighters? Cause those are the guys who could use the money. Suck it Dustin James and Todd Bergman. I WIN!

---


So who won our big exhibition bout? Were Lambert's insults enough to overcome Dustin's memes? Did Cook sneak in and steal the win like that one time where TBerg gave him the win against me even when he said Jim Miller was better than Ben Henderson like two days after Henderson beat Miller? Voting will be open until midnight EST on Saturday, so make sure you vote and make your voice heard!





---

Was XXX one of the best?



Bonus) This year's Wrestlemania was the best one in recent memory.

Steve Cook: FACT I think you have to go back to WrestleMania 23 to find a WM card that was more meaningful & delivered more from top to bottom. I'm a bit biased here since my boy D-Bryan won the championship in the main event, but the show solidifying him as a top guy is reason enough to rank it over the last several editions that either tried to make guys but didn't quite get the job done or coasted on part-timers & sizzle or coasted on Shawn Michaels & Undertaker matches. WrestleMania XXX had the pageantry & a couple of part-timers, but was more notable for putting over the guys that should carry WWE into its next era while bidding farewell to some of the guys that helped get WWE where it is today.

Jeremy Lambert: FACT I might be biased because I was there (WHO WANTS TO TOUCH ME?!?!) but this year's Wrestlemania was awesome. There were two great matches, but, more importantly, there were at least four memorable moments. Austin, Hogan, and Rock being in the same ring together, Daniel Bryan winning the title, Cesaro picking up Big Show, and Undertaker losing. What other Wrestlemania has given fans that many moments? Even if you're upset about Undertaker losing or CM Punk not showing up, WWE gave fans plenty to talk about the next day and followed up Wrestlemania with a pretty spectacular Raw. Even rewatching it on WWE Network, I got chills during those moments and can't wait to buy the Blu-Ray. YAY WRESTLING!!

Dustin James: FACT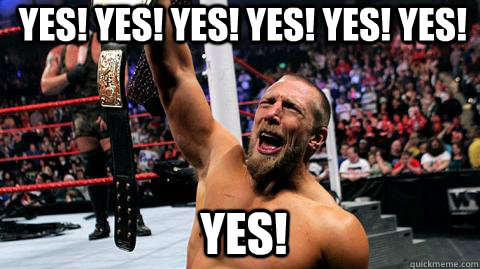 ---


And that's it for today, but we'll be back next week with a return to normal one-on-one competition! As always, if there's anything you'd like to see featured in a future edition, leave your statement in the comments and I'll add it in. Let us know what you thought in the comments, on Twitter, or on Google+. And please, be sure to vote!
comments powered by