SPOTLIGHTS
MMA's 3R's 4.17.14: UFC Fight Night 39 and Bellator 116
Posted by Jeffrey Harris on 04.17.2014

From the matchmaking of Tito Ortiz vs. Alexander Shlemenko to Roy Nelson putting Big Nog to sleep and more, 411's Jeffrey Harris breaks down the Right, the wRong, and the Ridiculous for UFC Fight Night 39 and Bellator 116!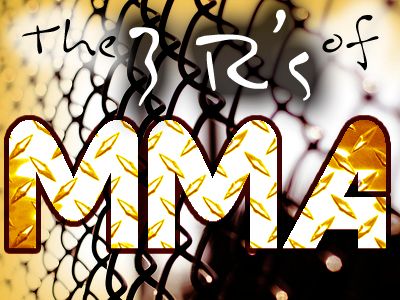 *The Column Concept*
Greetings loyal readers and welcome back to a brand new edition of the MMA's 3R's, where we look at the Right or the good, the wRong or the bad, and the Ridiculous or the absolute worst in the MMA world.

OK, last week, the column went in before the news about the passing of the Ultimate Warrior, so I wanted to address it this week. Ultimate Warrior was without a doubt one of my favorite wrestlers of all time. It was pretty shocking and devastating news. And it was tough to talk about right off the bat. The news of his death was such a shock because the whole last week had been such a high. I got the new Ultimate Warrior: The Ultimate Collection on Blu-ray. I was riveted and overjoyed to see Ultimate Warrior join the WWE Hall of Fame at long last. Warrior came off like a different person as of late. It looked like he and the WWE had put all their old grudges to rest so they could do business together. And I think that's great for everyone.

Personally count me among the group that hated The Self-Destruction of the Ultimate Warrior. Now, I will admit, I realize that Warrior is no choir boy. He's clearly a flawed human being. I can't really defend or agree with some of the radical and extreme views he's voiced in the past. Now that aside, the DVD did probably have some valid criticisms of the Warrior. The DVD did cover his whole career, but it also unnecessarily and unfairly criticized and smeared him. Like for example, there's a segment of the DVD that rags on Warrior for coming from "Parts Unknown." Well it's not like Warrior is the only wrestler to have a weird hometown. The Undertaker was presented as coming from Death Valley throughout most of his career besides the period where he was Biker Taker from Houston, Texas. Also at the time, the Parts Unknown label was cool and interesting. It added to Warrior's character. Would Warrior have captured the imagination of the people or been as interesting in his initial WWF run if he was announced as being from Queens, New York? Well maybe, but it just added to his mystique and aura.

He was criticized for being a terrible worker. Well to each his own. I like a good five star MOTYC candidate with tons of workrate as much as anybody. But Warrior's style and the matches he was in generally worked for his character. He could have that great match when he needed to. As I've gotten older, I've also come to appreciate matches that don't have to have a certain time limit or a certain type of style in order to be considered good. Watching a lot of his earlier work on the Ultimate Collection, I think Warrior was a good worker. Don't get me wrong, he wasn't a Bret Hart, but he had plenty of quality matches throughout his career. Also, the guys who were critical of his style on the DVD, well at the time in the Rock n Wrestling era of the WWF, there was hardly a huge focus on the in-ring product. It was more about characters, gimmicks, and stories. Warrior wasn't as gifted with the in-ring skills of his peers, but there were also plenty of other big superstars in the WWE that weren't known for their tremendous in-ring were either. I think Warrior is correct on his Ultimate Collection segment where he said the business was changing and it "wasn't about wrestling anymore." To a degree, he is correct.

Now the promos. Warrior's promos were crazy and out there, but they worked completely for his character. He cut bizarre promos, but why is that bad?! Warrior was a bizarre character and for him those types of promos worked perfectly. He was amped up and full of energy. And why is this bad? Pro wrestling is full of bizarre characters that are almost like aliens from another planet or beings from another dimension. Try listening to some of Macho Man's promos from the 1980's, where at times he's almost indecipherable and saying some bizarre things. Those weren't bad promos either. I just think it's another bad reason to pick on Ultimate Warrior because he cut in-character promos. People can make fun of the "Crash the Plane" promo, but on some strange level I get it. Before you start saying I'm as nuts as Warrior was, what I get of something like that promo where he tells Hulk Hogan to break into the cockpit and crash the plane, I think Warrior is just in his own way basically telling Hogan to bring it and find him in Parts Unknown. He's laying down the challenge for Hogan and bringing the fight to him. Something like that. Either way, I enjoy those promos because Warrior's delivery and energy made it work. Warrior was unique and he was a fun, entertaining character inside and outside the ring.

Now Warrior being a loner and not being one of the boys could've been detrimental to him. He probably should've picked his battles better with Vince McMahon. But at the end of the day, it was Vince McMahon who came to Warrior, desperate to get him back in 1996. He also had Linda McMahon basically give him whatever he wanted to come back. He was already basically done with wrestling at the time. Now I understand why he made some of the choices he did, but he probably should've picked some of his battles with McMahon better back in 1991.

I had no inkling Warrior wasn't doing well or sick, but other people told me he wasn't looking well on Raw. Based on what I've read, I don't think his death was caused directly by steroids or his steroid use in the 80's. While maybe it didn't help, it sounds like based on his family, the men in Warrior's family have a hereditary issue with heart disease or suffering heart failure in their mid-50's. But it's depressing that he had to die after he had finally made peace with the WWE, gotten into the Hall of Fame, and had signed an ambassador deal. I think Warrior having a presence as a retired legend with the company could've been great, and with the WWE Network, we'd get to see more of him on there. His promo itself, which some have pointed out is almost like Warrior providing his own eulogy, was equally eerie and creepy. I didn't get the sense from Warrior that he knew he'd be gone so soon, but I don't truly know.

In short, I wanted to pay my respects to the Ultimate Warrior. When I was a kid and my brother was the Hulkamaniac, I was one of the little Warriors. I'll never forget all the fun I had watching Warrior as a kid and as an adult having an even greater appreciation of his work and how much of a unique, revolutionary persona he created. I still get energized watching him do his crazy, manic entrances, running out to the ring, shaking the ropes with that classic theme, the facepaint, the streamers, the Warrior was a package unlike any other or any will be ever again. He was no Shawn Michaels or Bret Hart in the ring, but for his persona, I think the type of matches he had worked really well. But he still had some very good, underrated matches throughout his career, which I would highly recommend you check out the new DVD for. But there was one other match that wasn't on there that I thought was truly classic. It was a TV match with Warrior teaming up with Hacksaw Jim Duggan against Andre the Giant and Rick Rude. It was a good, quality TV match with two mega faces taking on two of the biggest heels in the company. Warrior and Hacksaw were both borrowing each other's mannerisms. Andre the Giant was doing the same, going as far as doing the Ravishing Rick Rude swivel. It was a fun, perfectly acceptable match. And again, I don't need a 30-minute five star match to enjoy it. Just like the time where Warrior first beat Honky Tonk Man in 30 seconds. The moment that short little, barely-there match created is classic and unforgettable and people still talk about it today. What Warrior lacked in the ring he made up for by being larger than life and creating those big, unforgettable moments. Thank you for everything, Ultimate Warrior.



Always believe

Alright, so this weekend was a little slower in terms of news. Bellator MMA was back last Friday with Bellator 116 on Spike TV. The UFC had an event the same day on the other side of the world in Abu Dhabi with UFC Fight Night 39 which was streamed on Fight Pass, but earlier in the day. And next week, I'll be recapping a double-shot of UFC events. So let's get to it.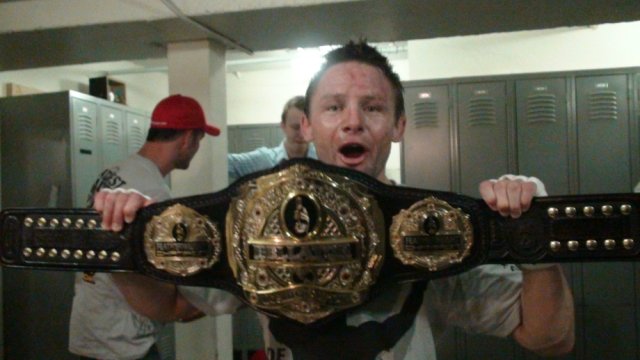 THE RIGHT:


Roy Nelson vs. Antonio Rodrigo Nogueira: The fight went a little quicker than I thought it would, but Nelson absolutely flattened Nogueira in the first round. As much as I like and respect Nogueira and what he's done in his career, it's time for him to hang it up. He had the chance to end his career on a high note after beating Dave Herman in Brazil, but Herman was basically a gimme fight for him. Nogueira can't compete at a high level anymore. That's not a knock on him, it's just the truth. And it happens to almost every fighter at some point. Nogueira has taken a lot of damage throughout his career, and that's clearly affecting him now. Going back to Pride FC, he wasn't really great with his head movement or striking defense. But his chin is clearly gone at this point. He put up a valiant effort, but I think this win proves that its time for him to hang it up. For a lot of fighters, it's tough to walk away from the sport. For some, it's akin to an addiction. I think that's what it is for Nogueira. In the past, I've gotten the impression that when reporters ask him about retirement that it makes him literally and physically ill. I don't think it's a coincidence that he was wearing a shirt that said "Never Quit" before this fight. The UFC need to sit down with him and really explain to him that it's over now. Give him his Hall of Fame spot, perhaps a cushy UFC for life job in Brazil. Nogueira can still do a lot for the sport outside of the cage, and he's a tremendous ambassador for the sport in Brazil. But it's clear to see his time in the sport is over. Roy Nelson gets an impressive knockout win over a legend, but despite his vehement anti-drug stance in MMA, he's on something himself if he thinks a win like that over Nogueira gets him a title shot. Roy Nelson is a fun fighter to watch, and he's probably among the toughest fighters who have ever been inside the Octagon, but he's never been able to get the big signature wins. He's lost against every top five guy he's ever fought in the UFC. Stipe Miocic wasn't even in the top 5 when he beat Nelson. I think there are still fun match-ups for Nelson in the UFC. A Mark Hunt fight I think would be a money heavyweight fight, but he's never been able to get to a level where he wouldn't get eaten alive by top 5 guys.


Roy Nelson knocked out Antonio Rodrigo Nogueira in the first round at UFC Fight Night 39.

Clay Guida vs. Tatsuya Kawajiri: Credit where credit is due because Guida put on a decent performance here, and he and Kawajiri both earned Fight of the Night on this card. I figured this would be a favorable match-up for Guida. Kawajiri is a solid fighter, but I never see him being able to get to the elite level at lightweight or featherweight. He's got an impressive resume and some good wins, but the way he matched up against Guida I think just meant a win for Guida. Guida got an impressive knockdown here, but he wasn't quite able to get the finish. Still it was best he's looked for quite some time. Guida is really a solid veteran gatekeeper talent on the roster. He has a lot of wins and fights in the UFC, but he's lost all of the bigger fights of his career. With that in mind, I think Guida would be a solid test for someone like Conor McGregor if McGregor doesn't fight Cole Miller. If McGregor is ever going to get to the top, he needs to be able to beat a fighter like Clay Guida. His callout of McGregor was humorous at least.


Clay Guida defeated Tatsuya Kawajiri at UFC Fight Night 39.

Vladimir Matyushenko vs. Joey Beltran: This featured bout on Bellator 116 was good little fight. More than anything, it was a good fight for Matyushenko to retire on, as this was the last fight of his career…unless he decides to heck with retirement and decides to come back. Both guys decided to stand and bang it out for most of the fight despite Matyushenko's wrestling background. In the third round Beltran was easily able to get Matyushenko to the mat and applied a north-south choke for the win. It was a great finish as it's pretty rare to see a fight get finished with a north-south choke. I like Matyushenko a lot, but he's clearly slowed down a lot since he hit about 40. Matyushenko was a solid talent and he's fought a lot of big names. He even fought for the UFC light heavyweight title back in 2001 against Tito Ortiz at the infamous UFC 33 card. The title fight even cut out for some cable systems because the event ran too long. After he returned to the UFC he picked up a few wins but ultimately he was cut after going 4-3 for his last Octagon run. So hats off to the Janitor and all he's done for the sport.



Vladimir Matyushenko was submitted by Joey Beltran at Bellator 116. Matyushenko is now retiring from MMA.

Ramsey Nijem vs. Beneil Dariush: Nijem got a great win and a great moment for his career by knocking out Beneil Dariush in the first round at UFC Fight Night 39. Nijem clearly enjoyed the moment, being of Middle Eastern descent and getting to fight in Abu Dhabi. It was an impressive win when he was in quick need of one. Had he lost here, he possibly could've been on the chopping block. Either way, good fight and win for Nijem.




THE wRong:

Johny Bedford vs. Rani Yahya: It's too bad about this one as I thought it had potential. The fight was stopped due to a head butt not even a minute into the first round. The head butt by Bedford basically knocked Yahya out. It was clearly unintentional, so it was declared a no contest. It sucks to see this, but it's a part of MMA. I think Bedford handled this a little poorly, as it seems like he didn't understand there was a foul. But sometimes the adrenaline and being in the moment can get the better of fighters.

Alexander Volkov vs. Siala-Mou Siliga: Ah, the dregs of heavyweight MMA with the former Bellator heavyweight champion against Mighty Mo. Mighty Mo is a 6-3 fighter with wins over no one of note and he previously lost to the likes Semmy Schilt and Josh Barnett in Japan. The fight here ended in the first round at least, but Mo gassed out in what looked like seconds into the first round. The head kick finish looked good, but the fight itself looked like it was moving in slow motion until then. Here's a video of the head kick KO finish:


Alexander Volkov knocked out Mighty Mo to advance to the finals of the season 10 light heavyweight tournament at Bellator 116.

Adam McDonough vs. Nathan Coy: I'm putting this into the wrong category because this fight clearly shouldn't have gone into the first round. Coy was clearly out on the mat after that first initial flurry from McDonough. Mike Beltran really dropped the ball here. Did Coy recover? Yes he did. But he did so only after getting hit with a ton of unanswered shots and basically going out. The fight really should've been stopped in the first round before Coy ate another hard punch and his head went splat face first to the mat in the second. There is leniency and then there are moments where Beltran just looked like he wasn't in control at all. Also, I'm sorry, but a licensed referee should not be allowed to go into the cage with such a ridiculous mustache. Some work places don't allow exposed tattoos or excessive piercings. To me this would fall under that. You shouldn't allowed to be an MMA referee and have a mustache that almost goes to your waist.




THE RIDICULOUS:

Alexander Shlemenko vs. Tito Ortiz: Yeah, so it looks like this happening. That is until a certain guy gets injured and pulls out of the fight again. So Alexander Shlemenko is the Bellator middleweight champion. He called out Tito Ortiz (check out his callout video below) to a PPV fight on May 17, now Bellator's first PPV event. So then they did a cheesy standoff with the two during the Bellator 116 event, and now it looks like this fight is booked for PPV. On some level, I can see why Shlemenko would pursue this fight. In Bellator, his compelling match-ups at 185 lbs are slim pickings. Tito Ortiz is an aging legend of the sport, who really shouldn't be fighting anymore. A PPV fight against Ortiz would give him a big name to fight. The match-up itself is ridiculous. Ortiz is a career light heavyweight. Shlemenko looks like he could be fighting at welterweight, but he doesn't really need to since the competition in Bellator's middleweight division isn't that strong. Ortiz's promo during Bellator 116 was laughable, and he stumbled through saying that this was going to be Rocky IV, but for real. Please. Shlemenko is a good fighter, but he's no Ivan Drago. Plus he's a weight class below you Ortiz. The fact that Ortiz's body can't hold up to the training anymore I think is a pretty good signifier that he should've stayed retired. He really doesn't belong in the cage anymore. I can understand wanting to compete, but he left the sport and retired on a good moment even with a loss. He shouldn't have come back.


Alexander Shlemenko is currently set to face Tito Ortiz at Bellator's PPV debut in May. Until Ortiz breaks his neck or fractures his skull and gets injured days out from the event.


That's it for the R's. But what else is going on at 411mania.com with yours truly, the 411mania Jack of All Trades?

Don't miss my official, exclusive review of the No. 1 movie of the weekend for two straight weeks and what I think is likely to be my favorite movie of the year, Captain America: The Winter Soldier.

Also, check out my official review of the new sequel Muppets Most Wanted.

Check out my exclusive interview with the fan-favorite and stunningly gorgeous actress, Eliza Dushku.




* TWITTER *
* http://www.twitter.com/411mma *
* http://www.twitter.com/411wrestling *
* http://www.twitter.com/411moviestv *
* http://www.twitter.com/411music *
* http://www.twitter.com/411games *
comments powered by