SPOTLIGHTS
411's MMA Roundtable Preview - UFC on Fox: Werdum vs. Browne
Posted by Dan Plunkett on 04.18.2014

Travis Browne fights Fabricio Werdum to determine the #1 heavyweight contender at UFC on FOX 11! Plus Miesha Tate battles Liz Carmouche and more! Check out the full roundtable for all the details and join 411 for LIVE coverage of the event Saturday night!




WELCOME:
A heavyweight title shot is at stake as Fabricio Werdum faces Travis Browne in the main event of UFC on Fox! In the co-main event, former UFC title contenders Miesha Tate and Liz Carmouche square off. Plus, Donald Cerrone fights Edson Barboza, Brad Tavares vs. Yoel Romero, and more!

THE STAFF:


From MMA's 3R's, Jeffrey Harris!


He compiles 411's MMA Rankings, Jonathan Solomon!


From Five Quick Rounds, Evan Zivin!


From the Locked in the Guillotine MMA News Report, Robert Winfree!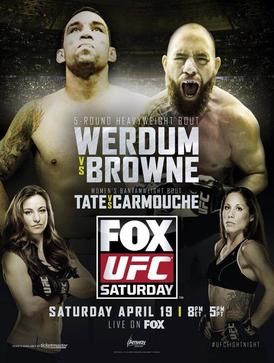 THE PRELIMINARY CARD:




First three prelims on UFC Fight Pass, rest on Fox Sports 1.




Heavyweight Bout: Derrick Lewis vs. Jack May



Jeffrey Harris: Derrick Lewis, Decision
Jonathan Solomon: Derrick Lewis, Decision
Evan Zivin: Derrick Lewis, TKO, Round 1
Robert Winfree: Jack May, TKO Round 1
The staff picks Derrick Lewis, 3-1.



Featherweight Bout: Mirsad Mektic vs. Chas Skelly



Jeffrey Harris: Chas Skelly, Decision
Jonathan Solomon: Mirsad Mektic, TKO, Round 2
Evan Zivin: Mirsad Mektic, TKO, Round 2
Robert Winfree: Chas Skelly, Decision
The staff calls it a draw, 2-2.



Flyweight Bout: Dustin Ortiz vs. Ray Borg



Jeffrey Harris: Dustin Ortiz, TKO, Round 2
Jonathan Solomon: Ray Borg, TKO, Round 1
Evan Zivin: Dustin Ortiz, Submission, Round 1
Robert Winfree: Dustin Ortiz, Submission Round 2
The staff picks Dustin Ortiz, 3-1.



Welterweight Bout: Jordan Mein vs. Hernani Perpetuo



Jeffrey Harris: Jordan Mein, TKO, Round 1
Jonathan Solomon: Jordan Mein, Decision
Evan Zivin: Jordan Mein, TKO, Round 1
Robert Winfree: Jordan Mein, TKO Round 2
The staff picks Jordan Mein, 4-0.



Middleweight Bout: Caio Magalhaes vs. Luke Zachrich



Jeffrey Harris: Caio Magalhaes, Submission, Round 1
Jonathan Solomon: Caio Magalhaes, Decision
Evan Zivin: Caio Magalhaes, Decision
Robert Winfree: Luke Zachrich, Decision
The staff picks Caio Magalhaes, 3-1.



Featherweight Bout: Estevan Payan vs. Alex White



Jeffrey Harris: Estevan Payan, TKO, Round 1
Jonathan Solomon: Alex White, Submission, Round 3
Evan Zivin: Alex White, Submission, Round 1
Robert Winfree: Estevan Payan, Decision
The staff calls it a draw, 2-2.



Lightweight Bout: Jorge Masvidal vs. Pat Healy



Jeffrey Harris: Pat Healy, Submission, Round 2
Jonathan Solomon: Pat Healy, Decision
Evan Zivin: Jorge Masvidal, Decision
Robert Winfree: Pat Healy, Submission Round 3
The staff picks Pat Healy, 3-1.



Welterweight Bout: Thiago Alves vs. Seth Baczynski



Jeffrey Harris: Thiago Alves, Decision
Jonathan Solomon: Thiago Alves, TKO, Round 3
Evan Zivin: Seth Baczynski, Submission, Round 3
Robert Winfree: Thiago Alves, Decision
The staff picks Thiago Alves, 3-1.



Lightweight Bout: Rafael dos Anjos vs. Khabib Nurmagomedov



Jeffrey Harris: Khabib Nurmagomedov, Decision
Jonathan Solomon: Khabib Nurmagomedov, Decision
Evan Zivin: Khabib Nurmagomedov, Decision
Robert Winfree: Khabib Nurmagomedov, Decision
The staff picks Khabib Nurmagomedov, 4-0.

---




THE MAIN CARD:




Middleweight Bout: Brad Tavares vs. Yoel Romero



Jeffrey Harris: This is a good next step in Romero's MMA career, and he's looked pretty good so far. He had a great comeback in a likely losing effort against Derek Brunson and finished him in the third round. Brad Tavares is actually on a six-fight winning streak at middleweight. Not only that he's 8-1 in the UFC! The problem? No one cares. Most of his last six wins were very unmemorable. They were mostly dull or close decisions. That's why Tavares hasn't been making waves with his streak. Romero I think is going to snap Tavares' winning streak and get his next UFC win as he rises through the ranks.

Winner: Yoel Romero, TKO, Round 2

Jonathan Solomon: Neither fighter may have a big name in MMA yet, but this is a key fight for the two burgeoning UFC middleweights. Las Vegas' (by way of Hawaii) Brad Tavares is 12-1 overall (undefeated in his last five fights, all inside the octagon) while Florida's (by way of Cuba) Yoel Romero is 7-1 overall and undefeated in his three UFC fights. Now training with Shawn Tompkins, Tavares boasts one of the best takedown defense percentages (80%) in the division, which has helped him to secure his past five wins by decisions. That defense may be his most well known quantity because you don't see him as a feared striker or grappler, in fact his last finish came over three years ago when he knocked out Phil Baroni.

On the other hand, there's Romero who is well known for his knockout power. The Olympic freestyle wrestling silver medalist (2000) has built his professional fighting career strictly on his striking prowess. All of his eight fights have ended by TKO or knockout (including his one loss to Rafael Cavalcante in Strikeforce). Working out of American Top Team, we'll get to see how effective his wrestling is in MMA against Tavares. On the feet, you have to favor Romero based on the evidence we know, but look out if he gasses during the fight. He was well on his way to losing a decision to Derek Brunson when he scored the upset by TKO with under two minutes left back in January. While Tavares has never been finished, I admit I especially like Yoel's power (consider it my fault) and have to go with the finisher. Tavares is not the sexy pick but a win here will hopefully earn him a fight against a top 10 contender.

Winner: Yoel Romero, TKO, Round 2

Evan Zivin: It's amazing to think that Yoel Romero is 3-0 in the UFC. After a quick flying knee knockout in his debut a year ago, he's had two tough fights that he managed to finish late, at least one of which he managed to do without soiling himself. Tavares is a tough match-up for anybody. His ability to smother his opponents and stifle their offense is how he's won five straight fights. Romero has the ability to knock Tavares out but I don't see it happening. Tavares will tie Romero up, tire him out, and add another decision victory to the pile.

Winner: Brad Tavares, Decision

Robert Winfree: Just as a disclaimer, I'm going to complain about a couple of these fights being on the main card over the dos Anjos vs. Nurmagomedov fight, and this is one of those. Brad Tavares is 7-1 in the UFC and currently riding a five fight win streak. So why did you forget he fought for the promotion? Because his fights aren't fun to watch. Tavares hasn't finished a fight since he beat Phil Baroni(lol) in 2011. Yoel Romero is an Olympic silver medalist in freestyle wrestling and has finished every fight he's been in. Romero's wrestling hasn't translated as well into MMA as you'd hope for someone with his wrestling pedigree but he has some serious power in his hands and knees. I'm not sure why, but I'm going with Romero to land a power shot and finish Tavares.

Winner: Yoel Romero, TKO Round 2

The staff picks Yoel Romero, 3-1.

---




Lightweight Bout: Donald Cerrone vs. Edson Barboza



Jeffrey Harris: I think this is an interesting fight. Edson Barboza is a great, unique dynamic striker for the lightweight division. He has some amazing kicks. Cerrone's a good striker and kickboxer as well. I think though that Cerrone also has a serious edge with his grappling and BJJ here as well. The problem with Cerrone is that he tends to start slow, and he also suffers a lot of mental hiccups. He doesn't always fight to his strengths and he lets things get to his head. While I like Barboza, the thing that tends to mess him up is that when fighters go forward and go after him aggressively from the outset of the fight, that messes him up and almost shuts him down. It happened against Jamie Varner, and it also almost happened against Danny Castillo. Unfortunately for Castillo, he wasn't able to finish the fight in the first and he completely gassed in that first round. As long as Cerrone has his head right, I think if he's aggressive and goes forward, he can win.

Winner: Donald Cerrone, TKO, Round 1

Jonathan Solomon: You must love this match-up as we're guaranteed to see a sick display of striking from someone. "Cowboy" Cerrone is sticking around at 155-pounds and has built his pro MMA career off of an array of exciting fights. He has won his past two fights, choking out Evan Dunham and knocking out Adriano Martins and a win this weekend would provide him his first three-fight win streak since 2011. Enter the Brazilian, Edson Barboza. The former kickboxer is famous for his insanely effective leg strikes, winning at least three of his MMA fights due exclusively to that single technique. The 2012 upset loss to Jamie Varner still sticks out like a sore thumb on his 13-1 record, but he's bounced back with three wins since then. While Cowboy may be the more stable commodity (striking, grappling, never gets tired), Barboza should be able to keep the fight standing and has the more explosive arsenal in his stand-up attack. You may question his chin ever since the Varner fight, but Cerrone must stay aggressive from the get go or risk eating lots of kicks and knees.

Winner: Edson Barboza, Decision

Evan Zivin: This fight will give us a strong look at how good a fighter Edson Barboza really is. In eight UFC fights, Barboza has destroyed lower competition and performed well against mid-level fighters, including victories over Ross Pearson and Danny Castillo. Cerrone is similar in his standing within the division, as he's won 9 of 12 with the 3 losses coming against top ranked lightweights. Both men are accomplished strikers and we are likely to get a battle of Barboza's Muay Thai and Tae Kwon Do vs. Cerrone's kickboxing. Who do I think will prove superior? I've gone back and forth but I'm giving the advantage to Barboza. If Barboza comes in aggressive and takes the fight to Cerrone, he can pick Cerrone apart just like Nate Diaz and Rafael dos Anjos did. I also think he'll be more mentally prepared as, lately, Cerrone has fought without much of a care if he moves towards title contention or not. I think that will play a factor and Barboza will leg kick his way to victory once again.

Winner: Edson Barboza, Decision

Robert Winfree: This should be a fun fight as both men are primarily strikers and aren't afraid to throw down. Cerrone is, apparently, still broke and looking for more bonuses. Barboza has just one loss on his record, he was TKO'd by Jamie Varner in 2012 but has stopped two fights in the UFC with leg kicks, plus owns the spectacular spinning wheel kick KO over Terry Etim that will live in highlight reels for all time. Cerrone struggles against guys he can't comprehensively out strike, Nate Diaz and Anthony Pettis for example, and Barboza is the superior striker. Barboza's weakness is that when pressured he back straight up and doesn't move his head, but I don't think Cerrone has the tools or striking style to exploit that weakness, I think Barboza out points Cerrone with vicious leg and body kicks to take a decision.

Winner: Edson Barboza, Decision

The staff picks Edson Barboza, 3-1.

---




Women's Bantamweight Bout: Miesha Tate vs. Liz Carmouche



Jeffrey Harris: I think Miesha Tate is a great fighter. I think she probably overall has the better skill set between her and Liz Carmouche. I said as much on this week's 411 Ground & Pound Radio Show. The problem? She gets coached and cornered by Bryan Caraway. And I don't think he's the best guy for her to have in her corner. It's not that I think Caraway is a bad fighter, I just don't think he gives Tate good cornering advice in the UFC as of late. So...I think Liz Carmouche comes out of this with a victory and Tate goes 0-3 in the UFC.

Winner: Liz Carmouche, TKO, Round 3

Jonathan Solomon: Neither woman is in title contention as they've already been stopped by champion Ronda Rousey (twice in Tate's case). Both are also coming off losses late in 2013, so someone should go home with some momentum after this co-main event bout. Liz Carmouche is now 1-2 in the UFC, losing to Rousey and Alexis Davis and a win sandwiched between by TKO over Jessica Andrade. Miesha Tate is 0-2 in the octagon with losses to Cat Zingano and Rousey, and has not won since the summer of 2012 (the awesome fight with Julie Kedzie). As for this fight, it's pretty simple in my eyes, Tate should win based on her wrestling. She is capable of being relentless going for takedowns and should have little trouble taking Carmouche down at will. Standing, Liz has a great chance to hurt Tate, but her takedown defense is not too effective. This spells trouble for her as Tate should score another submission win (at that point, half of her 14 wins will have come by submissions).

Winner: Miesha Tate, Submission, Round 3

Evan Zivin: The first two of Ronda Rousey's UFC victims are about to fight and I am excited to see it go down. Both ladies enter this fight off a loss, Miesha to Rousey and Liz to Rousey's next opponent Alexis Davis. Both ladies are known primarily for their wrestling which both have used to great success. That is except, of course, against Rousey. If we go off of their title performances, Liz has the edge as she came the closest to actually beating Rousey. This fight will most likely be contested on the feet where both women are decent but Liz might be a little better, with 6 (T)KO's in 9 career fights. Miesha is in a weird place because, having lost twice to Rousey, her chances of getting another title shot is slim so I don't know what motivation she has to win this fight. "Cupcake" can definitely win this fight but I feel like Liz will come into this fight with a lot to prove and will take the fight to Miesha. If Liz can get in close to Miesha, get her down, and work her thunderous ground and pound, the Girl-Rilla should have no problem winning this fight.

Winner: Liz Carmouche, TKO, Round 3

Robert Winfree: On the prelims two guys are fighting for what could be a title shot if either Anthony Pettis or Gilbert Melendez get injured, but we've got to have two women with losing records on the main card. Miesha Tate has lost both her UFC fights, being TKO'd by Cat Zingano and then submitted by Ronda Rousey. Tate's offense is limited to wrestling with some top control and submissions, which is pretty much the same thing Liz Carmouche brings to the table. I just think Tate is better at that game, look for "Cupcake" to pick up a relatively pedestrian decision.

Winner: Miesha Tate, Decision

The staff calls it a draw, 2-2.

---




Heavyweight Bout: Fabricio Werdum vs. Travis Browne



Jeffrey Harris: This is a great heavyweight contest, and I hope it turns out to be as good as it looks. Browne's looked incredible since the loss to Antonio Silva. It just looks like he keeps getting better and improving all aspects of his game. His cardio looks much improved. He looks like he gets in even better shape for each fight as well. The way he offensively used those elbow strikes against Josh Barnett when he shot in for a takedown looked impressive. All that being said, while betting against Browne has worked out badly for me before, I dunno...it's just something in my gut tells me Werdum will win this one. I think Browne definitely has the skills and ability to stop Werdum. His knockout power and his aggression could very well be Werdum's kryptonite. But even after another long layoff, I think Werdum will be able to figure this one out and win the fight. Let's not forget, this is the man who submitted Fedor. He's been in there with some of the best heavyweights ever. Granted he got knocked out in 90 seconds by Junior Dos Santos. And he didn't look very good against Alistair Overeem in their rematch, but it looked like had he actually opened things up earlier, he could've won that fight. I think Werdum finds a way to win here with his exceptional BJJ and grappling game. I think he just manages to catch Browne in a sub at some point.

Winner: Fabricio Werdum, Submission, Round 3

Jonathan Solomon: This is another match-up to love on paper and additionally, five rounds here will settle who heavyweight champ Cain Velasquez's next opponent will be. Both men have been the hottest heavyweights not named Cain over the past few years and someone will see that momentum come to a screeching halt in Orlando. Since returning to the UFC two years ago, Werdum has been close to dominant with wins over Roy Nelson (out-striking him), Mike Russow (finishing him with strikes) and Minotauro Nogueira (submitting the legend). The one time he has been finished in 23 pro fights came in an upset against an unknown Junior dos Santos in 2008.

The 6'7 Hawaiian, Travis Browne, has been a wrecking ball for the majority of his UFC run (the Antonio Silva fight notwithstanding when he suffered a hamstring tear). Last year, he blasted Gabriel Gonzaga with elbows, knocked out Alistair Overeem with a kick and knocked Josh Barnett out cold with more elbows. He's ridiculously dangerous on the feet and in particular, when opponents try to take him down (as Gonzaga and Barnett found out).

While Werdum is famous for being a submission expert (Fedor Emelianenko says hi), his striking has been incredibly effective in recent fights. Can he stand toe-to-toe with Browne in a Brawl? My belief is no, as Travis should be able to hurt him with knees, elbows, kicks or punches. Yes, Fabricio is not to be discounted there either because he has effective knee strikes, too. However, when Werdum does lose in his career, it's against proficient strikers. I do not see Travis spending a lot of time on his back and over the course of five rounds, he'll have plenty of chances to stop Werdum.

Winner: Travis Browne, KO, Round 1

Evan Zivin: I love this match-up but hate it at the same time. I love it because both men are exciting heavyweights, which is saying a lot, and they should put on a phenomenal main event. I hate the fight because I like both guys and don't want to have to see one of them lose and miss out on a UFC Heavyweight Championship fight, but it's gonna have to happen. So how do they match up? Striking, both men are pretty good. Browne has knockout power with his hands (and his feet) and Werdum has the ability to pressure with strikes for an entire fight like he did against Roy Nelson. On the ground Werdum is likely better with his world championship-level BJJ but Browne can handle himself on the ground and is great at getting back to his feet. In the end, though, I feel Browne will win the fight. Travis is a big man and he knows how to use his size and range to land strikes while avoiding his opponent's, and even when he does get hit, he's proven he can weather the storm and find a way to win. Travis has the takedown defense to keep the fight standing and he will go after Werdum until he drops him. Werdum has been waiting a year to get a shot at UFC gold but, unfortunately, it's about to be taken away from him by a giant Hawaiian. Don't you just hate when that happens?

Winner: Travis Browne, TKO, Round 2

Robert Winfree: It's been confirmed that the winner of this fight will take on UFC heavyweight champion Cain Velasquez when the UFC debuts in Mexico later this year. Fabricio Werdum has some of the best submissions in the heavyweight division, he's dangerous on top or off of his back and has been developing a nasty Muy Thai game to go along with world class submission skills. Unfortunately for him, Travis Browne is a beast. Browne has just one loss, which resulted more from injury than anything his opponent did, and has been tearing through the competition put in front of him. I wouldn't be shocked to see Werdum get a submission, but I'm more inclined to Browne landing a shot on the feet and using his vicious elbows to finish Werdum off when the Brazilian shoots for a desperation takedown.

Winner: Travis Browne, TKO Round 1

The staff picks Travis Browne, 3-1.

---
Remember to join 411's coverage of UFC on Fox Saturday night!
comments powered by