SPOTLIGHTS
Five Quick Rounds 04.22.14: FOX 11, TUF Nations, Bellator 117, A Real Brawl on Fake TV, More
Posted by Evan Zivin on 04.22.2014

From Fabricio Werdum earning a title shot against Travis Browne at UFC on FOX and Tim Kennedy defeating Michael Bisping at the TUF Nations Finale to the Wanderlei Silva vs. Chael Sonnen fight getting pushed back and One FC talking to Rich Franklin, 411's Evan Zivin examines these stories and more in Five Quick Rounds!

Hey hey, fight fans, and welcome back to Five Quick Rounds! I am your host, Evan Zivin, and I am more excited than Jake Shields on NBCSports to be here once again!

That's right. Jake "Mr. Fun Time" Shields has found his new home. It's not as nice as his old one but at least the guy who runs it won't say he's boring after every one of his fights. Ray Sefo is cool like that. That's why many UFC veterans, like Jon Fitch and Rousimar Palhares and Yushin Okami, have chosen World Series of Fighting as their new home once Dana White told them to hit the bricks. It's also because WSOF is much more receptive than Bellator to letting fighters go back to the UFC if an offer is made. We all know what happened the last time a Bellator fighter got a UFC offer and wanted to leave (hang tough, Eddie). Or remember when Bellator offered Gilbert Melendez a contract and he made it seem like he was actually going to sign with them? Yeah, it wasn't going to happen. He knew if he signed with Bellator, they would probably never let him leave. It's that overall attitude that makes it no surprise that many UFC fighters pick WSOF before any other promotion. Melvin Guillard picked it and so did Jake. Shields is expected to debut sometime in the summer and it sounds like he'll debut in the welterweight division. Of course, if that doesn't work out he can go to middleweight. There, he just has to get past Okami and he can become a champion again. Then, he'll show Dana. He'll show you all. Just you wait.

All right, so with fighter introductions out of the way, I have five more rounds of MMA news and opinions to throw at you. This week, we look at the results of UFC on FOX 11, the results of The Ultimate Fighter Nations Finale, the results of Bellator 117, the Wanderlei Silva-Chael Sonnen fight getting pushed back, and news about the new Nevada Athletic Commission Executive Director and Rich Franklin talking to One FC. Let's to it do it.

FIGHTER YOU READY!!!!

FIGHTER YOU READY!!!!

FIGHT!!!!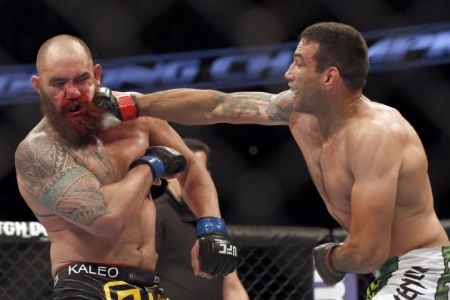 Round One: UFC on FOX 11, The Beard Fails Travis Browne as Fabricio Werdum Defends Title Shot

***TOUCH OF GLOVES***

Live, from the Amway Center in Orlando, Florida, it was UFC on FOX 11 ON SATURDAY NIGHT!!!!!

Dana White's heart is broken. Just absolutely crushed. He's like many people who felt they knew how Saturday's main event between Fabricio Werdum vs. Travis Browne would go down. We all thought that Browne's durability and resolve would allow him to weather any storm Werdum could bring and, as long as the fight stayed standing, which seemed likely since Browne had never been taken down in his entire MMA career, "Hapa" would pick Werdum apart and knock him out. Well, none of that happened. Werdum had been promised a UFC Heavyweight Championship fight a year ago and he was prepared to defend it from the Hawaiian Viking that is Travis Browne. There was one moment in the first round where Werdum got dropped and Browne tried to finish with strikes but Werdum survived and turned it into a takedown on Browne, the first one ever completed successfully on Browne. What a monumental moment, greater than Werdum submitting Fedor Emelianenko, or at least UFC would like you to believe it was. The rest of the fight saw Werdum crush Browne with crisp, powerful punches and kicks. Werdum has good speed and energy behind his strikes and he really has become a true mixed martial artist. Werdum slowed a little near the end of the fight but it made little difference as he won the fight by unanimous decision to meet Cain Velasquez sometime in the fall. It was annoying to hear Dana say after the fight how Werdum played it safe and Browne was injured and all these excuses that he made to hide the fact that the man he wanted to win didn't. Werdum won, Dana. How about you give him some credit so that people may actually pay you money to watch his next fight, hmmmm? Doesn't sound like a bad idea to me. It's probably for the best that things went down this way. Cain performs well against guys with beards.

A fight that ended up being a lot closer than a lot of people thought was the co-main event between Miesha Tate and Liz Carmouche. We were treated to some decent striking and grappling exchanges between Ronda Rousey's last two victims that favored both women at different points in the fight. Liz started out strong but Miesha was able to gain the advantage later in the fight and ultimately won by unanimous decision. A fight that didn't end anywhere as close as some people expected was Donald Cerrone vs. Edson Barboza. Cerrone dropped Barboza with a jab about three minutes in and immediately took his back and cinched up a rear naked choke. Another great performance for The Cowboy. Yoel Romero also put in a great performance against the always-tough Brad Tavares. Romero mixed up his diverse striking with powerful takedowns that kept Tavares on the defensive the entire fight. Romero employed the kind of gameplan that Tavares is known for executing against his opponents and Romero won a unanimous decision because of it. Also on the card, Rafael dos Anjos gave Khabib Nurmagomedov a tough fight but it wasn't enough to stop the man who once wrestled a bear, Thiago Alves successfully returned and beat Seth Baczynski, we got some quick knockouts by Caio Magalhaes and Alex White, Ray Borg made himself known by almost defeating Dustin Ortiz, and Mirsad Bektic defeated Chas Skelly despite being knocked loopy with an illegal knee in the second round. Personally, I would have had the cageside doctor check Bektic out after that shot but I guess that's why I'm not an MMA referee. I'm too logical.

And that was UFC on FOX 11, but that wasn't the only UFC action we got last week. Oh no. We truly live in privileged times.

***HORN SOUNDS***




Round Two: TUF Nations Finale, Tim Kennedy Sets Record for Longest Time Keeping Michael Bisping's Mouth Shut

***TOUCH OF GLOVES***

What a multi-cultural show the UFC put together last Wednesday night in Montreal. It was a card that consisted mainly of Canadians and Australians and was headlined by a fight between an American and a Brit. It was as diverse as a United Nations summit. It was also as violent. The main event was a grudge match between the one fighter everyone loves to hate, Michael Bisping, and a man whose dedication to his country is almost as strong as his dedication to making silly Youtube videos, Tim Kennedy. Well, it was supposed to be a grudge match. We didn't really get much of a grudge aside from a few Twitter posts. I was expecting more since I know both of these guys understand the value of using their mouths to sell a fight. Maybe they didn't think it was worth the effort since UFC viewed them as nothing more than a lead-in to the 19th season of their groundbreaking TV series that no one is watching. I don't know if many people watched this fight either because the consensus seemed to be that Bisping was more skilled and could handle Kennedy's takedowns and wrestling. Well, Tim proved that wrong, taking Bisping down in almost every round of their fight. Bisping performed well on the feet, but Tim was never afraid to stand in front of Bisping and even hurt him with a right hand in the fourth round of their five round fight. It wasn't the most exciting fight but Kennedy executed a smart gameplan that succeeded in giving the Texas Ranger a unanimous decision victory. Now he can move on to the next phase of his career: making a parody of that new Katy Perry video. That's right. From one dark horse to another.

The main purpose of the Wednesday night show, other than introducing us to a new crop of fighters who will be stuck fighting on Fight Pass for the entirety of their UFC careers, is concluding the latest season of The Ultimate Fighter: Nations. I didn't watch a ton of the show but one thing we all learned from it is that the Australian fight scene has a lot of work to do if they want to be competitive with the rest of the world, as Team Australia failed to place one fighter in either final and their coach, Kyle Noke, suffered a unanimous decision loss to Captain Canada-Lite, Patrick Cote. It was an entertaining fight that both men came close to finishing. Noke's best chance to win was when he nailed Cote with a knee to the head in the second round. Cote was able to survive and used takedowns and elbows from top control to win the fight and cap off one of the most dominant team performances the show has ever seen. We saw two new TUF champions crowned as Elias Theodorou finished Sheldon Westcott with strikes in the second round and Chad Laprise knocked a couple syllables out of Olivier Aubin-Mercier en route to a unanimous decision victory. I like Theodorou. He's well-spoken and has a decent personality. If he can beat actual UFC fighters, Dana White may have a potential star on his hands. Laprise seems all right. So does Cathal Pendred, one of the fighters on TUF 19. Did you know that he didn't have to fight anyone to get into the TUF House? This is the first time that has ever happened as long as you ignore the first 6 seasons of the show. Aw yeah. This season is gonna be good.

And that was the TUF Nations Finale. UFC will enter our lives again this Saturday when Jon Jones fights Glover Teixeira on Payperview. It's the closest we're getting to having Chuck Liddell fight for the title again so you better appreciate it.

***HORN SOUNDS***




Round Three: Bellator 117, So Corners CAN Still End Fights

***TOUCH OF GLOVES***

The question of what role a fighter's corner should play in how long a fight lasts has been a question that's been thrown around from time to time over the years. Most corners are of the opinion that they don't want to stop a fight regardless of how much damage their fighter is taking. This issue was most notable in the two five round maulings that Cain Velasquez gave to Junior dos Santos in 2012 and 2013. JDS's coaches could have saved their fighter from taking unnecessary damage against a man who was clearly dominating the fight but they wouldn't do it. They didn't want to deprive their fighter of the chance to find a way to come back and win even as his face was made to look like it had been run through a series of increasingly-barbaric meat tenderizers at the end of each round. I can understand the logic behind that kind of thinking. As a coach, you have to believe in your fighter and believe they are capable of defeating anyone who is placed in front of them. At the same time, though, you have to understand your fighter's limitations and recognize when a fighter is too tough and too proud to give up for his own good. The classic martial artist/warrior mentality is that it's better to die than to surrender (figuratively speaking, I hope), but in modern combat sports, where your health is directly proportional to how much money you bring home to support your family, it's always smarter to give up than risk a severe injury or worse. Live to fight another day. I've also heard that not being injured is pretty nice.

That's why I'm proud of Firas Zahabi. The Tristar Gym head coach had one of his fighters, Rick Hawn, compete for the vacant Bellator Welterweight Championship against Douglas Lima on Friday night. I'd say Ben Askren was watching but I don't know if he gets Spike TV in whatever part of East Asia he's currently stuck in. One of Lima's best assets in a fight is his brutal leg kicks, which he's used to great effect in many of his Bellator outings. Usually a game of leg kicks takes a few rounds for their full effect to be felt. Not in this fight. Hawn was already buckling from the kicks at the end of the first round. Lima kept it up in the second round, further punishing Hawn with kicks and punches. It looked like the fight was close to ending, but Hawn is tough and wasn't going to stop until he physically couldn't. Firas, realizing that there was no point in letting the fight continue for that long, hopped up onto the cage and motioned for the referee to end the fight, awarding the fight and the championship to Lima by second round TKO. It was a gutsy performance by Hawn and there's no shame in going out the way he did, but the night belonged to the Brazilian, winning his first gold in a major promotion. Bellator 117 also saw the final of the Season 10 Lightweight Tournament set as Marcin Held succeeded in playing a risky ground game and submitting Derek Anderson with a triangle choke in the second round and Patricky Freire made it out of a tough first round to knock out Derek Campos in the second round. Yep. Not a good night for Derek's. Be careful in your next fight, Derek Brunson. The precedent has been set.

***HORN SOUNDS***




Round Four: Silva/Sonnen Pushed Back Due to Injuries Suffered in "Real" Brawl on Fake Television

***TOUCH OF GLOVES***

So, the big moment of the third season of The Ultimate Fighter: Brazil finally aired. The moment that we've been hearing about for months since it took place on the set. The moment that has been the single selling point to convince people to watch the season of the show (and order UFC Fight Pass). Last week saw the airing of the on-set brawl between coaches Wanderlei Silva and Chael Sonnen. The video was posted to Youtube and most of the news sites were linking to it which is probably why UFC pulled it down so fast. C'mon, UFC. I know it violates copyright but it you think people are going to order your subscription service just to witness this one moment that doesn't even last more than 30 seconds, you're crazy. It's all right, though. I think WorldStarHipHop still has the video up. You know they're always good for something like this. It's not just all videos of jiggling asses and shaky cellphone footage of sloppy brawls in mall food courts over there. They also come through with sloppy brawls that happen on reality TV. Also, fake brawls. I know that everyone involved has claimed that the fight, as it happened, was 100% real, but I don't think I'm completely buying that. I've watched enough professional wrestling and Pride fights to know when something doesn't look completely legitimate, especially when it took place on REALITY TELEVISION, the most honest of all television programming, right?

Now, the reason why I'm devoting more than a paragraph to this is because it was revealed by Dana White last week that the coaches fight between Silva and Sonnen, which was originally set as the co-main event of UFC 173 on May 24th before being moved a week later to headline the TUF: Brazil 3 Finale, has been moved again to the UFC 175 card on July 5th. There had been a lot of speculation as to why the fight was pushed back six weeks but Dana said it was due to a hand and back injury that Wanderlei suffered during that brawl on the set of the show. It wasn't because UFC is desperate to pull a big number for their July 4th weekend show. It wasn't because Chael isn't adapting to post-TRT life and needed more time to prepare. It's because Wanderlei can't take a bump onto a concrete floor right. Now I agree that being taken down onto concrete can absolutely injure you, but the takedown that Chael delivered wasn't a particularly hard one. It's a little ridiculous that Chael's takedown would hurt Wanderlei badly enough to push the fight back that much. The setup for the whole fight was ridiculous, too. Chael whispered to Wanderlei about when their fight is taking place, Wanderlei said "NOW!" a bunch of times, and Chael shoved him for no reason before shooting in. Just out of nowhere. Before you know it, everyone on scene rushed in to break it up. Also, at some point in those 10 or so seconds, Wanderlei's coach Andre "Dida" Amade punched Chael in the head. Fun stuff. All it needed was Gus Johnson screaming about how these things happen in MMA sometimes. I still don't think it was 100% real but that's all right. We'll get to see the real thing on July 5th, assuming Wanderlei doesn't get a hangnail and the fight is postponed again.

***HORN SOUNDS***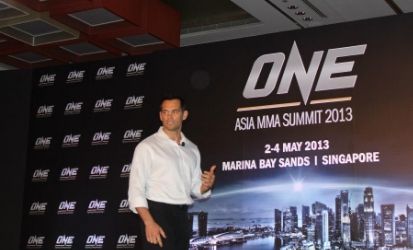 Round Five: Bob Bennett Named Dana White's New Best Friend, Rich Franklin Possibly Running Away to Singapore

***TOUCH OF GLOVES***

Amid all the face-smashing excitement that occurred this week (and leg-smashing and body-smashing and...) there was also news that people are getting jobs. Yeah! Suck it, recession! On Friday, we learned that Nevada has voted on and named a new Executive Director for the Nevada Athletic Commission. Congratulations are in order for the man who will be succeeding Keith Kizer as head of the most influential commission in the country... "Big Country" Roy Nelson! I knew you could do it! How could you look at that beard and that gut and not think "this is a man who will clean up this sport"? Hmmm...the sarcasm key on my keyboard is broken. Oh well. Sorry Roy. You won't be able to clean up the sport but you can still clean up the buffet at Palace Station any time you like. The man who will be taking over Kizer's old job is Robert Bennett. The man has an impressive resume. He's a a retired Marine Corps captain, a retired FBI agent, and he worked as the Court Security Director for Clark County, which includes Las Vegas. So if the Executive Director gets to pick security for boxing or MMA shows, you know he'll be ready. The man comes from a boxing background, serving as a judge for numerous fights. It doesn't sound like he knows anything about MMA but it's not like that's stopped anyone from trying to police the sport before. We'll see in time where he stands on the drug problems in fighting along with issues concerning bad judging and refereeing. Maybe he'll be what the sport needs. Maybe he'll appoint Steve Mazzagatti as the ref for every single fight from now on. Either way, at least now we might finally get that Ronda Rousey-Floyd Mayweather fight that everyone is talking about for some bizarre reason. People are weird.

In addition to that announcement, and the news of Jake Shields forming a new gansta rap group with Ray Sefo and Ali Cool J, is news that Rich Franklin, former UFC Middleweight Champion and full-time Jim Carrey impersonator, may become an executive over at One FC. One FC is a Singapore-based promotion that has been working to rebuild MMA in East Asia. In the West, the promotion is mainly known as the place where Ben Askren was exiled to and where Phil Baroni's ankle exploded that one time. It's a promotion trying to keep the spirit of Pride alive and I wish them all the best, which makes it all the more interesting that they are considering Franklin for a role as Vice President within the organization. Vice President of what, I don't know, since all the news stories just say "Vice President." It won't be VP of Operations unless Matt Hume is on his way out. I assume Hume is the one who got Rich together with One FC, since Rich has trained with Hume for many years. Rich was also one of the speakers at the One FC Summit that took place last year so he has some relationship with the promotion already. Nothing has been made official yet, as the sides are still talking, but it would be interesting to see the former UFC star work for another promotion, especially because UFC is okay with it. Rich said he got Dana and Lorenzo's blessing last year and Dana not only confirmed that but said he'd still give Rich a fight if he wanted one while working for One FC. I'm guessing Dana is cool with this because 1) Rich was honest and up front about the job offer and 2) Dana doesn't view One FC as a threat. So it's all good. The math teacher might be going corporate and I couldn't be happier for him. He just better hope he doesn't run into Cung Le out there. It didn't go too well the last time that happened.

***HORN SOUNDS***

That's it for Five Quick Rounds. Thanks for reading. If you have any questions, comments, or suggestions, and it is always appreciated when you do, leave them in the comments section. I will be back in 7 for another Five Quick Rounds. There is Bellator on Friday and UFC 172 on Saturday. Enjoy the fights and remember to fight clean, fight hard, fight fair, and never leave it in the hands of the judges...




LATER!!!!!!!!!!!!!!!!!!!!!!!!!!!!!!!!!!!!!!!!!!!!!!!
comments powered by