SPOTLIGHTS
The Next 'Best Ever' – Jon Jones Begins Key 3-Fight Stretch Saturday
Posted by Dan Plunkett on 04.25.2014

411's Dan Plunkett takes a look at the career of Jon Jones and why his next three fights are so important!

At 26, Jon Jones is already the best light heavyweight we've ever seen. Five years ago, he spinning-back elbowed his way into stardom on one of the biggest shows of that year. Jones was the freak athlete super wrestler who saw different moves on YouTube and tried them out in real fights. As his level of opposition increase, Jones only became more dominant. He threw Matt Hamill around like a child. He broke Brandon Vera's face. He effortlessly overwhelmed Vladimir Matyushenko. Then, in a fight to determine the future of the light heavyweight division, Jones outclassed Ryan Bader.

An injury opened a spot for Jones to step in and face Mauricio Rua for the light heavyweight crown just six weeks after the Bader match. In what was figured to be the toughest fight of his life, Jones was nothing short of totally dominant. From there, four consecutive former light heavyweight champions fell to Jones. Of those, only Lyoto Machida was competitive for more than a brief moment.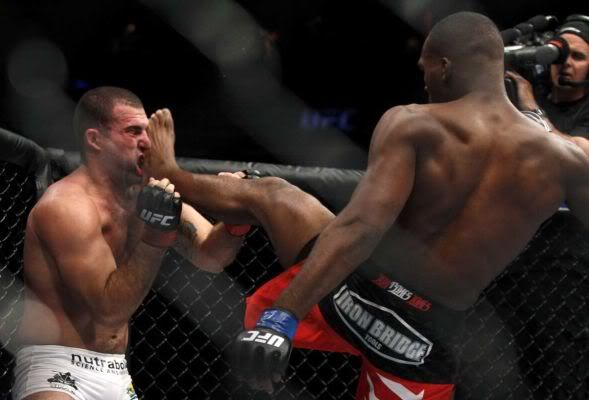 Following another title defense over the outgunned Chael Sonnen, Jones calmly and confidently stepped in the cage with Alexander Gustafsson. The match was made at Jones' insistence. He wanted to prove against a similarly sized fighter that his height and reach weren't the driving force behind his success. Despite a strong record with just one loss, Gustafsson was considered a heavy underdog. Instead of the usual Jones outclassing, what happened was some kind of magical violence. Gustafsson made an impression early: he shrugged off an attempted clinch, found a home for his strikes, cut the champion, and even planted Jones on his backside with a takedown. It was the first time Jones had ever been taken down. After the first round made it clear the match would be no cakewalk for Jones, a war ensued. Both got hurt, bloodied, and battered. For the first time in Jones' career, nobody was certain who would be announced as the winner on the judges' scorecards. In the end, all three judges scored the bout for Jones.

After that match, there were three options for Jones' next showdown. One option was a rematch with Gustafsson. Another was Glover Teixeira. The third was heavyweight contender Daniel Cormier. Of Jones' twenty career opponents, five of which were current or former world champions, only Gustafsson was competitive. The closeness of that match is in some sense the only stain on Jones' otherwise sterling resume. Teixeira has won twenty consecutive matches since 2006, and finished four of his five UFC bouts. He packs power in his hands and is dangerous on the ground. Cormier is a world class wrestler, unbeaten in MMA, and perhaps the smartest fighter in the sport.

Ultimately Jones and the UFC went with Teixeira, but the order of the matches is likely inconsequential. Barring injuries and an unlikely loss, Jones' next three opponents will be, in order, Teixeira, Gustafsson, and Cormier. Those three don't have the name value or championship history of some of Jones' other opponents, but, if and when the matches happen, they represent the toughest string of opponents of Jones' career. Each presents a unique challenge for Jones. Teixeira has the power to end the fight. Gustafsson can avoid takedowns and strike with Jones. Cormier, in addition to power in his hands, may be the only fighter in the division that can out-wrestle Jones.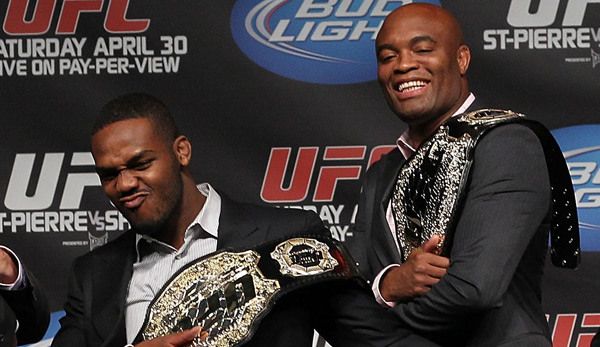 If Jones can defeat that triumvirate of terror it would put him in the cusp of attaining the "best ever" title the wildest of prognosticators predicted he would reach following his breakout performance five years ago. Today, the two names most often discussed in the greatest of all-time debate are Anderson Silva and Fedor Emelianenko. The three extra wins would put Jones ahead of Emelianenko in terms of wins over top competition, while Silva would be a bit more difficult to reach. Wins against Teixeira, Gustafsson, and Cormier would put Jones at nine successful title defenses, one behind Silva's UFC record of ten. Silva also beat top fighters at welterweight and light heavyweight over the course of his career, while Jones has never ventured outside the waters of 205-pounds. On the Jones side, he doesn't have a legitimate loss in his twenty career fights, while Silva dropped bouts to Ryo Chonan and the unheralded Daiju Takase.

Should Jones win his next three bouts, beginning with Teixeira Saturday night, he will have accomplished more before his 28th birthday than any mixed martial artist in history. There have been a lot of highly-touted prodigies and phenoms in the past, but Jones is the only one of them that still has a chance to live up to the highest of expectations bestowed upon him from his breakout performance. Already the best ever in a division that for an entire decade was MMA's crown jewel, Jones' next career stage, that of chasing the "best ever" crown, begins Saturday.


Dan Plunkett has covered MMA for 411Mania since 2008. You can reach him by email at plunkettdan@yahoo.com.

comments powered by