SPOTLIGHTS
Five Quick Rounds 04.29.14: UFC 172, Do As Ronda Does, Not As She Says, More
Posted by Evan Zivin on 04.29.2014

From Jon Jones' dominant victory over Glover Teixeira and the results of UFC 172 to Ronda Rousey being a poor role model and UFC bringing back Andrei Arlovski, 411's Evan Zivin examines these stories and more in Five Quick Rounds!

Hey hey, fight fans, and welcome back to Five Quick Rounds! I am your host, Evan Zivin, and I am more excited than an interim championship to be here once again!

Remember how much fun it was when former Bellator Light Heavyweight Champion Attila Vegh was unable to defend his championship last fall so Bellator created an interim championship to be fought over by King Mo and Emmanuel Newton? What's that? You say it wasn't because Vegh could fight but Bellator forced him to stay on the sidelines so they could make the more appealing fight for their first attempt at Payperview? Also, interim titles suck? Well, then you're gonna love the news that Bellator will be crowning an interim champion once again, this time in the bantamweight division. After defending his championship earlier in the season, Eduardo Dantas, Bellator's bantamweight king and Lord of the Dance, was set to defend his crown again, this time against the man who is still the only reason Jeff Harris gets up in the morning, Joe Warren. Well, that fight's off after Eduardo suffered some sort of head injury. I dunno. The official announcement makes it seem like Bellator officials just noticed Eduardo was acting funny and on a hunch decided to get his head looked at. No timetable was given for his return but the company has two tournament champions lying around so they might as well just match them up for an interim belt. At least that's their thinking. Or something like that. Go check out Warren vs. Rafael Silva at Bellator 118 this Friday. It'll be just keen!

All right, so with fighter introductions out of the way, I have five more rounds of MMA news and opinions to throw at you. This week, we look at the results of UFC 172, Andrei Arlovski returning to the UFC, and Ronda Rousey being a poor role model. Let's to it do it.

FIGHTER YOU READY!!!!
FIGHTER YOU READY!!!!

FIGHT!!!!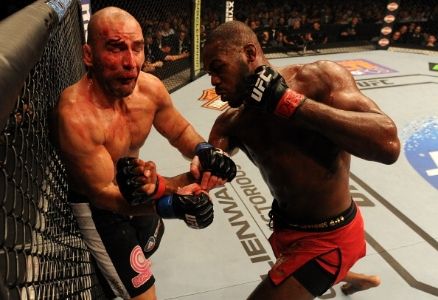 Round One: Jon Jones Continues to Make Light Heavyweight History, Does It For Jesus and Ray Lewis

Live, from the Baltimore Arena in...where else?...Baltimore, Maryland, it was UFC 172 ON SATURDAY NIGHT!!!!

Jon Jones. That's a name that stirs up a lot of differing opinions across the MMA community. Some people love him. Some people hate him. Some people recognize the brilliant fighter that he is. Some people refuse to look past the fact that he comes across as arrogant and disingenuous almost every time he opens his mouth. Well, those people probably haven't been too thrilled lately that we've now begun moving past discussions about whether Jones is the greatest light heavyweight of all time and moving into discussions of whether he is the greatest fighter of all time. Well, is he? Has he supplanted legends like Fedor Emelianenko and Anderson Silva to become the G.O.A.T. or is he not there yet? Also, should someone make a game called G.O.A.T. Simulator that involves Jon Jones running around headbutting people and getting flung through buildings? I'm not saying I would buy it but...probably. As for whether Jon is the G.O.A.T., you can make the argument that he is already. He is the champion of what has historically been considered the most competitive division in MMA. He's been the champion of that division for three years and has defended the championship 7 times, a run that includes victories over 5 former champions PLUS Chael Sonnen. Either he's the G.O.A.T. or he's getting real close, but I'll leave the rest of that discussion for another time. Maybe Jack McGee can pick up on it if he's looking for things to investigate. And while you're at it, figure out why Dana White won't bring a UFC show to Chicago at any time other than January. That's downright criminal right there.

So on Saturday night in Baltimore, a place known as the home of NFL legend Ray Lewis and...uh...other...stuff, Jon Jones defended his UFC Light Heavyweight Championship against the man many considered his toughest opponent yet, or maybe that was just UFC saying that because every opponent Jon faces is his toughest yet. That's no knock on Glover Teixeira. The man is a heavy-handed striker with good technique and footwork and he will destroy you if you give him the chance to. If Jones was going to win, he was going to have to fight a smart fight. Stick and move. Work from the outside. Or he could just rough up Glover with kicks and elbows and then pick him apart in the clinch. It was a bold strategy against the dangerous boxer but Jones was able to pull it off and take the fight in dominating fashion. Glover, for his part, managed to hurt Jones with some good punches and stuffed half of Jones' takedowns, but he wasn't able to keep up with the pace and pressure of the champion. Jon Jones once again remained champion in front of a hot crowd that missed most of the fight because they were too busy singing "Seven Nation Army." Is that their response to the Brazilian Death Chant? That could work. Well, that's one more name scratched off the murderer's row of upcoming opponents for Jones. We all know who's next. That's right. Chuck Liddell! Yes! I've been waiting for years to see him fight for the title again! Or maybe they'll just do a rematch of the greatest light heavyweight title fight of all time against Alexander Gustafsson. That works too, I guess.

***HORN SOUNDS***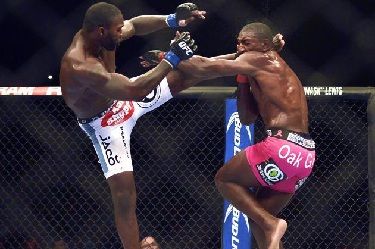 Round Two: Phil Davis Runs His Mouth, Gets Run Over By The Rumble Train

***TOUCH OF GLOVES***

Did anyone think, going into the UFC 172 co-main event between Phil Davis and Anthony "Rumble" Johnson, that the one who would be keeping his mouth shut in the lead-up to the fight would be Johnson? Johnson has actually been quite humble (Humble Rumble?) in admitting to his faults that resulted in his dismissal from the UFC back in 2012 and how grateful he is to be back. He definitely deserved another shot, winning 6 straight outside the UFC, making weight successfully in 4 light heavyweight bouts and even fighting and defeating Andrei Arlovski at heavyweight. Rumble has matured and was ready for a second chance. As for Davis' maturity level? Well, to be fair, he only started talking smack during the UFC 172 conference call last Monday as a response to Dana White saying that Davis needed to be more assertive if he wanted to get a title shot. Dana said he felt Davis was content to stay where he was in the rankings, Davis took offense, and he started ranting about how he would break Jon Jones like a sugar cookie and how he told Alexander Gustafsson to pimp slap Jones during their fight. Davis was then, of course, criticized for his behavior on Monday and the rest of the week, which I think worked out even better for Davis because no one would have been talking about him at all if he hadn't opened his mouth. Now he just needed to perform well on Saturday and a title shot was practically guaranteed, or at least it should have been if my studies at the Chael Sonnon School of Smack Talk has taught me anything other than I make very poor decisions with my money.

So the smoke has cleared (all seven kinds) and now we're all begging Dana to book Phil into a title fight ahead of the Gustafsson rematch, right? Yeah....no. There were many who felt that Davis had the skills to handle the strength and power of Rumble Johnson, but one of the few who respectfully disagreed was Johnson. Davis' strategy appeared to be soften Johnson with punches and kicks to set up his takedowns and control the fight with his wrestling. That didn't happen. Johnson stuffed all of Davis' shots and hurt him with overhands and uppercuts everywhere the fight took place. Johnson avoided most of Davis' punches while hurting Mr. Wonderful every time he moved in too close. It was a strategy that was executed to perfection by the last man to defeat Davis, Rashad Evans, who was, oh yeah, the guy who trained Rumble for this fight. Davis gets all the credit in the world for staying in the fight despite eating some very hard punches but he wasn't able to do enough to win any of the rounds as the judges awarded the decision to Johnson by unanimous decision. Considering that the MMA journalists placed Johnson at #14 on the UFC Rankings before this fight, I imagine he's going to shoot up near the top with this victory. That's exciting. Rumble is back and he's already an immediate threat. Looks like Jones will be busy all of this year and part of next year with title challengers. At least this will drum up plenty of business for those "And Still Champion" t-shirts he was sporting after the main event on Saturday. And Jones wonders why people don't like him. He should talk to John Cena some time.

***HORN SOUNDS***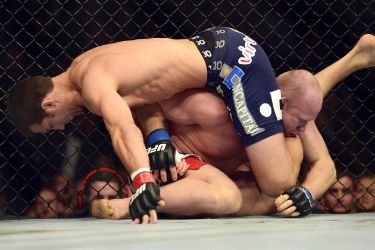 Round Three: Rest of UFC 172, Luke Rockhold and Jim Miller Earn Quick Submissions, Call Out Whatever's Left in Their Weight Classes

***TOUCH OF GLOVES***

The top two fights weren't the only platforms where statements were made on Saturday night, as fighters up and down the card established themselves in their respective divisions. Luke Rockhold made it two first round finishes in a row by quickly dismantling Tim Boetsch. UFC's resident Barbarian tried to take the fight to Rockhold with a quick takedown, but Rockhold immediately reversed it into top position for himself. Rockhold threw his legs around Boetsch's neck in an inverted triangle and, in Tim's attempt to fight off that submission, Rockhold was able to isolate an arm and crank out a kimura for the tap two minutes into the round. After a setback in his UFC debut due to Vitor Belfort's Spinning Heel Kick of Doom, Rockhold has bounced back with two first round finishes of fighters we at one point pretended were potential title contenders. Did you know that, of the 14 fights Rockhold has competed in, only 2 have made it out of the opening round? That is crazy, especially for someone competing at the high level he is. I mean, who does he think he is, Ronda Rousey? After the fight, Rockhold proceeded to call out Vitor for a rematch, since he doesn't have much going on right now, and if that isn't possible, he asked to settle his grudge with Michael Bisping. Either way there are definitely some interesting options for the former Strikeforce Middleweight Champion. He can even fight Ronda Rousey if he wants but he'll have to wait for her to fight Floyd Mayweather first. Seriously, I'm still not over that yet.

Jim Miller did Rockhold one better. After the lightweight contender got the feisty striker Yancy Medeiros down to the canvas and choked him unconscious with a guillotine, he went ahead and just called out every lightweight higher in the rankings than him. I like that. That is some Kurt Angle level of hijinks right there and I approve. Miller is rarely in a boring fight and I'm interested to see where he goes from here. Another guy who is rarely in a boring fight is young Max Holloway, who proved he can never be counted out of a fight. He fought a tough two-and-a-half rounds against top prospect Andre Fili, trading punches and neutralizing each other on the ground. Then in the third round, after Holloway landed a couple elbows on Fili against the fence, Fili shot for a desperation takedown that Holloway turned into a guillotine attempt. The Hawaiian then locked up the choke and got the tap. Holloway is a tough kid who fights with everything he's got. He'll definitely keep getting fights as long as Dana is in charge. Fili is good but he has some holes in his game he needs to fill, namely the ones in his ears. Seriously, did he know he was going to become a fighter when he got those things? Also on the show, Joseph Benavidez's Joe-Jitsu prevailed over a beardless Tim Elliott with a guillotine choke, Takanori Gomi took a unanimous decision from Isaac Vallie-Flagg, Bethe Correia knocked off one of the Four Horsewomen by beating Jessamyn Duke, Danny Castillo crushed Charlie Brenneman with a huge looping right hand, and Chris Beal had an excellent UFC debut when he wrecked Patrick Williams with a flying knee. He was one of the guys on Season 18 of The Ultimate Fighter. The guys on that season were horrendous. That knockout on Saturday just blew my mind. Also, Patrick Williams'.

And that was UFC 172. Dana White and company will be back in our lives in two weeks with Fight Night: Brown vs. Silva. Hopefully the fight is less generic than those last names.

***HORN SOUNDS***




Round Four: Andrei Arlovski Returns to UFC, Will Now Wait for Tim Sylvia to Get Re-Signed

***TOUCH OF GLOVES***

This is news that really speaks to the young MMA fan in me. I got into the sport around 2004-05 and one of the bigger names in the UFC at the time was Andrei Arlovski. Not only did he have a badass look with his long hair and his vampire fang mouthpiece, he knocked guys out and did so quite violently. His success led him to the UFC Heavyweight Championship before losing consecutive fights to Tim Sylvia, the second of which was one of the worst title fights OF ALL TIME. From there, Arlovski won three straight fights, including a unanimous decision over current #1 contender Fabricio Werdum, before leaving the UFC in 2008 for greener pastures. He found the greenest pastures of the ill-fated Affliction promotion, where he banked over $2 million to fight twice, including a quick KO at the hands of the mighty Fedor Emelianenko. That fight began the worst stretch of Arlovski's career, where he lost four straight with 3 (T)KO's. Many were calling for his retirement at that point but Arlovski doesn't do what people tell him because he's cool like that. He then went on to find success in ProElite, One FC, where he soccer kicked Tim Sylvia in the face but didn't get the win because the rules allowed it but only if he got permission from the ref first (yeah...), and in World Series of Fighting. He's only lost once in the last two-and-a-half years, a unanimous decision against the beast that is Anthony Johnson. That's a pretty good track record all things considered, especially when you look at where Tim Sylvia is right now. Probably a Burger King.

Andrei Arlovski was one of my favorite fighters (and still is) so I was pumped to learn of the news that the UFC has re-signed their former champion after a 6 year absence. As much as I love Arlovski, the decision to bring him back is a little puzzling. He's still a decent fighter who will beat most heavyweights, but he's never going to be champion again and Dana has shown in the past that he's not too keen on keeping fighters around after they've peaked (Fitch, Okami, Shields), although I guess Arlovski is different from those fighters because he knocks suckas out. When asked why the decision was made to bring Arlovski back, Dana White just said it was because he liked him. Well, I'm satisfied. I can't say anybody else is but it's the heavyweight division we're talking about. Most of those guys suck. Arlovski will fit right in. He already has victories over Werdum and Roy Nelson so it will be interesting to see what he's got left to offer the division. His first assignment is a fight against Brendan Schaub at UFC 174 on June 14. Now that sounds like a good way to spend Flag Day right there because you know someone is getting knocked out in that fight. At least someone better. We don't need another Schab-Lavar Johnson kind of fight. Either way, congrats to the Pitbull on making it back to the promised land. Things have been going pretty well for Pitbulls. Arlovski is coming back, Thiago Alves just made a successful return, Patricio Freire is fighting for the title at Bellator 121, and his brother Patricky is fighting for a title shot the week before. Maybe this is why fighters prefer that dog as a nickname over others, like "The Poodle" or "The Chihuahua." Or maybe it's because those are terrible nicknames. I have a craving for Taco Bell just now.

***HORN SOUNDS***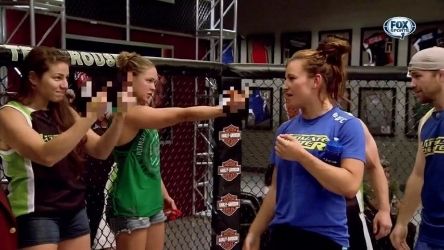 Who Needs to Be a Role Model When You Can Be Ronda Rousey?

***TOUCH OF GLOVES***

I don't think I've mentioned Ronda Rousey enough times in this week's column to satisfy the Lords of 411 so let's finish up by talking about what a terrible role model Ronda is. This isn't a concept that should surprise anyone at this point. All one has to do is look at the grudge that Rousey has held against Miesha Tate and Bryan Caraway. She probably still holds a grudge over a silly Twitter comment that Caraway made years ago that he has apologized for. Remember when Ronda gave Miesha the double bird during the coach's challenge on The Ultimate Fighter? Remember when she refused to shake Miesha's hand after their second fight? How pathetic is that? Miesha isn't the only fighter who has been in Ronda's cross-hairs, as she has said plenty of negative things about Cris "Cyborg" Justino as well. You know, the usual talking points that all the haters have latched onto, mainly how Cyborg looks like she uses steroids and doesn't always appear very ladylike because all women are supposed to look and act the same way. This society, I tell ya. The accusations only got worse after she failed a drug test in December 2011 and it hasn't let up since. I know that drug use has been a legitimate concern in the sport but you can't condemn someone forever. That's not being fair. She hasn't failed a drug test since and looks a lot healthier than she used to but she still won't hear the end of it because she still has muscles so that must mean she's still juicing. It's a vicious cycle. Maybe if she eats some of that leaner horse meat Alistair Overeem used in his last fight...

There was a little bit of controversy this week when Ronda *surprise* attacked Cyborg again. Her comments got a little more attention than usual this time because she said that, due to all of Cyborg's past drug use, "she's probably not a woman anymore. She's an 'it'." Can drug use make you genderless? That partly depends on one's definition of gender, which becomes a complicated issue when you factor in the opinions of the LGBT community, who is the main community that would take offense to a comment like that, as we all should. I know that Ronda didn't mean much by it (she probably just finds amusement in pissing Cyborg off) but it's not the kind of comment a UFC champion should be making, let alone the champion who is purported to be the company's biggest star according to its President. Speaking of El Presidente, what did Dana think about the comment? When asked at a media scrum last Thursday, he said he was fine with the comment and then proceeded to mention how he thought Cyborg looked like Wanderlei Silva when he saw her at the World MMA Awards. Yikes. I don't like the fact that he's not going to punish her in any way but he's not even willing to say her comment was at least a tiny bit offensive? He's not even going to talk to her about being careful what she says to the media? Doesn't this count as a Code of Conduct violation? Where the hell is Matt Hughes at? He can't possibly be going along with this, can he? Does he care? Do any of you care? Probably not because she did fail a drug test once. Man, MMA fans sometimes. I'm just glad I'm not doing Fact or Fiction this week. If a question about this were asked, I'd lose then and there for being sensitive to another human being, even one that has used drugs in the past, since MMA fighters don't deserve respect if they've used drugs because drugs are bad, m'kay? That's it. I'm done.

***HORN SOUNDS***

That's it for Five Quick Rounds. Thanks for reading. If you have any questions, comments, or suggestions, and it is always appreciated when you do, leave them in the comments section. I will be back in 7 for another Five Quick Rounds. There is Bellator on Friday. Actual, live Bellator. Enjoy the fights and remember to fight clean, fight hard, fight fair, and never leave it in the hands of the judges...




LATER!!!!!!!!!!!!!!!!!!!!!!!!
comments powered by