SPOTLIGHTS
Henderson vs. Cormier: The Wrong Fight at the Wrong Time
Posted by Dan Plunkett on 04.29.2014

UFC recently announced Dan Henderson vs. Daniel Cormier for UFC 173! 411's Dan Plunkett explains why it was the wrong fight to make!

On November 9, 2013, Dan Henderson entered the UFC cage in Goiania, Brazil. Despite being an American, the fight marked a homecoming of sorts for Henderson.

Sixteen years earlier, Henderson entered an octagon-shaped cage for his mixed martial arts debut. In what was billed as lightweight tournament, Henderson defeated two men in one night to take home the top prize. The prize money was what mattered to Henderson. He wasn't fighting for glory, respect, or championships, but rather money he could live on as he chased his dream of an Olympic medal in Greco-Roman wrestling. Henderson was offered his first shot at a UFC title in 1998 after winning two close matches in UFC 17's middleweight tournament. He turned it down to focus on wrestling. It wasn't until late-2000, following a failed bid at that year's Olympic squad, Henderson turned his full attention to MMA.

In the years that followed, Henderson built a fighting resume stronger than all but the elite of the elite. He remains the only fighter in major MMA history to simultaneously hold belts in two different weight classes. Henderson had two major weapons few could answer: His chin, which kept fights going; and his right hand, which ended them.




Henderson's 2013 return to Brazil saw him face Vitor Belfort, a late-thirty-something with the speed of a twenty-something and the power of an old lion. On that night, Belfort became the first to crash through Dan Henderson's seemingly impenetrable wall of consciousness. It wasn't a frightening knockout, nor a match where Henderson necessarily looked his age. Those matches, where fighters have clearly worn out their physical gifts, generally last longer than one minute and don't come against top competition like Belfort. Unfortunately, Henderson's next match was one of those matches.

Four months after losing to Belfort, Henderson returned to Brazil for a rematch against Mauricio Rua. In their back-and-forth 2011 bout, Henderson's issue was conditioning. In the rematch, the speed disparity, favoring Rua, was readily apparent. His famous chin bent to its limit twice, although to its credit never broke. Like many bouts before, his chin and right hand saved him from a tough situation with a third round knockout. But, by winning the match and avoiding a fourth consecutive loss, Henderson now finds himself in an even tougher spot.

Daniel Cormier has fast hands. Daniel Cormier packs power in his punches. Daniel Cormier is a great wrestler. Daniel Cormier will fight Dan Henderson on May 24, a mere two months after Henderson took significant punishment against Rua. Although Henderson had to undergo extended testing at the request of the Nevada Athletic Commission, and fighters have had shorter turnarounds between bouts after knockout losses, the combination of circumstances puts Henderson in a bad position.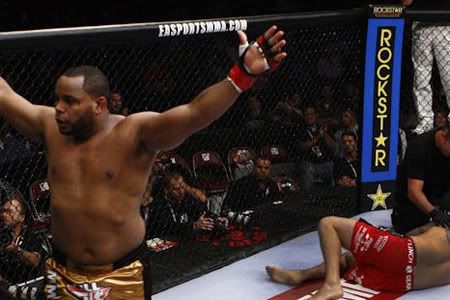 Cormier may be talented enough to be the UFC heavyweight champion. In fact, if his training partner Cain Velasquez wasn't champion, Cormier would already have had a crack at that title. Fewer than five years into his career, he's made a natural transition to MMA after years as a world class wrestler. He's a smart fighter; He's not one to play his opponent's game to prove his superiority in all areas. This is important for the Henderson match-up in particular, because Cormier is certainly going to focus on avoiding that right hand. Similarly, Roy Nelson, who Cormier faced last October, possessed a dangerous right hand. He never came close to landing it.

In another time, matching Cormier against Henderson would have made perfect sense. It's the up-and-comer against the past-prime star – the very type of match-up that built some of the sport's biggest stars. But as knowledge and concerns about concussions has grown, those match-ups lean more on the unethical side than ever before. Certainly, Cormier vs. Henderson isn't on the level of Tito Ortiz vs. Ken Shamrock or Matt Hughes vs. Royce Gracie, but it's of that same ilk. This particular match was made to give Cormier a fight against a big name. It was made for May 24 because key injuries suddenly drained that night's show of star power.

Despite inching toward his 44th birthday, Henderson will still bring his two dangerous weapons in to battle on May 24. The problem is with other physical skills depleting, those weapons are increasingly difficult to utilize. Opposing a fighter the caliber of Daniel Cormier, what remains of those weapons may not mean much.


Dan Plunkett has covered MMA for 411Mania since 2008. You can reach him by email at plunkettdan@yahoo.com.

comments powered by