SPOTLIGHTS
Five Quick Rounds 05.06.14: Bellator 118, So, You Want To Be El Guerrero Ultimo?
Posted by Evan Zivin on 05.06.2014

From Cain Velasquez and Fabricio Werdum fighting in Mexico and Rousimar Palhares pulling out of his latest title defense to Pat Barry's televised kickboxing debut and the results of Bellator 118, 411's Evan Zivin examines these stories and more in Five Quick Rounds!

Hey hey, fight fans, and welcome back to Five Quick Rounds! I am your host, Evan Zivin, and I am more excited than a stolen cellphone in San Jose to be here once again!

There are few fighters I'm dying to see compete in the octagon again and Josh Thomson is one of them. After losing a controversial decision to Ben Henderson that I really feel should have gone the other way, Josh hinted that his days as a fighter may be numbered despite the fact that he arguably defeated the number two lightweight in the world and did it with a broken thumb. Thankfully, we've learned that if his days are numbered they he won't be running out yet and he will fight again, possibly this July when the UFC returns to San Jose. The only question is, if he fights on that card, who should it be against? How about Nick Diaz? Does that work for everybody? The Punk took to Twitter over the weekend, using some colorful language to call out the uncrowned king of the welterweights (in his mind), saying that he already knocked out one Diaz so why not go for two. Josh would have to go up in weight for that fight but I'd totally be down to see two aggressive strikers try to take each other's head off. Unfortunately, before anyone could get Nick's response, Josh Tweeted that his phone was stolen and he respects fighters and boring stuff that won't make selling his next fight any easier. Way to kill our excitement, Josh. Whoever stole your phone wasn't spouting homophobic slurs or anything. He was actually helping you get noticed. You should have ran with it. Maybe you would have gotten the fight. Oh well. Heal up and get back to work, Punk.

All right, so with fighter introductions out of the way, I have five more rounds of MMA news and opinions to throw at you. This week, we look at Cain Velasquez and Fabricio Werdum fighting and coaching TUF, Rousimar Palhares pulling out of his first title defense, the results of Bellator 118, UFC suing a pirate for a helluva lot of money, and news of Floyd Mayweather's latest win and Pat Barry's latest beheading. Let's to it do it.

FIGHTER YOU READY!!!!
FIGHTER YOU READY!!!!

FIGHT!!!!




Round One: Cain Velasquez and Fabricio Werdum to Coach TUF: Latin America, Will Go to Taco Bell Afterwards

***TOUCH OF GLOVES***

Everyone knows that Fabricio Werdum is getting the next shot at Cain Velsquez's UFC Heavyweight Championship. The title shot was promised to Werdum after he submitted Antonio Rodrigo Nogueira last June and he defended it a few weeks ago by punching Travis Browne's beard off. The only reason that Werdum had to defend his title shot in the first place was because he had to take a fight while waiting for Cain to recovery from his yearly injury, this year's being a shoulder injury he suffered in his last title defense. I'm not looking to make fun of Cain but it's little wonder why he isn't a bigger draw right now considering he's spent the majority of his two UFC title reigns on the shelf. Maybe a fight with Werdum will be just the thing to get people to hop back onto the Cain Train. Actually, it probably won't but it will be a good fight. I don't expect Werdum to beat Cain but his well-roundedness is sure to give the champion fits. Very few people thought that Werdum could handle Browne the way he did other than Jeff Harris. We get it. You picked a fight correctly. Whoop-dee-do. Go have a cookie or something. Plus, Werdum tapped Fedor. That means that anything is possible. Or it could mean that Fedor got overconfident and made a stupid mistake but we know that's not true. Fedor doesn't make mistakes. His priest won't allow him to.

Anyway, after months and months wondering when we'd see the Baddest Man on the Planet compete again, we now have our answer as Dana White announced Cain would fight Werdum in Mexico City at UFC 180 on November 15. This will be the UFC's first event in Mexico, a market that Dana and Lorenzo have been dying to break into for years. They just needed the right fight to do it and now they have it. Cain was born to Mexican immigrants and is very proud of his heritage while Werdum lived in Spain for many years and moonlights as a commentator for UFC's Spanish broadcasts. So there won't be any language barriers in promoting the fight. That's probably why it was also announced that, before their clash at UFC 180, both men will compete as coaches on the inaugural season of The Ultimate Fighter: Latin America. The men will coach a cast of bantamweight and featherweight fighters while being very respectful of one another. It should make for very poor television just like every season that's been made since 2007. It shouldn't matter too much, though. Mexico is very underdeveloped as far as MMA goes so as long as somebody in that country watches the show and pays for the fight then UFC can chalk that up as a win. No word on if the show will air domestically but, as the UFC's continually expanding schedule shows, they don't really care much about us right now anyway. It's all about the Global F*cking Domination, baby. At least the fight should be good. Plus the event will likely feature other Mexican fighters such as Ricardo Lamas and...um....Fernando Lamas? Lorenzo Lamas? Good luck down there, UFC.

***HORN SOUNDS***




Round Two: Rousimar Palhares Pulls Out of Title Fight with Jon Fitch, Just in Time For Mother's Day

***TOUCH OF GLOVES***

Was anybody else excited for the welterweight clash between World Series of Fighting Welterweight Champion Rousimar Palhares and former UFC Wet Blanket Jon Fitch? I think I'm one of the few people who was actually legitimately interested to see Palhares join the promotion. I know. He's an idiot man-child who puts too much of himself into his fights to the point that he doesn't know to give up a submission hold even when the fighter is tapping and the referee is busy trying to jam a Jaws of Life under his armpit. The man obviously has some psychological issues that he needs to learn to deal with if he wants to continue having a job in any MMA promotion that's worth a damn. UFC was absolutely in the right to cut him after refusing to let go of another submission and WSOF was definitely taking a gamble by adding him to their roster but I think it was a gamble worth taking. While WSOF doesn't necessarily want to be known as a promotion that survives on taking UFC castoffs and should be creating their own stars, Palhares is still one of the best fighters in the world and gives a lot of credibility to their welterweight division, his reputation notwithstanding. Palhares proved that by making Steve Carl look like an amateur, tapping him out in a minute. Now WSOF has the opportunity to match him up with another UFC-caliber fighter in Fitch and I'm curious to see what will happen. It's going to be a great fight on July 5th....right?

Well, it might have been. We won't know now as it was announced this week that Palhares is pulling out of his scheduled title defense. Seriously? Why, Toquinho, why? Is it an injury? Staph Infection? You need time to cycle off TRT? You just won $1 million and need to travel to Nebraska to claim it with your slightly unfunny son while wacky hijinx ensue along the way? No, none of that. Without giving us too much detail, Palhares said he can't focus on training and fighting right now because his mother is in poor health and is about to undergo a complicated surgery and he needs to be there for her. I could say that his brothers and sisters should be able to handle it, since there's 13 of them, but that would be a horrible thing to say. So I won't. WSOF matchmaker Ali Cool J didn't seem to appreciate Palhares' devotion to family, saying how pissed he was about fighters not wanting to fight and disrespecting the promotion. It wasn't said that the tirade was directed at Rousimar, but c'mon. In most cases I think it would have been fine for Ali to let off steam like this but he really should have held his tongue here. This wasn't a case where a fighter didn't want to fight. The fighter wants to fight but he can't put 100% of himself into it right now because his mom needs him. As much as I'd love to see the fight, if Rousimar doesn't feel he can fully commit to fighting right now, then I wish him all the best and hope everything works out so he can return soon. At least WSOF has found a silver lining in the situation, giving another blockbuster fight for WSOF 11 between Jon Fitch and....Jake Shields? Welp, it looks like I won't have any trouble sleeping that night. Also, Ben Askren thinks he can beat both of them. Probably.

***HORN SOUNDS***




Round Three: Bellator 118, Joe Warren Takes Interim Title That Rafael Silva Couldn't Win Even if He Wanted To

***TOUCH OF GLOVES***

Remember UFC 171, the night that Johny Hendricks fully realized his dream of barely winning a judge's decision because he laid on top of Robbie Lawler for the last five minutes of a fight for a championship that he was only given another chance to claim because one of the greatest fighters in the world vacated it due to being burned out and pissed off? It was a magical moment for all us but it almost didn't happen. If you'll recall, Johny missed weight the first time he hit the scale, putting the main event in jeopardy. Ultimately Johny was able to hit 170, thanks to his strong will and determination combined with the power of Nick Diaz's heckling, but the uncertainty during the interim brought to light something interesting. There's a rule in place for many athletic commissions where, if two fighters are competing for an open championship and one of the fighters misses weight, the other fighter is still eligible to win the title. The fight can still go on as scheduled, the only difference being the title is on the line for only one of the two fighters. The rule is there to keep the fight from falling apart as well as to reward the fighter who actually made weight. As nice as that is, it would have been really awkward to see a UFC main event title fight where only one of the two men was eligible to win the championship, especially since, if the fight had gone the same way it did, the title would still be vacant. Thankfully, UFC avoided that mess. Bellator, on the other hand...

The main event of last Friday's Bellator 118 was supposed to be a bantamweight title fight between champion Eduardo Dantas and Season 9 Tournament winner and Frank Shamrock's bestest friend, Joe Warren. The fight got cancelled a week before due to Dantas suffering a head injury, possibly while dancing after his last fight. So Bellator, with a backlog of tournament winners and desperate to have Warren fight for a belt now, decided to match Warren up with Summer Series winner Rafael Silva for an Interim Bantamweight Championship. I guess they figured the American audience wouldn't mind since all Brazilians look alike, right? The fight itself was pretty decent. Warren's gameplan for the fight, as it is for most of his fights, was to use his wrestling to grind Silva out. It wasn't working too well through the first two rounds. Silva defended Warren'ts takedowns well and he hurt Mr. Rhino Sport with knees and uppercuts. Despite his face swelling up, Warren continued to press Silva through the last three rounds. Things started turning in Warren's favor in the last half of the fight as he started completing takedowns on the tired Silva. In the end, Warren won by unanimous decision and gets to call himself a two division champion even though I don't know if it counts when one of those belts is an interim title. Oh well. Dantas will be back soon enough to cut out that noise. Either way, congrats Joe. Expect the MMA 3R's to have some new graphics, I would assume. Now Jeff just needs Dan Henderson to beat Daniel Cormier later this month and he'll be in heaven. I wasn't planning to make fun of him this much. It just happened.

***HORN SOUNDS***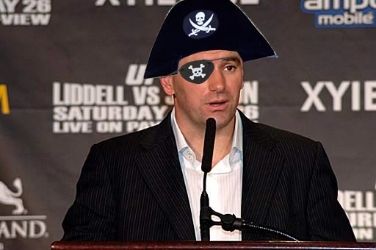 Round Four: King of PPV Pirates Better Have a Lot of Plunder Stashed Away After Getting Sued by UFC

***TOUCH OF GLOVES***

This world already has an International Talk Like a Pirate Day, something that makes me weep for society every single day I'm forced to be a part of it (or not). How about we start an International Get Sued for Being a Pirate Day? No? Man, I liked it better when pirates were only of the swashbuckling variety. Sword fighting and drinking grog and burying treasure. That sounds like the life right there and I know that's how actual pirates lived because I've played The Secret of Monkey Island tons of times and that game wouldn't lie to me about anything. If only the term "pirate" could have stayed with that era instead of being co-opted to describe people who rip movies and TV shows and music and games and share them on the Internet so everyone can get their hands on all this media without having to pay for it. Obviously the practice is wrong. I mean, it's illegal. It's also rather easy to do which is why the practice has persisted for so long despite the efforts of major industries to curb it. I understand the reasons why people would do it, the main one being the cost. I can agree that many UFC Payperviews don't feel worth the $50-$60 price tag that they come with but stealing the events isn't going to bring the price down. Not ordering the events at all may eventually have an effect on the UFC but not paying to illegally stream instead ruins the message in the minds of the UFC. They want to give the fans what they want but only if the fans are willing to pay what they feel it is worth. This stuff ain't free, at least not until the television networks are shelling out billions of dollars for TV rights like they do for the NFL, which is only a matter of time, right Dana? Dana?

Well, look on the bright side: paying $60 for an event looks a lot better than paying over a quarter of a million dollars per event. That's what Steven A. Messina is looking at after getting sued by UFC for $32 million last week. Messina is a New Yorker who allegedly uploaded 141 UFC Payperviews to various file-sharing sites, all the while claiming himself to be the "Provider of Best MMA & Boxing rips online!" First off, why does every article about this story online mention that he lives with his parents? I know that's an easy way to discredit the guy because only loser scoundrel scumbags still live at home but how is that at all relevant to what he did? I think people living on their own are capable of making Payperview rips too. At least I think they are. Maybe I know too much. Crap. Messina thought he was safe with his online alias "Secludedly"(ain't that clever) but the UFC caught on to him after he bragged a little too much. You know one way some criminals are able to get away with their crimes? They don't brag about them to anyone. This guy not only boasted about wanting to be the "King of PPV pirates," he also asked for donations so he could keep capping Payperviews and provided links to his Paypal account. Smooth move there. No wonder he got caught. I imagine anyone who donated is shaking right now too since it can all be traced back to them. Sounds like UFC's legal team is going to be busy for a while. Remember kids, crime doesn't pay, especially if you actually pay for it. Dumbasses.

***HORN SOUNDS***




Round Five: Fightin' 'Round the World with Floyd Mayweather, Whatever's Left of Pat Barry

***TOUCH OF GLOVES***

And with a lack of major MMA events happening last week (and not a whole lot in the way of news either), let's take a look at some of the major happenings around other major combat sports. The biggest event that happened on Saturday was the return of Pound-for-Pound boxing and Payperview king Floyd Mayweather. After taking his bi-yearly break, "Money" was back to make more...uh...money, this time against WBA Welterweight Champion Marcos Maidana. Now, I'm not a huge fan of boxing. Maybe it's because my short attention span makes it hard to follow two guys strategically punching each other for over half an hour or maybe it's because MMA has ruined my appreciation for any sport where clinches get immediately broken up and you can't follow a fighter to the ground when you knock them down. Still, I'm at least a little curious about major fights in most combat sports (as all fans should) and Showtime's big main event was a pretty good one. The battle was a close one that saw Maidana rough up Mayweather in the early rounds before Mayweather's superb conditioning allowed him to surge back late in the fight as Maidana was tiring. Maidana outpaced Mayweather early on but Mayweather was more accurate and ended up edging Maidana on total punches thrown. It seems like a lot of people felt Maidana did enough for a win or at least a draw so of course two of the judges gave the fight to Mayweather, winning by majority decision. If only Maidana had been able to use those "unpaded" gloves that Mayweather threw a hissy fit over on Friday. Remember, if you think the judging is bad in MMA, it can always be worse. Thanks for nothing, Cecil.

Watching Floyd Mayweather earn a paycheck bigger than the GDP of several small countries wasn't the only way you could have satiated your bloodlust last weekend, as Glory returned to Spike TV for another dose of kickboxing action. I'm of a similar opinion towards kickboxing but it's a little easier to watch because you can kick and throw knees and elbows. There were two main attractions Glory carted out in an attempt to get MMA fans to tune in. The first was the promotional debut of Pat Barry. Barry was known in the UFC for having a fun, goofy personality but he was also known for getting his ass handed to him on a number of occasions. He won his return to kickboxing earlier this year and he was ready to test himself against decent competition. That didn't go well as former boxer Zack Mwekassa knocked Barry out in two and a half minutes. Who would have thought that the sloppy striking that got Barry knocked out in MMA fights would get him knocked out in kickboxing fights? Methinks he's not going to last much longer. The show also gave us Sergei Kharitonov, former Pride and Strikeforce veteran, competing in Glory's heavyweight tournament. That didn't go well either as he lost by unanimous decision to Anderson Silva. That's right. Not only is his leg healed, he's decided to test it out in a kickboxing fight. Or maybe it's a different Anderson Silva. I wasn't paying much attention. Either way, Silva won only to lose to Errol Zimmerman in the tournament finals. Glory also crowned a welterweight champion when Marc de Bonte defeated Karapet Karapetyan by split decision. Overall it was an entertaining show and I may have to get into kickboxing some more. These guys have awesome names.

***HORN SOUNDS***

That's it for Five Quick Rounds. Thanks for reading. If you have any questions, comments, or suggestions, and it is always appreciated when you do, leave them in the comments section. I will be back in 7 for another Five Quick Rounds. There is Bellator on Friday and a UFC Fight Night on Saturday. Enjoy the fights and remember to fight clean, fight hard, fight fair, and never leave it in the hands of the judges...




HI MOM!!!!!!!!!!!!!!!!!!!!!!!!!!!!!!!!!!!!!!!!!!!!!!!!!!
comments powered by