SPOTLIGHTS
411's MMA Roundtable Preview - UFC Fight Night: Brown vs. Silva
Posted by Dan Plunkett on 05.09.2014

Erick Silva faces Matt Brown in the main event of UFC Fight Night! Plus Costas Philippou battles Lorenz Larkin, Erik Koch takes on Daron Cruickshank and more! Check out the full roundtable for all the details and join 411 for LIVE coverage of the event Saturday night!




WELCOME:
Matt Brown looks to extend his win streak to 7 when he faces Erick Silva in the main event of UFC Fight Night! In the co-main event, Costas Philippou battles Lorenz Larkin. At lightweight, Erik Koch fights Daron Cruickshank. Welterweights collide when Neil Magny squares off with Tim Means. Plus, Soa Palelei takes on Ruan Potts, Chris Cariaso vs. Louis Smolka, and more!

THE STAFF:


From MMA's 3R's, Jeffrey Harris!


From Five Quick Rounds, Evan Zivin!


From Forgotten Fights, Paul Lapointe!


From The 411 MMA Top 10, Alex Rella!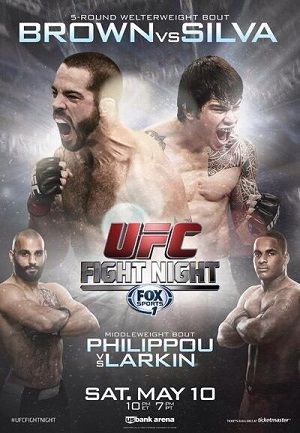 THE PRELIMINARY CARD:




First three prelims on UFC Fight Pass, rest on Fox Sports 2.




Welterweight Bout: Anthony Lapsley vs. Albert Tumenov



Jeffrey Harris: Anthony Lapsley, Decision
Evan Zivin: Albert Tumenov, Decision
Paul Lapointe: Lapsley, Decision, RD3
Alex Rella: Lapsley, Decision
The staff picks a draw, 2-2.



Lightweight Bout: Justin Salas vs. Ben Wall



Jeffrey Harris: Justin Salas, Decision
Evan Zivin: Justin Salas, TKO, Round 3
Paul Lapointe: Salas, TKO, RD2
Alex Rella: Salas, Decision
The staff picks Justin Salas, 4-0.



Featherweight Bout: Manvel Gamburyan vs. Nik Lentz



Jeffrey Harris: Nik Lentz, Decision
Evan Zivin: Nik Lentz, Decision
Paul Lapointe: Lentz, Decision, RD3
Alex Rella: Gamburyan, Decision
The staff picks Nik Lentz, 3-1.



Bantamweight Bout: Eddie Wineland vs. Johny Eduardo



Jeffrey Harris: Eddie Wineland, TKO, Round 2
Evan Zivin: Eddie Wineland, TKO, Round 2
Paul Lapointe: Wineland, KO, RD2
Alex Rella: Wineland, TKO, Round 2
The staff picks Eddie Wineland, 4-0.



Welterweight Bout: Yan Cabral vs. Zak Cummings



Jeffrey Harris: Zak Cummings, Submission, Round 1
Evan Zivin: Zak Cummings, Decision
Paul Lapointe: Cummings, Decision, RD3
Alex Rella: Cummings, Submission, Round 3
The staff picks Zak Cummings, 4-0.



Flyweight Bout: Kyoji Horiguchi vs. Darrell Montague



Jeffrey Harris: Darrell Montague, Decision
Evan Zivin: Kyoji Horiguchi, TKO, Round 2
Paul Lapointe: Kyoji, TKO, RD3
Alex Rella: Montague, Decision
The staff picks a draw, 2-2.



Middleweight Bout: Ed Herman vs. Rafael Natal



Jeffrey Harris: Ed Herman, Decision
Evan Zivin: Ed Herman, Decision
Paul Lapointe: Herman, Submission, RD2
Alex Rella: Herman, Decision
The staff picks Ed Herman, 4-0.

---




THE MAIN CARD:




Flyweight Bout: Chris Cariaso vs. Louis Smolka



Jeffrey Harris: Cariaso is actually in the top 10 flyweights in the UFC right now, and he faces the undefeated and fairly new UFC fighter, Louis Smolka. Smolka defeated Alptekin Ozkilic in his Octagon debut at UFC Fight Night 35. Cariaso is fairly underrated, since he doesn't have too many amazing finishes throughout his UFC career, but he's actually 6-3 in the UFC. Cariaso will win out a dominant victory here.

Winner: Chris Cariaso, Decision

Evan Zivin: This will be Cariaso's chance to get above .500 in his UFC career since dropping to flyweight. He lost fights to John Moraga and Jussier da Sila but has won his last two since then. Smolka is 1-0 in the UFC after beating Alptekin Ozkilic by unanimous decision. We don't know how far Smolka can go yet but if he's at all decent, this is a very winnable fight for him. Maybe we'll have another top Hawaiian fighter before we know it.

Winner: Louis Smolka, Decision

Paul Lapointe: Though I do have to say I am a fan of Cariaso and his style I can't get over the hype that is currently surrounding Smolka. Guys like Cariaso are tough and resilient but the new crop of flyweight prospects surging forward now in the UFC with Smolka, Borg (How did he lose his last fight again)and Scoggins the old breed has to change things up to match the momentum. That said it will be a competitive fight no doubt but I got Smolka being just a little bit more explosive and convincing the judges of it.

Winner: Smolka, Decision, RD3

Alex Rella: Chris Cariaso has put together a nice two fight winning streak and he really is a top ten flyweight. Cariaso may never be a great fighter, but he's been with the WEC/UFC since 2010 and he's picked up some nice wins along the way. Smolka is 1-0 in the UFC, but I honestly couldn't remember who he beat off the top of my head. Maybe Smolka turns out to be a nice prospect in the flyweight division, but I'm picking the veteran here.

Winner: Cariaso, Decision

The staff picks a draw, 2-2.

---




Heavyweight Bout: Soa Palelei vs. Ruan Potts



Jeffrey: "The Hulk" gets a chance to pad out his record here against the debuting fighter from South Africa, Ruan Potts. Potts is a heavyweight with a pro-MMA record of 8-1, though he's not really faced anyone notable. Hopefully, Palelei finishes this one with a knockout early or we are in for a long fight of a sloppy bout with bad cardio and conditioning.

Winner: Soa Palelei, TKO, Round 1

Evan Zivin: This fight could be decent. Potts is the former EFC Africa Heavyweight champion with 6 first round finishes in 8 wins. Palelei has more first round finishes, though, and he also has the experience advantage so I will agree with my colleague that Hulk will indeed smash.

Winner: Soa Palelei, TKO, Round 2

Paul Lapointe: Insert round 1 hoss fest of thunder here. Ok now that we know what to expect here and thats something not all too pretty but it could still be messy fun anyhow. Also I am a little hesitant to put any faith in any EFC guys coming into the UFC just due to how horrendous the officiating has been in the promotion so most guys coming in may be not as good as their pedigree indicates or records indicate. All in all then, Hulk SMASH!!!!!

Winner: Soa, SMASH, RD1

Alex Rella: I don't know much about Ruan Potts, but I know Soa Palelei has been killing people since 2010. His awesome ten fight winning streak have all ended by TKO or KO. I would have expected that they give the Hulk tougher competition after knocking out Pat Barry, but I guess there's nothing wrong with letting him get another win before moving up the ladder. I expect the winning streak to go to eleven and in similar fashion.

Winner: Palelei, TKO, Round 2

The staff picks Soa Palelei, 4-0.

---




Welterweight Bout: Neil Magny vs. Tim Means



Jeffrey Harris: Means gets another opportunity in the UFC after going 2-2 in his last run there. He was unable to make lightweight against Danny Castillo in his last fight, so he's moving up to welterweight now. Magny hasn't really been all that impressive thus far in his UFC career, but I think he will be able to use his wrestling to grind out and defeat Tim Means.

Winner: Neil Magny, Decision

Evan Zivin: As Mike Goldberg would say if he cared about the men participating in this fight, "Welcome back to the UFC, Tim Means!" Means is returning from a successful 2-fight stint in Legacy FC to face the former TUF competitor. Mangny isn't a world-beater by any means by you have to be above average skill-wise to take a fight from him and, as impressive as a win over Pete Spratt is (that's a joke), I don't see Means being able to do it. Hopefully I'm wrong because if not, this fight is gonna be a looooong one.

Winner: Neil Magny, Decision

Paul Lapointe: All hail the return of the Sauna survivor Mr. Dirty Bird. Seriously though I thought Means got some bad luck in his first foray in the octagon with his release and the incident that no longer will be named. But with his thrashing of UFC vet Pete Spratt and Artenas Young for what now looks like another feeder league for the UFC in the LFC he returns at welterweight. Like his previous two bouts I see this ending fast and violently. Sorry Mr. I be totally bland in the fight game Magny.

Winner: Tim Means, TKO, RD1

Alex Rella: This is the only fight on the main card I really don't have any interest in. Two below average welterweights that are both 2-2 in the UFC. There's like four fights on the prelims that would fit on the main card better than this one. Anyway, I guess I'll pick Means since he's looked good since moving up to welterweight and its possible that the cut to lightweight was too much for him in his last UFC run.

Winner: Means, Decision

The staff picks a draw, 2-2.

---




Lightweight Bout: Erik Koch vs. Daron Cruickshank



Jeffrey Harris: This actually has all the potential to be a fun striker vs. striker battle. After having some trouble at featherweight, Koch moved up to lightweight and looked considerably better, knocking out Rafaello Oliveira at UFC 170. Both fighters actually have some impressive kicks in their arsenal. Between these two, I'm favoring Koch because he appears to have a slightly more well-rounded skill set. I think this will be a fun, exciting lightweight battle here.

Winner: Erik Koch, TKO, Round 2

Evan Zivin: This is going to be a good fight. Both men are diverse strikers who love nothing more than to hurt their opponents, or at least they better. This is Koch's second fight after his successful debut at lightweight and Cruickshank comes into this after spin-kicking Mike Rio's sideburns off. As much as I like Cruickshank, Koch is a better fighter. Koch has beaten better competition and he's a more complete fighter. This fight might not end by knockout but I'd say it's a strong possibility that Koch uses his superior grappling to get Daron down and send him tapping all the way back to Detroit.

Winner: Erik Koch, Submission, Round 1

Paul Lapointe: I am glad that Erik Koch is finally healthy and willing to stick it out at lightweight. Given his already proven skill and his last bout at 155 proving the point that when focused he should be somebody worth noting in the near future. TUF alum Daron has his hands full. Koch does have the ground and grappling advantage easy but both guys will try to keep it standing I think anyhow. Given that I still think Koch has better overall standup he still should be wary of kicks, especially at distance. Obviously based on my emphasis of Koch I am leaning his way and hoping for some classy exchanges.

Winner: Koch, TKO, RD2

Alex Rella: This should be a really fun fight. Koch is looking to build himself back up at lightweight and Cruickshank should be a good test for him. Cruickshank is 5-2 in the UFC and is coming off an amazing knockout over Mike Rio. I think Koch is the better all around fighter, but this should be a really fun fight either way.

Winner: Koch, Decision

The staff picks Erik Koch, 4-0.

---




Middleweight Bout: Costa Philippou vs. Lorenz Larkin



Jeffrey Harris: Despite winning as many as five fights in a row in the UFC, Philippou is now on a two-fight losing skid after he lost to Francis Carmont and then got knocked out by Luke Rockhold. In this match-up though, I think Philippou will have the edge here over Larkin. Larkin is a decent fighter, but doesn't seem to be all that impressive since he made the jump from Strikeforce to the UFC. Philippou will be able to stop Larkin's takedowns and keep the fight standing where he wants it.

Winner: Costa Philippou, Decision

Evan Zivin: This could be a good fight but it's likely to be a long one. Both men possess decent boxing but both men also tend to fight safe and won't put themselves in dangerous situations just for the chance to end the fight. Philippou needs a win here as he hasn't won a fight in a year and a half. Larkin is 1-1 in the UFC so far and could use the win to push himself closer to the top half of the middleweight rankings. This fight is a strong contender for having a screwy split decision so I'll predict that Larkin does more but the judges give the fight to Philippou because they don't want to run afoul of Matt Sera. He's an ornery little munchkin.

Winner: Costa Philippou, Decision

Paul Lapointe: Use wrestling! Easy gameplan to use against a skidding Costa Phillipou and like Tim Boetsch before him somebody that although good is heavily over hyped for what they actually bring to the table. Lorenz even with his lackluster contest against Brad Tavares behind him does possess true potential but he needs to pull the trigger more then opts too currently. So if he can utilize more of a decisive gameplan on the ground he takes it on the cards.

Winner: Larkin, Decision, RD3

Alex Rella: This is a must win situation for both middleweights. Philippou looked like he might be able to break into title contention when he was on a five fight winning streak back in 2012, but he's lost two in a row since then. And Larkin has looked lack luster since coming over from Strikeforce. Larkin is a well rounded fighter, but Philippou's much better striking will likely give him the win.

Winner: Philippou, TKO, Round 2

The staff picks Costa Philippou, 3-1.

---




Welterweight Bout: Matt Brown vs. Erick Silva



Jeffrey Harris: This is arguably a lose-lose match-up for Matt Brown here. After he unfortunately got taken out of his scheduled fight with Carlos Condit due to an injury, this was the fight that god made for him later on. Currently, Brown is ranked No. 7 at welterweight, and Silva is ranked No. 14. While the match-up is an exciting one to be sure, it doesn't come off as the most sound matchmaking on paper. Against Condit, Brown possibly would've gotten the opportunity to cement a title shot and top contender status. A win over Silva here, especially with so many guys in the top 5 vying for a title shot, won't really get him there. Silva is a fighter who's UFC run has been marred by inconsistency. His last win was basically a gimme fight over Takenori Sato. Before that he got knocked out by Dong Hyun Kim. In between those losses, he did submit Jason High. Silva is powerful welterweight striker that hits hard, but that seems to be a type of style Brown excels with. I expect both guys to bang it out, but eventually, Brown will catch Silva and put him away.

Winner: Matt Brown, TKO, Round 2

Evan Zivin: Were betting lines seriously giving Silva a 2-1 edge in this fight? Is that what I was reading? I haven't gotten a chance to verify that at all but it is absurd if it's true. I do like Silva and feel he has potential to make a lot of noise in the welterweight division but, so far, he's failed every decent test the UFC has given him. He couldn't even beat Dong Hyun-Kim and Kim spent the whole fighting standing in front of Silva winging punches. Brown is a good fighter. I'm still on the fence over whether he should be considered a title contender but I can't deny he hasn't beaten some decent fighters in his six fight win streak. None of those opponents were ever top 10 in the weight class (Mike Swick may have been years ago) but still, a decent group of guys. Considering how hittable Silva has proven to be in his losses to Kim and Jon Fitch, I see Brown overwhelming Silva with strikes relatively easily. I see Brown ending this in the first half of the fight and, while I don't think he'd really be deserving of a title fight off a win here, I wouldn't be opposed to seeing him get a shot. I like entertaining fighters and Brown is definitely one of the most entertaining. Just as long as he keeps his mouth shut.

Winner: Matt Brown, TKO, Round 2

Paul Lapointe: Matt Brown is seemingly digging his own hype after coming back from injury and Erick Silva is super hyped but has lacked consistancy and bad matchmaking in my opinion. So will this come to be the stand up and bang bro kinda fight the UFC is aiming for or will Silva use his ridiculously underrated ground skills (Hello Jason High). So though Brown has been around the block and his wrestling is improved if Silva comes out fast and hard and gets tagged a mat battle is where this fight should end.

Winner: Erick Silva, Submission, RD3

Alex Rella: This is a perfect fight to help Matt Brown get back on track. Brown finally got his big fight against Carlos Condit last December, but back injuries put him on the sidelines. Erick Silva has shown moments of brilliance in the cage, but he's also had some poor moments of judgment that have held him back from becoming an elite welterweight. I expect Silva to come out and try to knock out Brown quick, which will play right into Brown's strength. Nobody is better than Brown when it comes to ugly brutal brawls. Brown's iron chin and great striking should help him pick up his seventh win in a row.

Winner: Brown, TKO, Round 1

The staff picks Matt Brown, 3-1.

---
Remember to join 411's coverage of UFC Fight Night on Saturday night!
comments powered by