SPOTLIGHTS
Five Quick Rounds 05.13.14: Fight Night 40, Bellator's Payperview Trainwreck Keeps Rolling, More
Posted by Evan Zivin on 05.13.2014

From Eddie Alvarez pulling out of the Bellator PPV and Matt Brown defeating Erick Silva at Fight Night 40 to UFC pulling Nate Diaz from its rankings and Cat Zingano getting cleared to train, 411's Evan Zivin examines these stories and more in Five Quick Rounds!

Hey hey, fight fans, and welcome back to Five Quick Rounds! I am your host, Evan Zivin, and I am as excited as...well...ME, to be here once again!

Why am I excited, I pretend that you ask? It was one year ago that I took over writing this column. Yeah, I know. It feels like I've been doing this for an eternity already. I still remember back then when I was just a bored college kid, writing asinine comments on a pop culture website. Then I saw one of those articles asking for writers. I figured I had nothing better to do so I cobbled together a sample and sent it on figuring I would never hear back, but I did...about a month later. Larry said he liked my style, he asked me to join the team, and the rest is history. I've enjoyed my time here and have enjoyed providing my unique perspective of the world of mixed martial arts fighting to you on a weekly basis. I still don't know if anyone reads this. I know this isn't a wrestling column but I assure you this column won't be the worst thing you will read all week. Well, it might be if this is the only website you ever visit. Then I'm just competing with whatever Watry put out that week. Well, if you're out there, let me know this week. Post a comment or, better yet, you can follow me on the Twitters. I'm @EZivin. Maybe if I get some followers, I'll actually post something. Or not. We'll see how I'm feeling. Either way, whether you read me or not, I appreciate all the support I have been given by 411 and everyone else. Keep on reading because I'm not going anywhere. I have nothing better to do than write this column, but I'm a fan of wrestling and MMA so you likely already assumed that.

All right, so with fighter introductions out of the way, I have five more rounds of MMA news and opinions to throw at you. This week, we look at the Bellator payperview losing its main event, the results of UFC Fight Night 40, the results of Bellator 119, UFC removing Nate Diaz from its rankings, and the returns of Stefan Struve and Cat Zingano. Let's to it do it.

FIGHTER YOU READY!!!!
FIGHTER YOU READY!!!!

FIGHT!!!!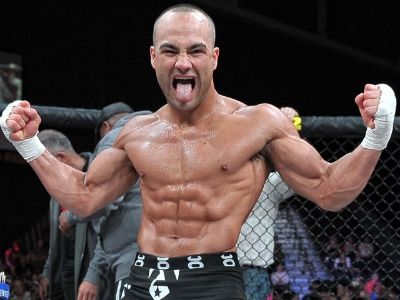 Round One: Eddie Alvarez Out of Bellator 120, Bellator Will Tempt Fate with Payperview Anyway

***TOUCH OF GLOVES***

There's an old saying that goes something like this: If at first you don't succeed, try again, but if at second you don't succeed, then f*ck it. You all remember Bellator 106, the company's first Payperview, right? What's that? You don't because the show got pulled from Payperview after one of the headliners suffered an injury one week before the show? Well, despite that setback, Bellator was still determined to get a fight on Payperview, since UFC has had it too good for too long (or something), and made the announcement that they were going to try again with Bellator 120. Bellator made the adjustments to put together a show that would highlight the best the promotion has to offer by making the main event the trilogy fight between Eddie Alvarez and Michael Chandler. The two previous fights the lightweights competed in back in 2011 and 2013 were outstanding fights, two of the best in MMA history. Both men are very well-rounded and have aggressive fighting styles that complement the other quite well. Alvarez and Chandler are two men who are capable of beating the other on any given night and, no matter who emerges victorious, it's gonna be a good fight. It's for this reason that it was a much better decision to have this fight main event compared to the original main event of Bellator 106, Tito Ortiz vs. Rampage Jackson. I mean, maybe that fight would have gotten a few more people to order the show, but the quality of the fight would likely have been bad enough to keep some of those people from ordering another Bellator Payperview. That's why it was a good idea for the next attempt at Payperview to feature two fighters who always perform well and are relatively unlikely to pull out of the fight, especially a week before the show.

What's that? Eddie Alvarez pulled out of the main event with an injury, one week before the show? Well, shit. The injury is a concussion suffered in training. It supposedly happened two weeks ago but he didn't pull out of the fight then because the doctor he went to was optimistic that he'd be clear to fight. Then Eddie had a follow-up a few days ago and that's the end of our main event. So blame Eddie's doctor. Also, whoever Eddie was training with since it was an accidental leg strike that resulted in the concussion. So, now what? Last time, Bellator moved the fight card to Spike TV and it did the highest ratings Bellator has ever done on the network. This time, they're moving forward with the Payperview. I guess one of Bellator President Bjorn Rebney's dreams is to make people pay $45 to watch his fighters and nothing is going to stop him from achieving it. It also may be due to the fact that Tito Ortiz's contract only allows for fights on Payperview and they probably overpaid for his services in the first place so Payperview it is! We now get a main event of Rampage Jackson vs. King Mo to determine the Season 10 Light Heavyweight Tournament winner. Also, a new fight has been added which will see Chandler face Will Brooks for the Interim Bellator Lightweight Championship. Man, it's really getting out of hand with this whole interim belt nonsense. This will be the third one Bellator has crowned since November. I get that they want to add some stakes to the fight between the guy who was supposed to fight the champion and the guy who was supposed to fight the winner but it could have been accomplished without putting a fake belt on the line. Would doing so have betrayed the tournament format? Yeah, but it's not like Bellator is following it all that much anymore anyway. Regardless of all that, I applaud Bellator for saving the card, and even though this will result in fewer people ordering the show, not that many people were going to order it anyway. Onward and upward! Payperview, away!

***HORN SOUNDS***




Round Two: UFC Fight Night 40, Just Give Matt Brown All The Title Shots

***TOUCH OF GLOVES***

Live, from the US Bank Arena in Cincinnati, Ohio, it was UFC Fight Night ON SATURDAY NIGHT!!!!!!!!

What a bi-polar card this turned out to be. Almost every fight was either a quick, first round stoppage or a long, three round decision. The main event saw an interesting clash on paper that turned into a crazy fight in reality between Matt Brown and Erick Silva. The action picked up in a hurry when Silva dropped Brown with a body kick and pounced on Brown to try and end things early. Brown survived, though, so Silva jumped on Brown's back to try and rip his head off. Unfortunately for Silva, Brown survived that too and, once he got back to his feet, Brown started pummeling Silva with knees and punches. Brown kept the pressure up in the second round, throwing Silva to the ground and hurting Silva with more punches and a few submission attempts. Silva tried to stay in the fight in the third round but he was clearly tired and hurt and Brown was able to keep the pressure up and pound on the Brazilian until referee Herb Dean had finally seen enough and called a stop to the fight. Both guys came at each other with hard strikes, little technique, and very little defense, which means it was one of the best fights I have ever seen. I'm not sure where either guy goes from here, as Silva has a lot of work to do if he's ever going to accomplish anything in the UFC and Brown, despite having one of the longest win streaks in the UFC, hasn't defeated anyone of note. Should Brown get a title shot? I wouldn't be opposed to it. It wouldn't make a whole lot of sense but it'd be an entertaining fight. I guess we'll see. I'm still trying to figure out why Brown was considered the underdog. Whatever.

The rest of the card was highlighted by two major upsets that shocked everyone watching, as well as prevented me from being perfect with my fight picks. Jerks. The first occurred on the prelims between top bantamweight (sort of) Eddie Wineland and Nova Uniao's Johnny Eduardo. After trading some punches and leg kicks, Eduardo wobbled Wineland with a right hand before finishing Wineland off with another right. Congrats to Eduardo and to Renan Barao who now likely won't be fighting Wineland again anytime soon. Erik Koch and Daron Cruickshank also chose to play a game of who can smash the other harder in the face. Cruikshank won after dropping Koch with a head kick and finishing with punches on the ground. I guess The Detroit Superstar doesn't care much for Milwaukee fighters but it was definitely an impressive victory for Cruickshank. The event also saw Costa Philippou stop his two fight losing streak by knocking Lorenz Larkin out with punches in the first round. Soa Palelei hulked out by getting on top of Ruan Potts and knocking him out with short punches from mount. We also saw decision victories for Neil Magny, Chris Cariaso, Ed Herman, Kyoji Horiguchi, Zak Cummings, and Nik Lentz as well as knockouts from Justin Salas and Albert Tumenov. I guess some of the guys knew that the main event would be an aggressive, hard-hitting fight and wanted to try and show it up. Or Joe Silva just booked a bunch of mismatches. Either way, fun night.

And that was Fight Night 40. UFC returns in two weeks to present Dan Henderson vs. Daniel Cormier. Also, a title fight or something. UFC needs to do a better job of promoting their champions.

***HORN SOUNDS***




Round Three: Bellator 119, Dreadlocks are Definitely Not in This Season

***TOUCH OF GLOVES***

Since there's not a ton to say about the fights Bellator put on last Friday, I'm going to talk about another bit of news that came from the promotion this week. Bjorn Rebney released initial data and research regarding the new Powerlock fighting gloves that the promotion introduced at the start of the season to reduce hand injuries. The gloves, created by Everlast, have a curved design that includes increased padding and foam that support the contours of a fighter's hand. The data sounds promising, as there have reportedly been zero hand injuries suffered through the first nine events of Season 10 versus 8 broken hands in Season 8 and seven in season 9. Of course, a lot more testing and research needs to be performed before it can be conclusively said that the drop-off in hand injuries is due to the gloves and not something else, like all the fighters not punching as hard as they used to because they're depressed that Ben Askren left. Okay, that's probably not the cause either but that's why more testing needs to be done. Still, Rebney is quite proud of the innovations they have made in glove technology and has said he wants other MMA promotions to use the gloves too, even the UFC. That means we'll never see the gloves in the Octagon because no one tells Dana White what to do! It'd actually be good for other promotions to use the gloves to see if their results are similar to the ones Bellator is experiencing. It would also be a way to see if this is all a load of crap. I do hope these gloves work, though. Also, that Bellator give these gloves to fighters to use while they train. Dammit, Patricky.

As for the show that took place on Friday, it was all right. The biggest thing I took away from the main event is that, if you have dreadlocks and get an offer to fight in Bellator, you might not want to compete in the featherweight division. Earlier this season, we saw Daniel Strauss sacrifice his precious dreads only to get submitted by Pat Curran and lose his featherweight championship. Des Green didn't have to lose his hair for his featherweight tournament championship bout against Daniel Weichel but I'm sure he's debating if doing so would have helped him perform better. Both men showed excellent takedown defense in the first round but Weichel outpaced Green with punches to the head and body. The end of the fight came in the second round when Weichel sprawled on a takedown by Green, which resulted in Weichel taking Green's back and cinching in a rear naked choke. Green tapped and Weichel became the Season 10 Tournament Champion. Congrats to the German on his win and eventual shot at the featherweight championship, which will likely become a shot at the interim championship once Pat Curran gets injured and they plug Weichel into a fight against Patricio Freire. I'm hoping that won't happen but I'm preparing in case since that seems to be how Bellator is rolling these days. Also at Bellator 119, John Alessio won a fight in a major MMA promotion. Wild, man. Just wild.

And that was Bellator 119. This Saturday is whatever is left of Bellator 120. They're seriously still going through with the Payperview? Well, all right then.

***HORN SOUNDS***




Round Four: UFC Pulls Nate Diaz From Rankings, Assumes That People Will Care

***TOUCH OF GLOVES***

I'm going to tell you guys something that shouldn't come as a big surprise to my 411 colleagues: I'm not a fan of MMA rankings. The 411 rankings have driven more than a few writers to the brink of insanity (I'm sure Samer Kadi will turn up one of these days) and it's mostly futile anyway. I understand they serve a purpose for casual fans by showing who is considered the best in each weight class, which makes fights between those individuals instantly more important even if you know nothing about any of them other than the fact they aren't Chuck Liddell or Brock Lesnar. Among hardcore fans, though, the rankings are meaningless because we know who's good in each weight class and UFC doesn't rely on the rankings to make fights anyway. So all we do is bitch about how the rankings on every single MMA site is wrong and it annoys the crap out of me so I try to stay away from it. No, we can't perfectly rank all fighters in a weight class when they all haven't fought each other and some of the fighters compete in different promotions and face a different level of competition and some fighters may actually be just two poodles wearing a jock strap and yadda yadda yadda. Why is one fighter ranked higher than another? Who cares. It's not like it affects who gets a title shot. Remember when Mark Hominick fought Jose Aldo? Most rankings barely had him in the Top 10 at the time. So all I'm saying is that we shouldn't worry too much about MMA rankings. Seriously, who gives a shit?

Despite what I say, UFC proved last week that the MMA world still cares about rankings by making two changes to their official lightweight rankings. The first change was removing TJ Grant. This was due to inactivity. That is understandable, as 411's Rankings will remove a fighter if they have gone a year without fighting and don't have a fight announced. Grant is unfortunately still suffering post-concussion syndrome but hopefully he'll be able to compete again in the summer. When he does, he'll likely get his spot in the rankings back (assuming he doesn't lose). The other change to the rankings, which was much more of a shock, was the removal of Nate Diaz. This removal can't be blamed on inactivity, as Nate's last fight was in November. It's clear what's going on here: Dana is getting annoyed over Nate's refusing to fight on his current contract so he's telling MMA media not to rank Diaz until he agrees to fight. Does Dana seriously think this is going to have an effect on whether Nate will accept a fight? Dana needs to stop this silly nonsense and work with Nate to get him to agree to come back. Nate may never become champion but he's one of the few guys in the weight class who could be considered a draw and it would be a shame for him to sit at home and not punch people in the face in a televised manner, just like his brother. So get this figured out, UFC. Also, why the hell is TJ Grant gone due to inactivity but Dominic Cruz stays in the bantamweight top ten? He hasn't fought in two and a half years. His knees are being held together by rubber bands and Eric Del Fierro's tears. Get your priorities in order.

***HORN SOUNDS***




Round Five: Stefan Struve Has Heart, Cat Zingano Ready to Start Stretching Again

***TOUCH OF GLOVES***

And now let's share a couple of injury updates regarding some top fighters. The first is UFC Heavyweight Stefan "Skyscraper" Struve. The man is known for being one of those guys everyone looks at as someone with a lot of potential who could have a really big future in the sport. That is helped by the fact that the man is really big. Like, 7 feet tall big. Yeah. That's kind of frightening. He's also the only man on the UFC's roster who can match Jon Jones' reach. I'm not saying that he should be given an immediate shot at Jones' light heavyweight championship so UFC can brag about Jones being the smaller man for once and create commercials where Bruce Buffer's head explodes (again) but that's only because Struve would have to cut off a few limbs to even be able to make 205. Struve is quite skilled as a fighter, but he hasn't been able to do much over the last year because of a leaking aortic valve and an enlarged heart, which, even for a man of his size, is not a good thing. The condition meant his heart wasn't working at full capacity and had to work harder to pump blood, which is not a good situation for anyone to be in, especially a high level athlete. Struve treated the condition with medication over several months and he's recovered to the point that doctors have cleared him to fight. He already has his return match set against Matt Mitrione at UFC 175. I'm excited for Struve's return and, regardless of how well Struve performs after being gone for a year and a half, no one can say the man doesn't have heart. He does. It's why he's been on the shelf all this time.

Moving over to the fairer weight classes, Cat Zingano. Man, it's been over a year since she last fought. Damn. That was a good fight too, when she was down two rounds to Miesha Tate but was able to crack her with a knee in the third round and got the ref to stop the fight. I bet Miesha is walking the streets of Yakima, Washington, still complaining about that stoppage even though she ended up with Cat's title shot against Ronda Rousey and coaching gig on The Ultimate Fighter after Cat blew out her knee. Cat has had a rough year. Not only did she injure both of her knees, but she's had to heal and recover while also having to deal with the loss of her husband, Mauricio Zingano, who committed suicide back in January. I thought my first year of high school was bad but that sure beats the hell out of anything that happened to me. In a weight class that's been losing more interest over time as more people come to the opinion that no one currently is capable of stopping Ronda Rousey, Cat has given people hope that there could be someone out there who can give Ronda a competitive fight. I'm not confident that's true but I would like to see Cat get the fight with Rousey that she was promised. I don't think it should be Cat's first fight back, which may be announced any day now after news came out that Cat has been officially cleared to fight, but if she is able to perform as well as she did before the injury, then hell yeah. Let's make that fight happen. I can take it. I'm hardcore.

***HORN SOUNDS***

That's it for Five Quick Rounds. Thanks for reading. If you have any questions, comments, or suggestions, and it is always appreciated when you do, leave them in the comments section. I will be back in 7 for another Five Quick Rounds. The big Bellator Payperview Spectacularrrr is this Saturday. Enjoy the fights and remember to fight clean, fight hard, fight fair, and never leave it in the hands of the judges...




SERIOUSLY, IT'S ONLY BEEN A YEAR???????
comments powered by