SPOTLIGHTS
Campaigning For Matt Brown: Welterweight Title Contender
Posted by Robert Winfree on 05.16.2014

Matt Brown is being thought of as a contender for a title shot following his 7-0 run! 411's Robert Winfree lays out all the reasons why the UFC should give Brown the shot and why you as a fan should be supporting it as well!

Greetings everyone, nice to see you getting Locked in the Guillotine again. Be sure to check out the Radulich in Broadcasting network, home to some of the best podcasts on the internet. They're a great way to kill time, like when you're reading this column, or driving, or just going about your daily life. So give the shows a listen, you wont be disappointed.



Current Pop Culture Podcasts at Blog Talk Radio with

Mark Radulich

on BlogTalkRadio



Last Saturday the UFC put on a card that had no promotional material behind it. UFC Fight Night 40: Brown vs. Silva had a poster made and that was about it. There was no commercial, no television spots, nothing to make the general public aware that an event was happening. Despite the lack of effort the event had more viewers than the previous Fox Sports 1 outing, an average of 655,000 as compared to the 641,000 average that watched the finale of The Ultimate Fighter: Nations a couple of weeks ago. The main event had a high household rating, for the network, of .55 for males 18-49. In the main event, Matt Brown returned from an injury related layoff to defeat Erick Silva with strikes in the third round. If you saw the event, Matt Brown came off like a big deal. The crowd in his hometown of Cincinnati Ohio gave him a loud reception, and got louder as the fight went on. Presentation is a big deal, the fans in an arena reacting to you makes the people watching at home feel like you're a big deal, and Matt Brown came across very well.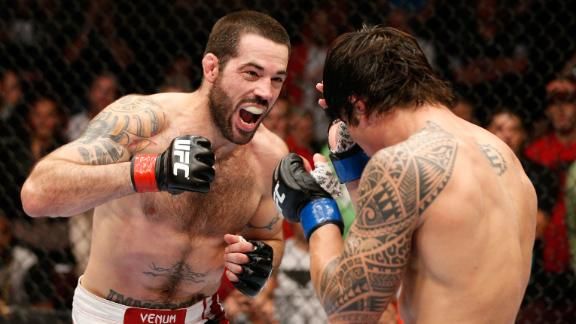 Following the victory Matt Brown asked the live crowd who they wanted to see fight for a UFC title, and has since made it clear he wants a title shot.

I say give it to him.

Brown is now on a seven fight winning streak. That's substantial, more so when you consider that welterweight is one of, if not the, deepest division the UFC has. Brown is now tied with UFC champions Renan Barao and Chris Weidman for second place among longest active UFC winning streaks with seven. UFC light heavyweight champion Jon Jones leads that category with eleven. The time is right to give Brown a title shot, he's earned his spot in the top five of the division, he's not leap frogging a deserving challenger, and the fight would be good.




Other fighters have developed winning streaks like Brown's, but few have not been champions. The longest winning streak in UFC history belongs to Anderson Silva, who won an incredible sixteen fights in a row. Of those sixteen victories, eleven were title fights. Georges St-Pierre retired on a twelve fight winning streak, eleven of which were title fights. Looking at the list of UFC winning streaks, only two men achieved longer streaks than Brown without becoming champion, Jon Fitch and Gray Maynard who both fought for the title in their respective divisions. The only men to win at least seven fights and not fight for the title are Jim Miller and George Sotiropolous, both of whom competed in the incredibly stacked lightweight division and had the unfortunate timing of being on their rolls when the title was tied up in rematches involving Frankie Edgar and either BJ Penn or Gray Maynard. Brown has beaten his last seven opponents, and finished six of them. No one at welterweight is on the roll that Brown is, a title shot wouldn't be out of line for any fighter who's won seven straight fights in the UFC. Brown could, and likely should, be ranked in the top five of the division and the UFC has shown in the past that being in the top five is enough to warrant a title shot.

Brown wouldn't be jumping over a more worthy contender if he were given a title shot against Johny Hendricks. Of the other top welterweights none of them have made a clear cut case as being the number one contender. Robbie Lawler lost to Hendricks in his last outing, and while the fight was good it wasn't a close decision and no one thought Lawler was robbed and should get an immediate rematch. Lawler is also set to fight Jake Ellenberger at UFC 173, and while Lawler is the deserving favorite it is very much a fight he could lose. Tyron Woodley is only two fights removed from losing to Jake Shields, and his victory over Carlos Condit involved an injury to Condit. Woodley is fighting the other name being tossed around as a contender, Rory MacDonald, in his next appearance. MacDonald has an impressive skill set, and when he decides he wants to smash his opponent he does so. Unfortunately he's got as many boring fights during his UFC run as he does impressive outings. The fight between Woodley and MacDonald could be awful, both men have shown moments of brilliance, but to anyone who's seen enough of their fights you are aware of the risk, and you might wanting to pull your eyeballs out by the second round. Matt Brown isn't just positioned properly in terms of rankings, he's got a track record of fights that, at their worst, are enjoyable. I can't remember a bad fight featuring Matt Brown, even his losses to Seth Baczynski or Chris Lytle were entertaining while they lasted.

That leads me to my final point, is there anyone out there who thinks a fight between champion Johny Hendricks and Matt Brown would be boring? Tyron Woodley was in the process of reverting to his wet blanket persona when Carlos Condit hurt his knee, Rory MacDonald has had some performances that were baffling in terms of their near awfulness. Sure you could roll the dice and have your newly crowned champion fight a guy who will clinch against the fence and do nothing, or circle and jab with nothing else in terms of activity, but is that really the best course of action? Welterweight is one of the premier divisions in the UFC, there is an unspoken rule about title fights in both that and the light heavyweight division, those divisions have a rich history and we sometimes hold them to a different standard. Johny Hendricks just became welterweight champion, his fight with Robbie Lawler was good. What better way to follow that up than with a fight that could surpass it in terms of in cage excitement? A fight between Johny Hendricks and Matt Brown would be great, the odds of it being less than enjoyable are small, especially when compared with the track records of Tyron Woodley and Rory MacDonald. I can imagine only one scenario where Hendricks and Brown don't have a fight that is at least enjoyable and at best great, and it involves Hendricks deciding to just wrestle and get top position for three of the five rounds. Comparing the likelihood of that happening to Hendricks and, say, Tyron Woodley spending about twenty minutes clinched against the fence, as a paying customer I'd take the Brown fight over Woodley every single time. Why risk your new champions first defense turning into a stinker when you can all but guarantee it gets the fans on their feet?

I say give Matt Brown a title shot, the UFC isn't jumping a worthy challenger, and the fight itself would be awesome. The man has earned his crack at the gold, and the promotion has nothing to lose by making the fight.
comments powered by