SPOTLIGHTS
411's MMA Roundtable Preview - Bellator 120: Rampage vs. King Mo
Posted by Dan Plunkett on 05.16.2014

Rampage Jackson fights King Mo in the main event of Bellator's first PPV! Plus Michael Chandler faces Will Brooks for the interim lightweight title and more! Check out the full roundtable for all the details and join 411 for LIVE coverage on Saturday night!




WELCOME:
Bellator debuts on PPV with Rampage Jackson vs. King Mo Lawal in the main event! In the co-main event, Michael Chandler and Will Brooks battle for the interim lightweight title! At light heavyweight, Tito Ortiz looks to take out middleweight champion Alexander Shlemenko. Plus, heavyweights Alexander Volkov and Blagoi Ivanov collide, Michael Page vs. Ricky Rainey, and more!

THE STAFF:


You know from The Juggernaut MMA News Report, Jonathan Solomon!


From Five Quick Rounds, Evan Zivin!


You know him from the Locked in the Guillotine MMA News Report, Robert Winfree!


Your host for this roundtable, Dan Plunkett!


411's jack of all trades, Jeffrey Harris!


And finally, Paul Lapointe!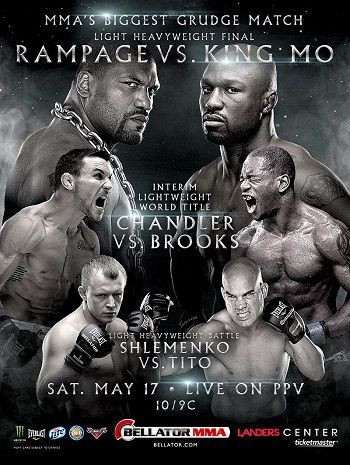 THE PRELIMINARY CARD:




First five prelims stream Spike.com, the rest air on Spike TV..




Bantamweight Bout: Cortez Phelia vs. Brian Hall



Jonathan Solomon Brian Hall, Decision
Evan Zivin: Brian Hall, TKO, Round 1
Robert Winfree: Brian Hall, Decision
Dan Plunkett: Hall, Decision.
Jeffrey Harris: Brian Hall, Decision
Paul Lapointe: Hall, Decision, RD3
The staff picks Brian Hall, 6-0.



Welterweight Bout: Anthony Lemon vs. Codie Shuffield



Jonathan Solomon Codie Shuffield, KO, Round 2
Evan Zivin: Codie Shuffield, Submission, Round 1
Robert Winfree: Anthony Lemon, Decision
Dan Plunkett: Lemon, Decision.
Jeffrey Harris: Anthony Lemon, Decision
Paul Lapointe: Shuffield, Submission, RD1
The staff picks a draw, 3-3.



Welterweight Bout: Ben Brewer vs. Andy Uhrich



Jonathan Solomon Ben Brewer, Decision
Evan Zivin: Ben Brewer, Submission, Round 2
Robert Winfree: Ben Brewer, Decision
Dan Plunkett: Brewer, Decision.
Jeffrey Harris: Ben Brewer, Decision
Paul Lapointe: Brewer, Decision, RD3
The staff picks Ben Brewer, 6-0.



Heavyweight Bout: Justin Frazier vs. Mike Wessel



Jonathan Solomon Justin Frazier, TKO, Round 1
Evan Zivin: Justin Frazier, TKO, Round 1
Robert Winfree: Mike Wessel, TKO Round 1
Dan Plunkett: Wessel, Decision.
Jeffrey Harris: Justin Frazier, TKO Round 1
Paul Lapointe: Frazier, KO, RD1
The staff picks Justin Frazier, 4-2.



Featherweight Bout: Zach Underwood vs. Austin Lyons



Jonathan Solomon Zach Underwood, Decision
Evan Zivin: Zach Underwood, Decision
Robert Winfree: Zach Underwood, TKO Round 2
Dan Plunkett: Underwood, Decision.
Jeffrey Harris: Zach Underwood, DEC
Paul Lapointe: Lyons, Decision, RD3
The staff picks Zach Underwood, 6-0.



Featherweight Bout: Mike Richman vs. Goiti Yamauchi



Jonathan Solomon Goiti Yamauchi, Submission, Round 3
Evan Zivin: Goiti Yamauchi, Submission, Round 3
Robert Winfree: Mike Richman, Decision
Dan Plunkett: Richman, Decision.
Jeffrey Harris: Goiti Yamauchi, Decision
Paul Lapointe: Richman, TKO, RD2
The staff picks a draw, 3-3.



Lightweight Bout: Fabricio Guerreiro vs. Shahbulat Shamhalaev



Jonathan Solomon Shahbulat Shamhalaev, TKO, Round 2
Evan Zivin: Shahbulat Shamhalaev, TKO, Round 2
Robert Winfree: Shahbulat Shamhalaev, TKO Round 1
Dan Plunkett: Shamhalaev, TKO, Round 2
Jeffrey Harris: Shahbulat Shamhalaev, TKO Round 1
Paul Lapointe: Shammy, TKO, RD2
The staff picks Shahbulat Shamhalaev, 6-0.



Catch-weight (158lbs) Bout: Marcin Held vs. Nate Jolly



Jonathan Solomon Marcin Held, Submission, Round 1
Evan Zivin: Marcin Held, Submission, Round 1
Robert Winfree: Marcin Held, Submission Round 1
Dan Plunkett: Held, Submission, Round 2
Jeffrey Harris: Marcin Held, Submission Round 1
Paul Lapointe: Held, Submission, RD1
The staff picks Marcin Held, 6-0.



Heavyweight Bout: Cheick Kongo vs. Eric Smith



Jonathan Solomon Cheick Kongo, Decision
Evan Zivin: Cheick Kongo, TKO, Round 2
Robert Winfree: Eric Smith, Disqualification
Dan Plunkett: Kongo, Decision.
Jeffrey Harris: Cheick Kongo, TKO, Round 1
Paul Lapointe: Kongo, TKO, RD2
The staff picks Cheick Kongo, 5-1.

---




THE MAIN CARD:




Welterweight Bout: Michael Page vs. Ricky Rainey



Jonathan Solomon: It's safe to say the winner here will earn a spot in the next Bellator welterweight tournament. Michael Page is a 27-year-old prospect out of London with a perfect 5-0 professional record. He debuted in Bellator over a year ago and won in under ten seconds when he knocked out Ryan Sanders. In fact, each of his pro fights have ended in the first round with the longest lasting just shy of four minutes. His base is from kickboxing, where he won a plethora of world championships beginning when he was a kid, and he utilizes it in flashy fashion inside the cage. His opponent is a three-year veteran in the form of Ricky Rainey (8-2), out of North Carolina. He made his name known recently as he debuted in Bellator last month and knocked out Andy Murad with a head kick and punches in just 71-seconds. He's not as slick or flashy as Page, and he'll have to beat the Brit to the punch (or kick). If he allows Page to do as he pleases, Rainey will be in for a world of hurt.

Winner: Michael Page, TKO, Round 1

Evan Zivin: This fight is on the Payperview for one reason and one reason only: to show off Michael Page. Page has been making waves since his MMA debut in 2012 thanks to his extremely unorthodox striking style that is part-Bruce Lee, part-Street Fighter, and all awesome as hell. Bellator snatched the prospect away from the UFC in the hopes that he'll continue to impress and add some more knockouts to his resume, which he did in his Bellator debut last year. His opponent is Ricky Rainey, who is 8-2 with his only notable fight being a split decision loss to current TUF 19 competitor Dhiego Lima. 5 of Rainey's 8 wins are by (T)KO so I'm guessing this fight will most likely take place on the feet. Page has yet to face any real stiff competition so it's hard to say how good he really is but I see no reason why he shouldn't be able to win this fight, assuming he doesn't buy into his own hype and fight Rainey with his hands down the entire time or something like that.

Winner: Michael Page, TKO, Round 1

Robert Winfree: I don't know anything about either of these guys, so I'm flipping a coin.

Winner: Ricky "Tails" Rainey, Decision

Dan Plunkett: Rainey isn't a total sacrificial lamb here. He has power, speed, and solid striking. Page hasn't fought in a year and has never been out of the first round. This match-up was made to be a striking battle to kick off the pay-per-view. Page is extremely unorthodox, making him a joy to watch, and the quicker fighter here. Page has to be favored, but Rainey is a test.

Winner: Page, TKO, Round 1

Jeffrey Harris: Bjorn Rebney can boast that there's no filler on this card, but this definitely looks like a filler bout to me. So why not put the Marcin Held fight in this spot instead? Held at least has a reputation as submission artist in Bellator and is a leglock specialist. Heck, even the Kongo fight would be better served here. I'm expecting Michael to get a quick victory here.

Winner: Michael Page, TKO, Round 1

Paul Lapointe: The next Anderson Silva! we have all heard that before...hardee har har...but seriously that is the proclamation when it comes to this Page fella even with a year layoff between fights. I would find it hilarious is Rainey is just able to clobber him though in the first three minutes considering how crazy Phenom holds himself in there. All things considered though, Page's technique is unorthadox and nutty but it gets vicious results.

Winner: Page, TKO, RD1

The staff picks Michael Page, 5-1.

---




Heavyweight Bout: Blagoi Ivanov vs. Alexander Volkov



Jonathan Solomon: The season 10 heavyweight tournament final pits former champion Alex Volkov against an unlikely semifinalist in Blagoy Ivanov. The latter, fighting out of his native Bulgaria, is famous for two aspects of his life and they could not be more contrarian. First, he won gold in the 2008 World Sambo Championships by defeating Fedor Emelianenko in upset fashion and not too long after, his MMA career began to take shape. He mustered a 7-0 (with 1 no contest) pro MMA record, including two wins in Bellator, when in 2012 he was attacked at a bar in Bulgaria and stabbed in the chest (the assailant was apprehended by local authorities). After multiple surgeries and numerous scares that he may not survive, he ultimately made a full recovery by the end of the year. Ivanov returned to competition last fall and has reeled off four wins in Bellator, three by submission.

Now, with Volkov, his calling card is the fact that he's 6'7 and uses that to his advantage (unlike some giants we may know in this sport). He is 21-4 overall and with the exception of his championship loss to current champion Vitaly Minakov, since coming to Bellator, he has smashed his five other opponents. In this tournament alone, he has knocked out both Mark Holata and Mighty Mo in a combined four minutes of action.

Ivanov is only 5'11 and is a grappling expert, a Judo black belt and has been able to overwhelm opponents throughout his pro career. While he's not a knockout artist, he's capable of landing an effective combination, so he's no Jake Shields by any stretch. If Volkov can establish his reach and keep Ivanov at a distance, he should be able to wear him down or win on points. However, I'm not one to underestimate the Bulgarian and all he needs is one opportunity to get the giant on the ground and go to work.

Winner: Blagoi Ivanov, Submission, Round 3

Evan Zivin: This is the final of the Season 10 Heavyweight Tournament and was originally set for the Spike TV prelims before the main event fell apart. Blagoy Ivanov got stabbed a few years ago and almost died. There. Let's finally drop that talking point and mention how awesome he is as a fighter. The man is a Sambo world champion who beat some guy named Fedor Emelianenko in competition. In MMA, he's 11-0 with 9 finishes and an outstanding submission win over Lavar Johnson in his last fight. Volkov has only lost once in the last 3 years when he lost his Bellator title to current champion Vitaly Minakov. This is a striker vs. grappler match-up that will come down to who executes their gameplan more effectively. Volkov hasn't spent a ton of time on the ground but if Ivanov gets him there, he should have little trouble submitting him. This fight could go either way but I'll give the edge to Ivanov as I think he'll have a much easier time taking Volkov down than Volkov will have keeping the fight standing.

Winner: Blagoy Ivanov, Submission, Round 2

Robert Winfree: This is a pretty good fight to open a PPV. (Editor's Note: With all the card changes, I messed up the bout order originally. -DP) Yes it's a heavyweight bout, but bot Ivanov and Volkov have a good track record when it comes to watchable fights. Volkov is huge and knows how to use his size and reach to his advantage. Ivanov is a grappler firs and foremost, but he is a former Combat Sambo World Champion. Picking against Ivanov is always tough, but Volkov makes a convincing case and this fight could wind up going either way. That said, I'm leaning towards Ivanov to get in close, use a throw and lock up a submission.

Winner: Blagoi Ivanov, Submission Round 2

Dan Plunkett: Volkov is much taller and has a big reach advantage. If Ivanov can get inside and take the fight to the ground he has the advantage, but I think he'll have a tough time doing that.

Winner: Volkov, Decision.

Jeffrey Harris: I think this could be a decent, at least watchable, bout for this season's Bellator heavyweight tournament finals. Ivanov previously had to drop out of a tournament before due to injury. Volkov was briefly the heavyweight champion before losing the belt in his first defense to Vitaly Minakov. I think Ivanov's submission skills will give him the edge here, and he will eventually catch Volkov in something to pick up the win.

Winner: Blagoi Ivanov, Submission, Round 1

Paul Lapointe: I really do give credit to Bellator for their attempts at creating an exciting and vibrant heavyweight division, its just so damn refreshing. That in mind this is the finals of the 8 man turney this season pitting the bruising Bulgarian feel good comeback story against the lanky and disciplined former champ looking for redemption. So who wins this little gambit then? Volkov has range but limited knockout power but Ivanov has technique and control but a very limited gas tank. In the end though with both these stories now set to intertwine my heart says go with STABBIE. Plus it avoids ANOTHER rematch.

Winner: Ivanov, Decision, RD3

The staff picks Blagoi Ivanov, 5-1.

---




Light Heavyweight Bout: Alexander Shlemenko vs. Tito Ortiz



Jonathan Solomon: Well, this is a weird fight any way you slice it. Seemingly out of nowhere, this fight just dropped out of the sky and pits the reigning Bellator middleweight champion, Alexander Shlemenko, against the much larger former UFC light heavyweight superstar, Tito Ortiz. Oh yeah, it's also 2014 and that means Ortiz has not been a relevant force in MMA since 2007. Shlemenko will likely be giving up at least 20-30 pounds by the time they step inside the cage to square off and when you deal with issues like that, anything can happen. However, how in the hell are you suppose to trust Tito in 2014? I'm not even sure this fight will go off without a hitch based on Ortiz's laundry list of injuries over the years. The UFC Hall of Famer has not fought in nearly two years since he dropped a decision to Forrest Griffin in the summer of 2012. Since that fight meanwhile, Shlemenko has won five fights and has become the undisputed middleweight champion in Bellator. He's a fierce competitor with good power and combinations in his strikes and he's well versed as a grappler, though you wonder how well Tito's wrestling can be in 2014. There's no reason to pick against Shlemenko, but it would just Bellator's luck if the one guy in the company who can stop him is Tito F'N Ortiz. Of course, I could see Ortiz try to grind out a decision win with takedowns, but I hope he's not intent on stinking up Mississippi.

Winner: Alexander Shlemenko, TKO, Round 2

Evan Zivin: I love this fight just for how random it is. Alexander Shlemenko posts a video saying he wants to fight on the Payperview and he wants Tito Ortiz and, a day later, Bellator makes the fight. I mean, who saw that coming? Well, other than Bellator, who clearly orchestrated the whole thing. This will be Tito's first fight in almost two years. I don't know if returning to face Bellator's most dominant champion is a good idea but I'm intrigued. If Tito wants to win this fight, he has to get Shlemenko to the ground and use his wrestling to smother Vladimir Putin's second favorite fighter. For as good as Tito's striking has gotten over the years, he doesn't want anything to do with Shlemenko on the feet. Shlemenko may not possess the greatest technique but he makes up for it with power and an excellent eye for spotting mistakes he can capitalize on. I don't see Tito winning this. He's old, he's broken down, and he'll mentally break the second Shlemenko lays a hand on him. I don't think Shlemenko will knock Tito out on the feet but I can see him hurting Tito, taking him down, and pounding out a referee stoppage.

Winner: Alexander Shlemenko, TKO, Round 1

Robert Winfree: This is a very odd bit of matchmaking. The Bellator middleweight champion is stepping up in weight for a fight with Tito Ortiz? Ortiz is 1-7-1 in his last nine fights and that win was in 2012 against Ryan Bader. If Shlemenko is smart, and indications are that he is indeed intelligent, he'll work over Ortiz's midsection en-route to finishing him late in the second or early in the third.

Winner: Alexander Shlemenko, TKO, Round 3

Dan Plunkett: Shlemenko is much faster and the better striker. Ortiz will need to get the takedown and may be able to, but I don't see him lasting the distance.

Winner: Shlemenko, TKO, Round 1

Jeffrey Harris: No matter what Tito Ortiz says, or how good he feels, it's hard to believe he's ready for this fight. He should not have come out of retirement. This is a silly, nonsensical fight. Shlemenko fighting out of his weight class against a fighter who hasn't been relevant in years and has battled neck and back injuries for even longer. That Ortiz couldn't stay healthy to make it to his fight with Rampage reinforces that he should've stayed retired. Ortiz might get a couple takedowns and a decent round, but eventually he will gas out and get beat.

Winner: Alexander Shlemenko, TKO, Round 3

Paul Lapointe: This fight should be taking place in Japan all things considered with its freakshow booking pedigree but colour intrigued anyhow. I am a sucker for "Storm" and if its a'coming why not throw it at a dying puppy who just won't stay down and shut up. Seriously though I respect Tito for pioneering and such but the fight game has long past evolved past his talents and his lego brittle body is just not made for it anymore. Plus with agenting not his strong point much either he should honestly be coaching the new breed as witnessed on TUF not so long ago. Alex just aim for the bullseye that is his abdomen and he'll fold like an accordion. Carry on you crazy Russian, carry on.

Winner: Shlemenko, TKO, RD2

The staff pick Alexander Shlemenko, 6-0.

---




Bellator Interim Lightweight Championship Bout: Michael Chandler vs. Will Brooks



Jonathan Solomon: Yes, it royally sucks that lightweight champion Eddie Alvarez fell to injury last week and could not compete here. Looking on the bright side, this match-up should still be entertaining. Former champion Michael Chandler (12-1) meets tournament champion Will Brooks (13-1) for interim gold in this five-round bout. Chandler, a member of Alliance MMA, is one of the best lightweights in the world because of the total package he brings to the table. A Division-I wrestling background from Missouri, he has power in his hands and effective grappling on the ground. We have seen him in a variety of trouble throughout his Bellator career (from Marcin Held's foot locks to both Eddie Alvarez fights), but it's also been his dominant performances against the likes of Rick Hawn and David Rickels last year that have impressed. In Brooks, we have a similar competitor although he may not have the major amateur wrestling background. The American Top Team lightweight saw a lot of his hype crash in 2013 when he was upset by Saad Awad in the season eight tournament by knockout in under a minute. However, he bounced back, avenged his only loss to Awad, and is 4-0 since that night last year. The most impressive performance of his career came in November when he took the unanimous decision from Russian prospect Alexander Sarnavskiy. Chandler has more power in his strikes and has the better wrestling pedigree so there's a reason he's considered the favorite here. Also, remember this is a match-up that was made with essentially one weeks worth of notice for both men.

Winner: Michael Chandler, Decision

Evan Zivin: Another interim title fight? But we just had one of those! This was Bellator's idea as a way to keep Michael Chandler on the card while his dance partner, Eddie Alvarez, recuperates. They could have just given Chandler an easy fight to keep him ready for the trilogy fight but instead they have decided to match him up with the potentially dangerous Will Brooks, the man who was going to get the winner of the lightweight title clash as a result of winning the Season 9 Lightweight Tournament. Brooks earned his title shot by defeating two dangerous opponents (and John Alessio) with his aggressive wrestling style. If Brooks can take Chandler down, he has a chance to win this fight. Chandler, of course, has the wrestling to keep the fight on the feet, where he has the advantage and could easily knock Brooks out. The one thing I wonder is if the short notice booking of this fight will affect things. Chandler went from fighting a man primarily known as a striker in Alvarez to a wrestler in Brooks, while Brooks was facing a lesser opponent but knew he'd be facing Chandler or Alvarez after that. You know what? For the sake of keeping these roundtables interesting, I'm going for the upset. I will predict that Brooks will Charlie-Brenneman Chandler by taking him down and controlling him for the majority of the fight. Chandler will likely come back in the later rounds but I'll say Brooks does enough in the first three rounds to take a decision and become Public Enemy #1 for ruining the greatest rivalry in company history. Enjoy your new-found notoriety, Mr. Brooks.

Winner: Will Brooks, Decision

Robert Winfree: Boy is this a step down. The third fight between Chandler and Alvarez was the selling point for me about this whole event possibly being worth money. Alvarez suffers a concussion and now we've got Chandler and Will Brooks for a somewhat pointless interim title. The only guy in Bellator who has a shot at beating Chandler is Alvarez, both guys would be competitive in the UFC. Will Brooks is a fine fighter with a fair amount of upside, but Chandler is just a level or two above him.

Winner: Michael Chandler, TKO Round 2

Dan Plunkett: This may be a fun fight, but I'm having a really hard time seeing anything but a Chandler win.

Winner: Michael Chandler, TKO, Round 4

Jeffrey Harris: So we have Bellator's third pointless interim title bout in less than six months. This fight is only still happening as a title fight so Bellator could keep a title fight on the PPV card. Brooks did win a tournament, but what he won and earned was a shot at the champion. That won't happen now because he's taking this fight. The only issue I see Chandler having here is dealing with a new opponent on one week's notice.

Winner: Michael Chandler, TKO, Round 1

Paul Lapointe: ANOTHER DAMN INTERIM TITLE!!! Geez, love the turney format but gosh frackin sarn it Bjorn...c;mon people. Happy for Brooks though and sad for him all at the same time. Chandler is a future face at 155 in all facets and if he can withstand the one dimensional wrestling attack Brooks will bring in on short notice he can find a place for his inside uppercut. Ill's only loss is a devastating jaw jacker and Chandler has those on lockdown, strap him up boys. Lastly where the hell is Dave Jansen during all of this?

Winner: Chandler, TKO, RD2

The staff picks Michael Chandler, 5-1.

---




Light Heavyweight Bout: Quinton Jackson vs. Muhammed Lawal



Jonathan Solomon: It is a shame this match-up did not happen in the early spring of 2010, because it would have been a massive fight at that time between two fighters in their prime (though I suppose that's debatable with Rampage). MMA does not always play out as we wish sometimes, so instead, it's now 2014 and these explosive personalities will instead square off this weekend.

Quinton Jackson has certainly seen something of a career renaissance since moving to Bellator following his long run in the UFC. In the fall, he knocked out Joey Beltran and earlier this year, he knocked out former champion Christian M'Pumbu in the semifinals of this tournament. He has looked in better shape, leaner and more aggressive than we have come to expect from his late-UFC fights. However, he's still 35-years-old (his birthday is next month) this will be the 46th professional fight of his almost 15-year career.

King Mo Lawal, at one point, was considered among the best light heavyweights in the world. But, he's been knocked out twice, he failed a drug test for anabolic steroids and he's experienced a few nasty and serious injuries (ACL tear, staph infection which legitimately nearly cost him his leg). In Bellator, he is 4-2 with both losses coming at the hands of current champion Emanuel Newton (who Lawal would fight for a third time if he can get past Rampage). While three of those wins have been knockouts, there still appears to be something missing from Mo's abilities. Primarily, it's the explosiveness in both his wrestling and striking that's not as impressive as it once was. Still, he clearly has knockout power, though you would rather see him keep his hands up when boxing (instead of leaving them below his waist). Looking at this on paper, it's easy to think someone will be knocked out. Odds are both men are so prideful that they will not want to spent the majority of this fight on the ground in a wrestling match. So, who can beat the other man to the punch and become the season 10 light heavyweight tournament champion?

Winner: Quinton "Rampage" Jackson, KO, Round 2

Evan Zivin: And this is what we're left with as a main event. It's not a bad one, I guess. It won't be the exhilarating clash that Alvarez-Chandler III was going to be, but at least we'll still get to see a guy who barks like a wolf before he fights take on a guy who wears a plastic crown. This fight is a sorta grudge match, as both guys have history with each other and have been interested in fighting each other for years. Plus, it's a former UFC Champion facing off with a former Strikforce Champion, which is a dream fight if Dana White has anything to say about it, which he doesn't because BELLATOR BAD!!!! This is the final of a light heavyweight tournament that saw both men advance with very sluggish performances, the difference being that Rampage ended his fight in the first round whereas King Mo went all three. Both men are skilled wrestlers, with Mo likely having the advantage in that aspect, but we all know this is going to be a sloppy boxing match. It won't be the good kind of sloppy boxing match where two men race to see who can give the other brain damage first. These two are going to stand in front of each other, throw lots of fakes, barely touch each other, and then taunt because neither man is doing anything. There will be boos aplenty. Yes, I'm expecting this fight to suck. It will end when Mo overcommits to a combination just enough that he exposes his chin and Rampage puts him to sleep. At least I hope that's what happens. Either Mo is going to sleep or the audience is. Save this fight from being terrible, Rampage. Only you can do it.

Winner: Quinton Jackson, TKO, Round 1

Robert Winfree: This was a good fight three to four years ago. Now, the shine is off the apple that is Muhammed Lawal and Jackson is firmly entrenched in his "close distance throw hooks" mentality. If Jackson lands, he wins because Lawal doesn't have the stoutest chin in the world and Jackson still has power. That said, it's possible Lawal can close distance and take Jackson down and keep him there over three rounds to win a decision. I'm going with Jackson just because I don't want this fight to go on any longer than necessary.

Winner: Quinton "Rampage" Jackson, TKO Round 1

Dan Plunkett: Unfortunately, Lawal hasn't been the same fighter since returning from his latest round of knee issues. On the positive side, he seems to still have power, but he's yet to demonstrate it in his biggest fights. Jackson has big power and a very good chin. I think Rampage still has enough left to get the win here.

Winner: Jackson, Decision.

Jeffrey Harris: King Mo might be another wrestler that fell in love with his fans and overestimated his boxing skills, but since this is a three round, possibly four round, tournament fight here, I'm favoring him. I think here, Lawal will utilize his wrestling and exploit Jackson's historically poor takedown defense. If they do decide to stand, I think Rampage will have a bit of an edge there. But just remember, the guys Rampage has knocked out in Bellator are hardly top-level competition. Joey Beltran and Christian M'Pumbu are mid-level competition at best, and probably not even in the top 50 in the world. That being said, I hope Jackson wins because we really don't need to see Newton vs. Lawal III.

Winner: Muhammed Lawal, Decision

Paul Lapointe: Oh Bellator you cannot for the life of you catch a break sometimes. This PPV is still cool in my book but this match is just reeking of hyperbolic BS manufactured to make me care about these "Enemies" going to war. Yawn. Rampage has power and Mo has ego, neither too much brains. Exciting fight? Not in this guys eyes, standing yes but a wrestler Vs Rampage should be like catnip. Boring, but Newton Vs Mo III now that is exciting....(sarcasm). Seriously though if he stands he loses, if Mo wrestles he wins.

Winner: Mo, Decision, RD3

The staff picks Quinton Jackson, 4-2.

---
Remember to join 411's coverage of Bellator 120 on Saturday night!
comments powered by