SPOTLIGHTS
Five Quick Rounds 05.20.14: Bellator 120, The Best Laid Plans, More
Posted by Evan Zivin on 05.20.2014

From Rampage Jackson's victory over King Mo and Tito Ortiz's submission of Alexander Shlemenko to the rest of Bellator 120 and Bas Rutten calling Jon Jones a dirty fighter, 411's Evan Zivin examines these stories and more in Five Quick Rounds!

Hey hey, fight fans, and welcome back to Five Quick Rounds! I am your host, Evan Zivin, and I am more excited than a crazy Russian fighting league coming to America to be here once again!

Hey, remember Hip Show: Arena Combat, that tornado tag team MMA league from Russia with sets and obstacles that resembled something that American Gladiators crapped out after a bad Cinco de Mayo party? No? Really? It was on TV and everything! You have to remember it! Actually, weren't they supposed to be airing it weekly? They aired the one special but then I thought they said it was going to air weekly after that. Maybe I misheard them. Or maybe the response was enough to give them second thoughts about airing the rest of it. Actually, that probably isn't the reason, especially with the news that Cyrus Fees and Casey Oxendine, the hosts of "MMA: Inside the Cage" and the guys who got Hip Show on AXS TV in the first place, have acquired the league and are going to bring it stateside. It makes me wonder how well the promotion had been doing in its native Russia if, not only was it sold, it was sold to a guy with ridiculous facial hair like Oxendine. Whatever the circumstances were that led to the purchase, the facts are these two guys own the promotion, rechristened it as Hip Show Arena Combat: USA (clever), and will hold their first event during the summer while they look for a TV home. That means expect to see it on AXS in the fall. It'll be interesting to see how they handle things now that they have full control. With some adjustments to the show and the addition of American fighters, it could potentially catch on here. Or it could do untold amounts of damage to MMA's perception among the ignorant majority that comprise our society. Only time will tell. I'll start making popcorn.

All right, so with fighter introductions out of the way, I have five more rounds of MMA news and opinions to throw at you. This week we look at the results of Bellator 120, Bas Rutten calling Jon Jones a dirty fighter, and Nate Diaz wanting a crazy fight while Urijah Faber is booked in a crazy fight. Let's to it do it.

FIGHTER YOU READY!!!!
FIGHTER YOU READY!!!!

FIGHT!!!!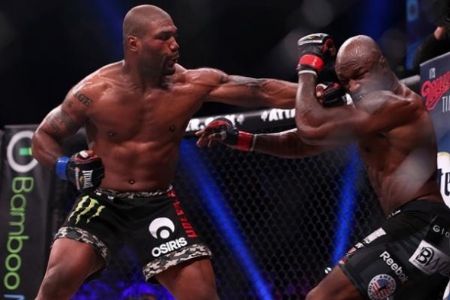 Round One: Rampage Wins as Judges are Unimpressed with King Mo's Rashad Impersonation

***TOUCH OF GLOVES***

Live, from the Landers Center in Southaven, Mississippi, it was...Bellator 120 on Saturday night????

That felt a little weird. I'm not used to Bellator being on Saturday's. Well, they used to air at odd times on Saturdays on MTV2 back in the day but that's in the past. Now if they do a show on Saturday it's to present a Payperview card that will ultimately fall apart at the last minute and get put on Spike TV to big ratings they won't be able to reproduce for the rest of the season, except that didn't happen this time. Bellator was adamant about making its fans pay for the same kind of action they get 25 nights of the year for free anyway, injuries be damned. So that's what led us to Saturday night and Bellator 120, the promotion's first actual Payperview. So what changes did Bellator make in its presentation to make us feel like we were watching something special, something worthy of being on Payperview? Not much, really. The show felt like a regular Bellator event. Same atmosphere, same announcers and commentators, same ring girls....well I'm not that bothered by that last one but the show didn't feel any different from all the other shows the promotion puts on the rest of the year that you don't have to pay extra for. I guess the promotion is going to rely on the fights themselves to be what makes the event worthy of being on Payperview (as well as how they justify keeping Frank Shamrock around long after the last remnants of Fight Master has seeped out of our consciousness).

At least the main event felt worthy of being on a Payperview. Whether it deserved to be a main event is a different story but there was some intrigue to the Light Heavyweight Tournament final between Quinton "Rampage" Jackson and King Mo. These are two men who know each other, have trained together, and openly dislike each other. They both also understand the value of selling a fight, which is why I'm assuming there was so much swearing in their pre-fight videos. For as similar as their personalities may be, though, their fighting styles are quite different and we saw that contrast on Saturday night. Mo, instead of moronically standing with Rampage to prove how much he hated the guy (and hated his brain's gray matter), relied on his wrestling to control Rampage and tire him out. Mo was using a blueprint that was written by Rashad Evans years ago and, for the most part, it worked. The fight wasn't completely one-sided, as Rampage brushed off a lot of Mo's takedown attempts and was able to damage Mo with punches, almost closing up Mo's eye in the second round. Still, it seemed like Mo did enough with his grappling to take the first and third rounds and win the fight and the trilogy fight with Emmanuel Newton that no one wants to see. Hmmm...maybe that's why the judges gave the unanimous decision to Rampage instead. Or maybe it was bias from being near Rampage's hometown or because Rampage can't be allowed to lose outside the UFC. I dunno but Mo won that fight. Well, at least we can look forward to a big upcoming title fight...or not, since Rampage seems more interested in fighting Mo again than fighting Newton. Good job, Bellator. Everything is going swimmingly or, if Mo's remarks after the fight are to be believed, dick-ridingly well.

***HORN SOUNDS***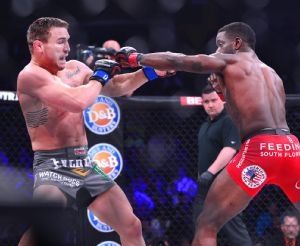 Round Two: Michael Chandler Understands Nick Diaz's Pain as Will Brooks Wins Interim Championship

***TOUCH OF GLOVES***

The co-main event on this night was a big lightweight clash that wasn't even supposed to be happening. Michael Chandler wasn't originally in the co-main event. He was in the main event facing Eddie Alvarez for the Bellator Lightweight Championship. It would be the end of a roller-coaster of battles that started when Chandler upset Alvarez in 2011 and continued when Alvarez won back his title last fall. The second fight was one everyone felt should have headlined Bellator's first foray into Payperview, which it ultimately did even though the show didn't stay on Payperview. The one thing people felt Bellator did right when they made the decision to try Payperview again was have the trilogy fight between the two biggest names in the promotion's 155-pound weight class be the main event. I mean, I don't think anyone expected the show to do significantly better with Alvarez-Chandler than they would have with Tito vs. Rampage last fall but at least Bellator had the right idea this time with which fight to highlight. Then it all fell apart when Alvarez suffered a concussion in training and pulled out of the show. In its place, Bellator chose to keep Chandler on the card, having him face Lightweight tournament winner Will Brooks for an Interim Lightweight Championship. Brooks, who was to get the winner of the Alvarez-Chandler fight (supposedly) was already fighting on the card so it wasn't that big a deal but it was a big change on a week's notice and I don't think too many people were expecting much from Brooks here. He's a good wrestler but so is Chandler who is also a good striker. For a placeholder fight until Alvarez recovers, they could have found an easier opponent for Chandler but there wasn't much concern throwing Brooks into this fight. He wouldn't dare sabotage the biggest fight in Bellator history...would he?

It didn't seem so at first. Chandler came into the fight recognizing the danger Brooks presented as a grappler and, instead of spending the fight round avoiding takedowns and trying to knock Brooks' block off, Chandler decided to outwrestle the wrestler...with wrestling. Things were working for the former champion but Brooks showed some life at the end of the second round when he jumped on Chandler's back and came close to a rear naked choke before Chandler was able to spin out and end the round on top. Brooks would learn from that exchange as, when he got Chandler's back again in round three, he was able to secure a body triangle that prevented Chandler from rolling and allowed Brooks to win round three in very convincing fashion, possibly a 10-8 round if MMA had a clearly-defined criteria for what makes a round 10-8 (and if judges would even follow that criteria). The fourth and fifth rounds were both pretty close. In the fourth, Brooks took Chandler's back again and did damage with knee strikes but Chandler spent a good part of the round in Brooks' guard. The fifth saw Chandler get mount and almost finish Brooks with a choke but Brooks landed a huge suplex takedown. The consensus is that Brooks took four and Chandler took five which should have given the fight to Chandler. Well, the judges didn't see it that way and Brooks won the fight and the "championship" by split decision. Well, so much for the trilogy fight, although it wouldn't surprise me to see that booked before Brooks gets his title shot. Just don't make it the main event of the next Payperview. I actually want to see that fight happen.

***HORN SOUNDS***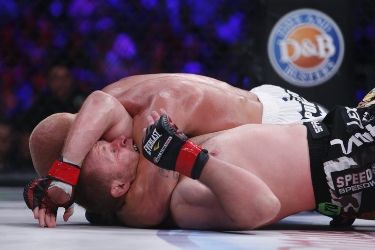 Round Three: Rest of Bellator 120, Tito Ortiz is Back After Overpowering an Undersized Opponent

***TOUCH OF GLOVES***

Hey, did you hear? Tito Ortiz? He's back and better than ever! He's had it rough the last few years dealing with various injuries and personal problems and he hasn't won a fight in a long time, but that's all in the past now after Ortiz scored an impressive first round submission over a dangerous, highly ranked fighter. What is this, 2011? I knew Bellator had no issue stealing UFC fighters but I didn't know they were stealing UFC storylines too. It wasn't as exciting as when Ortiz choked out Ryan Bader at UFC 132 but it was still damn impressive to see Ortiz choke Alexander Shlemenko unconscious. Everyone expected Bellator Middleweight Champion to walk through Ortiz. The size difference didn't matter much as most people figured Shlemenko would be able to stuff Tito's shots and rough him up on the feet. Well, we were wrong. The striking was close to start the fight but once Tito tied Shlemenko up, he had relatively little trouble dragging the Russian to the mat where Oritz immediately worked to side control and cinched up an arm triangle choke. Shlemenko had this look on his face like he didn't realize how strong Ortiz would be. Ortiz is not a mat technician by any stretch of the imagination but he made Shlemenko look quite amateur as he quickly got the choke and put Shlemenko to sleep. That's a huge victory for Ortiz who should do well in Bellator since there aren't that many fighters better than Shlemenko on the roster right now. I would just suggest that he wait a bit before taking another fight, at least until the Russian spy vans finally stop parking outside his house. Hey, look. Someone thinking positively about the situation. How about that.

Everyone loves a good striker vs. grappler matchup and we got one with the Heavyweight Tournament Final between former champion Alexander Volkov and former man who was stabbed Blagoi Ivanov. The grappler won the first round of the fight by keeping Volkov's back against the fence and throwing strikes amid his clinchwork. Volkov landed a few strikes of his own but not enough to take the round from Ivanov. The second round may have been more of the same until Volkov defended a takedown, took Ivanov's back and locked in a rear naked choke. Seeing Volkov tap out the former Sambo champion was unexpected but very impressive. What wasn't unexpected was Michael Page's performance against Rickey Rainey. Page spent most of the fight with his hands down, throwing single punches and knees while dancing around like some sort of malfunctioning Anderson Silva robot. There was even a moment where Page threw punches while looking at the referee instead of Rainey. It was quite outrageous and the audience didn't respond too kindly to it. No, Michael, they didn't boo because you are a foreigner. They booed because they prefer the fighters to actually...y'know...fight. Still, Page's strikes were on point and he ended the fight late in the first round with a big looping right hand that hit Rainey in the temple. Page is a good fighter but those antics will get him mauled if he tries them against a decent fighter. Luckily for him, he fights in Bellator so he'll be able to get away with it for a while.

And that was Bellator 120. Bellator will return on June 21 with a featherweight championship fight and some Summer Series Tournament bouts. It will air on Spike TV so you don't have to care about it like you don't care about the rest of Bellator's offerings. It's cool. They understand. No, they're not upset. It's just really dusty in here.

***HORN SOUNDS***




Round Four: Bas Rutten Calls Jon Jones a Dirty Fighter, Jones is Presumably Left in Tears

****TOUCH OF GLOVES***

There is a debate that has popped up which has caused a fair bit of discussion within the MMA community: is Jon Jones a dirty fighter? Actually, it's a debate that comes up pretty much every time he fights. Part of the reason for that is people simply don't like the current UFC Light Heavyweight Champion and will find any and every opportunity to attack, whether it's his religious beliefs, his sometimes arrogant attitude, or the way he fights that may be based more on natural advantages (i.e. his reach) than any actual technical skill. I'm not going to get into any of that right now but one could make a decent argument that the current top pound-for-pound fighter (except when Renan Barao is fighting, if you still pay any attention to what Dana White says) employs some tactics in his fights that could be considered dirty. The first guy I recall making a big stink about Jon's fighting style, at least since Jones has been champion, was Rampage Jackson. When Jones fought Rampage at UFC 135 in September 2011, he used a striking technique that consisted of turning to the side and kicking Rampage's knee. It's a move that's useful for keeping your opponent at distance but, since the move specifically targets the knee, it can also be useful for injuring your opponent, as Rampage claims Jones did to him. It's not a banned move in the Unified Rules but it's a move designed more to injure someone than to just beat them so I can see why it would bother some people of the Rampage variety.

Add eye pokes to the Jon Jones dirty fighter case log, as noted by Bas Rutten on Inside MMA a few weeks ago. Bas is a man who knows a thing or two about dirty fighters. He's survived the mean streets of Holland, the meaner streets of Japan, and an entire movie with Kevin James. He's also devoted a lot of his time teaching self defense (I'm still perfecting the technique of jumping split-kicking people in the face for the next time I see a gas station robbery) so the guy knows a thing or two about guys who don't fight fair. The discussion on Inside MMA was about eye pokes. It's a foul that many an MMA fighter has committed and Jones is no exception. He fights a lot with his fingers outstretched and has caught a couple of his opponents in the eye, including Glover Teixeira in his last fight. In response to whether this made Jones a dirty fighter, Bas said it does. He later clarified his comments by saying that Jones is well aware of what he's doing; that he's a very calculating and methodical fighter and is very relaxed inside the cage. Bas didn't say that Jones intentionally puts his fingers in his opponent's face as part of his strategy but he does say that Jones is aware that he's doing it. Bas also acknowledges that there isn't anything illegal with what Jones is doing but it is a dirty tactic. It's hard to argue against that, especially after Jones posted that video making fun of all the outrage. He's a smart guy. He knows what he's doing and, as long as it's allowed, he's going to keep doing it. Now if he was really smart he'd do like Daniel Cormier said and become the Floyd Mayweather of MMA. Most of the fanbase is going to hate him no matter what he says or does so he might as well fully embrace it. Embrace the hate. John Cena won't do it but "Johnny Bones" would. You already have a character and everything. Run with it, Jon. You only stand to make millions of dollars if it works. Be the villain we know you can be. You can do it! Also, BOO!!!!

***HORN SOUNDS***




Round Five: Nate Diaz Wants Matt Brown, Urijah Faber to Test Himself Against The Pettis Hunter

***TOUCH OF GLOVES***

Since fight weeks tend to be slow news weeks, we'll end with some random possible and actual upcoming fights. It sounds like winter may officially be over. Yeah, it's May but there's word that Nate Diaz may finally be ready to come out of hibernation and take a fight. It was a self-imposed hibernation brought on by how unhappy he is with how little he's getting paid to fight on his current UFC contract. The situation was exacerbated when teammate Gilbert Melendez re-signed with a significantly better deal than his last one and since then, Nate has been turning down fights until UFC is willing to renegotiate his contract. Well, it sounds like Nate's finally realized that he can get closer to a new contract if he...y'know...takes a fight and he has one in mind: Matt Brown. Mr. "The Immortal" just recently extended his winning streak to 7 with an excellent fight against Erick Silva and has his eyes firmly set on a welterweight title shot so I'm guessing he's not too thrilled about fighting Nate. At least not right now. A fight between those two would be intense and violent and awesome and it must happen. Just not right now. If Brown is looking to get a title shot, and I know he is, a fight against a man who hasn't competed at welterweight in 3 years probably won't get him any closer. Who knows. Maybe Nate doesn't actually want the fight. Maybe he was just messing with the MMAFighting reporter he spoke to. If that's the case, then I see he's learning from his brother quite well. Congrats. Now get your ass back in the cage already.

And now for a fight that is actually booked but no one is entirely sure why. Urijah Faber is ready to make his return after his second loss to UFC Bantamweight Champion Renan Barao back in February. Faber is at a weird point in his career where he's been able to wreck pretty much everyone in his weight class except for the man holding the gold. He's already fought for a UFC Championship three times and has lost all three of those fights. It seems unlikely he'll get another shot at the belt (at least until someone other than Barao or Dominick Cruz holds it or UFC just gets really desperate for a decent title challenger at 135) but he's one of the most popular lighter weight fighters and he's still really good so UFC is going to book him against whoever they can find. The only non-title fight that makes sense for Faber right now would be the third fight with Cruz that we never got but it appears that Cruz won't be ready to fight by summer. So instead Cruz is going to take a fight with...Alex Caceres? Who the hell is that? Wait, you mean the guy who defeated Sergio Pettis? MY Sergio Pettis? FABER MUST DESTROY HIM! Apparently the fight came together when someone on Twitter suggested it, Caceres liked it, and Faber agreed. Yep. Matchmaking is a lot easier than any of us thought, I guess. It could be a decent fight, as Caceres is a lot better than people give him credit for, but the butt chin is going to swallow him whole. Don't spend too much time trying to picture that.

***HORN SOUNDS***

That's it for Five Quick Rounds. Thanks for reading. If you have any questions, comments, or suggestions, and it is always appreciated when you do, leave them in the comments section. I will be back in 7 for another Five Quick Rounds. UFC 173 is this Saturday, now with 50% more guys named Dan. Enjoy the fights and remember to fight clean, fight hard, fight fair, and never leave it in the hands of the judges...




LATER!!!!!!!!!!!!!!!!!!!!!!!!!!!!!!!!!!!!!!!!!!!!!!
comments powered by