SPOTLIGHTS
MMA's 3Rs 5.22.14: Bellator 120 Edition
Posted by Jeffrey Harris on 05.22.2014

From Will Brooks' surprising upset over Michael Chandler and Rampage Jackson's win over King Mo to the bizarre post-fight shenanigans and more, 411's Jeffrey Harris weighs in on the Right, the wRong and the Ridiculous of Bellator 120!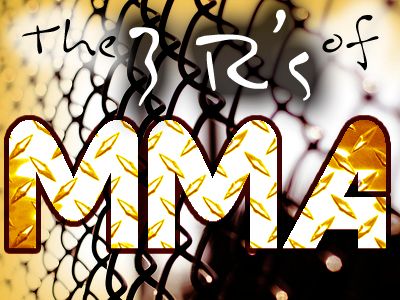 *The Column Concept*
Greetings loyal readers and welcome back to a brand new edition of the MMA's 3R's, where we look at the Right or the good, the wRong or the bad, and the Ridiculous or the absolute worst in the MMA world.

So Bellator MMA finally made their long-delayed, anticipated debut on PPV with Bellator 120. The PPV happened. Was it worth watching? Well that's ultimately up to the consumer. But a lot happened, so let's get to it.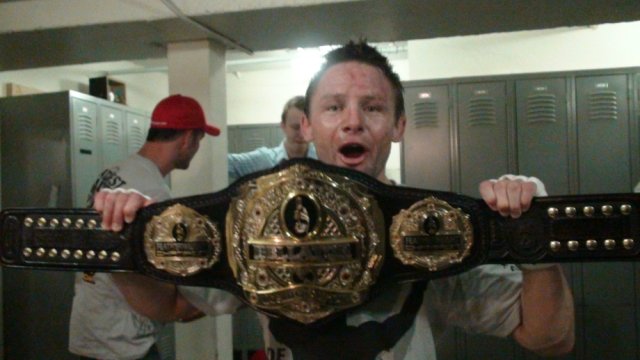 THE RIGHT:


Will Brooks vs. Michael Chandler: I think the reason I put this here, is that this just once again speaks of how unpredictable and crazy this sport can be. Everyone accepted that Michael Chandler winning this fight to reschedule his trilogy fight with Eddie Alvarez was a foregone conclusion. Instead the fight got changed to Chandler vs. Will Brooks at the last minute. And lo and behold, Brooks won the fight. And for all intents, it was a tough, exciting, back and forth fight. Now who you think won is up to interpretation. 411's Robert Winfree scored the fight an even draw. That basically means no one leaves with anything because the fight was for a pointless, vacant interim lightweight title. But now Will Brooks is the interim lightweight champion. Brooks took a big opportunity no one expected him to win, and he came out the winner. I think this one again proves how fickle and pointless rankings can be in this sport. I just recall wasting so much energy on rankings and rankings debate in the past and also getting heat from other members of the media about where fighters should stand in the rankings. Well here you have Chandle, who many ranked in the top 10 lightweights in the world going into this fight, and Will Brooks isn't even ranked at all. And now Chandler has lost two in a row, one to a legit ranked lightweight like Alvarez, but then to an unranked lower-level, lesser name like Will Brooks. What does that say about the science of MMA rankings? I think my basic point is this. There are so many variables and x-factors that could affect the outcome of a fight, in terms of styles or matchups, that sometimes trying to realistically rank a division, or even pound-for-pound in the world for that matter is almost impossible. People think Michael Chandler is a legit top 5'er in the world, then he loses to Will Brooks, granted in a split decision. But should he have even been ranked that high in the first place? Many pundits will complain why a fighter should be ranked here or there, or and then a fighter like Will Brooks comes along and proves how pointless that is. Take King Mo for example. Before his recent string of bad luck, many saw him as one of the "best fighters on the planet" and a top 10 light heavyweight and top pound for pounder. Then he gets knocked out by Emanuel Newton, a virtual nobody at that point. He gets fed some tomato cans and loses to Newton again. I'm not saying we shouldn't try to rank fighters, just that when top fighters can compete on such a seldom basis it can be hard to truly determine the top rankings and how good someone really is. But how did some outlets still rank King Mo above Emanuel Newton still after Newton knocked him out?



Michael Chandler lost a controversial split decision to Will Brooks at Bellator 120 for the interim lightweight title.

Tito Ortiz vs. Alexander Shlemenko: As foolish and stupid as this matchup was, well I still expected Tito Ortiz to lose. Ortiz did make it to the fight at least without complaints or excuses. He dominated Shlemenko and submitted in the first round. Ortiz beat Bellator's middleweight champion and beat him in the first round. He beat an undersized middleweight despite being a career light heavyweight, and the matchup made no sense, but whatever. Shlemenko foolishly asked for this fight. Which on one hand I can kind of see. There are no big names for him to fight at middleweight in Bellator. He probably thought Ortiz, being a washed up fighter who hadn't fought in two years, would be easy pickings. That's on him.


Tito Ortiz submitted Bellator middleweight champion Alexander Shlemenko at Bellator 120.




THE wRong:

Bellator 120 post-fight press conference: Sorry Bellator, but there was just so much weirdness going on at this press conference that it cannot be denied. Bellator MMA PPV's are a weird experience. They can best be described as an awkward lovefest. Now granted, it is Bjorn Rebney's job as a promoter to talk up his product and such. But then there's all this clapping and breaks for clapping and speeches at press conference it's bizarre. It's as if only friends and family are at the press conference rather than media professionals. Some weird gems from Tito Ortiz at the press conference: "God put me on this earth to be a tool;" and "When I start sounding retarded, I'll know it's time for me to stop." OK. And look, good for Ortiz for winning his fight and all. But it was still a matchup against a smaller middleweight and not a legit light heavyweight fighter. Kind of premature to brand yourself a contender just yet. Rampage and King Mo were more heated in the press conference than their actual fight. Rampage continued to call for a rematch and made it clear he didn't want to fight Emanuel Newton. In short, what a mess.


Tito Ortiz at the Bellator 120 post-fight presser: When I start sounding retarded, I'll know it's time for me to stop."
THE RIDICULOUS:

Quinton Jackson vs. Muhammed Lawal: Now on one hand, I can see why this was made the main event. Bellator lost their original PPV main event. Despite their move to PPV being ill advised in the first place, they had to suck it up and go through with it. Buzz around the industry seemed to suggest had they cancelled another PPV, the consequences would've been dire for them. Rampage and King Mo still have some name value and notoriety, while Will Brooks had virtually none. So as a result, this became your new Bellator 120 main event. The fight itself was boring and awful. And then afterward, Rampage proceeded to beg for a rematch so he could knock Mo out again. Why? You had 15 minutes to knock him out and couldn't do it. Why would anyone want or pay to see you rematch with King Mo? Plus you just won a light heavyweight tournament, meaning you are the number one contender to Emanuel Newton. But the problem there? Rampage doesn't want to fight Emanuel Newton. They share a coach in Antonio McKee and they are apparently friends. Oh well. So now Bellator is in a situation where they spent a lot on Rampage and promoted him big time, but now he doesn't want to fight for the title after winning their easier, abbreviated tournament.


Rampage won a unanimous decision against King Mo in the main event at Bellator 120 to win the season 10 light heavyweight tournament.

King Mo's meltdown: It was a bad night for Muhammed Lawal. He lost a decision to Quinton Jackson. Many scored the fight for him and think he won the first and third rounds based on his wrestling and takedowns. Things got worse after the fight as Mo verbally attacked his boss Bjorn Rebney (you can check out a clip of him verbally lashing out below). Mo accused Rebney of "d*** riding" Rampage. Rebney seems to believe some people got in Mo's head and accused Rebney of wrongdoing. Mo and Rebney have since apparently "squashed the beef" as it were. Honestly though, the idea of Mo attacking Rebney who practically bent over backwards and gave Mo every opportunity, including ones he didn't deserve, is ridiculous. Bellator rolled out the red carpet for King Mo and promoted him as a huge star, despite Mo's failures. Now granted, Mo had health issues with his terrible staph infection, but since coming back he's not been able to get strong results. He's 3-3 in his last six fights. His three wins are against tomato cans and unknowns in the MMA world andůSeth Petruzelli. He lost twice to Emanuel Newton. He got an easy path to a title shot by having to win a four-man tournament. Bellator put him in a pointless interim title fight with Newton to put Mo in a title fight quicker, and Mo still lost that. Another problem with Mo seems to be his training. It appears he's jumped around a lot from Team Quest to AKA to ATT. A couple years ago he said he was happy at AKA and said he'd stay there forever. He does all this training with Jeff Mayweather, yet his striking, boxing and footwork looks poor and awkward. Unfortunately, this could be it for Mo as a top prospect in MMA. So maybe it's time for him to consider going into pro wrestling full-time, especially considering Spike TV, Bellator, and Mo haven't really fulfilled their end of Mo being a "double-superstar."


Clip credit goes to ZombieProphet's Instagram account.

Michael Chandler vs. Eddie Alvarez III could still happen: Just to reinforce how pointless the interim title bout at Bellator 120 was, Bjorn Rebney let it be known that we could very well see the trilogy fight to Michael Chandler and Eddie Alvarez happen anyway. Why? Well a trilogy fight with Alvarez and Chandler on PPV is written in Alvarez's contract. Before this news even broke, I already called it on 411 and social media that Bellator MMA would book Chandler/Alvarez III, regardless of Brooks winning the interim title bout. Why? Look at history. Even though Curran was a former champion, he lost a one-sided dominant decision to Daniel Straus. Patricio "Pitbull" Freire had won the tournament and was next in line for a title shot. He was the last person to beat Straus in Bellator. What happened? They booked Straus/Curran II anyway, and Pitbull blatantly got shoved aside. Now Curran won the rematch against Straus. Well what about Straus? Doesn't he deserve a rematch now? It starts a huge can of worms. Look at Emanuel Newton. He had to win five freaking fights to become the light heavyweight champion of Bellator. He won his light heavyweight tournament, then he was forced to fight King Mo in a rematch for another pointless interim title. The reason? Champion Attila Vegh was injured. But oops, he was ordered to be out for *EIGHT WEEKS* in April and he easily would've been ready to go by Bellator 106. King Mo got an easy tomato can light heavyweight tournament and a quick title fight and rematch with Newton. The way it looks from the outside, Bellator saw the loss as a fluke. Bellator seems to want to keep redoing things over and over until they get the right result. So I'm calling it now, as ridiculous as it may seem, Michael Chandler vs. Eddie Alvarez III will still happen first.



Bellator MMA CEO Bjorn Rebney suggested a trilogy fight with Eddie Alvarez and Michael Chandler could still happen because its written in Alvarez's contract. Even though Chandler lost an interim title bout to Will Brooks on Bellator 120. Will Bellator book an undisputed title fight between Brooks and Alvarez?

That's it for the R's. But what else is going on at 411mania.com with yours truly, the 411mania Jack of All Trades?

In movies, check out my official review of No. 1 movie last weekend, Godzilla.

Contining with the Godzilla theme, check out my Exclusive interview with Godzilla screenwriter Max Borenstein.




* TWITTER *
* http://www.twitter.com/411mma *
* http://www.twitter.com/411wrestling *
* http://www.twitter.com/411moviestv *
* http://www.twitter.com/411music *
* http://www.twitter.com/411games *
comments powered by