SPOTLIGHTS
411's MMA Roundtable Preview - UFC 173: Barao vs. Dillashaw
Posted by Dan Plunkett on 05.23.2014

Renan Barao defends the bantamweight title against TJ Dillashaw in the main event of UFC 173! Plus, Dan Henderson takes on Daniel Cormier and more! Check out the full roundtable for all the details and join 411 for LIVE coverage of the event Saturday night!




WELCOME:
Renan Barao defends the bantamweight title against TJ Dillashaw in the main event of UFC 173! In the co-main event, Dan Henderson and Daniel Cormier compete for a possible title shot. At welterweight, Robbie Lawler faces Jake Ellenberger. Plus, Takeya Mizugaki fights Francisco Rivera, Jamie Varner vs. James Krause, and more!

THE STAFF:


From MMA's 3R's, Jeffrey Harris!


From Five Quick Rounds, Evan Zivin!


From the Locked in the Guillotine MMA News Report, Robert Winfree!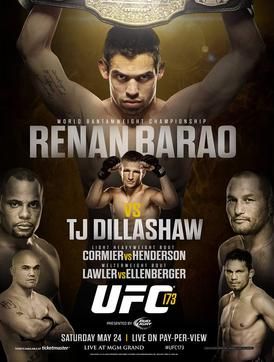 THE PRELIMINARY CARD:




First three prelims airs on UFC Fight Pass, rest on Fox Sports 1.




Welterweight Bout: David Michaud vs. Jingliang Li



Evan Zivin: David Michaud, Submission, Round 2
Robert Winfree: David Michaud, Decision
The staff picks David Michaud, 2-0.



Featherweight Bout: Sam Sicilia vs. Aaron Phillips



Jeffrey Harris: Sam Sicilia, TKO, Round 2
Evan Zivin: Sam Sicilia, TKO, Round 1
Robert Winfree: Sam Sicilia, TKO Round 2
The staff picks Sam Sicilia, 3-0.



Lightweight Bout: Anthony Njokuani vs. Vinc Pichel



Jeffrey Harris: Anthony Njokuani, TKO, Round 2
Evan Zivin: Vinc Pichel, Decision
Robert Winfree: Anthony Njokuani, TKO Round 1
The staff picks Anthony Njokuani, 2-1.



Lightweight Bout: Al Iaquinta vs. Mitch Clarke



Jeffrey Harris: Al Iaquinta, Decision
Evan Zivin: Al Iaquinta, Decision
Robert Winfree: Al Iaquinta, Decision
The staff picks Al Iaquinta, 3-0.



Bantamweight Bout: Chris Holdsworth vs. Chico Camus



Jeffrey Harris: Chris Holdsworth, Decision
Evan Zivin: Chris Holdsworth, Submission, Round 1
Robert Winfree: Chico Camus, Decision
The staff picks Chris Holdsworth, 2-1.



Lightweight Bout: Tony Ferguson vs. Katsunori Kikuno



Jeffrey Harris: Tony Ferguson, TKO, Round 1
Evan Zivin: Tony Ferguson, Decision
Robert Winfree: Tony Ferguson, TKO Round 2
The staff picks Tony Ferguson, 3-0.



Lightweight Bout: Michael Chiesa vs. Francisco Trinaldo



Jeffrey Harris: Michael Chiesa, Decision
Evan Zivin: Michael Chiesa, Submission, Round 2
Robert Winfree: Michael Chiesa, Decision
The staff picks Michael Chiesa, 3-0.

---




THE MAIN CARD:




Lightweight Bout: Jamie Varner vs. James Krause



Jeffrey Harris: This has potential to be a good lightweight battle. Krause had a strong debut in the UFC, becoming the first man to finish Sam Stout in the UFC. In his second fight in Bobby Green, it looked like was on the receiving end of a kick that could've been a low blow, but it was declared a TKO loss on his record. Varner is a very talented fighter with a great skill set, but he's made a career of being inconsistent. Because of that, I think Krause has a good chance of winning. That being said, I think Varner's boxing and wrestling will be too much for Krause and he will walk away with a UFC victory for once.

Winner: Jamie Varner, Decision

Evan Zivin: It's do or die time for Jamie Varner. He's down two fights heading into this one, including a wildly exciting knockout loss to Abel Trujillo in February. He definitely has the ability to beat Krause, either by controlling him with his wrestling or hurting him on the feet, although I'm not sure if Varner will be able to do it or not. If he fights like he did against Abel (i.e. standing in front and throwing like crazy) he's going to get lit up by Krause. At his best, Varner wins easy but he's not at his best anymore. I think Krause will fight a little smarter and use his size advantage to hurt Varner while avoiding damage and take a decision.

Winner: James Krause, Decision

Robert Winfree: James Krause got kind of a rough deal in his last fight, while the finishing kick may or may not have been to the groin, the two groin kicks he took prior to that definitely played a part in his not being able to continue. Jamie Varner had a pretty thrilling slug fest with Able Trujillo his last time out, but he was knocked out and is now on a two fight skid. Varner has been terribly inconsistent in his UFC run, so much so that you couldn't even make the joke about him being consistently inconsistent. He's got the skills to win this fight, and while I think Krause has a ton of upside, I think Varner takes this one.

Winner: Jamie Varner, Decision

The staff picks Jamie Varner, 3-0.

---




Bantamweight Bout: Takeya Mizugaki vs. Francisco Rivera



Jeffrey Harris: Takeya Mizugaki, despite being hit and miss throughout his UFC career, has been on a role as of late. He's in a good position in the bantamweight rankings and he's on the cusp of becoming a legit contender. Francisco Rivera may not be a huge name, but he's unbeaten in the UFC. A win here would give Mizugaki five in a row and would put him in a good spot to possibly be in a title eliminator situation. Mizugaki has definitely upped his overall game as of late, especially his striking. Francisco Rivera isn't a huge name, but he is a tough opponent. He's 3-0 in the UFC with one no contest, a win that was overturned. Rivera claimed it was caused by an over-the-counter supplement, which sounds like code for juicing, but who knows. Rivera knocked out George Roop in his last fight, so he does have power. I'm expecting Mizugaki to dominate this fight, though, and get his fifth UFC win in a row.

Winner: Takeya Mizugaki, Decision

Evan Zivin: It seemed like a matter of time before these two fought. They are two of the most consistent fighters in the bantamweight division, with Mizugaki 6-2 in the division and Rivera 3-0, 1 no contest (curse you, Mary Jane!). Both men have good striking but Rivera looks for the knockout more than Mizugaki, who tends to outwork his opponents and earn a decision. You have to be a good fighter to beat Mizugaki. I didn't think Erik Perez could do it but I think Rivera can. He has the stamina to be able to outpace Mizugaki for 15 minutes, which is the key to beating him. Keep Mizugaki on the defensive the entire fight. Rivera may not be able to finish him but he should be able to add another win to his excellent record.

Winner: Francisco Rivera, Decision

Robert Winfree: Takeya Mizugaki has been on a good run of late, he seems to have shored up some of the issues in his game and knows how to play to his strengths. Both of these guys prefer to strike, so the question becomes if Rivera will be able to hit a power shot and put Mizugaki out. I don't think he will, Mizugaki is a smart striker and should avoid the wild exchanges that favor Rivera.

Winner: Takeya Mizguaki, Decision

The staff picks Takeya Mizugaki, 2-1.

---




Welterweight Bout: Robbie Lawler vs. Jake Ellenberger



Jeffrey Harris: A significant welterweight bout for two highly ranked welterweights. A win here puts both guys in the running to be potential title contenders. Lawler is coming off a loss in a tough, close title fight against Hendricks. It was a decisive win for Hendricks, however, it wasn't a blowout either. Lawler put in a great performance in a Fight of the Year Candidate. Ellenberger has great wrestling and he has good striking and power in his hands. However, it seems time and time again he's failed to deliver in big fight situations. Against Martin Kampmann, he had victory in his grasp, but was knocked out. Against Rory MacDonald, in a fight that could have cemented him as a contender, he didn't show up to fight at all. Now Lawler has flaws of his own. Sometimes it appears he is a little too laid back and that causes him to start a little slow, and his opponents get off too many significant strikes as a result. Case in point, his fights against Babalu and Hendricks. Still, the way Lawler has looked in the UFC at welterweight has been a great turnaround for him. Hendricks struggled to take Lawler down most of their fight, save for the takedown he scored in the fifth that likely turned the fight back in his favor. Lawler takes this one.

Winner: Robbie Lawler, TKO, Round 1

Evan Zivin: Yes. This fight I like. UFC wanted to give Robbie Lawler a good return fight after a tough loss to Johnny Hendricks for the welterweight title and this is perfect. Ellenberger is a good wrestler but he's primarily known for his destructive hands, which you know he's going to want to test against the legendary Lawler. This should be a stand-up war with the key element being striking technique. Lawler has some of the best boxing technique of any current MMA fighter and it will be what helps him cruise to victory past Ellenberger, who, like most wrestlers with heavy hands, rely on power and focus little on combinations and speed. Ellenberger's best chance to win may be taking Lalwer down but Robbie has the takedown defense to stop that from happening. This could be a really good fight and, no matter how it plays out in my head, it always ends with Ruthless' hand being raised.

Winner: Robbie Lawler, TKO, Round 3

Robert Winfree: Now this should be a good fight. Lawler lost his last fight, but it was a competitive decision loss to new champion Johny Hendricks. Ellenberger had one of the worst fights in recent memory in his last outing when he did nothing against Rory MacDonald for three rounds. Ellenberger has the skills to win this fight, but I don't think he will. Ellenberger has the same bad habit a lot of powerful striking wrestlers do, he moves forward, throws wide punches and leaves his chin wide open to be hit. Robbie Lawler excels at finding your chin and putting you to sleep. I think Ellenberger tries to rush Lawler, Lawler lands a powerful counter right hook and puts "The Juggernaut" to sleep.

Winner: Robbie Lawler, TKO Round 1

The staff picks Robbie Lawler, 3-0.

---




Light Heavyweight Bout: Dan Henderson vs. Daniel Cormier



Jeffrey Harris: A potential passing of the guard. In recent efforts, Henderson has very well started looking his age. And now he no longer has the potential safety net TRT provided him in possibly prolonging his MMA career, legal or not. Daniel Cormier basically got a tune-up fight against Pat Cummins in his light heavyweight debut. While Henderson may be older, he still brings tons of experience to the cage as well as the patented H-Bomb right hand. Henderson is without a doubt the greatest American MMA fighter of all time. Cormier could very well be one of the next great all-time fighters depending on how his next couple of fights go. He was already a top heavyweight fighter in the world, but was forced to move away from that route because of Cain Velasquez's position as the heavyweight champion. One x-factor is how well Cormier will be in a longer fight. But I think Cormier will just be too much for Henderson to handle this time around.

Winner: Daniel Cormier, Decision

Evan Zivin: The battle of the Dan's is finally happening! You know you have been waiting for this moment. Both men are extremely similar in their backgrounds. Both men were successful high school and college wrestlers. Both men have won gold in the Pan American games in wrestling. Both men have competed at the Olympics in wrestling. Both men are successful MMA fighters and have both held gold in Strikeforce. Both men combine a strong wrestling base with heavy hands and both can knock out someone just as easily as they can grapple with them. There are two factors that could potentially have an impact on this fight. The first is that it's the first fight since Dan has ceased his TRT regimen. Will that affect his performance? He looked sluggish against Rashad Evans at UFC 161 when he chose not to use TRT. Will that be the same here? The other, much lesser, factor is Cormier has admitted that Henderson is his idol. We've seen fighters face their idols before to poor results (the first GSP-Matt Hughes fight, Pat Barry vs. Mirko Cro Cop), so will that have an effect? I'm not sure about the former but the latter shouldn't be an issue, especially with a potential title shot at stake. It may not be as exciting as Cormier's last fight against BaristaMan but he should be able to control the pace and prevent any H-Bombs from landing. Nuclear war will be prevented (for now) and Cormier will wait for UFC to finally pick a date for Jones-Gustafsson II.

Winner: Daniel Cormier, Decision


Robert Winfree: It's kind of sad that, given schedules and injuries, this was the most relevant fight you could make for Daniel Cormier. Dan Henderson won his last fight, but was losing it before the finish and had dropped his previous three fights. Dan Henderson has looked older and slower in his recent outings, and now he's facing a younger, stronger, faster fighter. Were I in Cormier's corner, I'd advise spending the first round in the clinch or on top, wrestle with Hendo and make him tired, then go for the finish in the second or third round. Cormier should absolutely finish Henderson here, and while this will be more competitive than his last outing this is another test to see how Cormier does as opposed to truly measuring him against the top of the division.

Winner: Daniel Cormier, TKO Round 2

The staff picks Daniel Cormier, 3-0.

---




UFC Bantamweight Championship Bout: Renan Barao vs. TJ Dillashaw



Jeffrey Harris: Dillashaw really did luck out getting the title shot here as he was coming off a win, and Raphael Assuncao, the rightful top contender at bantamweight, was injured. And UFC/ZUFFA definitely seem to like the the Team Alpha Male fighters. They are frequently dominant, tough fighters and perform impressively on a regular basis. The one thing that has eluded Team Alpha Male though is a UFC title. Team Alpha Male is basically 0-6 in UFC title fights. Dillashaw is without a doubt talented. He's made a lot of improvement since he left The Ultimate Fighter. However, I don't see how he is able to beat Barao. Barao has been dominating all the top fighters but in front of them and put them away in impressive fashion. His takedown defense will be too much for Dillashaw, and I think he will be able to match any power Dillashaw can throw at him. Dillashaw will try, but eventually, Barao will stop him. This will make Team Alpha Male 0-7 in UFC title fights.

Winner: Renan Barao, TKO, Round 2

Evan Zivin: Dana was going nuts about this fight on his last video blog. I'm guessing it was his last attempt to get people to care about this fight and stop this show from having a low buyrate. It really is a shame how few people care about Renan Barao, since he may well be the best fighter on the planet. He's only lost once in 33 fights. He hasn't lost in 22 fights. His winning streak is as long as Khabib Nurmagomedov's entire career. You know who else had a record like that? Fedor. Yeah. Why aren't we talking about Barao like that? Because he's a smaller guy? Because we don't fear Brazilians the same way we fear Russians? Because Japan actually knew how to market fighters even if it involved artificially inflating their records? Probably, except UFC doesn't have to do that for Barao because he's the real deal. He's fought the best the UFC has to offer and he's destroyed them all. He'll do the same to Dillashaw. TJ is a good fighter and possesses the highest striking output per fight among the entire UFC roster but it's not going to make much of a difference once Barao hits him. Barao has better striking, his takedown defense is perfect in the UFC, and he has a 100% finish rate in title fights so far. This is the last title fight for Team Alpha Male under coach Duane Ludwig. Will this be the night that Bang finally brings a championship back to Sacramento? Hell no. Barao by destruction.

Winner: Renan Barao, TKO, Round 1

Robert Winfree: It's a real shame that Renan Barao doesn't get more attention, because the man is one of the best fighters going right now. He's only lost one fight, his first professional outing, and has been wrecking everyone put in front of him ever since. It's unfortunate there was some controversy about the stoppage in his last fight because it detracted from the fact that he was schooling Urijah Faber. TJ Dillashaw is a good fighter, he has decent wrestling and has been learning how to strike. Sadly, he is severely over matched in every way by Renan Barao. Much better wrestlers than Dillashaw have tried to ground Barao, none of them were able to. Guys with more punching power have tried to take his head off, no one has come close to troubling Barao. Renan Barao is untouchable at bantamweight right now, it's a shame we're unlikely to see him take on Dominick Cruz because that's the only fight that could present him with some problems.

Winner: Renan Barao, TKO Round 2

The staff picks Renan Barao, 3-0.

---
Remember to join 411's coverage of UFC 172 on Saturday night!
comments powered by