SPOTLIGHTS
MMA's 3R's 5.29.14: UFC 173 Edition
Posted by Jeffrey Harris on 05.29.2014

From TJ Dillashaw's upset win over Renan Barao and Robbie Lawler beating Jake Ellenberger to Chael Sonnen accusing Jamie Varner of milking an injury and more, 411's Jeffrey Harris breaks down the Right, the wRong and the Ridiculous of UFC 173!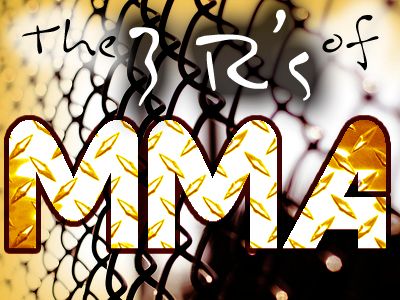 *The Column Concept*
Greetings loyal readers and welcome back to a brand new edition of the MMA's 3R's, where we look at the Right or the good, the wRong or the bad, and the Ridiculous or the absolute worst in the MMA world.

The UFC was back last Saturday with UFC 173. TJ Dillashaw got one of the biggest upsets of all time and knocked out Renan Barao to win the bantamweight title. It was a great card, so let's get to it!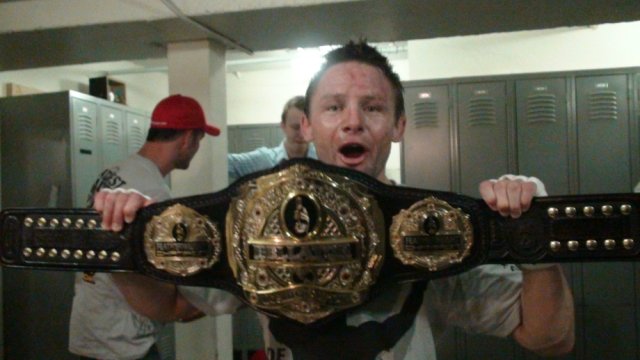 THE RIGHT:


Renan Barao vs. TJ Dillashaw: The unfortunate thing about this sport, oftentimes while someone will look very good, the opponent will look very bad. And just like that, the Team Alpha Male/UFC title curse has finally been broken. Going into this fight, Team Alpha Male was 0-6 in UFC title fights, and I expected it to go up to 0-7 here, and then 0-8 later this August with Aldo vs. Mendes II. TJ Dillashaw had other plans though. From the very first round, Dillashaw imposed his will and came at Barao from angles, used incredible footwork, and then dropped him and almost submitted him. Many jaws dropped. I was still skeptical. After Dillashaw was unable to finish it, perhaps his best chance of victory had just slipped through his fingers. Barao was resilient at first, and it just seemed round after round, Dillashaw was getting the better of Barao and was dominating the fight everywhere. Barao was never able to catch up after he was badly hurt in the first round. Dillashaw maintained a ridiculous pace and speed, and kept moving forward. Instead of coasting in the last two rounds, he continued to pursue Barao and knocked him out in the fifth. So there was no doubt and no argument. Dillashaw is the new, undisputed UFC bantamweight champion. This is what I love about MMA. This is why MMA is my favorite sport. Nobody predicted this outcome. I didn't. Few gave Dillashaw a chance here. But Dillashaw, his coach, and his team believed in him. And in this sport, that's all you really need. Dillashaw now finally breaks the stigma of Team Alpha Male never being able to win a UFC title. No one expected it would be him of all people to do it, considering Urijah Faber and Joseph Benavidez couldn't do it on multiple occasions. I hope this fight brings more attention and credibility to the lighter weight classes. This fight reminded me of why I enjoyed the lighter weight classes and the WEC so much back in the day. These guys at bantamweight and featherweight have unbelievable cardio and stamina. They can keep going all night. They never seem to get tired like the dudes at heavier weight classes do. This was without a doubt the biggest upset of the year, and possibly one of the biggest in the history of the sport.


TJ Dillashaw knocked out Renan Barao in the fifth round at UFC 173 to capture the UFC bantamweight title.

Daniel Cormier vs. Dan Henderson: Now this was a fight that went about how I expected it to. Listen, I love Dan Henderson, and I think he's one of the greatest fighters of all time. But it's pretty clear now that TRT was likely the main reason Henderson was able to go as long as he did and be as dominant as he was in the sport. And I'm not going to condemn Henderson for it. He was given permission to use TRT, and everyone was aware of it. It his use of it was approved. But I think this fight was evidence enough that it's time for Henderson to hang up the gloves. He no longer had TRT and he was struggling to make 200 lbs for this fight, without even cutting weight. Daniel Cormier looked like a light heavyweight Cain Velasquez here. And while it wasn't an exciting three-round war, Cormier at least went for the finish and submitted Henderson late in the third despite clearly being up on the scorecards. I think a match-up between Daniel Cormier and Jon Jones is inevitable at some point. Again, I love Dan Henderson, but I hope realizes it's time to retire. He said he wanted to fight until he can't do it anymore. Well Hendo, that time is now, unfortunately. I just don't want to see him have a falling out with the UFC and end up in Bellator having a PPV main event with Tito Ortiz.



Daniel Cormier submitted Dan Henderson in their co-main event bout at UFC 173.

Robbie Lawler vs. Jake Ellenberger: I like Jake Ellenberger, but I was supremely annoyed with how he called Lawler's winning streak "overblown" and denigrated him for beating the likes of Bobby Voelker and Josh Kosheck, who he said, "hadn't had a big win in a really long time." Well how about the fact that he dominated Rory MacDonald, Jake? A fighter you talked a ton of trash about but you completely laid an egg against when it came time to fight him? Not only that he was in a razor close decision against Johny Hendricks in a title fight, where despite losing on points, he did a lot of damage to Hendricks. Again, while I like Ellenberger, I was disappointed with his performance here. For Ellenberger, this was his shot at redemption. This was his chance to say, "I had a bad night against MacDonald. This is me now. I'm ready to fight for the title." All the things Ellenberger wants in his career were through this fight. He was getting a chance to fight the guy who is currently ranked No. 1 in the world. Yet it seems, again like Rory MacDonald, his words came back to bite him in the rear here. Ellenberger looked absolutely flat from the first round on here. It was evocative of his MacDonald performance last July. Now that aside, I could just be letting Lawler's performance color my view here. Lawler looked great, while Ellenberger looked bad, so maybe it's not fair. But more and more, it appears that Ellenberger tends to crap out in his big opportunities. It happened against Martin Kampmann in his first main event at The Ultimate Fighter Live Finale. It happened against Rory MacDonald for UFC on Fox, and now it happened here. Ellenberger cemented his gatekeeper status. And that's why I didn't feel good about picking Ellenberger here. Unfortunately for him, he proved me right. I don't think Ellenberger should be cut. He recently signed an extended deal. He deserves another fight, since this was a big fight on the main card of a PPV. However, if he continues performing like this, it might be time for him to try fighting elsewhere again to try and get his confidence back. Now, as much as I want to see Matt Brown fight for the title, it might not be in the cards. I'm not sure if Lawler will get a rematch against Hendricks. But if that doesn't happen, perhaps Lawler vs. Matt Brown makes sense? We'll see. Regardless, Lawler looked excellent. He was completely in control of almost the entire fight. Ellenberger had a sort of desperation flurry early toward the end before Ruthless took him apart. His wrestling defense and not panicking when Ellenberger did take him down looked excellent. That was one of Lawler's bigger weaknesses before he returned to the UFC. Ellenberger just looked like he wanted out of the fight before it was over.


Robbie Lawler knocked out Jake Ellenberger in the third round at UFC 173.

Takeya Mizugaki vs. Francisco Rivera: This was a good workmanlike performance and win for Mizugaki. Mizugaki has definitely upped and improved his game as of late. Rivera was a dangerous opponent and was unbeaten in the UFC going into this fight. Mizugaki still dominated him. Rivera would look strong early in the rounds before Mizugaki would settle in and take over. I think Mizugaki is due for a bigger fight, and I think we need to see him in there against Renan Barao. Mizugaki is arguably ranked in the top 5 now, and Barao will need a tough opponent to see where he is after losing the title. I think this would be Mizugaki's chance to finally prove himself as a contender, since his originally scheduled fight with TJ Dillashaw did not happen on this card.


Takeya Mizugaki scored his fifth straight win over Francisco Rivera on the main card of UFC 173.

Mitch Clarke vs. Al Iaquinta: TJ Dillashaw wasn't the underdog that had success at UFC 173. Clarke was +295 going into this fight. While Al Iaquinta was hardly an elite world-beater before this fight, he did have all the momentum. He was riding a three-fight winning streak since he lost his season of The Ultimate Fighter. he also came from the more notable fight camp (Serra-Longo). Clarke was losing most of this fight. Iaquinta was taking him down and dominating him there. Clarke managed to survive the first round, and early in the second, after he got taken down again, he managed to slip on a slick D'arce choke. Before you know it, Clarke won and scored his second straight Octagon win, and it was clearly an emotional win for him. He got a Performance of the Night bonuses as well off of the victory. I wasn't thinking much of Clarke before this fight, but he was impressive here and pulled off a great submission in a losing battle.




THE wRong:

Chael Sonnen calls Jamie Varner the "boy who cried wolf": So during the post-fight show for UFC 173, Chael Sonnen talked about Jamie Varner's performance against James Krause and said something I thought was a little harsh. He stated, "What were led to believe is that Varner hurt his ankle in that last exchange. I'm not ready to tell the fans that, guys. It's just not what I saw. Every Jamie Varner fight seems to have a moment like this, where a picture is being painted very early on. We don't see Jamie Varner in very many fights that also have a good clean outcome." He also said, "This kind of stuff has been going on for six years in Jamie Varner fights. He's either the most unlucky fighter ever, or the boy who cried wolf." Now has Jamie Varner probably had a lot of mental setbacks that cause him to mess up in some big fights? Perhaps. At the same time, I think Sonnen was being overly harsh here. It's pretty clear now Varner was injured. It was a freak injury. Now yes, it seems like Varner is one of the most unlucky guys on the planet, but I don't think he was playing the "boy who cried wolf." Sonnen seems to be suggesting that Varner was milking the injury. You can listen to some of the audio of what I'm referring to below.
An

Chael Sonnen seems to think Jamie Varner might've been milking an injury at UFC 173.

The bizarre technique of Katsunori Kikuno: I was hesitant to put the actual Ferguson/Kikuno fight on here, but I really just wanted to single out the bizarre technique of Katsunori Kikuno in this fight. I think Robert Winfree put it best on the 411 Ground & Pound Radio Show, where he said Kikuno was basically trying to block punches with his head. To me, it seemed like Kikuno watched the comedy Kung Pow: Enter The Fist and thought Wimp Lo's face to your fist style was a good idea. Anyway, just a bizarre technique and a questionable performance overall for Kikuno.




THE RIDICULOUS:

Referee Jason Herzog and Jamie Varner's corner: I think Robert Winfree pointed this out pretty well during UFC 173, how Jamie Varner's corner completely and utterly failed him against James Krause. Varner was clearly fighting on a broken wheel, and to his credit, he finished that round. I imagine due to that the UFC will give him another shot. When fighters get freak injuries like that, they usually are given another chance or mulligan of sorts. However, the referee, I believe it was Jason Herzog here, handled this poorly. It was clear Varner's leg was broken and he couldn't even stand on his leg. He was constantly tripping. The fight should've been stopped, or there should've been some sort of break to check and see what was wrong with Varner. I don't get why MMA corners seem so inept at taking care of their fighters and clients like this. I get that winning is important, but your fighter was severely injured and was forced to finish the round on one leg as a result. They should've been more aware. And here's another knock on the cageside doctor. In the clip below, you can see the doctor stepping on Varner's likely broken foot after the fight was topped!


"Thanks a lot," said Jamie Varner's broken foot to the cageside doctor that just stepped on it.


That's it for the R's. But what else is going on at 411mania.com with yours truly, the 411mania Jack of All Trades?

In movies, check out my official review the of Godzilla.

Contining with the Godzilla theme, check out my exclusive interview with Godzilla screenwriter Max Borenstein.

Like the awesome new digital series, Street Fighter: Assassin's Fist? Check out my exclusive interview with star Mike Moh, who plays legendary franchise character Ryu.

And over in MMA, check out my editorial column on MMA rematches. To all the readers, thanks for all the feedback and comments I got for this one.




* TWITTER *
* http://www.twitter.com/411mma *
* http://www.twitter.com/411wrestling *
* http://www.twitter.com/411moviestv *
* http://www.twitter.com/411music *
* http://www.twitter.com/411games *
comments powered by