SPOTLIGHTS
Five Quick Rounds 05.27.14: UFC 173, How TJ Dillashaw Got That Fancy New Belt Buckle, More
Posted by Evan Zivin on 05.27.2014

From TJ Dillashaw's huge upset of Renan Barao and Daniel Cormier's dominant victory over Dan Henderson to the rest of UFC 173 and new fights announced for WSOF 11 and Bellator 121, 411's Evan Zivin examines these stories and more in Five Quick Rounds!

Hey hey, fight fans, and welcome back to Five Quick Rounds! I am your host, Evan Zivin, and I am more excited than Steve Mazzagatti deducting a point for an elbow to be here once again!

And who says that nothing important happens on The Ultimate Fighter anymore, other than everyone. Were you even aware the show still exists? The 19th season, coached by BJ Penn and Frankie Edgar, is happening right now and last week's episode turned into such a zoo that it may have brought about changes in the way the Nevada Athletic Commission does their job, or at least Dana White will claim that. The fight from last week's episode, between Team Penn's Roger Zapata and Team Edgar's Ian Stephens, was a somewhat close fight that was declared a draw after two rounds and went into the third, sudden victory round. In that round, referee Steve Mazzagatti, Dana White's favorite referee *WINK*, deducted a point from Zapata for use of downward elbows to Stephens' head. I thought refs usually stop the fight to issue a warning before taking points away but maybe that's not why I'm a ref. That wasn't the end of the silliness, though, as Zapata was declared the winner with scores of 9-9, 9-9, and 10-8 (the 10 in favor of his opponent). How the hell does that work? Apparently, because the round was declared a majority draw and there needed to be a winner, the judges were told to circle who they felt won the fight and all three circled Zapata, even the judge who gave the last round to Stephens. This became quite the mess but it sounds like it was a big enough mess to make Nevada rethink how they handle judges and refs in the future, so I guess that's a good thing. We also learned that Pride scoring is the way to go. Neva. Die.

All right, so with fighter introductions out of the way, I have Five More Rounds of MMA news and opinions to throw at you. This week, we look at all the happenings from UFC 173, plus the new fights added to World Series of Fighting 11 and Bellator 121. Let's to it do it.

FIGHTER YOU READY!!!!
FIGHTER YOU READY!!!!

FIGHT!!!!




Round One: TJ Dillashaw Shocks World and Forever Makes Faber and Benavidez Totally Jealous with Title Win

***TOUCH OF GLOVES***

Live, from the MGM Grand Garden Arena in Las Vegas, Nevada, it was UFC 173 ON SATURDAY NIGHT!!!!

Well, this turned out to be an interesting show. There was a lot that happened that was completely expected but there were a few surprises too, especially at the top of the card. The main event of this show, which was originally going to be a UFC Middleweight Championship fight between Chris Weidman and Vitor Belfort before Lyoto Machida was swapped in for Belfort --because TRT BAD!!!! GRRR!!!!-- which was then moved to July after Weidman suffered a knee injury, was a UFC Bantamweight Championship fight between Renan Barao and Team Alpha Male's TJ Dillashaw. The main points of discussion in the lead-up to this fight seemed to be "Who the hell are these guys?" and "Why should I care?" Dana White did his best to hype up the combatants, misrepresenting how long Barao's unbeaten streak is and playing up Dillashaw's striking output like it's the Holy Grail to solving the puzzle that is Brazilian Jens Pulver. Barao has struggled to connect with MMA fans outside of Brazil despite his incredible professional record (and UFC hasn't done the best job trying to fix that), and Dillashaw is a good fighter but his biggest win before Saturday had been against Mike friggin' Easton. Plus, he had already lost in the UFC. You can't lose in the UFC and still go on and become champion. Well, unless you're Johny Hendricks. Or Shogun Rua. Or Georges St-Pierre. Or Chuck Liddell. Or--the point is, no one gave this kid much of a chance to do anything, let alone win this fight. So I'm just going to spend the next paragraph talking about how great of a champion Barao is.

Well, I would be talking about how great Barao is, but Dillashaw has prevented me from doing that. Dillashaw came into this fight with the exact right mindset and gameplan. He knew that, for as good of a wrestler as he is, he can't rely on grappling to defeat Renan Barao. Barao is extremely well-rounded with phenomenal takedown defense. If Dillashaw was going to stand any chance of beating Barao, it was going to have to start on the feet and Dillashaw was prepared for that. Dillashaw moved very well and utilized speed to step in and out of the pocket and hurt Barao without taking too much in return. Against a fighter like Barao, a lot of guys will stay cautious and hesitant to strike, likely out of fear to counter, and that plays into Barao's game by letting him dictate the stand-up game, giving him more time to hurt his opponent and throw them off their rhythm. Dillashaw succeeded by using that strategy against Barao, outstriking him and stopping the champ from getting his game going. It also helped when Dillashaw crushed Barao with an overhand right in the first round and came close to ending things early. Barao was able to survive and bounce back a bit in the second round but Dillashaw owned this fight. Dillashaw continuously hurt Barao and it was a head kick-left hook combo that put Barao down for good in the fifth. Not only did Dillashaw dominate the champion, he finished him. The fight elicited feelings from the first Anderson Silva-Chael Sonnen fight, except Dillashaw actually got the job done. Congrats to the new champ as well as to his coach Duane Ludwig, who I'm sure spent the rest of the weekend listening to Urijah Faber beg him to stay at Team Alpha Male even though they kinda pushed him out. Never doubt the Bang Muay Thai system. Never again.

***HORN SOUNDS***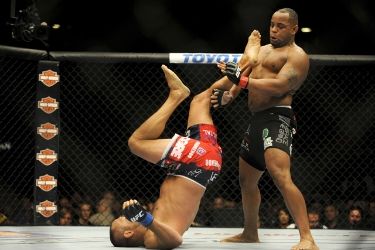 Round Two: Daniel Cormier's Win Reveals Dan Henderson Would Make a Great Professional Wrestler

***TOUCH OF GLOVES***

The co-main event was a somewhat intriguing fight between former Pride and Strikeforce champion Dan Henderson and former fatty Caniel Cormier. DC has been absolutely unstoppable in his MMA career thus far, which led him to the Strikeforce Heavyweight Grand Prix Championship and a 3-0 UFC record. His first two UFC fights weren't super exciting but he was also facing much bigger men in Frank Mir and Roy Nelson and Cormier was still able to control them with his Olympic-level wrestling. In February, Cormier made his debut at light heavyweight, defeating some guy who had been working at a coffee shop a few days before. The fight didn't say much about how good Cormier is at 205 but there's been no reason to think that he won't be staring down Jon Jones at some point (well, unless Alexander Gustafsson takes him out first...). A title fight could very well be the next thing on Cormier's agenda. He just had to get past one of his wrestling and MMA idols first. Dan Henderson is one tough SOB who, even at age 43, is still an extremely dangerous opponent for most fighters. This was going to be an interesting fight for Dan as it would be the first one since use of synthetic testosterone was banned in Nevada. Henderson had been using Testosterone Replacement Therapy for years and obviously has had to make some adjustments to compensate for not being able to use it. Well, it's not like this is the first time he's gone without. He didn't use TRT when he fought Rashad Evans at UFC 161 and we all know how that went.

DAN!!!! NOOOOO!!!!!!!! Well, I can't say I'm too surprised with how the fight went down. I knew that Cormier would come into the fight the bigger fighter, as he struggled to make weight whereas Henderson stepped onto the scale at 199. I also knew that Cormier would be the stronger fighter, as Cormier was able to control 260+ pound men when he fought as a heavyweight. What I didn't realize was how big and strong Cormier would look against Henderson. Cormier chose to use his wrestling as the means to win the fight, which is a smart strategy because even if Cormier has better boxing than Henderson and moves better and throws more combinations than Henderson, the possibility always exists that he can get caught by Henderson's thunderous right hand. So Cormier spent all three rounds taking Henderson down, but these weren't "grab a leg, push him against the fence, and pull him down with all your might" takedowns. These were "Bitch, I'mma 'bout to throw your ass on the ground" takedowns. They were violent and aggressive and Henderson could do little to stop them. Cormier got on top of Henderson and controlled him quite easily, although Henderson did stay active with submission attempts. It got so crazy that Cormier almost did a Fallaway Slam to keep Henderson from getting up. It wouldn't have mattered, though, because when Henderson tried to stand in the third round, Cormier just took Hendo's back and choked him unconscious with a rear naked choke. Like a boss. Cormier needed a statement that said he knows how to beat elite fighters and that was a pretty good one to make. Now he'll likely wait to face the winner of Jones-Gus II, enjoying some Popeye's chicken while he does. Did anybody else imagine Cormier stealing the bag of chicken that Henderson gave him as a prank and hiding it in his hotel until after the fight and then gorging himself silly? I'm weird like that.

***HORN SOUNDS***




Round Three: Rest of UFC 173, Robbie Lawler Proves Juggernauts Only Exist in Comic Books and Movies

***TOUCH OF GLOVES***

Many people, including Robbie Lawler, weren't satisfied with his decision loss to Johny Hendricks back in March. Robbie felt he had done enough to beat Bigg Rigg and ascend to the throne of his former teammate Matt Hughes and become UFC Welterweight Champion. Regardless of who actually won the fight (Hendricks), Robbie lost very little in defeat and could easily get himself back to the title with another strong victory or two. Well, so far so good after a dominant performance against Jake Ellenberger. Lawler's boxing technique and speed were on full display in this fight. His punches and kicks had a good snap to them that Ellenberger was rarely able to dodge or counter. Ellenberger's best success came in the second round when he was able to pull Robbie to the ground but Jake couldn't stick to Robbie the way Hendricks was and Robbie was easily able to get back up and pummel Ellenberger with more punches. Lawler stayed in the center of the Octagon for most of the fight and was able to keep Ellenberger in range for punches and head kicks. His knees were good too, as it was a knee followed by a left hand that dropped Jake in the third round and set-up the follow-up punches that ended the fight. Robbie came in against a tough opponent and did everything he needed to assert himself as a man not to be messed with. Now he waits to see when Hendricks will be ready to fight and for UFC to decide who gets the next shot. Eh, it'll probably just go to Tyron Woodley. Can't let that victory over Carlos Condit go to waste.

We got a pretty decent brawl between Takeya Mizugaki and Francisco Rivera. Mizugaki got the advantage in the first round with a couple of right hooks that sent Rivera crashing to the canvas. Mizugaki pounced to end the fight but Rivera survived, even taking Mizugaki down at the end of the round. Rivera hurt Mizugaki with strikes in the second round but a failed guillotine attempt allowed Mizugaki to get top position. After fishing for a rear naked choke that Rivera defended, neither Mizugaki nor Rivera had a real advantage in the third round, but they still ended the fight by throwing punches wildly. I appreciate that. Mizugaki was given the unanimous decision to add to his winning streak and possibility that he may be good enough to fight for the title someday. The fight between Jamie Varner and James Krause got out of hand from the start when a low kick injured Varner's ankle. From there Krause peppered Varner with punches and kicks and Varner was staying in the fight but he kept rolling his ankle and falling over. It was pretty bad. I find it hard to believe that the referee didn't notice the injury and should have stopped the action before the round ended but the fight wasn't stopped until after the first five minutes had expired. It was a big win for Krause and a big loss for Varner's corner. It was clear he was injured. Just throw in the damn towel so he can live to fight another day. I know that cornermen never like taking the decision away from a fighter about whether they are capable of continuing but his left foot was dangling, you sadistic bastards! Geez.

And that was UFC 173. There are two--TWO-- UFC events this coming Saturday. Mark Munoz vs. Gegard Mousasi takes place in Germany during the day followed by the TUF Brazil 3 Finale at night. UFC must hate guys who liveblog fights for a living.

***HORN SOUNDS***




Round Four: Just Don't Fight Jon Fitch, Disgruntled Pat Curran Fans Will Have to Boo Heavyweights Instead

***TOUCH OF GLOVES***

Among all the excitement that happened in the UFC this past week with UFC 173, there was also some exciting news that happened in the other major MMA promotions. Well, I guess the news isn't "exciting" as much as it is "soul-crushing." If anyone thinks that UFC is the only promotion that has bad luck with main events falling apart, look no further than the upcoming World Series of Fighting 11. The show, which takes place July 5th from...somewhere...was originally going to be headlined by a welterweight championship fight between new champ Rousimar Palhares and perennial bridesmaid Jon Fitch. The fight presented an interesting clash between former UFC fighters that would have been one of the biggest fights in WSOF history to date before it fell apart because Palhares felt his mother's health and well-being is more important than satisfying the bloodlust of thousands of people who criticize him on a constant basis. That selfish jerk. So the main event got changed but the plan was still for Fitch to fight on the card, this time against the debuting Jake Shields. Fitch vs. Shields would be another interesting fight between former UFC fighters that would have brought the promotion a good amount of attention until that fell apart because Shields got injured. Now, WSOF is hoping the third time is literally the charm by booking Fitch in a rubber match against Josh Burkman. It was Burkman's submission of Fitch in their second fight that catapulted Burkman to a WSOF title fight. Will the same thing happen again if he can beat Fitch one more time? Will anyone who watches UFC exclusively even notice or care? Tune in to find out! Also, no.

How about Bellator? You like Bellator? They're all right. That Payperview they did wasn't too bad even though the buyrate will be abhorrent. Well, it's time for Viacom MMA --I mean Bellator (DAMMIT, DANA!!!) to look ahead to Bellator 121. The show, taking place June 6 from Thackerville, Oklahoma, will feature opening round fights in the Light Heayweight Summer Series tournament and a big Featherweight Championship rematch between Pat Curran and Patricio "Pitbull" Freire, or at least it was going to before Curran pulled out with an injury. You know what that means: Curran is ducking Pitbull. He didn't want to fight Pitbull so badly, even though he's already defeated Pitbull before, that he strained his calf muscle just he wouldn't have to fight Patricio a second time. Yep. That's exactly what happened. Or maybe not. I'm sure there is some Bellator executive who thinks this is some sort of karma for Patricio being critical of Bellator for the way they treated him when they booked the Pat Curran-Daniel Straus rematch instead of giving him the title fight he earned by winning the Season 9 Featherweight Tournament. Now he has to wait even longer to get his shot. Oh well. At least he can keep his brother company while he recovers from injury. The replacement main event for the show is a heavyweight battle between former title challenger Eric Prindle and MMA journeyman Josh Thompson. That means there's a good chance someone is either getting kicked in the balls or will have their ear explode. Hey, works for me. Plus, they added Sokoudjou to the card. That's..um...something. HEY! THEY'RE DOING THE BEST THEY CAN! GIVE THEM A BREAK!

I feel better now.

***HORN SOUNDS***




Round Five, I've Worked Hard For This...

***TOUCH OF GLOVES***

Once again, it's been a fairly light week as far as real news goes. I had a pretty rough week due to some health issues in my family, although I still managed to get a column put up. It was also Memorial Day yesterday, which is a big day for military veterans and fans of charred meat alike. So, with all that in mind, I'm going to do something that I haven't done before. Something that I don't know if any previous host of this column has done before. Something that I know Georges St-Pierre hasn't done before (or at least not in a really long time): I'm ending this fight. That's right. I'm finishing this.

OFFICIAL RESULT: †WINNER – and NEW 411 Five Quick Rounds champion Evan Zivin via TKO at 2:26 of Round 5

I DID IT YOU GUYS!!!! I WON THE TITLE!!!!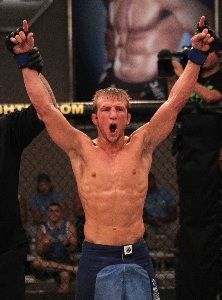 Oh man. This is incredible. I'm so overcome with emotion right now that I don't know what to say, so I'll say something. I worked hard for this. I trained hard. I ate hard. I slept hard. I wouldn't recommend doing that last one, though. It's not good for your back. I came into that cage and gave everything I had and I knew I won the fight when the referee raised my hand after it was over. That seemed like a pretty obvious indicator. I never doubted myself for a second. Too bad every single MMA writer on the Internet did. Screw them. Rashad Evans had my back. He said in the pre-show that I could win this fight. He's a smart, sexy man who clearly smells nice and knows what he is talking about. Chael Sonnen is crazy. How dare he accuse me of faking an injury. He doesn't know where I've been, what I've been through. Nobody can understand other than all of the other people who know where I've been and what I've been through. They're allowed to understand but that's it. So I want to end this by thanking my sponsors, my friends, my family, my fiancee who may have only agreed to marry me in the hope that I would make a lot of money, and to all my young fans. Remember kids: always follow your dreams. I am told that if I say that, it goes towards my community service requirements. I swear that hardware store just jumped in front of my car. Watch the security footage. In closing, I'm thankful to have won this belt because now I have something to keep my pants up. Thank you, everyone.

That's it for Five Quick Rounds. Thanks for reading. If you have any questions, comments, or suggestions, and it is always appreciated when you do, leave them in the comments section. I will be back in 7 for another Five Quick Rounds. There are more fights than you can shake a Junior dos Santos at this Saturday. Enjoy the fights and remember to fight clean, fight hard, fight fair, and never leave it in the hands of the judges...




LATER!!!!!!!!!!!!!!!!!!!!!!!!!!!!!!!!!!!!
comments powered by