SPOTLIGHTS
Five Quick Rounds 06.03.14: Night of Too Many Fights, No Longer Starring Wanderlei Silva, More
Posted by Evan Zivin on 06.03.2014

From Wanderlei Silva being pulled from UFC 175 and Vitor Belfort stepping in to fight Chael Sonnen to the results of Fight Night 41 and the TUF Brazil 3 Finale, 411's Evan Zivin examines these stories and more!

Hey hey, fight fans, and welcome back to Five Quick Rounds! I am your host, Evan Zivin, and I am more excited than a confused World War II historian to be here once again!

Traditionally, The Battle of the Bulge has been known as one of the bloodiest fights that took place between Allied and German forces back in 1944. Now, almost 70 years later, it's about to take on a whole different meaning, as it was announced that Mark Hunt and Roy Nelson are going to square off in the main event of a Fight Night card in Japan this September. Aw, hell yeah. Two big men who love nothing more than trying to take their opponent's head off? Sign me up for that. The fight will be Hunt's first since his Fight of the Millennium against Bigfoot Silva, while Roy will look to get another win streak going after he already ruined Antonio Rodrigo Nogueira's day back in April. Both men have very heavy hands but they both also possess very strong chins. Hunt has only been knocked out twice in his career and Nelson, only once. It will be interesting to see if they can get their right hands to land and, if they do, what happens. Who will fall first? Man, this fight is so exciting, I may almost buy Fight Pass for a month. Almost.

All right, so with fighter introductions out of the way, I have five more rounds of MMA news and opinions to throw at you. This week, we look at Wanderlei Silva being pulled from UFC 175, Vitor Belfort stepping in to face Chael Sonnen, the results of UFC Fight Night 41 and the TUF Brazil 3 Finale, and Bellator's presumed success on Payperview. Let's to it do it.

FIGHTER YOU READY!!!!
FIGHTER YOU READY!!!!

FIGHTER!!!!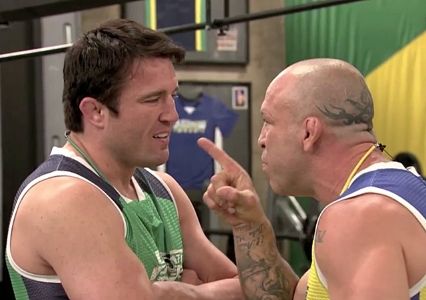 Round One: Wanderlei Silva Pulled From UFC 175, The Double Turn is Complete

***TOUCH OF GLOVES***

Chael Sonnen was expecting to go to Brazil to film the third season of their version of The Ultimate Fighter as the villain. Chael has espoused plenty on how he enjoys being "The Bad Guy" (also: plagiarizing professional wrestlers) and it makes sense why he would say that. It's that villain role that brought him to the heights of MMA stardom. It's that villain role that has made him one of the most popular fighters in the company despite never winning a championship or even having beat any real top-ranked competition. It got him three title fights, one of which was at a weight class he had never competed in prior to it. Being perceived as bad by those who haven't caught on to the fact that it's all an act has brought Chael so much that he never would have gotten if he continued to be quiet and humble, like the majority of UFC fighters that you don't care about. Chael enjoys playing that role and was prepared to play it opposite Wanderlei Silva, one of the most revered fighters in the world, most especially in his home country of Brazil. With all the negative things Chael said about Brazil and Anderson Silva and the Nogueira brothers, it should have made for an easy sell on television and their showdown at UFC 175. That is, until Wanderlei proved Chael to be the calm, rational one with his overly-emotional, unhinged antics. It was similar to the Ronda Rousey-Miesha Tate season, except with more staged brawling. Either way, it had the effect of making Chael look good in the eyes of the Brazilians who wanted to hate him and made Wanderlei look like a fool in front of his friends and countrymen. At least Wanderlei will have their big showdown at UFC 175 to prove who is ultimately the better man.

Or, Wanderlei will use that fight to prove he truly is "The Bad Guy" by getting himself pulled from it, which is exactly what happened this week. There were two reasons for his dismissal. The major reason was he skipped out on a drug test. During the weekend of UFC 173, both Chael and Wanderlei were asked to submit to a random drug test by the Nevada Athletic Commission. Chael agreed but Wanderlei didn't. To make the situation even nuttier, Chael says the NAC came to Wanderlei's gym to test him and he just slipped out a side door. So THAT'S why buildings have those: to escape athletic commissions. Wanderlei has never failed a drug test in his MMA career but this won't help any perceptions that he uses outside of competition. It may lead to the other reason he was pulled from the fight, that he hadn't applied for a license yet. That's not as big a deal, though, because I'm pretty sure you have almost until the night of the fight to get a license. Yeah, he could have done it already but he didn't necessarily have to. Also, can Nevada make fighters submit to drug tests when they don't have licenses to fight? Possibly. They can't ban you if you don't have a license but they can prevent you from receiving one. I think. Wanderlei's explanation for all this was he wanted to wait until after the TUF Finale to focus on UFC 175. This leads me to believe that Wanderlei isn't a cheater or even a bad person: he's just an idiot. If the commission tells you to do something, you do it. That is, if you want to fight in that state (or anywhere else in this country). Dana White said Wanderlei isn't being let go but it may be a while before we see him fight again. Oh well. At least it will give him time to install more side doors in his gym. You never know when you might need them.

***HORN SOUNDS***




Round Two: TRT Issues Have Magically Been Solved as Vitor Belfort Steps in to Fight Sonnen at UFC 175

***TOUCH OF GLOVES***

The loss of the Wanderlei Silva fight is both good and bad for "Stone Cold" Chael Sonnen. It's bad in the fact that it's a fight that has been years in the making and is one that both men, as well as many fans, wanted to see happen. The rivalry between these two men goes back to when Chael made his initial negative comments towards Anderson Silva and Brazil and Wanderlei told Chael to show more respect. Chael did show more respect, for himself at least, and it was Chael's victory over Wanderlei's friend and teammate Shogun Rua last August that re-ignited interest in this fight. There were plans for it to take place last fall but that fell apart becase Wanderlei was injured. Then the fight was made as the culmination of a season of The Ultimate Fighter that would surely garner more viewers in Brazil than UFC has been able to get to order Payperview for the last five years. The big clash was all set....for UFC 173, before it was pushed back a week to headline the TUF Finale card. Then it ultimately got moved to UFC 175 in July because Wanderlei injured his back when Chael took him down in that totally-not-staged brawl that is the only thing people will remember from that show, assuming people are even aware the show happened. We were willing to wait for the fight, mainly because we had no choice, but also because it was sure to be a fun one. The fight may have had little meaning in the grand scheme of things as far as rankings and title contendership goes, but I'd still pay to see it. Well, if I had money I would.

But that's the thing. For Chael, it would have been satisfying to finally face Wanderlei after all that has gone on between the two but, win or lose, the fight would do nothing for his standing in the UFC. Now it's a completely different situation, as Chael's new opponent has been announced as none other than Mr. TRT himself, Vitor Belfort. Now Chael has gone from a meaningless brawl at light heavyweight to a middleweight clash that could determine the next title challenger at 185. Well, it will for one of the guys, although I would think if Chael is somehow able to defeat Vitor that he could leapfrog the line for a title shot, especially if he starts making a lot of noise like only he is able to. The fight is an interesting one because it's a fight between two men who frequented Testosterone Replacement Therapy fighting for the first time since the use of it was banned in Nevada. It's even more puzzling because Vitor was originally supposed to fight Chris Weidman for the middleweight championship at UFC 173 but pulled out (or was pulled) from the fight due to the ban of TRT and the amount of time it would take for him to properly transition away from using fake testosterone. It was not too long after that announcement that Chael Sonnen and Dan Henderson, who also used TRT, were booked for that very event. Why didn't they also require a transitional period? Was UFC being overly cautious to protect Belfort? Was it all a cover-up for the real reason he was pulled, that he failed a random drug test a few weeks prior? I don't know. I don't really care either. I just want to see Vitor kick somebody's head off again. Better wear a helmet, Chael. I don't care that it's not allowed. Do it anyway.

***HORN SOUNDS***




Round Three: Fight Night 41, Gegard Mousasi Goes Blitzkrieg Bop on Mark Munoz in Berlin

***TOUCH OF GLOVES***

There. I deflected a bad Nazi joke by turning it into a bad Ramones joke. I'm amazing. So let's attempt to talk about the doubleheader that UFC pulled off on Saturday. First off, does UFC not care at all about complaints that they are over-saturating their product with too many shows? Does it not concern UFC that part of the reason they are failing to create new stars is because of the impossibility of promoting a fight card as a big deal when it's only been six days since the last "most stacked UFC event in history"? Do they really think it's better for the sport's image to have more events, most of which are watered down with fighters most people have absolutely zero interest in seeing if they don't know the fighters personally, versus having fewer cards that are legitimately stacked with good talent from top to bottom? Dana White says he wants UFC to be the NFL of MMA and it is in the fact that, for most people, UFC is synonymous with MMA in the same way that the NFL is synonymous with football. It's doubtful UFC will ever do the same kind of business the NFL does for a variety of reasons that I won't get into here but one of the nice things about the NFL, as well as other major sports, is there aren't games every single week of the freakin' year. It's nice having a period of the year where there aren't games happening; when you can rest and recharge and get yourself excited for the next season. UFC can't do that, as they have no off-season, but it couldn't hurt to give a little more space between events. You're burning us out. Knock it off.

The point of that poorly-written rant was just to say that having two events on the same day, when you continue to receive criticism over having too many events and spreading your roster too thin, was not the best idea in my opinion. The shows were all right though. I guess. I dunno. I didn't see all the fights because I didn't feel like spending the entire day watching UFC. I like to pretend I have other things going on in my life if only to get my parents off my back for a little bit. Don't judge me. If you do, you'll probably just end up awarding the decision to Sean Strickland. The top two fights of UFC's debut in Berlin, Germany were decent, though. the co-main event saw C.B. Dollaway bring the violence to Francis Carmont by dropping Carmont in the first round and using his wrestling to pound on the Frenchmen to earn a unanimous decision victory. The main event saw Gegard Mousai's finest hour (or, more accurately, four minutes) in the UFC thus far by completely shutting Mark Munoz down. Mousasi's grappling defense is miles from where it used to be as he stuffed or reversed every takedown Munoz attempted. Mousasi overpowered Munoz with little difficulty, taking Munoz's back off a takedown attempt and ended the fight quickly with a rear naked choke. Munoz got outgrappled in a way that hadn't been seen before by a guy who isn't primarily known for his grappling. That's impressive. With the win, Mousasi shoots himself up the rankings and possibly puts himself in line for a title shot with another win. He'll likely need another win before getting a shot as he'll be waiting for Chael to fight the winner of Weidman/Machida *WINK*.

***HORN SOUNDS***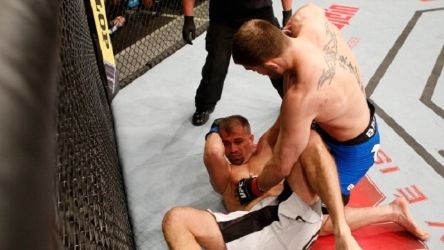 Round Four, TUF Brazil 3 Finale, Stipe Miocic Goes JDS on Fabio Maldonado in Brazil

***TOUCH OF GLOVES***

If we were to base the quality of Saturday's shows off the number of decisions on both cards, The TUF Brazil Finale just edges out Fight Night 41 by a score of 5-6. That number looks better when you realize there were two more fights on the Brazil card than the Germany card. Not bad. Plus, the main event was also a quick and destructive fight. It was even quicker and more destructive-er than the Mousasi-Munoz fight. The main event of this show, after Chael-Wanderlei was moved because Wandy presumably didn't want to agree to the fight until after the Brazil card was over, was former UFC heavyweight Champion Junior dos Santos vs. Stipe Miocic, the closest thing we have to Mirko Cro Cop still being in the UFC. I mean, he's not Croatian (he's an American of Croatian descent, there's a difference) and he doesn't throw head kicks that kill but he wears the checkered shorts. That's something. He's also a good fighter who has slowly been turning into a championship-caliber competitor. I don't think he's good enough to beat JDS yet but he could be someday. Maybe it's a good thing that day wasn't last Saturday, as JDS pulled out of the fight with an injury and was replaced by scrappy boxer Fabio Maldonado. Maldonado has only competed at light heavyweight in the UFC but he's fought at heavyweight in the past so I don't imagine him stepping up in weight was really all that big a deal. All fighters are punchable no matter how much they weigh. Those are words you can live by.

If Miocic wanted to establish himself as a top fighter worthy of facing top competition, there was only one outcome that would have sufficed here: a quick ass-whooping. Well, that's exactly what we got. It only took Stipe 35 seconds to drill Maldonado with a right hand, dropping the Brazilian and leading Miocic to the fastest stoppage of his UFC career. If I could offer Maldonado one bit of advice, it's this: don't try to block punches with your head. Not the best defensive strategy. So, it wasn't a win over JDS but this win will still be useful for Stipe as it keeps his standing in the heavyweight rankings intact while giving him something new to add to the highlight reel. It was definitely a more exciting performance than the one Demian Maia had. He faced off against newcomer Alexander Yakovlev, a Russian who got this opportunity after Mike Pierce pulled out of the fight. It was a fight most assumed Maia would win in dominant fashion but it ended up being a relatively uninteresting three round decision. It's not certain what Maia's excuse will be for not crushing Yakovlev but I'm sure it will come out in the next week or two. The event also saw the crowning of new TUF winners in Warlly Alves and Antonio Carlos, Jr., both of whom have already announced they will be dropping in weight for future UFC fights. It really says something about the quality of the talent UFC is able to find for the show when the contracts are won by undersized guys fighting outside their normal weight class. Regardless, I'm happy for both guys, mainly because I picked both of them to win without watching any of the fights from TUF Brazil 3. Take THAT, Kenny Florian and Gilbert Melendez. And you guys actually get paid to make this stuff up.

And that was UFC's Doubleheader experiment. It's a good thing they're giving us time to recover from that, by which I mean there's another fight card this Saturday. It. Just. Won't. Stop.

***HORN SOUNDS***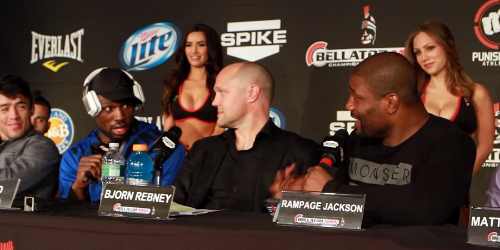 Round Five: Bellator Performs Well on Payperview, UFC is *TOTALLY* Cool With it, No, Seriously

As a community, we are a pessimistic bunch. Most of us weren't expecting the Bellator Payperview to perform all that well. The show originally had a decent headliner in Eddie Alvarez vs. Michael Chandler, but it's not like either man is a household name. Those of us "in the know" were aware that a third fight between those two was more than likely going to be a good fight, but that alone wouldn't be enough to convince the casual fans who make or break these kinds of events to order it. Then, things took a turn for the worst when Alvarez got injured and the main event collapsed a week out from the fight. Personally I don't think it affected things as much as we want to pretend it did because the new main event became Rampage Jackson vs. King Mo, a fight where the stakes weren't nearly as high as a title fight but it featured two trash-talkers whom genuinely don't like each other, and everyone loves a good grudge match. Yeah, the fight itself didn't turn out very good but that made little difference to the buyrate since I don't think there were too many people still deciding over whether to order the show two minutes before the main event. Maybe there are people who do that. I dunno. Seems kind of pointless but that's just me. Either way, a lot of crazy stuff happened prior to Bellator 120 and a lot of crazy stuff happened during it (bad judge's decisions, Tito being Tito...) that gave the hardcore community a lot of reason to think the show would do poorly and that it was pointless for Bellator to even attempt Payperview in the first place. Yeah, we're great at dinner parties.

Well, it appears that the Payperview ended up doing a lot better than people thought. With early estimates being anywhere from 30,000 buys up to 65,000, the latest word is that Bellator 120 broke the 100,000 buy threshold. This is according to "sources" close to Sherdog and MMAfighting.com, which may mean that Dave Meltzer just pulled the number out of his ass but he's usually pretty good with this sort of thing (wrestling rumors, on the other hand...). That's good news for Bellator, as that's only 40,000 buys from the lowest number UFC has pulled in the last few years (UFC 147). It's a very good number for a first time out and if they can continue to increase business for their weekly events, they may be able to draw an even bigger number the next time they do Payperview. The promotion may actually become a competitor to the UFC, but it's too early to know for sure. All I know is that UFC isn't sweating things just yet. Well, other than the announcement that UFC will be holding a Fight Night event on September 5th, the same night as the kickoff to Bellator's Season 11. Not only that but the UFC event will take place at the Foxwoods Resort Casino in Leyard, Connecticut, which is about 10 miles away from the Mohegan Sun Arena where Bellator will be. If I knew better, I'd say UFC intentionally did that to undercut Bellator a little bit for doing so well on a platform that most felt was owned by the UFC, but I don't know better so I'll just say it's a coincidence that UFC is doing a Friday night show for seemingly no reason. Yup. Ignorance, yay!

***HORN SOUNDS***

That's it for Five Quick Rounds. Thanks for reading. If you have any questions, comments, or suggestions, and it is always appreciated when you do, leave them in the comments section. I will be back in 7 for another Five Quick Rounds. Ben Henderson and Rustam Khabilov go at it this Saturday. Enjoy the fights and remember to fight clean, fight hard, fight fair, and never leave it in the hands of the judges...




LATER!!!!!!!!!!!!!!!!!!!!!!!!!!!!!!!!!!!!!!!!!!!!
comments powered by