SPOTLIGHTS
Jones Demanding Cormier Before Gustafsson is Smart...and Crazy
Posted by Dan Plunkett on 06.03.2014

Jon Jones reportedly wants a fight with Daniel Cormier before he takes on Alexander Gustafsson again! Is it a smart move for the light heavyweight champion or a crazy one? 411's Dan Plunkett examines how it might just be both!

About this time a year ago, Jon Jones had two options for his next title contender. Jones ruled out one of those options, reasoning that he had already beaten the opponent, the match did not draw well, and, in a spark of honesty, the opponent was very tough. He instead opted for a young contender nobody thought could beat him, insisting this opponent provided an intriguing challenge nobody in the division could match.


In September, Jon Jones fought that second option – a Swede named Alexander Gustafsson. The match was closer than anybody – sans those closest to Gustafsson – expected. It was a five-round battle of attrition that captured numerous 'Fight of the Year' awards and will be remembered as one of the best championship fights in mixed martial arts history.

Jon Jones' position then, as it is now, is that he clearly won the fight, although Gustafsson proved to be his toughest challenge by a significant margin. Many called for an immediate rematch, but instead Jones moved on to a new contender as Gustafsson was promised another title match with a victory against the largely untested Jimi Manuwa. Both Jones and Gustafsson won, and August 30 was pegged as the target date for the rematch. Then, the enormously talented Jones saw his interest in the rematch dwindle.

"[Jones] doesn't want to fight Gustafsson," UFC president Dana White told UFC.com. "Lorenzo [Fertitta] and I have a meeting with Jones on Thursday to get him to sign the bout agreement, and he's asking to fight [Daniel] Cormier instead."

Jones has already beaten Gustafsson. The match drew an estimated 310,000 buys on pay-per-view – the lowest total of Jones' career as a headliner. A rematch could not be counted on to reach the business heights Jones has reached against opponents like Rashad Evans, Quinton Jackson, and Chael Sonnen. It may even perform no better than the estimated 480,000 buys Jones' match with Machida reached. The financial benefit of fighting Gustafsson does not match the physical risk of facing such a tough opponent.

The diversion of interest from Gustafsson to Cormier could be a negotiation tactic by Jones; as recently as last week UFC was publicly seeking a new deal with him, although White denies UFC is in contract negotiations with Jones. Or, it could be a remarkable stroke of genius and the mark of an irrepressible competitive drive.

Daniel Cormier is 35-years-old and past his physical peak. However, because he began competing at the age of 30, he has grown as a fighter as he has advanced in age. His rivalry with Jones has spanned years and began when they competed in different organizations. At their first meeting, Jones was unfamiliar with Cormier, a decorated wrestler, and remarked that he could take him down. Ever since, Cormier has spoken of fighting Jones. In February, he made the first step by finally dropping down to the light heavyweight division. Until very recently, Jones had written off a fight with Cormier, claiming the Olympian had not earned the chance to face him.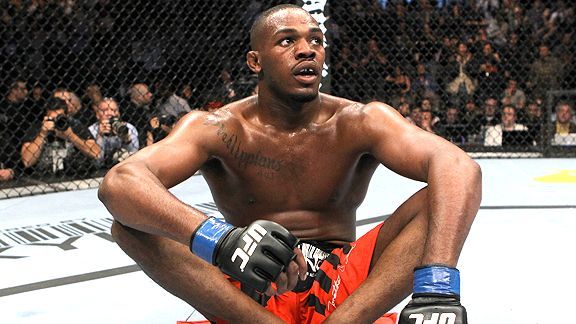 A well-promoted Jones vs. Cormier bout would do well on pay-per-view, although "well-promoted" necessitates a strong television build, and Fox Sports 1, UFC's television partner, is hardly where it needs to be to take the match-up to the next level. Cormier is hardly a mainstream name, but search trends indicate interest in Cormier in the United States, Canada, and Australia – the company's largest pay-per-view markets – is greater than interest in Gustafsson.

Despite significant disadvantages in height and reach, Cormier poses unique threats to Jones. Not only is he the best wrestler in the light heavyweight division, he may also be the smartest fighter. He never puts himself in dangerous positions; he never fights to his opponent's strengths; and he is never too aggressive in pursuing a finish. Jones, conversely, tends to not shy away from his opponents' strengths.

Jones vs. Cormier capitalizes on a fascinating style match-up between two virtually unbeaten athletes that also happen to harbor legitimate dislike for one another and does so when the risk of age catching Cormier is at its lowest. Meanwhile, Gustafsson sits on the sidelines and his case for a match with Jones grows. The story behind a rematch with Jones grows. The business potential of a rematch with Jones grows. Still just 27, his skills, a year ago enough to come five minutes away from beating Jones, continue to grow.

If Jones' refusal to fight Gustafsson is posturing for a better deal with the UFC (a move many former stars have used with success), demanding an equally tough opponent should protect his reputation from falling to "ducking" level. If not, Jones' idea of facing Cormier and then Gustafsson is the plan of some kind of maniacal, and confident, genius. He is purposefully lining up his ducks in the most difficult – and lucrative – row possible. That is a fighter. Maybe the best there has ever been.


Dan Plunkett has covered MMA for 411Mania since 2008. You can reach him by email at plunkettdan@yahoo.com.

comments powered by