SPOTLIGHTS
MMA's 3R's 6.05.14: UFC Fight Night 41, TUF Brazil 3 Finale, and Wanderlei Silva's UFC 175 Issues
Posted by Jeffrey Harris on 06.05.2014

From Gegard Mousasi's submission win over Mark Munoz and CB Dollaway beating Francis Carmont to Wanderlei Silva refusing to take a drug test and more, 411's Jeffrey Harris breaks down the Right, the wRong and the Ridiculous from the week in MMA!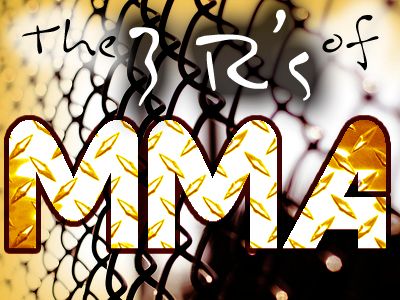 *The Column Concept*
Greetings loyal readers and welcome back to a brand new edition of the MMA's 3R's, where we look at the Right or the good, the wRong or the bad, and the Ridiculous or the absolute worst in the MMA world.

The UFC held two back-to-back international fight cards last weekend. UFC Fight Night 41 was held on Saturday in Berlin, Germany. The same day, The Ultimate Fighter Brazil 3 Finale was held in Sao Paulo, Brazil. Plus a bombshell came out about one of the major fights for UFC 175. So let's get to it.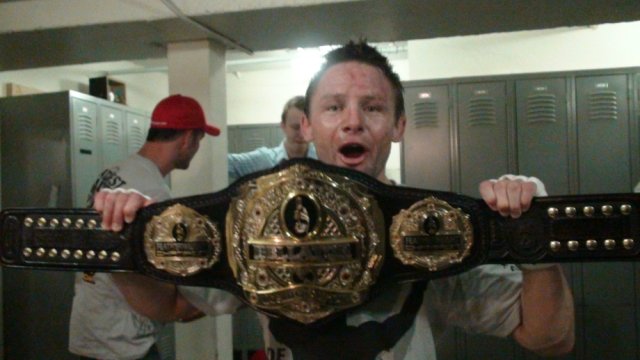 THE RIGHT:


Gegard Mousasi vs. Mark Munoz: Gegard Mousasi finally earned his first stoppage win in the UFC in the main event of UFC Fight Night 41, submitting Mark Munoz in the first round. I was expecting Mousasi to likely beat and stop Munoz, but I wasn't expecting a submission. It was a great, much-needed win for Mousasi. The win over Munoz likely puts Mousasi solidly in the top 10 rankings at middleweight now. Munoz had never been submitted before this fight. Mousasi exhibited great takedown defense against a great wrestler. This appears to be some strong growth in Mousasi's game as other than Machida, his only other loss in recent years was to King Mo who was able to take him down and grind him out to a decision. Luckily for Mousasi, there are a lot of options and fights for him right now at middleweight. Fights with Luke Rockhold or Tim Kennedy could make a lot of sense for his next bouts.


Gegard Mousasi submitted Mark Munoz in the first round at UFC Fight Night 41.

CB Dollaway vs. Francis Carmont: Dollaway scored probably the biggest win of his UFC career, dominating Francis Carmont to win the co-main event at UFC Fight Night 41. Dollaway's UFC career has generally achieved mixed results, but he's been doing very well for himself as of late. He's 4-1 in his last fight fights, the only loss being a close, debatable split decision loss to Tim Boetsch. What's ironic is that Dollaway sort of gave Carmont a taste of his own medicine here. Carmont has often been criticized throughout his UFC career for being a blanketing, dull, unexciting fighters. Now to Carmont's credit, he managed to win six fights in a row in the UFC, though a couple of those wins were questionable decisions. However, fighting that way only got him so far. He broke into the top 10, but then he lost to Jacare. And now he's lost to Dollaway. I don't think Dollaway is an elite fighter or world beater, but I think he is a good fighter and this win should prove it. He's in a very good position right now as this fight was the last win on his current deal, so he stands to make a great deal more when he re-ups based on his recent string of wins and beating a higher-ranked guy like Carmont. Dollaway just looks a lot more motivated now.

Stipe Miocic vs. Fabio Maldonado: Was I big fan of this matchup? No. Do I think it was somewhat of a mismatch? Yes, I'd probably say so. But all that aside, this was the main event that ended up happening. While one can argue it was a lose-lose situation for Miocic, he won the fight and got a quick, impressive knockout. He hasn't had a knockout win in the UFC in over two years since he stopped Shane del Rosario. So, at the very least, he got a payday. He got to put his training to work. He got a quick, impressive knockout for his highlight reel, and he pads his record a bit more. The problem with heavyweight right now is that the ranks have thinned out a bit, so there aren't a ton of options at moment. That's why you can get a title shot off of a couple wins, while someone like Matt Brown has to win about eight fights to one. I'd still like to see Miocic fight Junior dos Santos because they match up very well together. But I wouldn't mind seeing Miocic match up with Josh Barnett or Travis Browne either.


Stipe Miococ scored a quick knockout over Fabio Maldonado in the main event at The Ultimate Fighter Brazil 3 Finale.




THE wRong:

Rony Jason vs. Robbie Peralta: Not a terrible fight, but it went to a split decision, and unfortunately Clucky the MMA Chicken Judge struck again. One judge scored the fight 30-27 for Jason, and another judge scored it completely the opposite for Peralta. We should never see scores like this in MMA. And if a round is really that close, then IMHO it should be a 10-10. But having two judges score the same fight completely in reverse is ridiculous. There is a Brazilian athletic commission in place, and this is the type of thing they need to review because scored like this should never happen. I've never seen a fight a scores like this where the complete reverse scores make sense. It happened in Jamie Varner vs. Melvin Guillard as well, and it didn't make sense either. It was a close fight, but like Larry Csonka, I scored it in favor of Peralta.



Clucky the MMA Chicken Judge was alive and well for both UFC cards last weekend.

Luke Barnatt vs. Sean Strickland: For all intents, I think Barnatt won this fight and should've gotten his fourth UFC win. Unfortunately, the judges disagreed and scored the fight 2-1 in favor of Strickland. While not as bad as the Jason/Peralta fight, we had one judge (Andy Haigh) score the fight 30-27 in favor of Strickland. One (Howard Hughes) had it 29-28 for Strickland, and the other (Mark Collett) had it 29-28 for Barnatt. I really in no universe see how Strickland should've received all three rounds. I assume in this case, UFC regulatory executive Marc Ratner oversaw this event and the promotion hires licensed judges from the states to judge international events such as this.

Jon Jones/Alexander Gustafsson rematch issues: OK so let's try to decipher some of what's been going on as of late. Jon Jones campaigned against fighting Alexander Gustafsson in an immediate rematch after their Fight of the Year Candidate at UFC 165 last year. As a result, Jones was matched up with Glover Teixeira, and he won that fight. Gustafsson was paired up with Jimi Manuwa. The plan was if both fighters won their respective battles, we would inevitably be seeing that rematch. Now this hasn't kept Jones from trolling and refusing to talk about Gustafsson even calling him a "kid," and trying to campaign for Gustafsson and Daniel Cormier to fight each other. Cormier is another guy who has been angling for a fight with Jones for a while. And now that Cormier has proven he can make light heavyweight and be just as dominant there, that fight is also a potential reality. Previously, Dana White had made statements to the press suggesting they were trying to sign Jones to a new deal. They announced that Gustafsson signed his bout agreement and tentatively scheduled the Jones/Gustafsson rematch for August 30 in Las Vegas at UFC 177. However, now Dana White is amending his statements and said Jones is still well under contract with the UFC, but Jones just isn't keen on fighting Gustafsson in a rematch. Who does he apparently want to fight now? Daniel Cormier. Oy vey. Now Jones had some suggestive tweets out there. He put the following tweet out there: "Let's make a distinction between bad business and bad press." Now if Jones is trying to renegotiate and angle for better deal, and if that's within his rights to do, then I guess good for him. Gilbert Melendez and his management team held out for a bigger deal, and that deal paid off very well for them. However, if Jones is under contract and he's just refusing to fight Gustafsson, he shouldn't do that. Jones should recognize that people want to see this fight, and a rematch could be very profitable for him as the champion. If he really believes he's better than Gustafsson, and he wasn't motivated for the first fight, why not get motivated for the rematch and beat him even more decisively or even finish him? Ultimately, I'm just kind of annoyed by this whole situation, and I hope it gets resolved soon. I think Jones/Gustafsson II is the fight to make right now. I mean, I want to see Cormier get his shot, but Cormier opted to move down, so he opted to take the longer road for a title shot instead of trying to fight Cain Velasquez.


Who will Jon Jones fight next?
THE RIDICULOUS:

Wanderlei Silva bails out on drug test, out of UFC 175: OK so as the story goes, Wanderlei Silva was picked to be randomly drug tested for his upcoming fight with Chael Sonnen set for UFC 175 in Las Vegas in July. According to reports, Silva ran away from the representative who arrived to administer the test. Silva has also not applied for a license to the fight. So who is stepping up to try and salvage things? None other than Vitor Belfort. Belfort is on the agenda for the Nevada State Athletic Commission to get licensed this month. Silva in an attempt at damage control released a video trying to defend his actions. You can watch the complete video below. Silva stated, "This is the fight I wanted the most in my entire life. And I will do everything I can to make this fight happen. All this will get resolved and I will be there on July 5th to put on a great show for all of you, my friends." Yeah Silva, I don't think that is happening. I've said it before and I'll say it again. I refuse to believe that all those fighters in their heyday in Pride FC were all on their honor system and not juicing. Wanderlei Silva is no exception. And I realize Chael Sonnen is no choir boy either. But all reports indicate that Sonnen followed protocol for this fight, and he was randomly tested as well. As far as I'm concerned, refusing to take a drug test is the same as a drug test failure. I'm not buying Silva's excuses. He should not have released this video. All of this is Wanderlei Silva's fault, and he only has himself to blame.


"This is all a big confusion."


That's it for the R's. But what else is going on at 411mania.com with yours truly, the 411mania Jack of All Trades?

In movies, check out my official review of A Million Ways to Die in the West.

Also check out my review of the No. 1 movie last weekend, Maleficent.

Like the awesome new digital series, Street Fighter: Assassin's Fist? Check out my new exclusive interview with star Joey Ansah, who plays legendary franchise character Akuma. He also directed and co-wrote the series.



* TWITTER *
* http://www.twitter.com/411mma *
* http://www.twitter.com/411wrestling *
* http://www.twitter.com/411moviestv *
* http://www.twitter.com/411music *
* http://www.twitter.com/411games *
comments powered by