SPOTLIGHTS
411's MMA Roundtable Preview - UFC Fight Night: Henderson vs. Khabilov
Posted by Dan Plunkett on 06.06.2014

Ben Henderson faces Rustam Khabilov in the main event of UFC Fight Night 42! Plus Diego Sanchez fights Ross Pearson, John Dodson battles John Moraga and more! Check out the full roundtable for all the details and join 411 for LIVE coverage of the event Saturday night!




WELCOME:
Former champion Benson Henderson faces Rustam Khabilov in the main event UFC Fight Night on Fox Sports 1! In the co-main event, Diego Sanchez battles Ross Pearson. At flyweight, contenders John Dodson and John Moraga square off. Also, Rafael dos Anjos looks to get back in the win column against Jason High. Plus, Yves Edwards fights Piotr Hallmann, Erik Perez vs. Bryan Caraway, and more!

THE STAFF:


From MMA's 3R's, Jeffrey Harris!


From Five Quick Rounds, Evan Zivin!


He compiles 411's MMA rankings, Jonathan Solomon!


And your host, Dan Plunkett!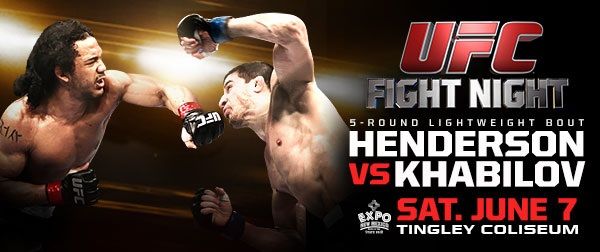 THE PRELIMINARY CARD:




First prelim on UFC Fight Pass, rest on Fox Sports 1.




Light Heavyweight Bout: Patrick Cummins vs. Roger Narvaez



Jeffrey Harris: Narvaez, TKO, Round 1
Evan Zivin: Patrick Cummins, Submission, Round 2
Jonathan Solomon: Patrick Cummins, Decision
Dan Plunkett: Cummins, Decision.
The staff picks Patrick Cummins, 3-1.



Lightweight Bout: Jon Tuck vs. Jake Lindsey



Jeffrey Harris: Jake Lindsey, Decision
Evan Zivin: Jake Lindsey, Decision
Jonathan Solomon: Jake Lindsey, TKO, Round 1
Dan Plunkett: The Librarian, Decision.
The staff picks Jake Lindsey, 4-0.



Flyweight Bout: Scott Jorgensen vs. Danny Martinez



Jeffrey Harris: Scott Jorgensen, Decision
Evan Zivin: Scott Jorgensen, Decision
Jonathan Solomon: Danny Martinez, Decision
Dan Plunkett: Jorgensen, Decision.
The staff picks Scott Jorgensen, 3-1.



Welterweight Bout: Bobby Voelker vs. Lance Benoist



Jeffrey Harris: Lance Benoist, Decision
Evan Zivin: Lance Benoist, Decision
Jonathan Solomon: Bobby Voelker, Decision
Dan Plunkett: Bobby Voelker, Decision.
The staff picks a draw, 2-2.



Bantamweight Bout: Yaotzin Meza vs. Sergio Pettis



Jeffrey Harris: Pettis, Decision
Evan Zivin: Sergio Pettis, TKO, Round 2
Jonathan Solomon: Sergio Pettis, TKO, Round 2
Dan Plunkett: Pettis, Decision.
The staff picks Sergio Pettis, 4-0.

---




THE MAIN CARD:




Bantamweight Bout: Erik Perez vs. Bryan Caraway



Jeffrey Harris: This is a good fight for both guys. Both men are ranked just outside the top 10 bantamweights. An impressive win here is a good resume builder or possibly shoots them up the rankings. Perez had some high expectations due to being a prospect that could help UFC break into Mexico. He came onto the scene and scored three straight Octagon wins, but he failed his first big test when he was matched up against Takeya Mizugaki. Bryan Caraway also shares a loss to Mizugaki as well. Perez came back with a dominant win over Edwin Figueroa. Caraway is a good test to for Perez since he's just below him in the rankings, but he's also a formidable wrestler and grappler. Caraway's 3-1 in the UFC with all three wins coming by way of submission. I see this being a tough grinding battle, but Perez will ultimately edge out Caraway on points, since Caraway will try to "coast" to victory in the final round.

Winner: Erik Perez, Decision

Evan Zivin: Erik Perez is still a bit of a work in progress. He got three first round finishes against lesser competition in the UFC before running into a wall named Takeya Mizugaki. He rebounded with a decision in his last fight but the question remains how good is he at this point. Can he beat someone like Bryan Caraway? Caraway hasn't beaten any top ranked guys but he did have a very close fight with Mizugaki himself. I feel if Caraway can get this fight to the ground he can grind out a decision. Can he do that? Probably. If not, he'll be looking up at the lights at some point.

Winner: Bryan Caraway, Decision

Jonathan Solomon: While Erik Perez is usually criticized for not fighting better competition (aside from Takeya Mizugaki), he appears to be passed that now. Bryan Caraway may not be a top bantamweight contender, but he is a great measuring stick to see where your place is at 135-pounds. His skill set lays in his grappling as he's effective at securing takedowns and punishing opponents with strikes or submissions. Perez is typically a striker and is definitely more dangerous with his hands than Caraway. As long as he can stay off his back, the lucha mask-wearing (at least before the fight…if Dana White's not a party popper) Perez should wear down the Washington State native.

Winner: Erik Perez, Decision

Dan Plunkett: Perez has power in his punches but can be wild. I think Caraway's superior grappling leads him to victory here.

Winner: Caraway, Decision.

The staff picks a draw, 2-2.

---




Lightweight Bout: Yves Edwards vs. Piotr Hallmann



Jeffrey Harris: This could very well be Yves Edwards last shot to prove he belongs in the UFC. His losses to Daron Cruickshank and Isaac Vallie-Flagg were close decisions, but then he was knocked out by Yancy Medeiros. The loss was overturned to a No Contest because Medeiros failed a drug test for marijuana, so here we are. I was actually quite impressed with Piotr Hallman in his UFC debut as he submitted an experienced veteran in Francisco Trinaldo. He lost a tough fight to Al Iaquinta, but I think this is a winnable match for him. Edwards is a tough, dangerous veteran, but his best days as a fighter are behind him. I see Hallman catching Edwards with a submission at some point.

Winner: Piotr Hallman, Submission, Round 2

Evan Zivin: This fight is harder to predict than it should because it depends on if Yves manages to find and unleash some classic Thugjitsu one last time, like he did against Jeremy Stephens. If he can't, then he's going to have a long night. Hallman is a decent fighter with as many knockouts as submissions in his career. I don't know if Hallman will be able to finish Edwards but the Polish fighter should have little trouble controlling the action and getting ahead of Edwards relatively quickly. I hope this isn't Yves' last UFC fight but if it is, it's been an honor to watch him compete for so many years.

Winner: Piotr Hallman, TKO, Round 3

Jonathan Solomon: Yves has had over 60 official professional fights and is always entertaining but the 37-year-old was brutally knocked out in his last fight. He has not won since 2012, so Edwards needs a good performance here, possibly even to protect his spot in the UFC. Hallmann is a Polish prospect who lost to Al Iaquinta in October, ending his 10-fight win streak. He submitted Francisco Trinaldo in his UFC debut late last summer. While he may not be as prolific a striker, Piotr should be the stronger of the two and that makes him the favorite as long as he can keep the distance close.

Winner: Piotr Hallmann, Submission, Round 3

Dan Plunkett: The former uncrowned champion of the lightweight division, Yves Edwards, 37, is on the back end of his career. Hallmann isn't great, but I see him being one step ahead of Edwards the whole fight.

Winner: Hallmann, Decision.

The staff picks Piotr Hallmann, 4-0.

---




Lightweight Bout: Rafael dos Anjos vs. Jason High



Jeffrey Harris: This is a good fight for Rafael dos Anjos after the loss to Khabib Nurmagomedov. So we shall see how dos Anjos bounces back from such a disappointing loss that dashed his hopes of getting to the title. Dos Anjos is still highly ranked, so he will want to avoid a loss at all costs here. Jason High has never been all that exceptional throughout his career, but he did manage to go 3-0 in Strikeforce after going 0-1 in his first UFC run. He came back into the UFC and has since won his last two fights after losing to Erick Silva in his UFC return. Jason High has some good wrestling and grappling skills, but he's lost almost all of his major battles. Rafael dos Anjos, since he became a much better lightweight, will be too much for High.

Winner: Rafael dos Anjos, Decision

Evan Zivin: What the hell kind of match-up is this? Dos Anjos has been fighting ranked competition for the last year. High is entering this fight off wins against Nobody and Who Gives a Crap. Are you that desperate to get Dos Anjos another win, Joe Silva? Is that the game you're playing here? Oh well. At least this guarantees one fight should end in a finish.

Winner: Rafael dos Anjos, Submission, Round 2

Jonathan Solomon: Here is a big opportunity for Jason High (@KCBanditMMA) as the longtime welterweight is moving down to lightweight to take on a top-ten contender in Rafael dos Anjos. High is 2-0 in his past two fights and steps right into the fire in his new weight class. RDA was a potential title contender before losing to undefeated Khabib Nurmagomedov in April. RDA has been more effective using his striking to set up the rest of his game while High, a Division I wrestler, looks to power through his opponents with unabashed takedowns. Whether RDA finds trouble in defending those shots may be the key to High's opportunity to win this fight. We saw dos Anjos struggle against Nurmagomedov but that's a tough comparison to make for the former welterweight High. Don't underestimate Rafael's power, either. High will need to mix up his looks to keep the Brazilian off guard. A win for "The Kansas City Bandit" and he is instantly established as a contender at 155-pounds, but a loss and he's nothing more than one of the many names looking to find their foothold.

Winner: Jason High, Decision

Dan Plunkett: This is a quick turnaround for dos Anjos, who lost to Khabib Nurmagomedov on April 19. This is a match Rafael should win, although I see High being competitive for some time before tiring out.

Winner: Rafael dos Anjos, Submission, Round 3

The staff picks Rafael dos Anjos, 3-1.

---




Flyweight Bout: John Dodson vs. John Moraga



Jeffrey Harris: Here's a flyweight fight with a lot of potential between the No. 1 and No. 5 ranked flyweights. A win here for Dodson could easily put him back into the mix for a title shot. His fight with Demetrious Johnson was very close, and he hurt Johnson badly early on before Johnson rallied back to win on points. Dodson will have a serious edge here with both his speed and also the power in his hands. Dodson has some crazy, deceptive power in his hands that will give him a distinct edge here. He knocked out the current reigning bantamweight champion to win The Ultimate Fighter, and Dodson did that at a higher weight class. Dodson will eventually connect and put Moraga away.

Winner: John Dodson, TKO, Round 2

Evan Zivin: Ah, the classic Battle of Former Title Challengers. You could make a fair prediction of this fight just based off how both men performed against Flyweight Champion Demetrious Johnson, as Moraga got his ass kicked and finished in the fifth round, whereas Dodson lost a much more competitive unanimous decision. As good as Moraga is, although Dustin Ortiz totally won that fight, Dodson is a tough match-up. His striking style is unorthodox and he rarely stops moving throughout his fights. It's what helped Dodson defeat Moraga back in 2010. That's right. These two have fought before and Dodson won. Will things be any different this time? Nope. Go get him, you little gremlin.

Winner: John Dodson, Decision

Jonathan Solomon: Dodson is one of the more entertaining fighters to watch because he's so fast. He's a top flyweight contender looking to earn a rematch with champion Demetrious Johnson after losing to him in 2013. We last saw him fight in October and knock out Darrell Montague - yes, a flyweight with legitimate one-punch KO power. Moraga also has a loss to Johnson in his recent background, he was submitted by the champion last summer. He bounced back in January to beat Dustin Ortiz by decision. Moraga won't be overmatched in a boxing match but Dodson's power and certain speed advantage will make it a risky proposition for the Arizona native.

Winner: John Dodson, TKO, Round 2

Dan Plunkett: John Dodson is really great, and was a moment away from being champion on a couple of occasions against Demetrious Johnson last year. Moraga is a good wrestler, but I don't see him being able to do anything with Dodson here.

Winner: Dodson, TKO, Round 2

The staff picks John Dodson, 4-0.

---




Lightweight Bout: Diego Sanchez vs. Ross Pearson



Jeffrey: Interesting match-up. As a fighter, I believe Diego Sanchez has taken too much punishment in his career. He tends to slug it out too much. Pearson is a very good striker, probably better than Sanchez, but Sanchez will have an edge with his wrestling and takedowns. Sanchez just looked bizarre in his last fight, and he complained later about eating steak tartare and raw quail egg after the weigh-ins. Why he would do that the night before a fight, I have no idea. Anyway, I could see this fight going either way. Either Pearson takes advantage of Sanchez's nutty striking technique, or Sanchez goes back to his wrestling and grinds out Pearson. I'm slightly leaning toward Sanchez, and a split decision wouldn't surprise me either.

Winner: Diego Sanchez, Decision

Evan Zivin: This fight could be very high paced or slow and plodding depending on who controls the action and which Diego Sanchez we get. He needs a win here. He's on a two fight skid, although in one of those fights, he went toe-to-toe with Gilbert Melendez and almost finished him. His performance against Myles Jury was more disappointing but Jury had to use his grappling to win that one. Diego won't have to worry about that with Pearson. The Brit prefers talking with his hands and I expect most of this fight to take place in the center of the Octagon with these two winging punches and short combinations. If this is how the fight plays out, I give the edge to Diego. Ross can definitely win this but I think Diego's aggressiveness and cardio will be effective in shutting Pearson down and allowing Diego to own this fight. Remember, he got beat up by one of the best lightweights in the world and came back to almost finish him. You can't count him out of any fight, especially not a favorable match-up like this one.

Winner: Diego Sanchez, Decision

Jonathan Solomon: Diego is only 32-years-old, but he's been around forever and this is ironically, his 32nd professional fight. He's on a two-fight losing streak (the war with Gilbert Melendez and the loss to Myles Jury) and the last win came in March 2013 against Takanori Gomi. Pearson has not lost a fight since 2012 and that was at featherweight. Since returning to 155-pounds, he has knocked out George Sotiropoulos and Ryan Couture. His fight with Melvin Guillard last October ended prematurely due to an illegal knee from Melvin. Two guys on opposite ends of their career, Pearson should win but Diego is always a variable because you never know when he's going to have a performance better than he should due to his drive and refusal to stop fighting. Pearson will punish Sanchez across three rounds with his boxing and win on points.

Winner: Ross Pearson, Decision

Dan Plunkett: I can see Sanchez winning this match if he gets the fight to the ground, where his top game is excellent. However, his brawling tendencies make him his own worst enemy. Pearson should be good enough to avoid the wide punches and get the decision.

Winner: Pearson, Decision.

The staff picks a draw, 2-2.

---




Lightweight Bout: Benson Henderson vs. Rustam Khabilov



Jeffrey Harris: This is a very huge step up in competition for Khabilov in his still young UFC career. Yes he's 3-0 in the UFC so far, but none of those fighters were at the level of Ben Henderson. For Henderson, Khabilov looks like he could still be a tough match-up. While Khabilov has been impressive, I have to go with Henderson here. Hopefully Henderson will let go of being comfortable with his previously philosophy of "I'll take a win however I can." If he really wants to get back to the title, he needs to get beyond such things. Still, I think Henderson's pace, style, and aggression will ultimately win him the day here.

Winner: Benson Henderson, Decision

Evan Zivin: Oh boy. This is going to be an interesting one. Ben Henderson used to be one of my favorite fighters but he broke my heart in January when he took a win away from Josh Thomson. I don't care if it was the judges' fault. Thomson won that fight and I'm still not over it. Henderson is extremely good at winning close fights, as he's also shown against Melendez and Frankie Edgar, and I've grown tired of it. Anthony Pettis has been able to beat him and eventually someone else will too. Can Khabilov do it? I think he can. This is obviously a huge step-up in competition for the Dagestani fighter but he hasn't just been beating guys in the UFC. He's been wrecking them. Khabilov roughs guys up with his striking and manhandles them with his grappling. He has two KO wins by suplex on his record. Friggin' suplex! Khabilov needs to control the pace of this fight and land more strikes if he hopes to win. Henderson will probably take another close decision but I don't really care. Someone will call me an idiot in the comments, and they'll be correct, but I don't care. Kick some ass, Khabilov!

Winner: Rustam Khabilov, Decision

Jonathan Solomon: Benson deserves respect for just taking this fight, let alone whatever may happen inside the octagon. It's not too often that you get a legit #2 ranked fighter fight a dangerous opponent most fans do not know. This is the situation here as Henderson is trying to emerge from the pack of contenders to get another title fight, but he'll likely need two wins to receive that opportunity in 2015. Rustam Khabilov is among the plethora of dangerous Russian fighters (in UFC and Bellator alone, there are an immense number of badass Russians) and we need not even look outside the octagon to see the dominance of Khabilov's training partner, 22-0 Khabib Nurmagomedov. Rustam is 17-1 overall with the one loss coming by split decision years ago in Ukraine.

Henderson's last fight ended in controversial fashion as he was awarded a split decision victory against Josh Thomson (I had Thomson winning). Of course, Bendo is also king of winning close fights (he is 8-0 in his last eight decisions), so that may mean something in the championship rounds.

Khabilov may be the stronger of the two and capable of throwing the former UFC champion for a suplex if he gets his hands on him. Henderson typically is amazing at defending takedowns, although Thomson was able to get him to the ground on a few occasions in January. Henderson has an insane amount of energy and never tires in five-round fights, while that is a serious question for Khabilov. While Rustam may be able to take a round or two due to his toughness and power, I cannot pick against Benson Henderson in this match-up because my eyes tell me he always finds a way to win these fights.

Winner: Benson Henderson, Decision

Dan Plunkett: This is a tough fight to pick. Khabilov is really talented, although this is his second fight since beginning his camp (the first coming against Ali Bagautinov). I think the difference will be Henderson's proven ability to go five strong rounds – territory Khabilov his never found himself in.

Winner: Henderson, Decision.

The staff picks Benson Henderson, 3-1.

---
Remember to join 411's coverage of UFC Fight Night on Saturday night!
comments powered by